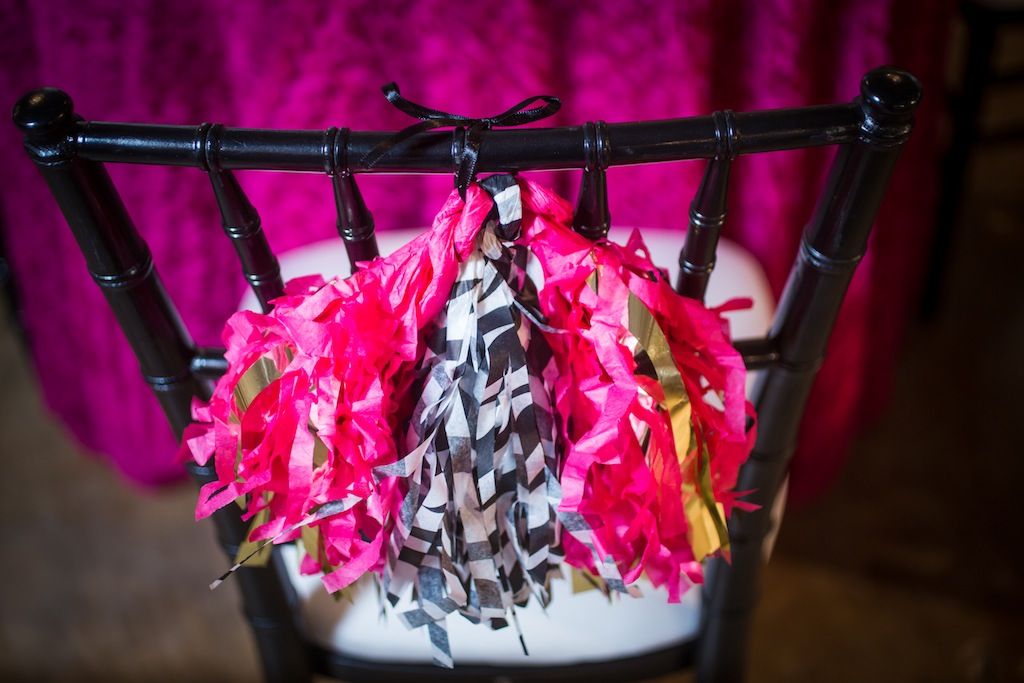 Black, Pink & Gold Pop Star Birthday Party
Rich with glitz, glamor, and great music, Kristen's pop star themed ninth birthday party was a sparkling sensation from start to finish!  Boxed invitations were sent to Kristen's friends, each filled with treats and a VIP pass to be carried to the event.  Upon arriving at StudioWed in Atlanta for the celebration, each little lady walked the red carpet and struck a pose in front of the Step and Repeat before journeying indoors.  The scene was a chic explosion of hot pink, black, and gold decor.  Several spots were set up so the girls could glam up like a pop star, including a nail painting station, a glitter tattoo station, and a station where a new pair of sunglasses could be decorated with tiny jewels.  Stylish sweets and sodas were savored between trips to the photo booth, and the leading lady and her friends ended the celebration with a grand finale of karaoke fun before their live audience.  A party that will forever hold a spot in the limelight, this event was planned by Kristen's mom, Michelle Gainey, and captured by Janet Howard Studio!
What were your playful twists that made the event unique?
The boxed invitations were the first hint of what was to come – they included a backstage pass to the party along with glitter confetti, a pop star wand, and friendship bracelet.
Please give us an overview of the event.
My daughter Kristen loves all things music, so it was very fitting to plan a Pop Star theme party for her 9th birthday. We did a party pre-shoot with Kristen so we could use the images to create some of the party decor. She had a blast dressing up and being a model for a day.
Was there a specific theme or style?
The decor was pop star all the way – pink, black, and gold colors with glam black sequin and pink ruffle linen on the tables. Edge Design created fun girly arrangements in chic black vases. All the stationery from Papered Wonders made for a coordinated design – from a custom Step & Repeat to the custom CD favors.
Did you DIY any of the details?
No, I had an incredible team of vendors bring the design to life.
Tell us about the food and desserts.
Popcorn and Soda Pop Bar – from sweet to savory the girls had a variety of popcorn to choose from. We also had an assortment of old fashioned soda bottles with the guest of honor's photo on the labels. The Pop Star Dessert display included a custom cake from Perfect Wedding Cake, pop star sugar cookies, pop rocks, and other assorted pink and black candy, all displayed on a glam black sequin linen with a gold sequin backdrop.
What kind of energy did your entertainment give the event?
As the guests arrived through the red carpet and VIP rope, they stopped to take a photo at the step and repeat. Then they were able to choose from several stations to party like a pop star: 1) Rock Your Nails – the girls received nail polish changes. 2) Rock Some Sparkle – the girls received glitter tattoos. 3) Rock Your Style – the girls bedazzled sunglasses and then put them on. 4) Strike A Pose – the girls dressed up and had fun posing in the photo booth with a pink sequin backdrop. 5) Rock Your Song – after singing happy birthday the girls had a blast singing in our karaoke station complete with a pink glitter backdrop and pop star microphone stand. 6) Rock Your Swag – as they left the party the girls received a CD with the birthday girl's favorite songs and a custom CD cover with photos of Kristen.
If there was one thing you could change, what would it be?
The party ended just as the girls were getting into singing karaoke, so I would have made the party a little longer if I could change one thing.

Party Professionals
Event Planning & Design: Lemiga Events | Photography: Janet Howard Studio | Venue: StudioWed | Stationery: Papered Wonders, Inc. | Linens: Nuage Designs | Rentals: Classic Party Rentals | Cake: Perfect Wedding Cake | Photobooth: Shutterbooth | Floral: Edge Design Group | Custom Cake Topper: Ten23 Designs