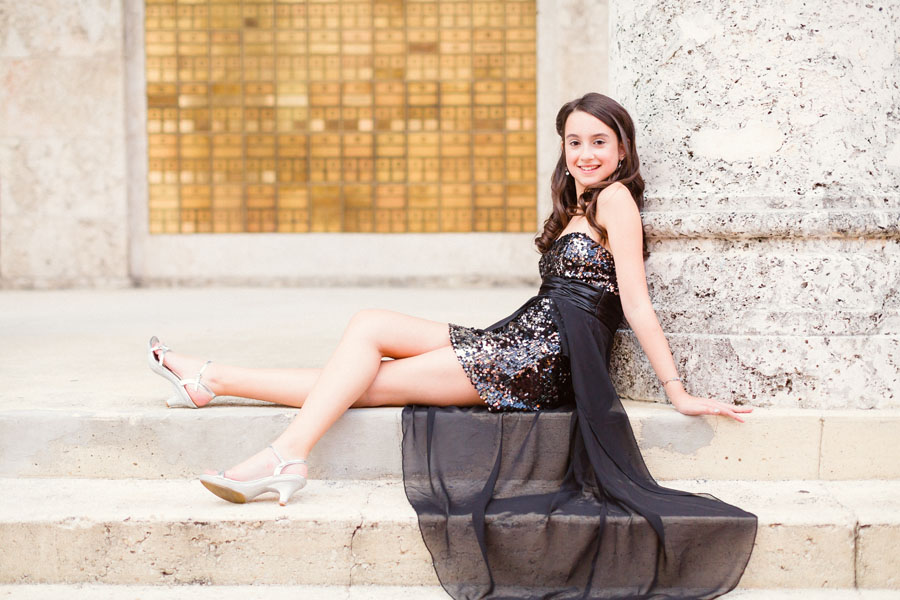 Black & Aqua Broadway Themed Bat Mitzvah
Miss Alyssa arrived to her Bat Mitzvah celebration to see her name in lights.  A lover of all things Broadway, the girl of the hour has starred in a few shows herself and loves the world of lights and glamour more than anything.  Guests entered the event at the Sidney & Berne Davis Art Center on an aqua carpet, where a photographer waited to take photos of each of them with Alyssa.  From there, they picked up their "tickets" which also doubled as place cards at a box office created by her mother.  The Broadway theme carried throughout the special evening, with a guest book fashioned out of classic Broadway posters and a marquee placed above where the star of the show was seated.  The meal, prepared with extra care by Tastebuds Custom Catering was served in stages with appetizers served on rolling carts throughout the cocktail hour, followed by the Big Number featuring brisket, prime rib, and chicken roulade.  Next was served the Chorus, which featured potatoes filled with herbs, and then the Sky Line which included seasoned organic vegetables.  Dessert included handmade chocolate cakes, cookies, and chocolate mousse.  Guests enjoyed a long night of dancing to Broadway tunes and classics.  Photos brought to you by Hunter Ryan Photo!
Was there a specific theme or style?
Since Alyssa is a Broadway dreamer and a girly girl we wanted to go with an Old Broadway Glam Theme and include all of her favorite details. The room was dripping with the color aqua, her favorite color, and all the tables were named after her favorite Broadway shows that she has stared in or loved attending!
What were your playful twists that made the event unique?
We wanted the party to feel like you were going to an actual Broadway show from the beginning all the way to the end. So what better way to start off the show by dodging the paparazzi on the Aqua Carpet and making an appearance with the star of the show. We had our photographer take pictures of all the guests with Alyssa when they entered, which we then used these pictures for her thank you cards. After their pictures were snapped, they entered and picked up their "tickets" which were their escort cards at the Box Office. Her guest book were famous Broadway posters that we re-created with Alyssa as the star. And last but not least, what star doesn't want her name in lights? We created a marquee that hung above where she was seated so everyone knew where they could find her!
What was the most memorable moment?
For me, it was seeing the room for the first time and seeing Alyssa's reaction to it. Being in the Wedding Industry and knowing everything that goes on behind the scenes and what goes into executing an event, it was so thrilling to see it all come together. We had been planning this for so long and talked about all the details till we were blue in the face and then seeing it all come together was breathtaking.

Tell us about the food and desserts.
As I mentioned before, Alyssa has a severe allergy to dairy, so when we were choosing a caterer we needed to hire someone who understood the severity of her allergy but also someone who was also able to make mouthwatering, dairy free dishes. We also wanted Alyssa to be able to walk up to the food stations and pick whatever she was in the mood for. This was extremely important to us, since she is not able to do this when we go out. Gregg worked tirelessly with us creating a menu that was not only delicious but also filled with food that Alyssa thoroughly enjoyed! He created his dishes and displays around our Broadway theme which added an extra touch to our event. For appetizers, they had rolling carts that they pushed around cocktail hour and offered guests a range of delicious bite size foods like dairy free corn dogs & gourmet tortillas with duck. For the entrees, he created the Big Number which included a carving station of brisket and prime rib, chicken roulade and several dipping sauces, which was the star of the show! Next came the Chorus, which had fingerling potatoes filled with herbs, complimenting the Big Number, cause every show needs a chorus. The Sky Line, which design complimented the glamor of Broadway, included all the seasoned organic vegetables your heart desires! The Salad Martinis added at ounce of sophistication by allowing guests to create their own salads, have then shaken in a martini shaker and served in martini glasses. For dessert we had the handmade chocolate cakes, a fan favorite, dairy free cookies and the most decedent dairy free chocolate mousse. Just being able to allow Alyssa the freedom to eat whatever she pleased was more then we could've ever asked for.

What kind of energy did your entertainment give the event?
Our DJ and his staff really got our party going! Not only were they exciting and entertaining but they got everyone up and dancing and even got some guests testing out their singing skills. Our MC was very much about our Broadway theme and it helped that he was into Broadway himself!

Party Professionals
Venue: Sidney & Berne Davis Art Center | Photography: Hunter Ryan Photo | Floral: Signature Florals | Event Planning: Jet Set Wed | Decor: Alter Elements | Catering: Tastebuds Custom Catering | Stationery: DM Paper Designs | Entertainment: Pure Energy Entertainment | Photobooth: Luminaire Foto | Linens: Connie Duglin
Planning a Bar/Bat Mitzvah? Purchase a copy of our all-new Mitzvah Guide here!