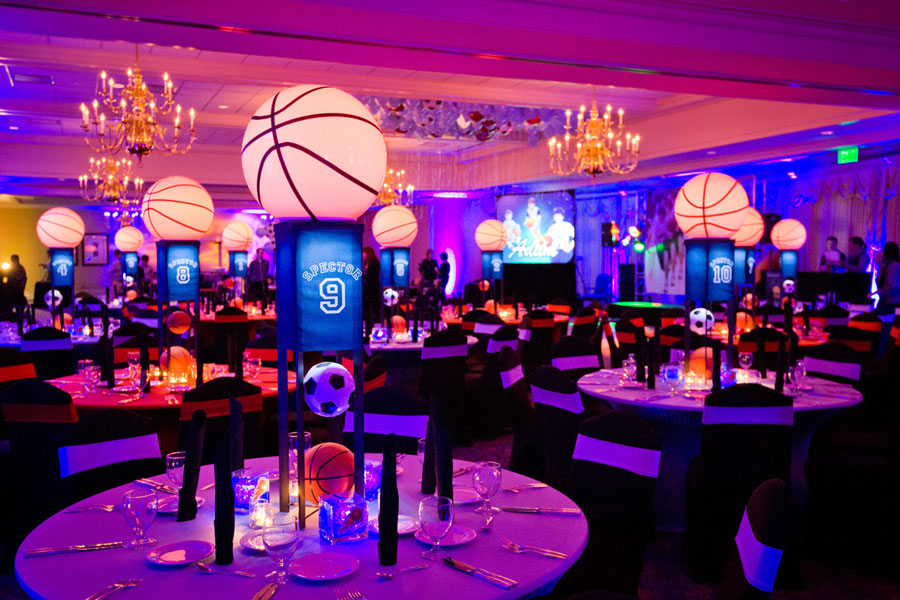 Basketball and Soccer Themed Bar Mitzvah
Airbrush tattoos, a green screen for cool pictures with guests, Dippin' Dots ice cream, all encompassed by sports-themed decor.  It's no surprise that Adam and his guests were wowed by the Bar Mitzvah celebration held at the Dunwoody Country Club.  Each of Adam's guests received customized basketball jerseys with a specially designed logo for Adam on the front, many of which were enjoyed during the party where everyone savored an excellent meal catered by the club.  Adam's favorite sports are basketball and soccer, so there was no shortage of memorabilia from his favorite teams and pastimes.  DJ Keith and dancers from Horizon Entertainment got the party started, everyone spending the majority of the evening on the dance floor and making memories to last a lifetime.  Speaking of memories, Blue Orchid Productions produced an out-of-this-world video montage of Adam and his family which was presented alongside a candle-lighting service.  The whole event was just what Adam and his family hoped for and guests talked about the experience for weeks to come.  Come to this slam-dunk of an event with these images by Chuck Robertson Photography!
Party Professionals
Venue & Catering: Dunwoody Country Club | Photographer: Chuck Robertson Photography | Event Planner: Your Party by Karen | Decor: Event Savvy | Entertainment: Horizon Entertainment | Videographer: Blue Orchid Productions | Favors: Goldner and Associates | Green Screen: Phoenix Amusements Inc. | Airbrush Tattoos: The People Painters | Dessert: Dippin' Dots | Invitations: Robin Zussman
Planning a Bar/Bat Mitzvah? Purchase a copy of our all-new Mitzvah Guide here!