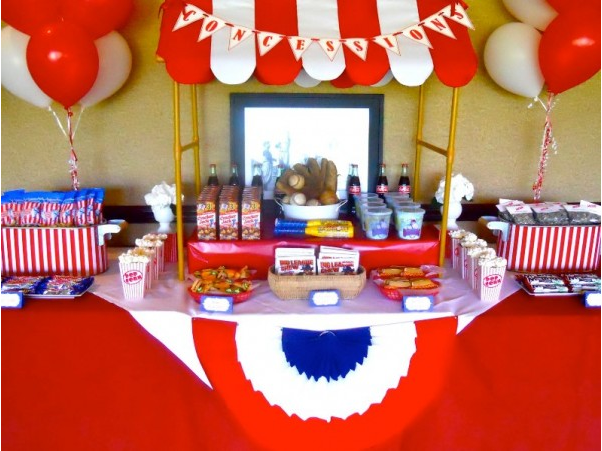 Baseball Themed Food Ideas for Parties
Buy me some peanuts and cracker jacks; I don't care if I never get back! For me, one of the best parts of going to a baseball game is of the naughty food. Watching baseball just isn't the same without some popcorn or ice cream.  So as baseball is officially in season, let your favorite ballgame treats come home and throw a baseball themed party: a great idea for a kid's birthday party or just to enjoy a game with your friends.
Give your party a genuine stadium experience by creating a concession stand. Your guests will love that it makes them feel as if they are at the game, and it's a great way to have the snacks out so that your guests can quickly grab them during the breaks, like the seventh inning stretch.  (Via Oh Sugar! Events)
Hot dogs are a staple food at the ball park and make a great savory snack for your guests. Best of all adults and kids alike love them. Serve them in these cute hot dog sleeves for an added touch. Seem a little plain? Add variations to your hot dog menu by serving specials such as the New York hot dog, the Chicago hot dog and the chili dog. (Via How Does She?)
While cupcakes may not be a traditional baseball treat, I know that I wouldn't be able to pass over these adorable baseball cupcakes. They fit perfectly in with the baseball theme, and best of all, one doesn't have to be a talented artist to make them! You could even choose cupcake sleeves that coordinate with your team's colors.  (Via Be Different Act Normal)
Don't forget good old cracker jacks, a well loved favorite of baseball fans. Boxers of cracker jacks dressed up with a spirited pinwheel makes the perfect party favor for your guests. Or you can add them as another part of your concession stand treats. (Via Tammy Mitchell Designs)
With your baseball food your guests will be able to enjoy all the tastes of the well-loved American pastime. So grab your ball caps and let's play ball!