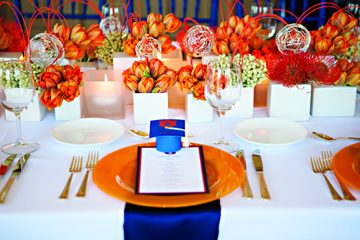 Auburn University Themed Graduation Party
Life is anything but ordinary for Atlanta local Algem Hopkinson who suffers from chronic migraines. These headaches often cause her to miss out on important life events, including her 2009 graduation from Auburn University. After submitting her story to a national contest, Rewrite Your Day, Algem won the opportunity of a lifetime. With the help of celebrity event planner, Mindy Weiss, Algem was given a second chance to celebrate her accomplishments. Algem's party was an elegant affair with playful graduation-themed twists. Her reaction was the true icing on the cake. "When Algem walked into the room," said Mindy Weiss, "she broke into tears of joy…I am so happy that I was able to give her a second chance to celebrate her accomplishment the way she envisioned." Images by Andrea Taylor Studio.
THE COLORS
The venue was decorated head-to-toe in Auburn University colors, bright orange and navy. From the tablescape to the florals, the décor screamed school spirit!
FLORAL DESIGN
The floral arrangements consisted of orange pin cushion proteas, prince double tulips, and mango calla lilies, all of which contrasted perfectly with the blue and white chairs.
DETAILS
To keep with the graduation theme, guests were given diploma-style menus and DIY graduation cap seating cards. There was also a scrapbooking table where guests could create pages filled with photos and personalized notes for Algem to serve as sweet memories of the wonderful day!
Party Professionals
Venue: The Peachtree Club | Photographer: Andrea Taylor Studio | Event Planner: ellyB Events | Event Design and Décor: Mindy Weiss; Andy Beach & Co.