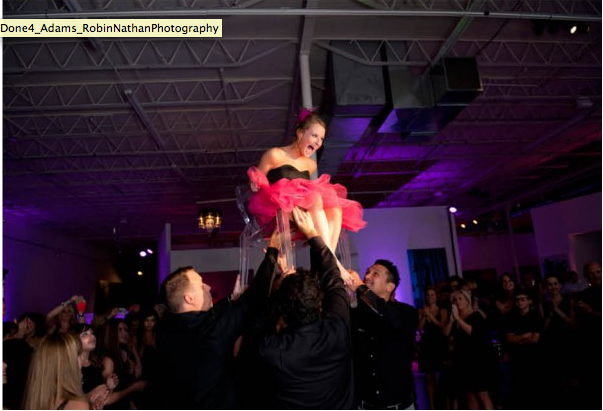 Atlanta Mitzvah at Mason Murer by Robin Nathan Photography
Pink Hummer? Check. Pink Dress? Check. Pink Donuts, pink lemonade, pink bubbles? Check. Check aaaand check. For Olivia's mitzvah, nothing short of pink would do. And not just any pink — fuchsia, in-your-face-life-of-the-party-rocker-chick-turned-vogue pink. Added Touch Catering made Olivia's dreams come true with a party that was truly over the top in all the best ways. Robin Nathan Photography captured every moment. Check the whole pinkalicious thing out here:
Can you give us an overview of the event? "THINK PINK" a hot glam event brought to you by Sandra Bank of Added Touch. She used the design firm of Event Savvy to create the palette and Magnolia Events to coordinate all the vendors and details of the entire weekend.She crafted the beverage such as the Pink Cosmos in pink martini shakers and Beverage Jars of Pink Soda Lemonade with Pink Straws! We had pink cake, pink donuts, pink bubbles with Asian noodles and salmon. The event was created in dominant colors of Black and Hot Pink Fushcia. We wanted a rocker glam girl environment to electrify our crowd. Our mitzvah girl arrived in a HOT PINK HUMMER. VIBE Entertainment rocked the DJ set with a SUPRISE performance from a professional GLEE act!! Event Performance Chip Lunsford put together a full show to please our guests. We had a dramatic HUGE 'O' created for the guest arrival and cat walk high fashion presentation of our Bat Mitzvah girl Olivia.
Was there a specific theme or style? Hot rocker glam girl goes vogue for her guests. Theme environment created through use of huge LED Light panels and photo panels. Continous light show and footage of fashionable photography of Olivia. The room was flooded with PINK lighting. Black dance floor with logo decal. Black stage and cat walk. Olivia entered for her introduction with her little dog wolfie.
Did you DIY any of the detail? Missi Wolf made the adorable black mini bags with Olivia logo for the departing gift of RUBR hot pink and black WATCHES!!! RUBR watches are amazing and quite the current trend for young people.
What was the most memorable moment? The introduction on cat walk and GLEE.
If you could change one thing, what would it be? Nothing!
[nggallery id=395]
Event Coordinators Magnolia Events & Planning | Venue: Mason Murer| Caterer:  Added Touch | DJ: DJ Vibe   | Entertainment: GLEE GLEE UNIT  | Design/AV: Event Savvy Atlanta | Linens: I Do Linens | Lighting and Stage Design: Active Production and Design | Photography: Robin Nathan Photography | Photobooth: Our Labor of Love  | Video: SCG Video Production | Guestbook: Canvas Art Guest Sign In