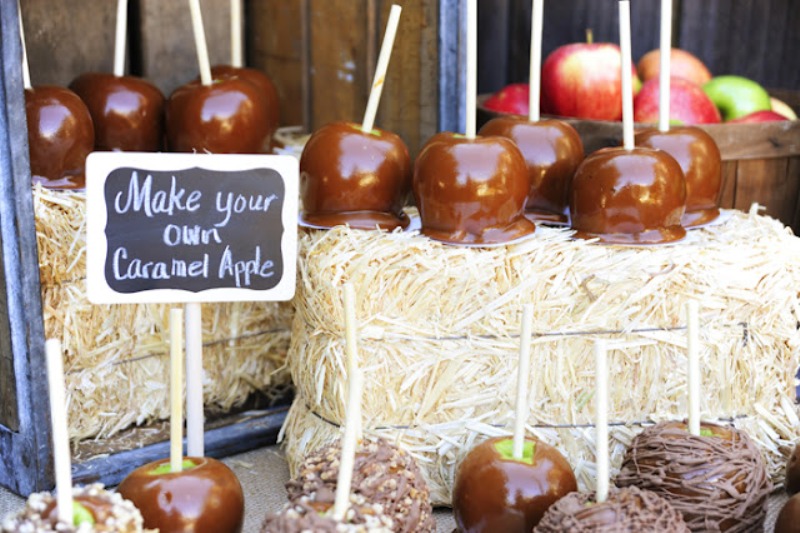 An Apple a Day: Apple Party Inspiration
Fall isn't far away and I'm excited for the changing leaves and crisp air! Between going back to school and autumn beginning, apples are all around! There are a lot of great ways to include apples in your fall fetes from décor to desserts.
While you would typically find apples on the food tables, they can also be used on other tables as decorations. There are a couple of different ways to use apples as table décor. They can be stacked in a bowl or vase as a centerpiece. They can even be mixed in with a floral centerpiece. But I think these apple candles are my favorite as they can be spread among the other décor and add to the ambiance. (Photography via: Intimate Weddings)
Apples are such a delicious food and are great to serve on their own or along with another dish. I think these sliced apples in mason jars are great to serve as they are healthy and easy for your guests to snack on while mingling. The red and white fabric, along with the mason jars create a rustic look, perfect for autumn time. (Photography via: The Party Wagon)
Entertain your guests by letting them decorate their own caramel apples! Caramel, chocolate, sprinkles, and so much more can be used for each guest to make their own masterpiece. This is a great idea that adults and kids alike will enjoy. And then they can take home their sticky masterpiece as a favor to enjoy later. (Photography via: Kara's Party Ideas)
When I think fall, I think apple cider! Nothing beats a warm couple of cinnamon apple cider on a crisp autumn night, making this beverage perfect for your fall fete! For an extra apple touch, serve the cider in cups made of cut out apples! (Photography via: Gimme Some Oven)
So even though we have to say goodbye to summer,  think of all the fun possibilities for the fall! I know I am!