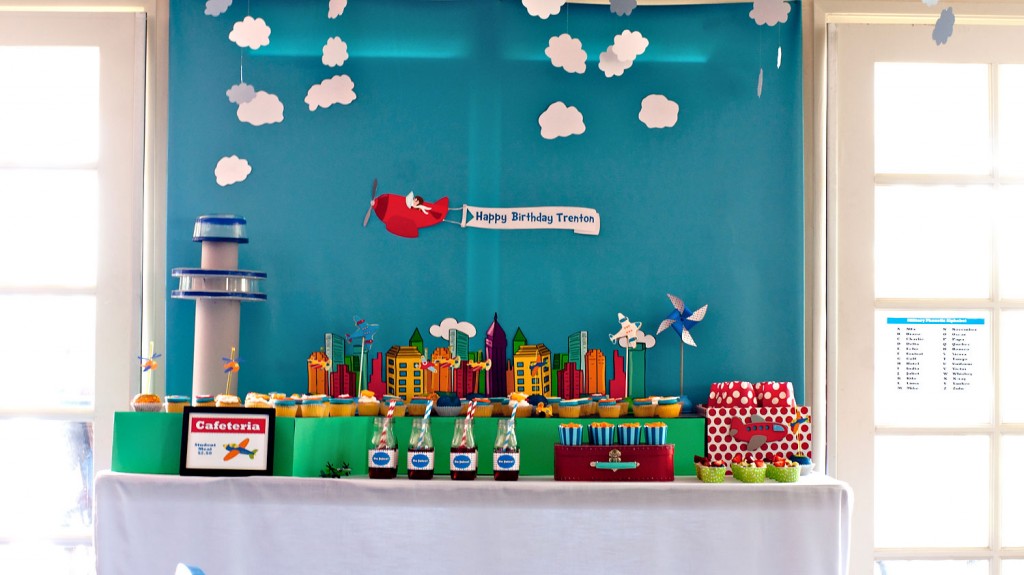 Airplane Themed California Birthday Party from Sweet Pop Studio by 4S Photography
Today's real event comes all the way from sunny California. Fitting, since the theme for 3 year old Trenton's birthday party is all things airplanes! And themed it was. From flight lessons to "go juice" fuel, no propeller was left unturned! Shot by 4S Photography, this thoughtful day has our party-planning-heads up in the clouds!
Can you give us an overview of the event? My little man Trenton was turning 3 and was smitten with airplanes. I wanted to design something a little different from the airplane parties that I saw online so I decided to go with a flight school theme. I started with a logo that I created using Trenton's initials and an adorable plane clipart that I got from Blackleaf Design on Etsy. The invitation was a letter awarding the guests with a full scholarship to the TJL Flight Academy and a new student inauguration party. The guests were greeted at the door with a registration desk that held their Pilot in Training badges and Pilot Logbooks. The logbooks had "lessons" (games and crafts) listed in them. Each child earned a flight sticker for each completed lesson.
(Continued) The lesson stations were- 1. Scratch Off Plane Art 2. Airplane Folding 3. Runway Race 4. Pin the Propeller on the Plane and 5. Hit the Pinata. The kids were given cloud boxes (found on Amazon) to put their pinata prizes in. The food table was designed by my mom and I and constructed in part by my stepdad. We designed a runway to hold the amazing and delicious cupcakes and candy apples from Roni's Sugar Creations. We purchased the illustrations on the backdrop, online.  When the kids completed their lessons they took their pilot picture and were mailed their pilot's license along with the thank you card.  As they left the party they visited the favor table for their Pilot Essentials; M&M candy tubes, glider airplanes and the Official Training Tools- a custom made crayon box.
What were the playful twists that make your event unique? When the kids were done with there lessons and all stickers were earned in their logbook, they had their pictures taken for their pilot's license. These were laminated official looking licenses that were sent to them in the mail with their thank you card.
Did you DIY any of the details? The party printables were all created by me on my computer. My mother helped build the runway that housed the cupcakes. She also built the airport tower using various vases and bowls and even a paper plate. The pinwheels and crayon boxes were also created by me.
What was the most memorable moment? The most memorable moment during this event was when the kids were so excited to have completed all their lessons and were told that they would receive their pilot's license in the mail.
Tell us about the food and desserts! The dessert table included adorable airplane fondant cupcakes from Roni's Sugar Creations, goldfish in blue striped baking cups, mixed fruit cups, candy coated popcorn in red polka dot bags, and Go Juice fruit punch in glass bottles with striped straws. The counter hosted the adult fruit tray as well as cheese, crackers and airplane and TJL logo cookies.
What inspired the theme or style? My son's love of airplanes
Photography: 4S Photography | Cupcakes and Candy Apples: Roni's Sugar Creations | Candy cups, tubes and bags: TomKat Studio Shop &  CupKate's Event Design | Illustration art: Blackleaf Studios and Peach Pops Clipart | Party Printables: Sweet Pop Studio