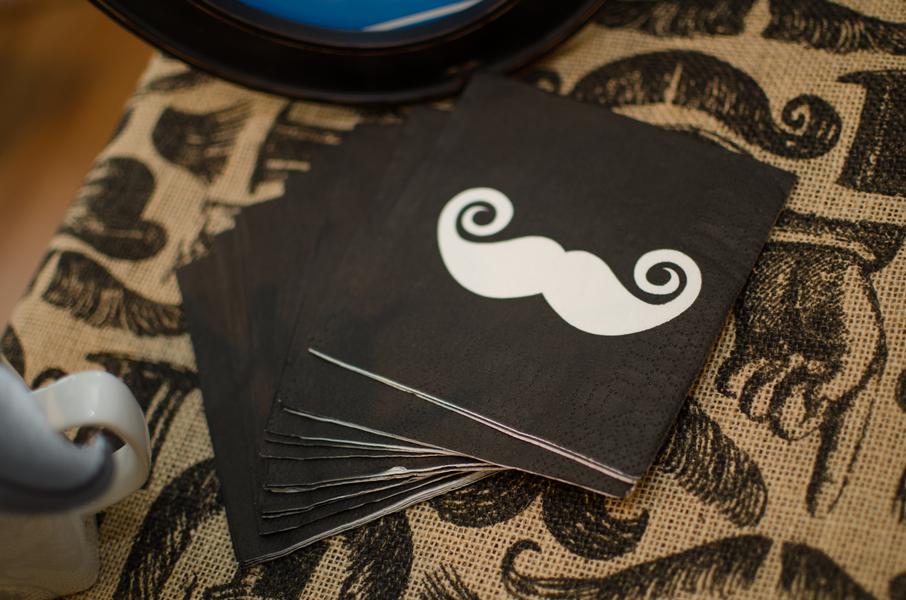 1940s Mustache Themed Birthday Party
Sometimes you just have to take cute to the next level. Which is exactly what Erica Stanley, mother to a bouncing, darling, two-year-old son, did when planning his second birthday party: a blowout Mustache Bash for her little man.  Lending her own creative expertise to each and every aspect of the event, it took six wonderful months for Erica to plan the shindig down to the smallest detail, from the mustache tattoos guests could put on once entering the party, to the tablecloths covered in hats and mustaches.  The 1940s vibe was a step above adorable.  Cups and balloons, custom signs and finger foods galore, there was no detail left un-mustached.  The party was a swimming success with party favors including keychains, take-home tattoos, and goody bags.  A day of sweet, stylish memories, guests chatted about the affair for months afterward.  Images brought to you by birthday mom and photographer, Hildebrandt Photography!
Was there a specific theme or style?
1940s styled Mustache Bash.

What were your playful twists that made the event unique?
Mustache Tattoo Station. "Mustache Says" placed all around the party.

Did you DIY any of the details?
The custom invitation designs, and the hanging Instagram (5×5) images of Julian during 2013.

Tell us about the food and desserts.
Food was a simple finger food set up, fruit veggies, meatballs, and fries for the kiddos. Dessert is where we had fun! I set up a popcorn and candy bar for the kiddos, with all the best sweet treats they could want, then I ordered vanilla and chocolate cupcakes to top it all off with mustache toothpicks.

Smartest savings…
The party favors! I took it a step further and made everything a party favor. My guests had mustache cups in small and large, mustache key chains, face and finger mustache tattoos, and large mustache goody bags full of popcorn and candy to enjoy. Not only did it make a memory they will always remember when using those items, but it really helped on the clean up afterwards.

What was the most memorable moment?
When all the children started placing the little tattoos on their faces for a picture.

Splurge on…
Everything! Really he's only going to be little so long and once it's over, it's over. I don't regret one penny spent on his party, I know in the long run it was more of a memory for me and the older guests but it will be a full memory that will stay with me for a lifetime.
Party Professionals
Photography, Mustache Signs & Instagram Cards: Hildebrandt Photography | Invitations: The Paper Blossom Shop | Favors: Oriental Trading | Popcorn Boxes & Popcorn Sign: Hobby Lobby | Moms' Mustache T-Shirts: FunhouseTShirts | Boys Mustache T-Shirts: Lastearth | Candy Bags & Mustache Stickers: Jane