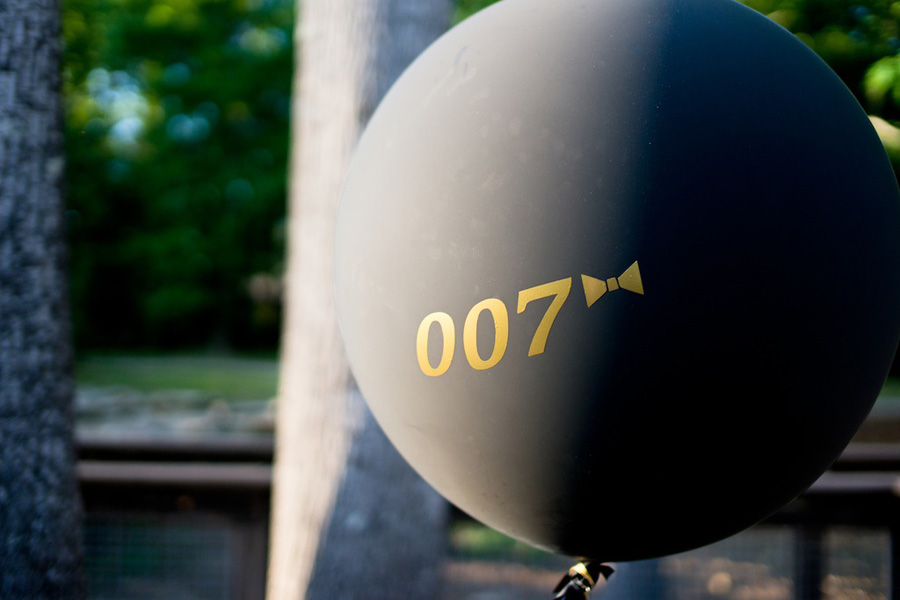 007 James Bond Themed Birthday Party
Neil has always loved a good action film, and after his dad introduced him to the James Bond movies this last year, he was hooked.  So when the little boy's 7th birthday rolled around in the spring, his mom, Jasmine Shah, knew a 007 spy themed party was the only direction to go! Owner of IDEA! event + style , Jasmine is known for bringing a chic and modern feel to every event she designs, and her son's party was no exception!  Red, black, blue and gold were the colors of the day, and as Neil's friends arrived at the park for the celebration, they were given "secret agent" badges and sunglasses to prepare to enter their "mission."  The fun began with many spy-themed activities, including writing secret messages and lifting fingerprints.  Black vinyl footprints then led the boys to the stylishly decorated dessert table, where many James Bond movie-inspired treats such as casino themed cookies (Casino Royale) and diamond-shaped lollipops (Diamonds are Forever) were offered.  But one of the most fantastic party details?  The edible spy paper and pen filled vanilla-flavored edible ink offered in each favor box, allowing the little agents to write secret messages to each other and then destroy them by eating them up!  How cool is that!  Photos of this exciting and classy celebration brought to you by Sophia Barrett Studios!
Was there a specific theme or style? What inspired it?
The theme was inspired by my son's love of James Bond movies and all things spy-related! The style is very modern and crisp, a signature style of my event planning company IDEA! event + style. I strive to make my parties enjoyable for every age group that will attend, adults included. And I'm happy to say a lot of the fathers at the party had a great time discovering all the Bond movie inspired details!

Tell us about the food and desserts.
THIS was definitely the most fun element of the party! Almost every sweet treat was carefully planned and inspired by a Bond movie! The cake was kept simple and fuss-free, designed to have the same custom logo that was continued into most other decor elements.  "Diamonds Are Forever" inspired the diamond-shaped lollipops. "Casino Royale" begged for casino cookies made by the talented Deb Buker of Yummy Delicious Cookies. Mini vanilla cupcakes were dressed with fondant magnifying glasses, sunglasses and bow-ties, of course. "Thunderball" inspired red velvet cake balls with fondant lightning strikes on top. "Goldfinger" translated into ladyfingers sprayed with edible gold spray, and "The Man With The Golden Gun" became "The Boy With The Golden Candy" aka Ferrero Rocher. Mini cups of fresh strawberries added a splash of healthy sugar! In addition to the sweet selections, we had pre-packaged snack sacks with a sandwich, baby carrots and applesauce. My favorite edible detail were the mini martini cups filled with fruit punch, and a gold sparkly stirrer with a green gumball at the end to mimic a green olive. "Shaken Not Stirred" tags were the pièce de résistance!
What was the most memorable moment?
When my son and his friends high-fived each other towards the end and said, "This was the BEST party ever!"

Party Professionals
Event Planning & Design: IDEA! event + style | Photography: Sophia Barrett Studios | Cake & Desserts: Dot's Delights | Custom Shirt: The Goods Shoppe | Favor Boxes: Something Chic | Cookies: Yummy Delicious Cookies by Whimsical Originals | Entertainment: Imagine That