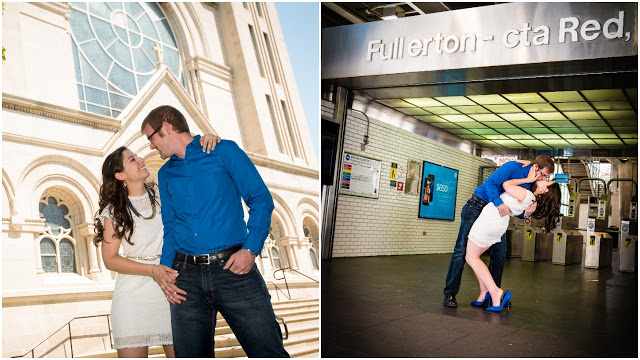 Matthew and Maria met in August of 2011 as freshmen at DePaul University. One evening, Maria and her roommate found themselves in the cafeteria for dinner with nowhere to sit. There was only one table available with open seats, but someone was already sitting there. Maria told her roommate that they should ask to sit with the guy at the table, or else they would end up eating on the floor. The two girls walked up to the table and asked if they could sit down. The boy smiled and said sure. His name was Matthew, and it turned out that he and Maria had a ton in common…
After dinner, Maria gave Matthew her number and told him that they should have dinner again sometime since they'd had such nice conversation. The pair stayed friends throughout their first year at DePaul and regularly went on walks together all over the city. On these walks, they talked about life, traveling, future careers- nothing seemed to be off limits. In April of 2012, Matthew asked Maria out on a date. She happily agreed, but she's pretty sure that at first, Matthew didn't actually believe her. He responded to her enthusiastic yes with a "Really?!"
Fast forward to May of 2016. Maria had always wanted to go hiking at Starved Rock State Park and on a beautiful spring day, the couple headed to the park. The amazing weather had brought a ton of other people to trails as well, and though the couple found themselves crowded on most of the paths, Maria didn't care- she was finally at Starved Rock! Leading up to the trip though, Matthew had seemed a little off and Maria suspected that he might be up to something…
The couple decided to take on one last trail before calling it a day. After reaching a beautiful lookout point, Matthew suggested that they find a bench. There weren't any benches nearby though, so Maria pointed to a log that was sitting just next to the path. For the first time that day, the couple were completely alone on the trail as they sat together. Matthew started rustling through his backpack and handed Maria two folded up pieces of paper. "I drew you a picture and wrote you a little note," he said. Maria read the note and then opened up the piece of paper that supposedly had a picture on it. Instead of an image though, it was blank except for the following words:
Hey, look what I'm doing.
Maria looked up to find Matthew proposing on one knee. The amazing day continued with Matthew's cousin taking photos of them at Starved Rock, and then a surprise dinner with Maria's parents (who'd been in on the surprise the entire time).
Maria and Matthew will tie the knot in early June of 2017 at a beautiful little chapel in Naperville. By the time they get married, they'll have been together just short of five years. "We have watched each other grow from young college students to adults with careers," the couple told us. "Who knew we would meet the love of our lives while munching on cafeteria mac-n-cheese!"
Want to win amazing dates, jewelry, honeymoons and more? Head over to chicagostyleweddings.com and see what gifts we're currently raffling off!