The ChicagoStyle Weddings team took on New York Bridal Fashion Week! Follow along to discover the latest and greatest bridal trends of 2018 and get behind the scenes with designers, models and more.
Show #1: BERTA
The team began their second day of NYBFW with Berta's runway show. The collection featured gowns that were body-hugging but also showed movement, and materials like tulle and ostrich feathers created a sense of fluidity. The dresses were decked out with sparkles and the models themselves were festooned with flashy metal headpieces as they walked down the runway to up-tempo beats.
Show #2: Justin Alexander
The team then headed to the Justin Alexander event. There, they were treated to an incredible line full of simple yet sophisticated crepe fabrics, collared gowns, billowing capes and metallic accessories. After the show, the team was able to interview the designer.
Justin Alexander, on his collection…
"[Our brides] have always been sophisticated, refined, glamorous, but now we see it moving a little bit towards preppy-refined. That's why you have the modern, tailored bodice and the collars. Double crepe is a great fabric to use for that because it's stretchy but also structural, so it looks great on a ballgown or a slimmer design."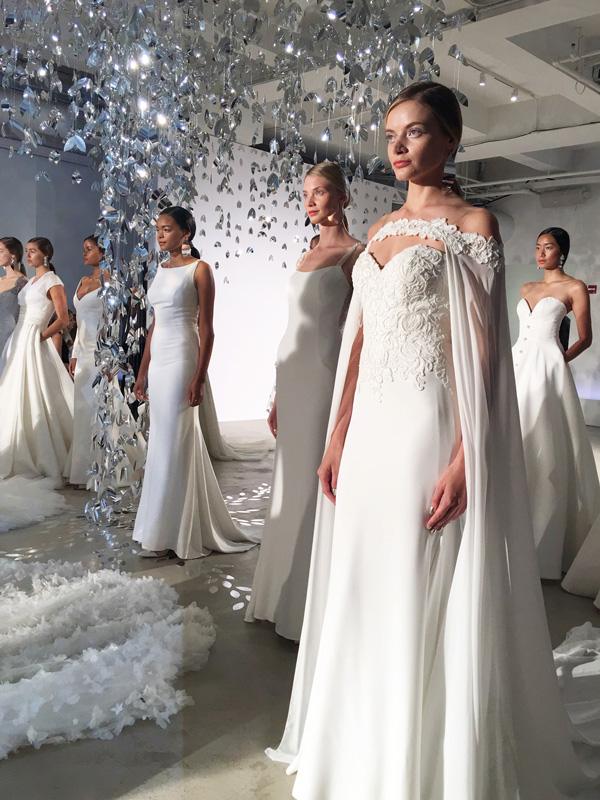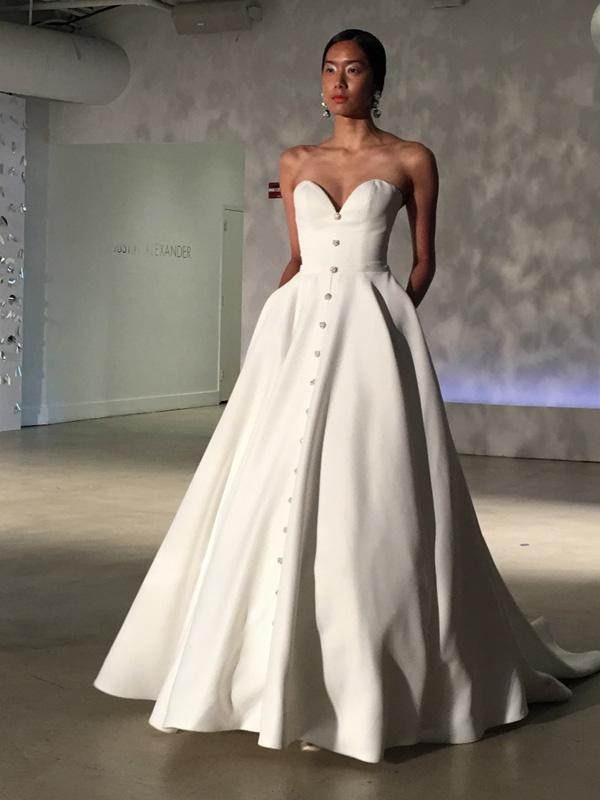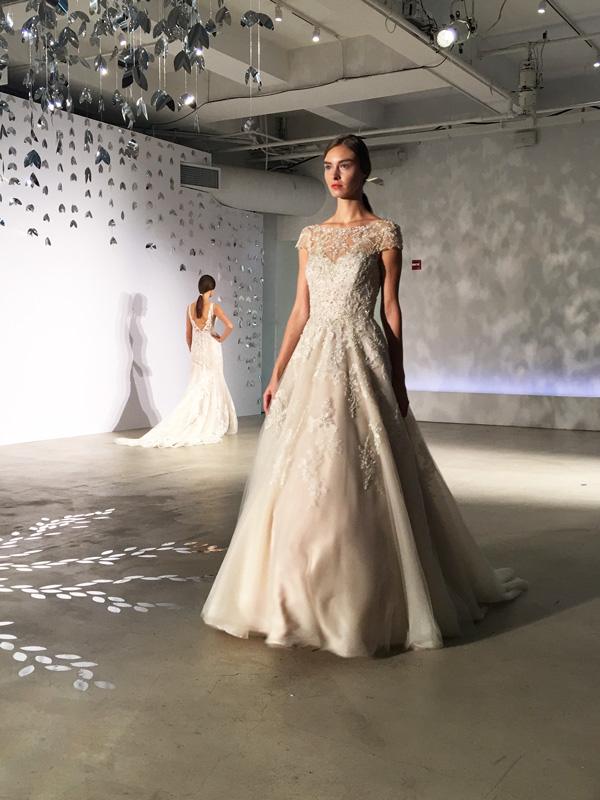 Show #3: LAKUM
After the incredible Justin Alexander show, the team headed over to the next presentation on their schedule: up and coming designers LAKUM, who unveiled their collection at one of Elizabeth Taylor's former homes. Models wearing structured, geometrical dresses moved around the room and showed off a non-traditional look that included faux hawks, metallic makeup and statement gowns. After the show, the team was able to interview the incredible duo behind this otherworldly line.
Sathya Balakumar and Heather Green, on LAKUM:
"LAKUM is about being able to wear your dress for the entire night and feeling comfortable, feeling like yourself. It's like a second skin. That's why we don't do big skirts or use tulle. It's all about how [the bride] can be authentic to who she truly is as a bride, as a woman and as a fashionista."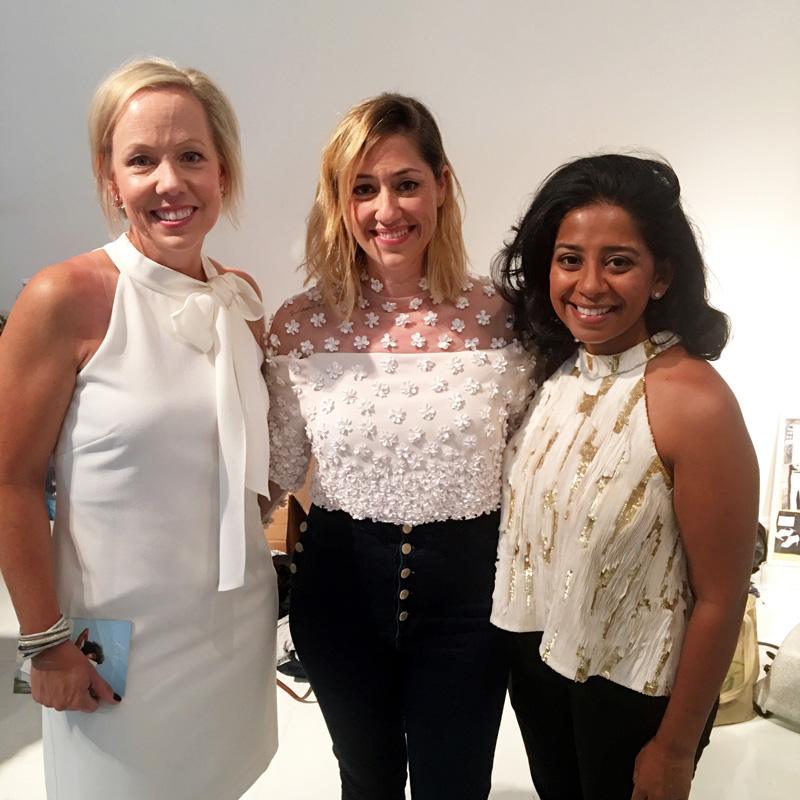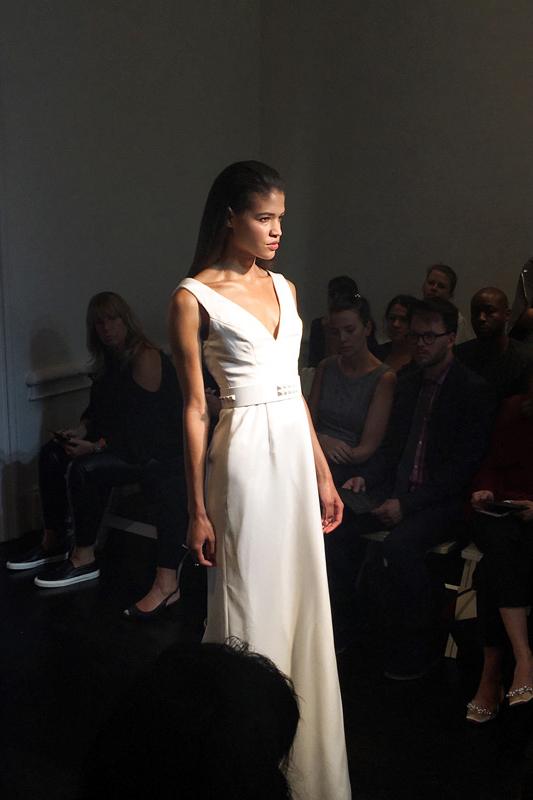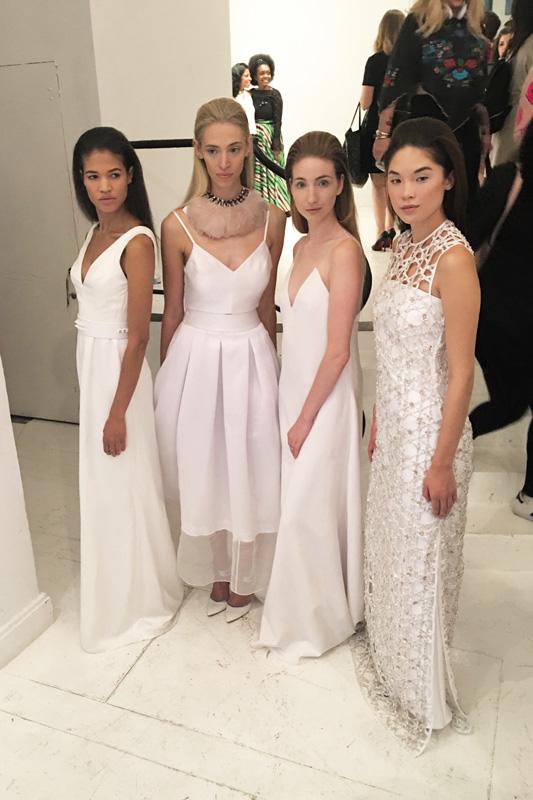 Show #4: Ines Di Santo
Following the LAKUM show, the team made their way to Ines Di Santo's runway event. From the individual opera glasses that each guest received upon arrival to the string ensemble and breathtaking backdrop, Ines' collection was magical, impactful and absolutely mesmerizing. Instrumental music accessorized the gowns just as much as the models' pearl hair clips and earrings, and the team whole-heartedly agreed that the collection was one of their favorites.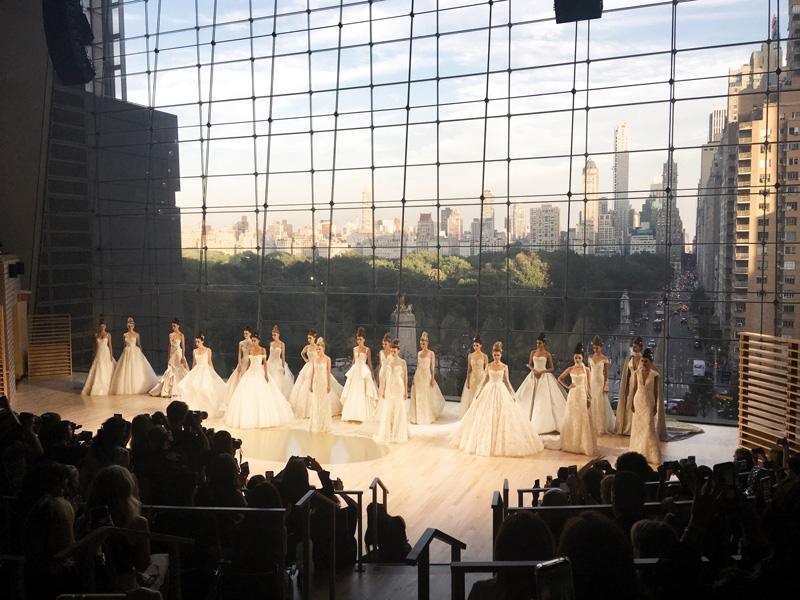 Show #5: Galia Lahav
Upon arriving at the Galia Lahav runway, the team was handed a bottle of the brand's signature perfume scent and ushered to their seats. With the new collection, all 5 senses were to be engaged as the team sat in front of a hanging floral installation. Models showcased a collection of gowns that included everything from whimsical and flowy skirts to sleek and slinky dresses, all the while moving to the beat of classic, upbeat love songs.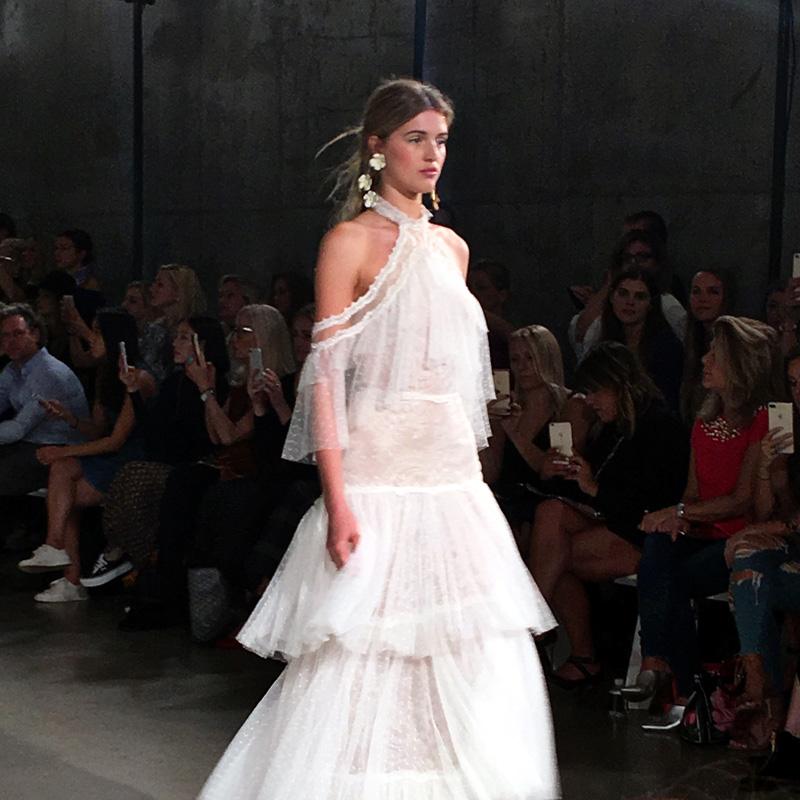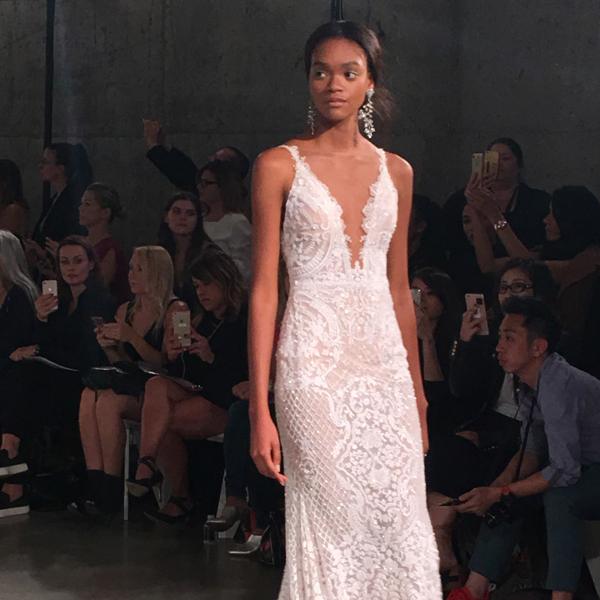 Show #6: Lazaro, Allison Webb, Blush by Hayley Paige, and Hayley Paige
The team's final event of the night was JLM Couture's multi-designer encompassing runway show. The first collection to be unveiled was Lazaro, which mixed colors with merlot lace and black sheer. The next designer to take the stage was Allison Webb. This line featured gowns paired with gorgeous capes and gatherings reminiscent of bows. The event was wrapped up with the two Hayley Paige collections, both which wowed spectators with their unique fabrics and flawless mixing of classic elements and edgy finishes.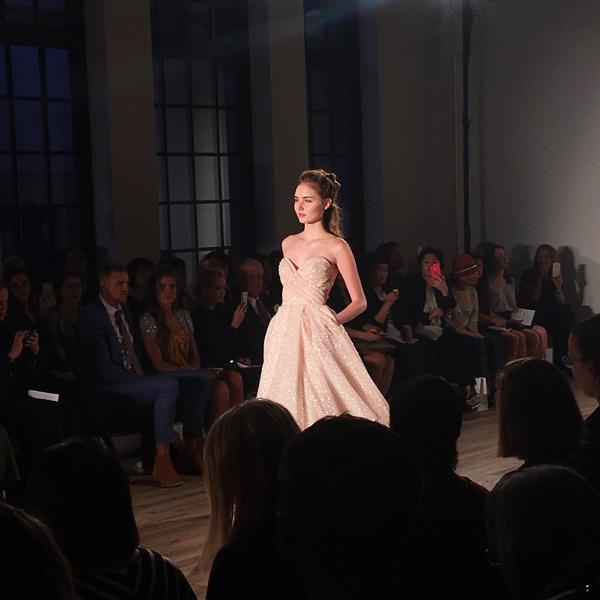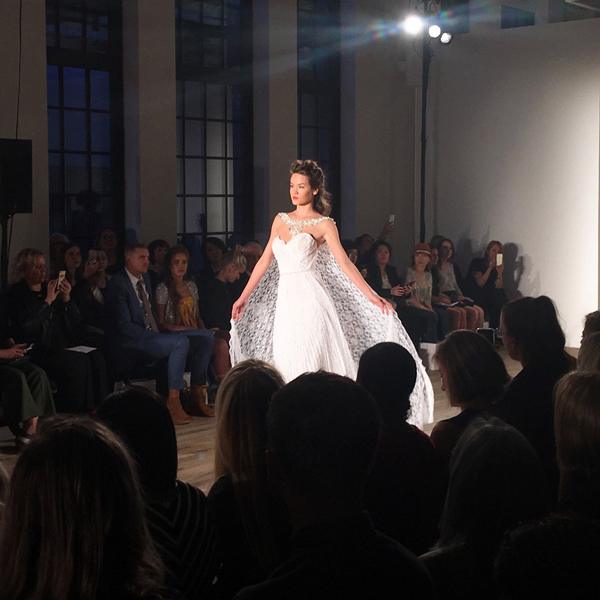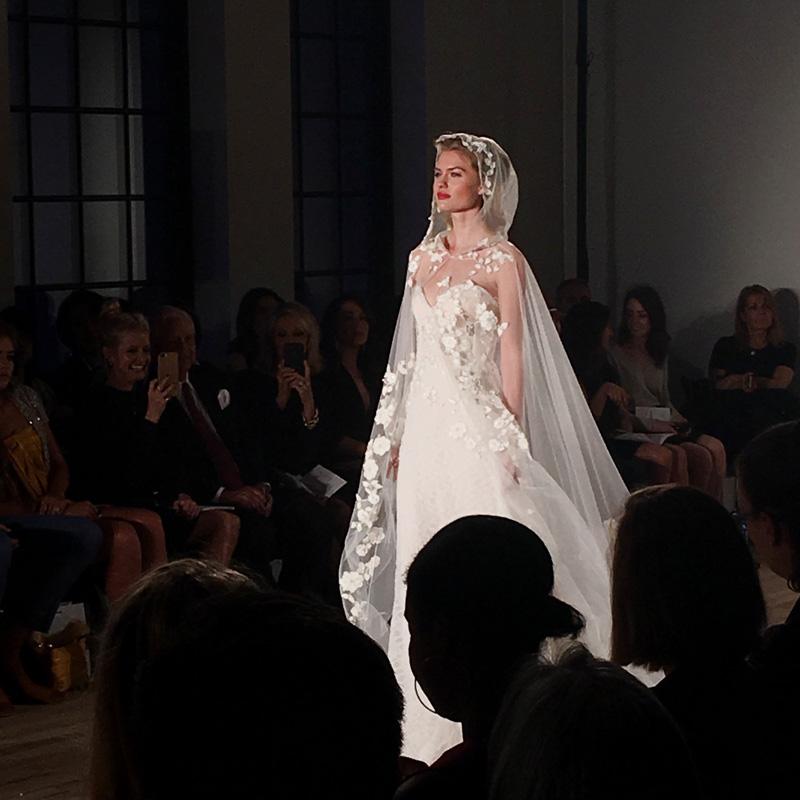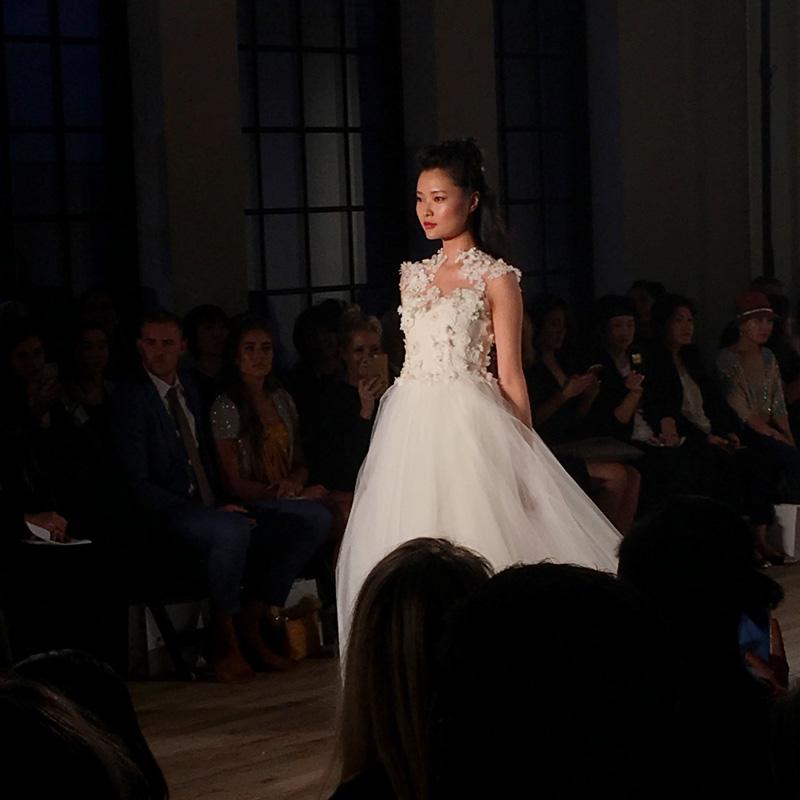 Blush by Hayley Paige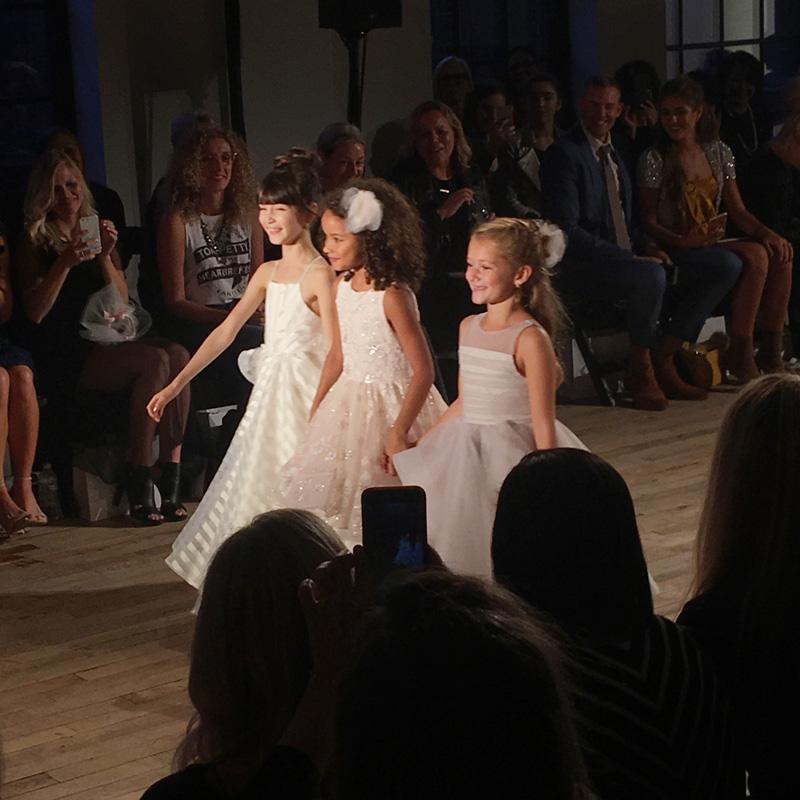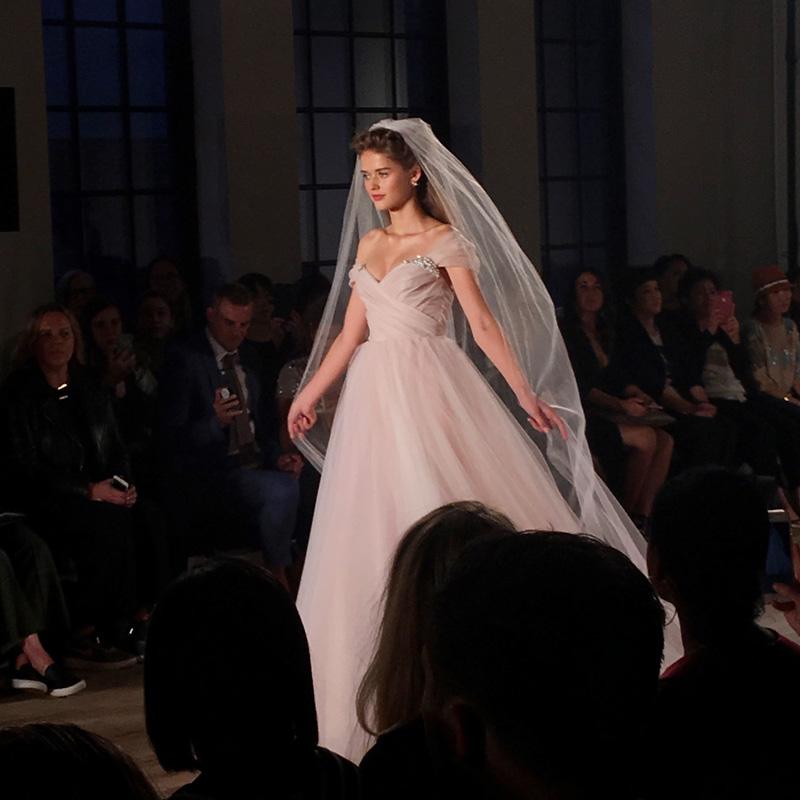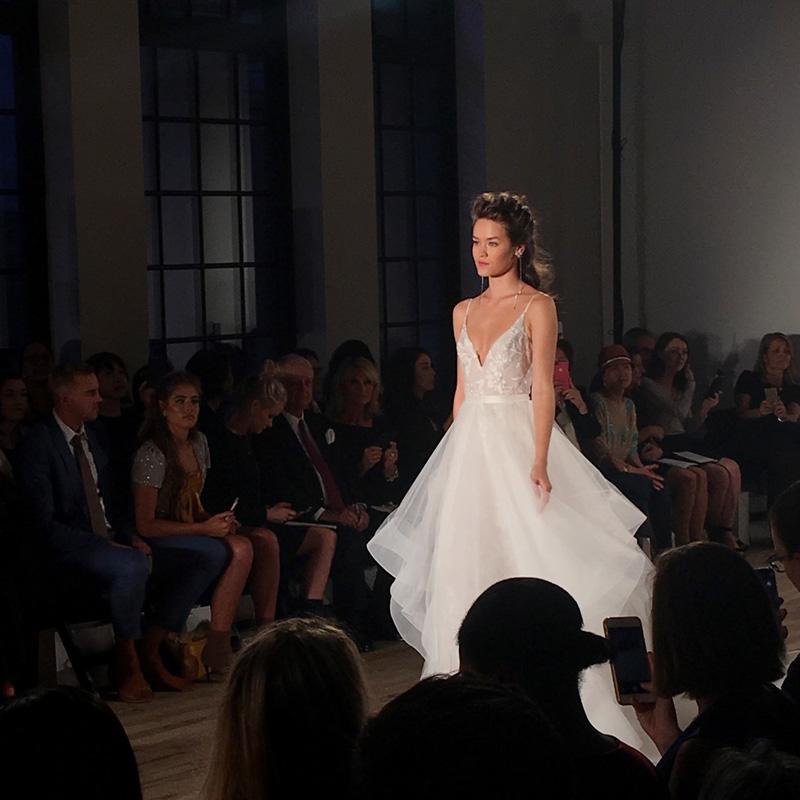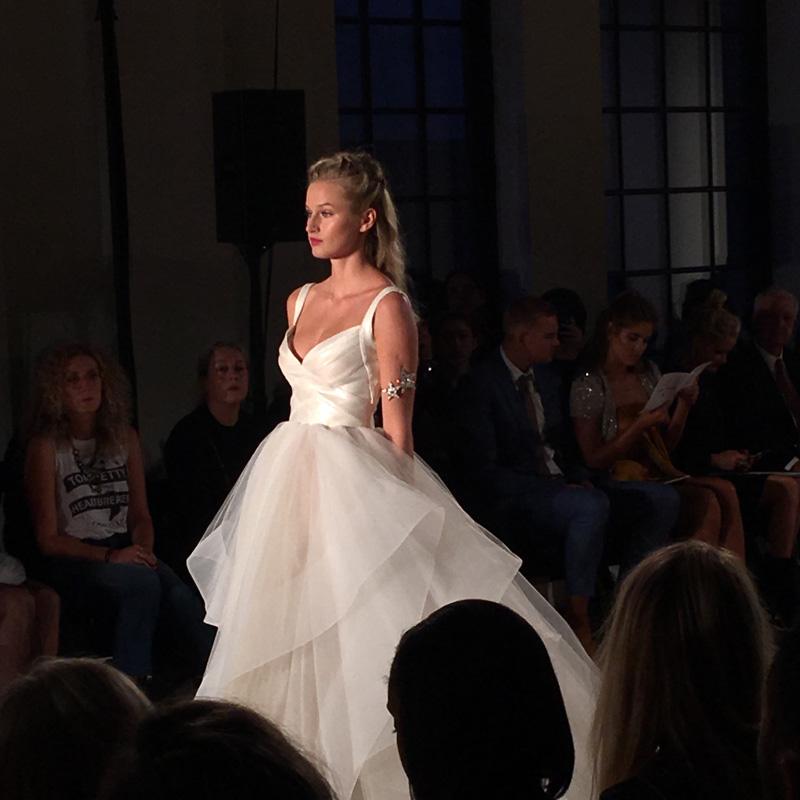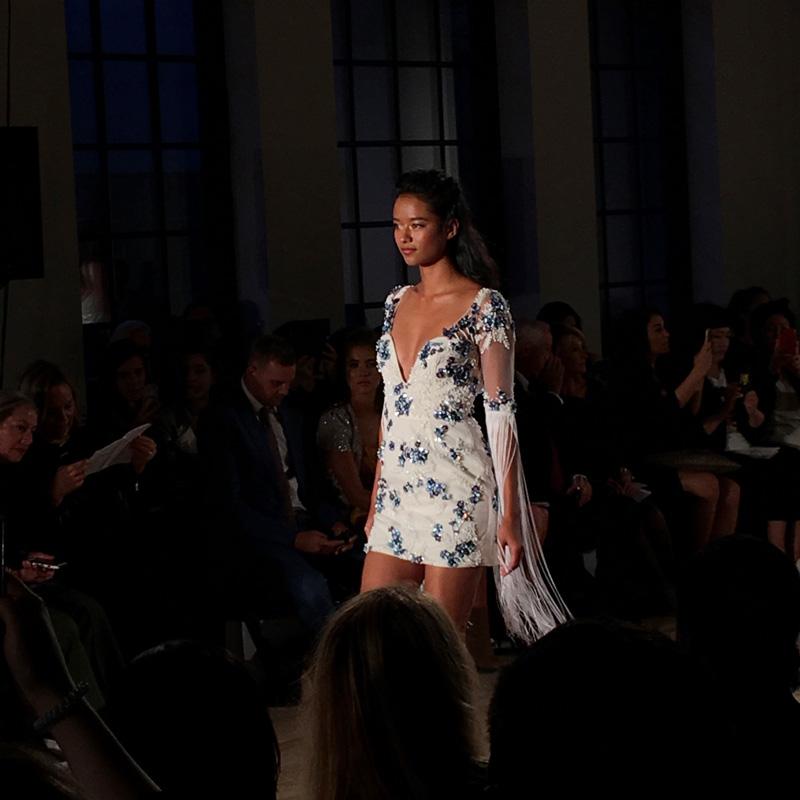 Tomorrow, the CSW team will take on Day #3 of New York Bridal Fashion Week! Stay tuned to see more images and exciting behind-the-scenes details from designers like Pronovias, Kelly Faetanini, MinkMaids and more with the next installment of our New York Fashion Diaries.
Missed Day 1?
Head here to read all about the team's first day at New York Bridal Fashion Week.