The ChicagoStyle Weddings team is taking on New York Bridal Fashion Week! Follow along as we share all the hottest trends and looks for 2019 and go behind the scenes with designers, models, and more.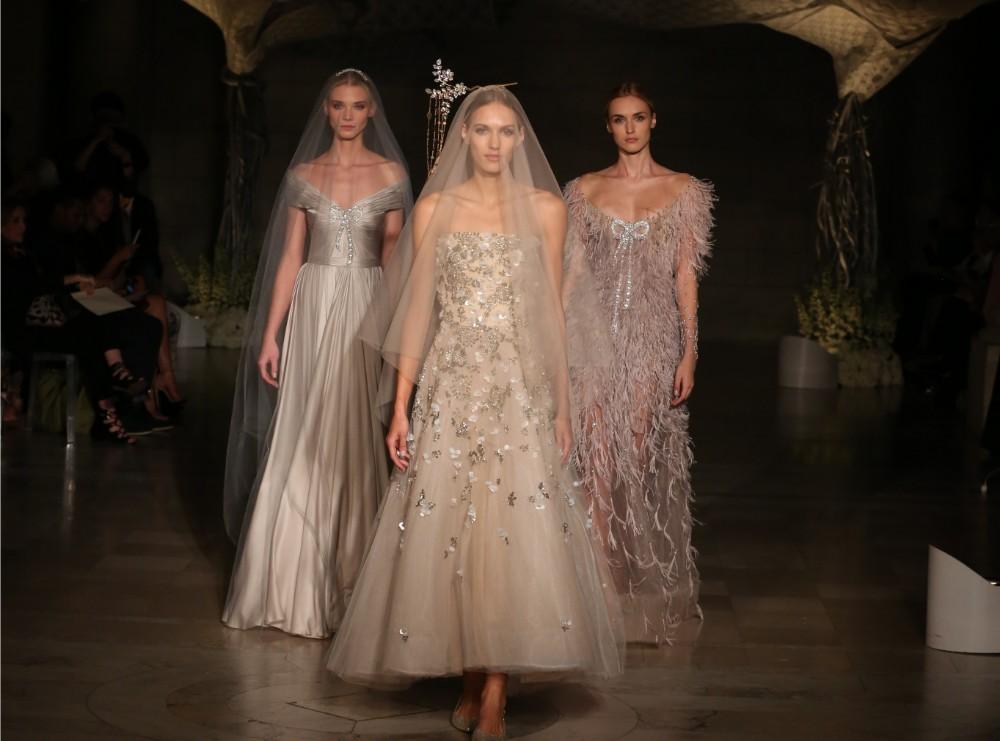 Known for master craftsmanship, exceptional fabrics, and unparalleled fit, Romona Keveza delivers exceptional gowns crafted with intricate details.
The team started the day strong with the ROMONA New York show featuring ethereal, romantic gowns designed for the more sophisticated, free-spirited Bride. Models were styled with soft, clean makeup with plenty of greenery crowns and bouquets for a fresh-from-the-garden feel. Plenty of waist ribbons and soft English tulle made for a dreamy, romantic vibe we just love.
Romona Keveza on the ROMONA New York Bride:
"You can see the free-spiritedness of the Romona bride. You can imagine her getting married in a barn or a vineyard… You can imagine cowboy boots underneath some of those dresses or even barefoot."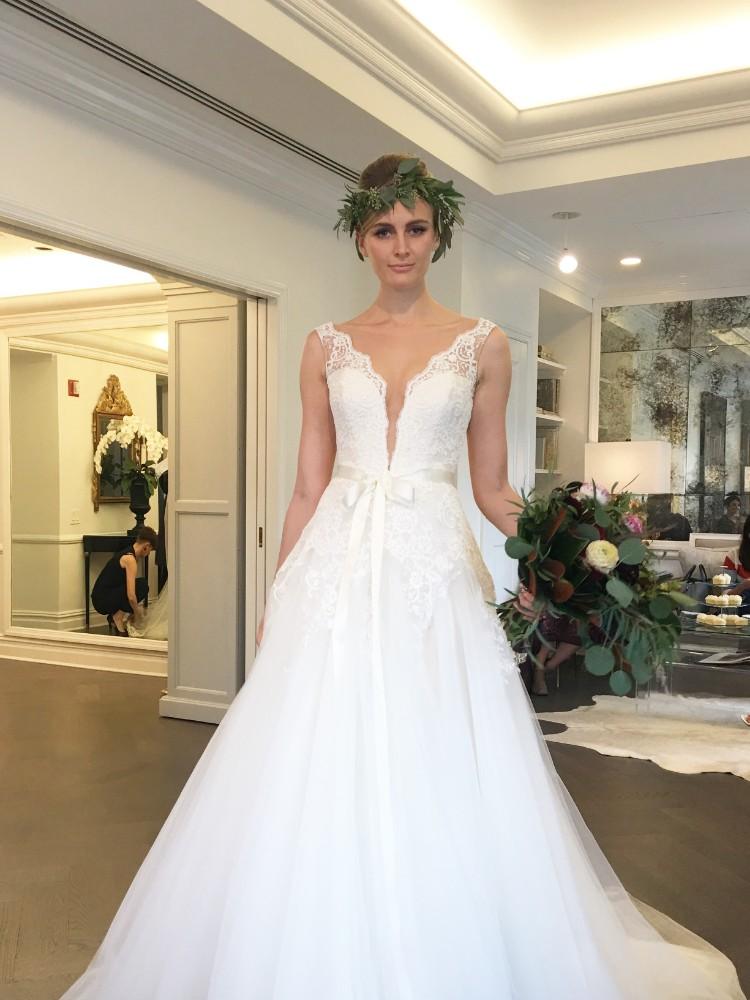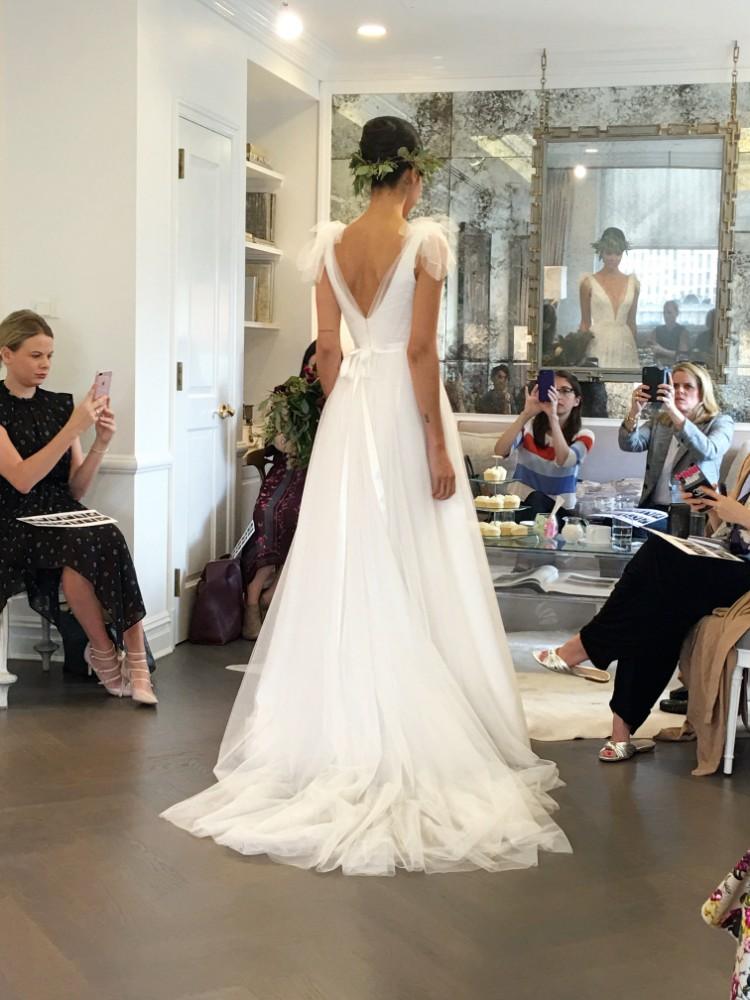 Rime Arodaky is consistently breaking stereotypes of what a typical Bride should look like. She creates sexy, edgy wedding attire for modern Brides.
This gorgeous collection was inspired by the connection between romantic relationships and a ballet duet. The fifteen years Rime Arodaky spent studying dance is evident in the silhouettes and lines of these gowns. The Rime Arodaky Bride is fresh, young, and sultry– a modern Bride who likes to show off her figure. The models wore damp hair, reminiscent of the dewy glow of a ballerina post-dance. Nods to the world of dance were also evident in tutu-esque pieces and lacy ballet shoes. The trendy fashionista will fall hard for this collection.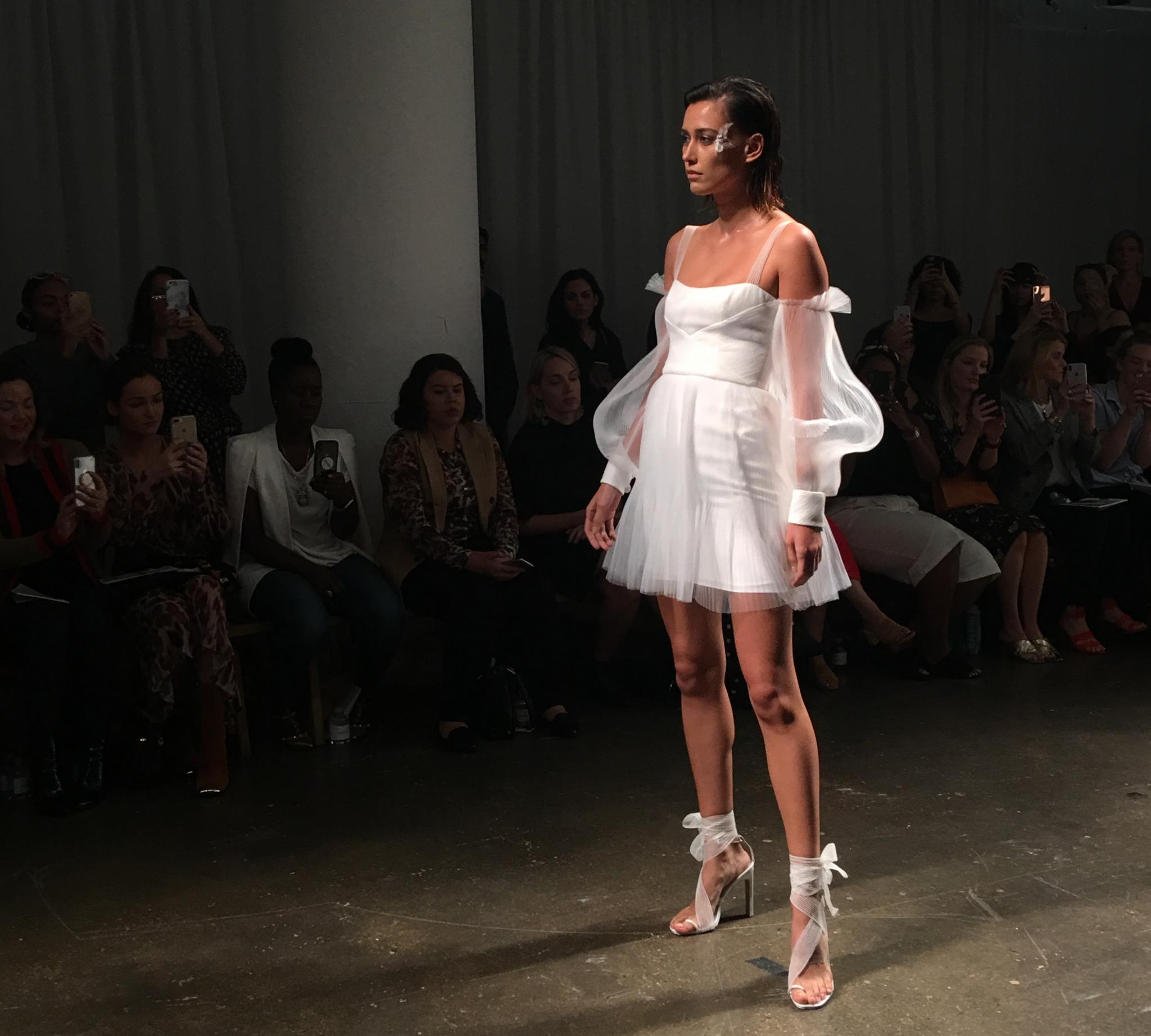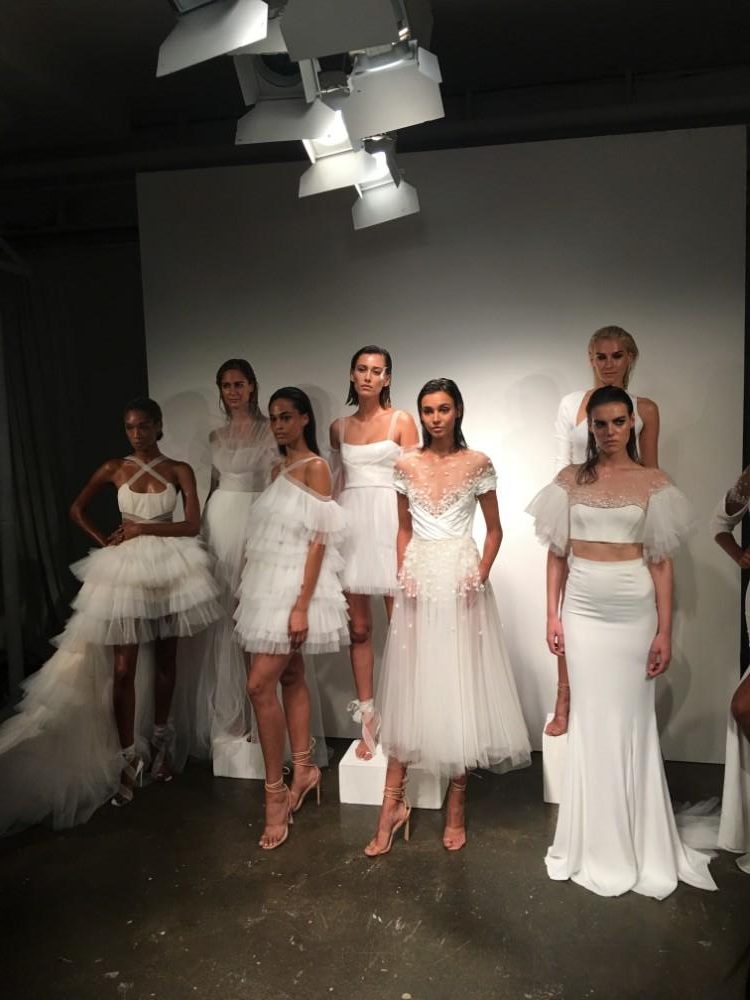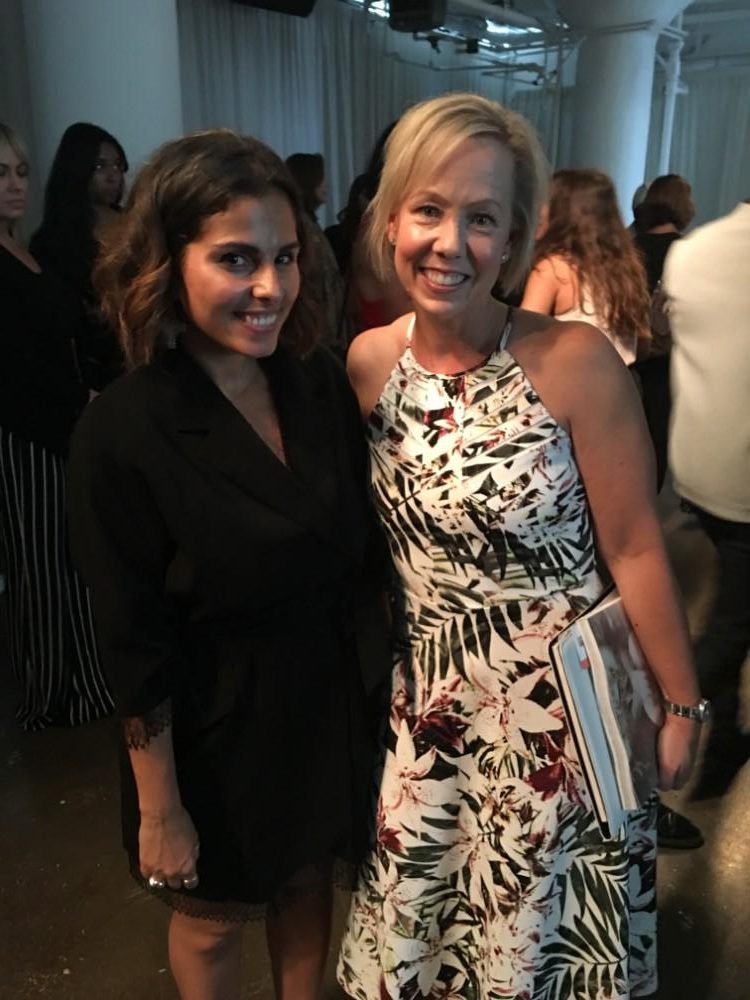 THEIA, inspired by the Greek Goddess of Light, designs gowns made to highlight each woman's inner beauty.
The understated sophistication of the THEIA collection is sure to appeal to refined, mature Brides. The models, with hair swept up and pulled back, complemented the elegant simplicity of the gowns, which featured beading and small floral details for added texture and interest.
Gracy Accad dresses Brides in modern, trendy looks without losing the classic, traditional elegance that keeps even the freshest design feeling timeless.
From the beautiful taffeta cape that opened the show to the amazing lace and chiffon track suit, we couldn't stop staring at each stunning, fashion-forward piece that came down the runway. Dramatic cat-eyes, matte red lips, and half-up/half-down styled hair suited the models perfectly. Gracy Accad is definitely someone to watch and we honestly can't wait to see what's next for her.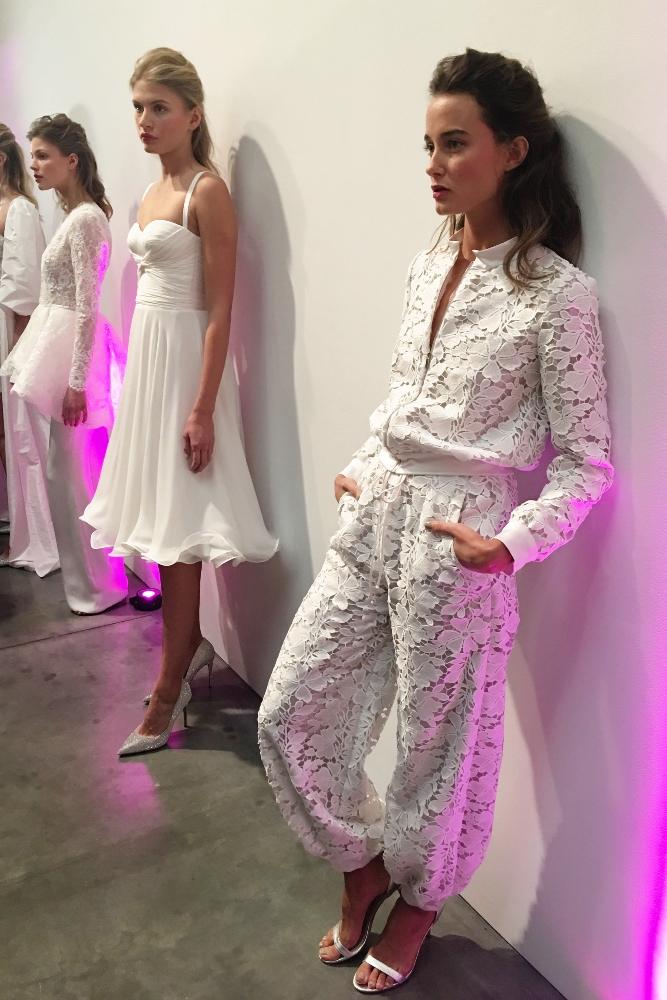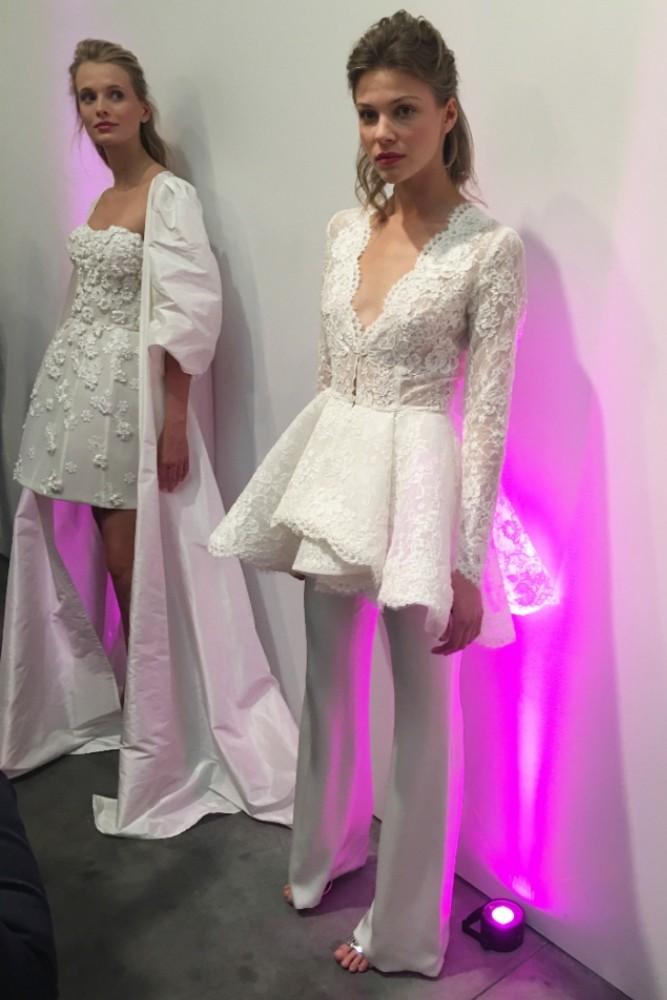 Lela Rose Bridal features sculpted silhouettes and luxurious fabrics that communicate a sophisticated, modern approach to wedding gowns. 
We were delighted to attend the beautiful outdoor tea party set up for the Lela Rose show. The lovely garden party was held in Greenwich Village, highlighting Lela Rose's love of the city, and included a live jazz combo for a festive mood. The models fit right in with low buns tied with delicate ribbon in gowns featuring beautiful lace throughout the collection.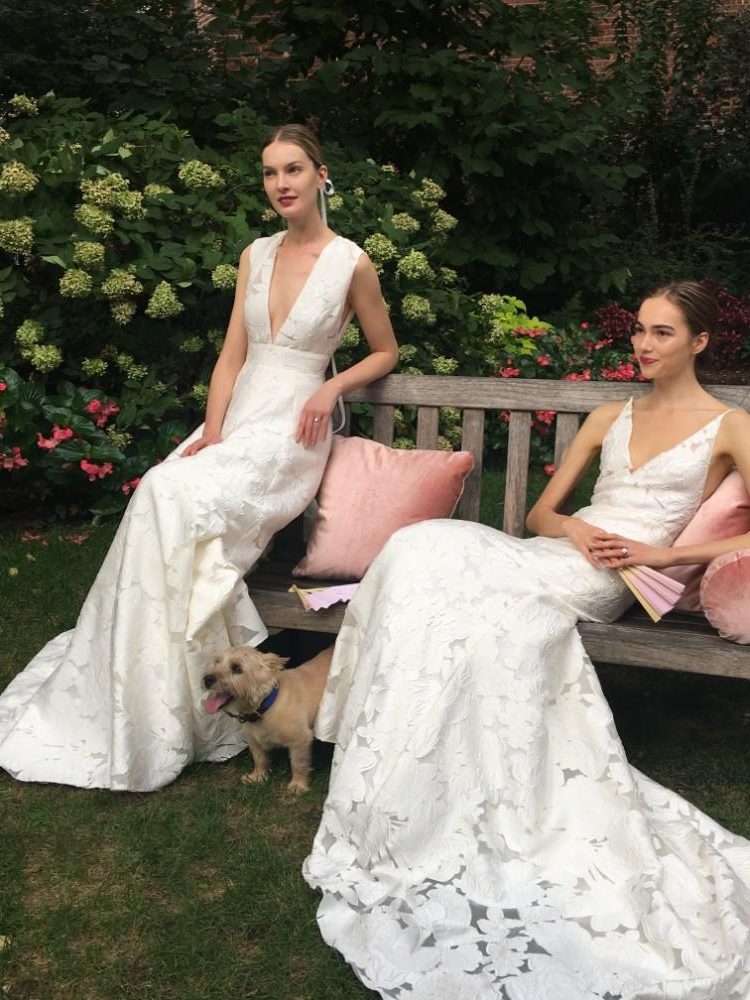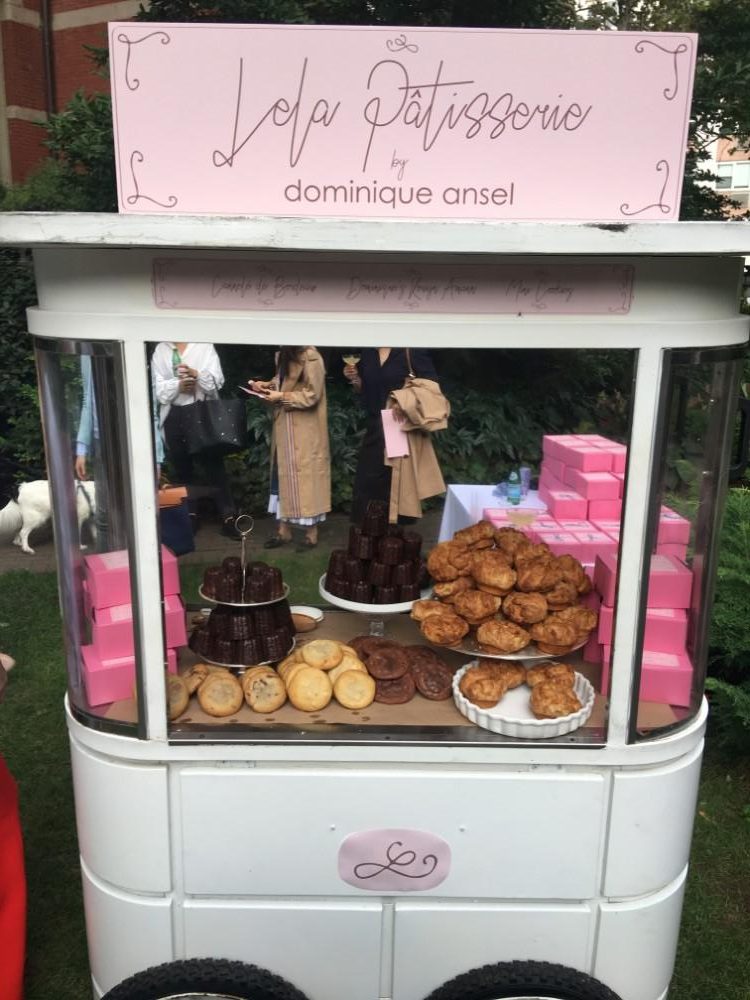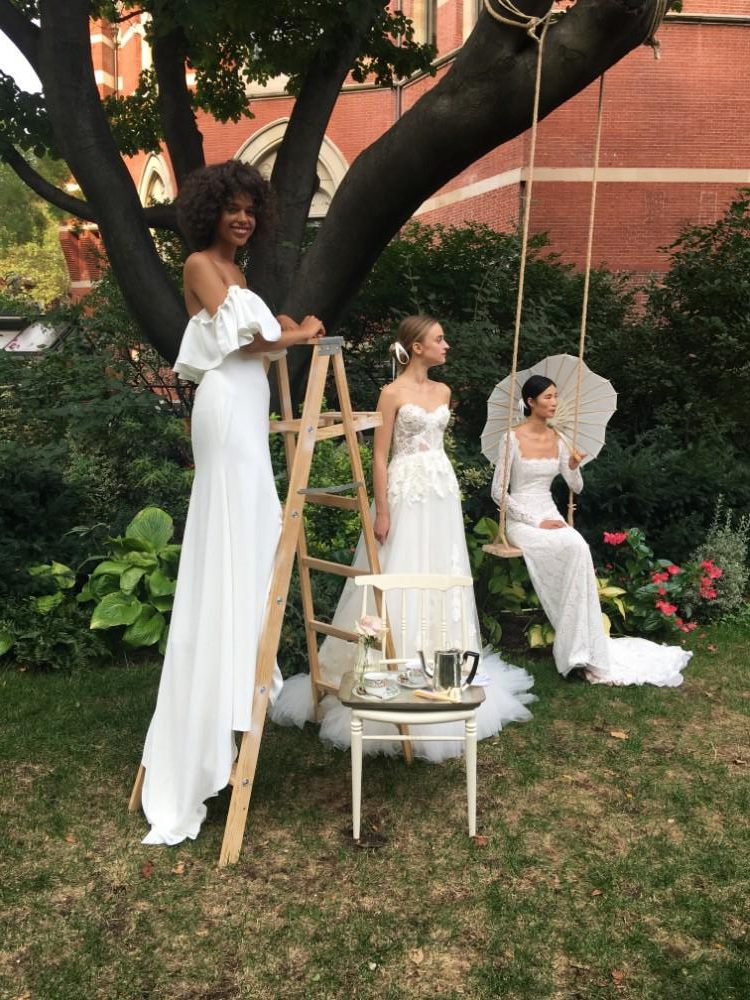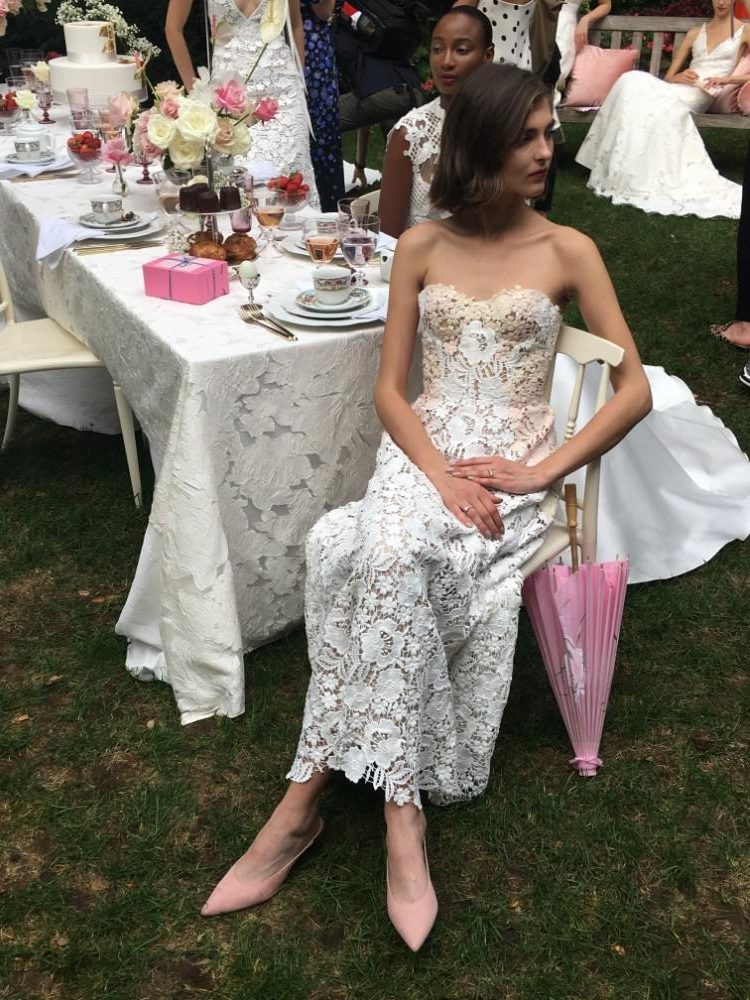 Inbal Dror brings red-carpet glamor and style to the wedding aisle, with dreamy, elegant gowns designed to make every Bride feel like a star.
This collection was simply a sensation. The sheer fabrics virtually floated down the runway on models styled with red matte lips and low-ponytail single braids down their backs. Headbands adorned with large pearls (designed by Karen Wolf) complemented the gowns. A Bride who wants to feel sexy and sensuous on her wedding day will easily find her dream gown in this collection.
Inbal Dror, on her inspiration:
"To me, the Mediterranean Sea is always so inspiring; its beaches, the freedom, the lightness. I love it so."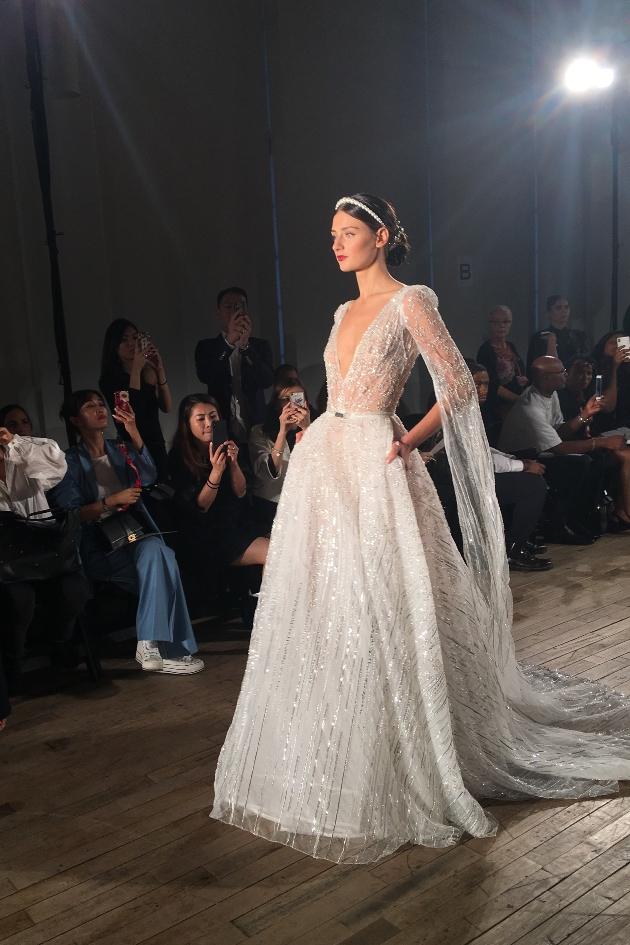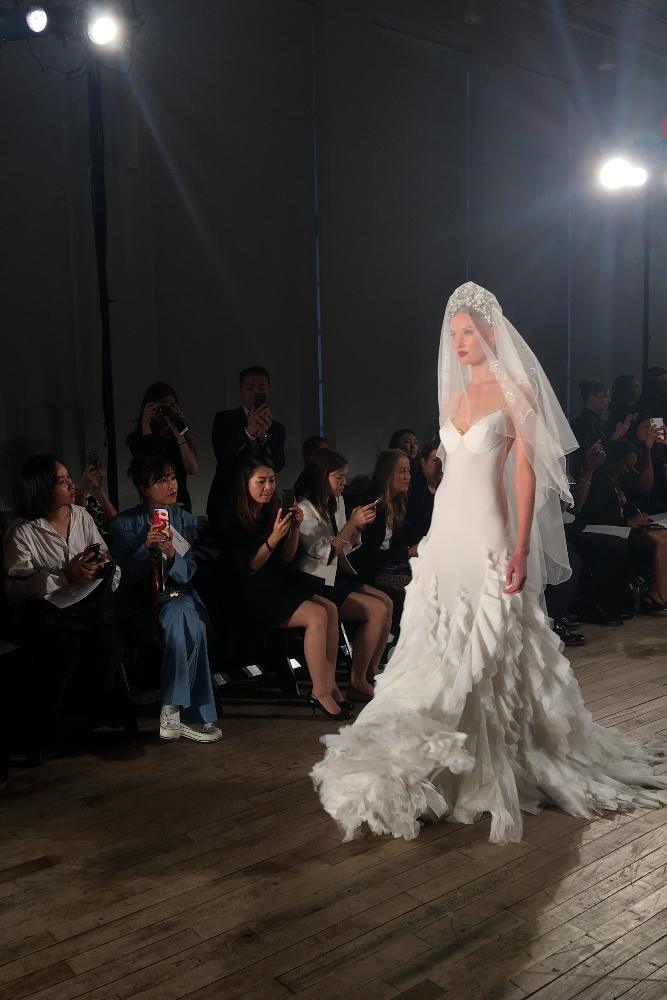 With inspiration from vintage couture, Anne Barge delivers gowns that are a perfect blend of timeless and contemporary.
We were obsessed with the giant, statement-piece earrings in this show. Models looked exquisite with half-up/half-down hair styled with a small twist in the back. The straight and sweetheart necklines were perfection, while the quality of craftsmanship was unparalleled. This collection speaks to the modern Bride who still desires a nod to classic features.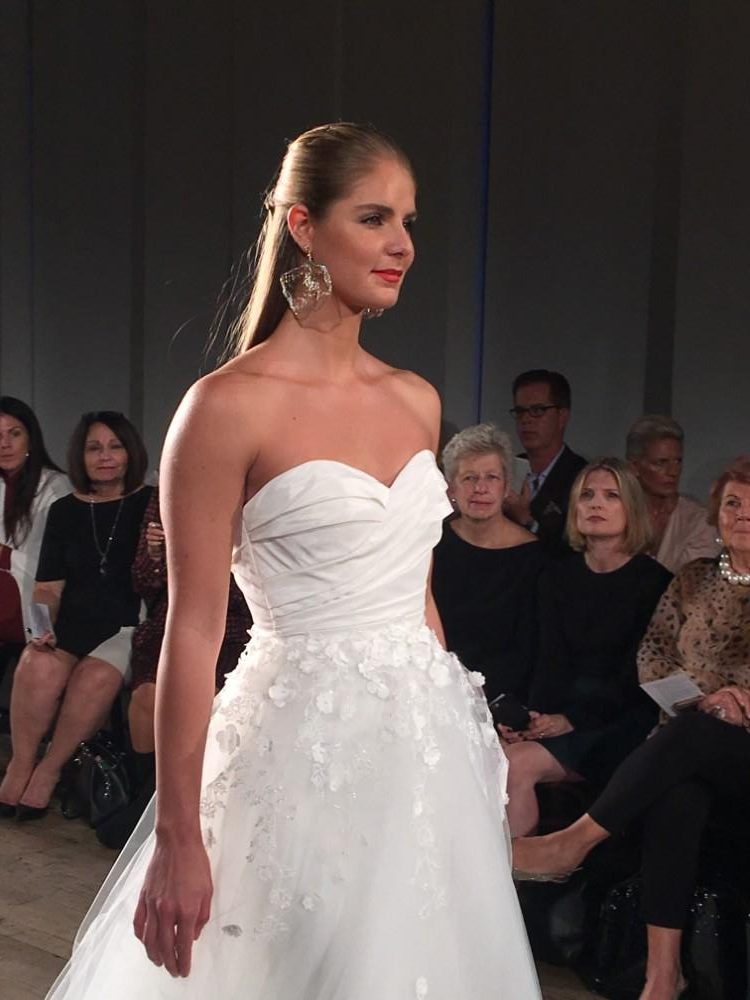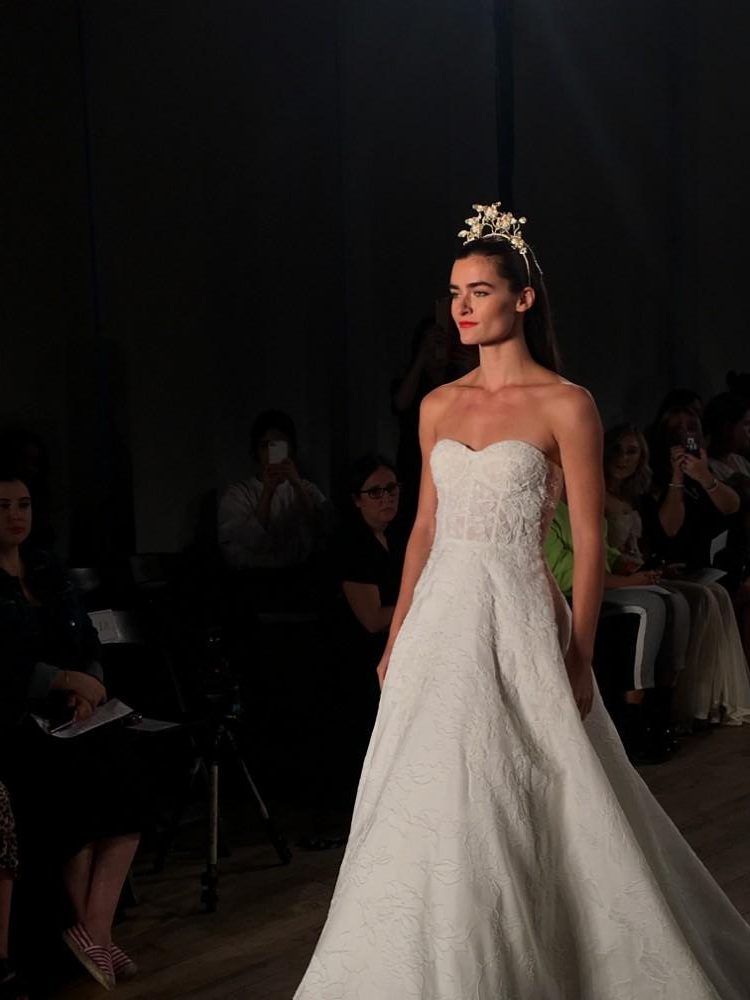 Reem Acra pushes boundaries and consistently redefines the boundaries of fashion with her modern aesthetic and respect for traditional elegance.
Shown in the New York Public Library's Gottesman Hall, the Reem Acra show was lively and fun with a set designed by esteemed event planner Preston Bailey. The models exuded a distinct lightness that reflected the soft and graceful lines of the gowns. Glamorous accessories, like the lace full-length capes and jeweled opera length gloves, topped off the gorgeous collection.
It's safe to say that the first day of New York Bridal Fashion Week set the bar pretty high. We can't wait to see what tomorrow's shows have in store for us. Stay up-to-date on all the exciting designs, trends, and designers by following along with our NYBFW Diaries series on the blog.