The ChicagoStyle Weddings team wrapped up an incredible week at NYBFW with a fabulous last day of gowns, glitz, and glamor. See all the gorgeous details of the 2019 collections we saw in today's blog.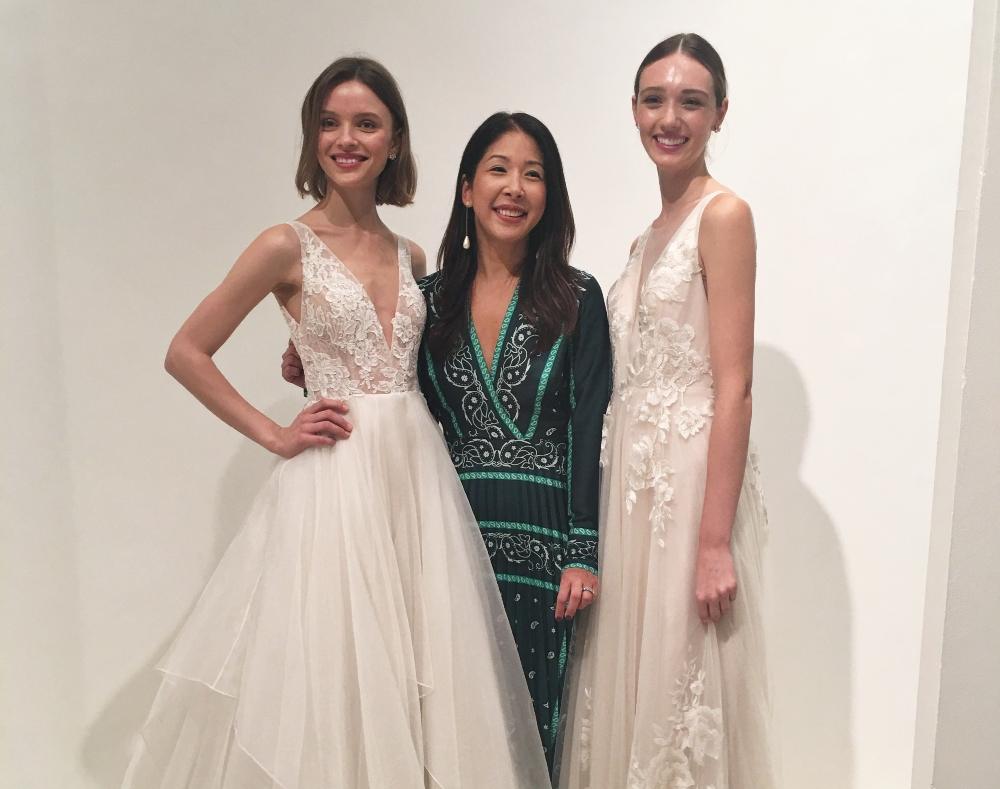 Known for master craftsmanship, exceptional fabrics, and unparalleled fit, Romona Keveza delivers exceptional gowns crafted with intricate details.
This sophisticated line is designed for the ultimate luxury client. The gowns featured luxe fabrics, fluted skirts, and plenty of movement, achieving a refined elegance we loved. Grand cascading orchid bouquets echoed the upscale vibe of the collection. For the Bride who wants to feel exclusive, limited-edition Romona Keveza Collection Bridal gowns come with a tag made of gold that lists the number of that gown within the collection.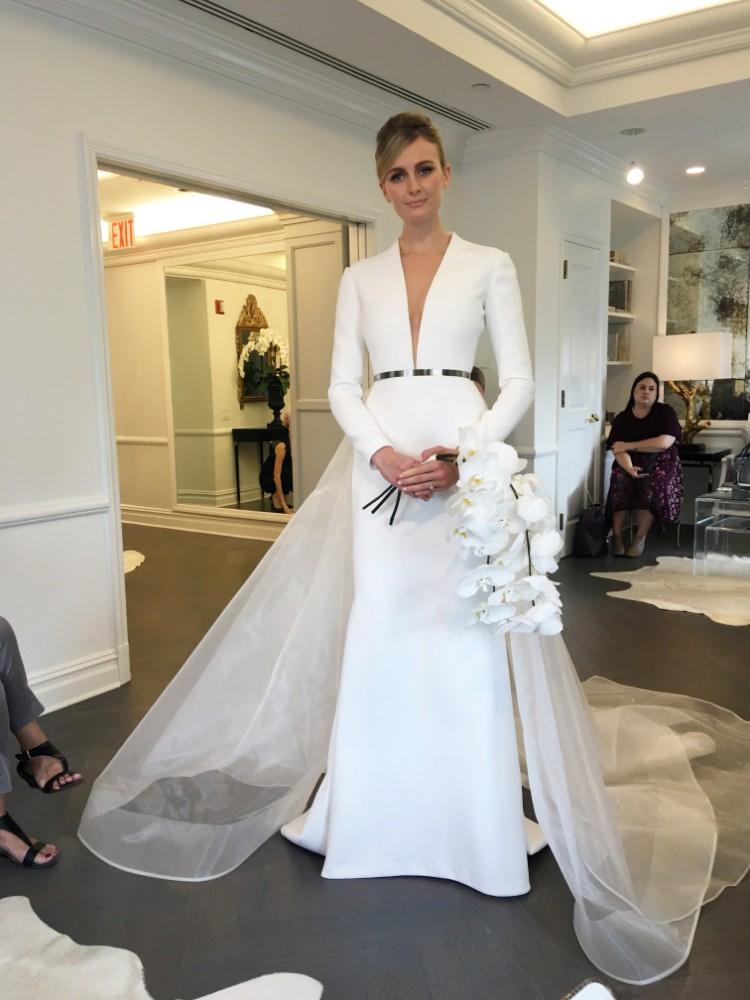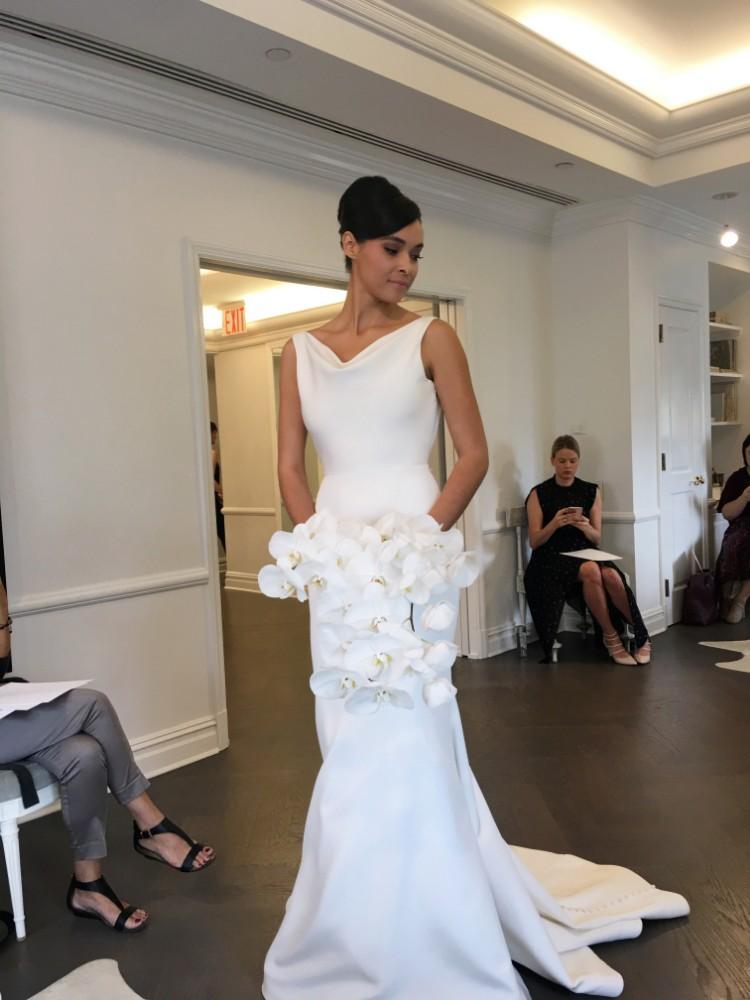 Alexandra Grecco features whimsical, ethereal gowns for the less-than-traditional Bride.
This show was held on a beautiful outdoor rooftop. The unique floral and feminine touches of the designs made for a lovely, whimsical collection.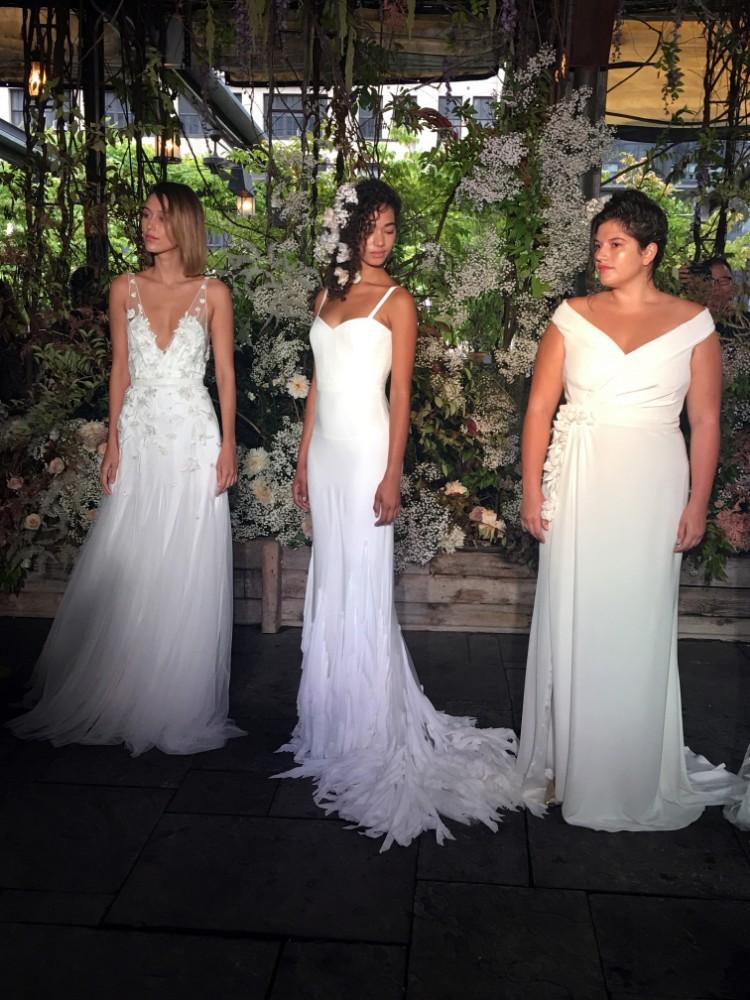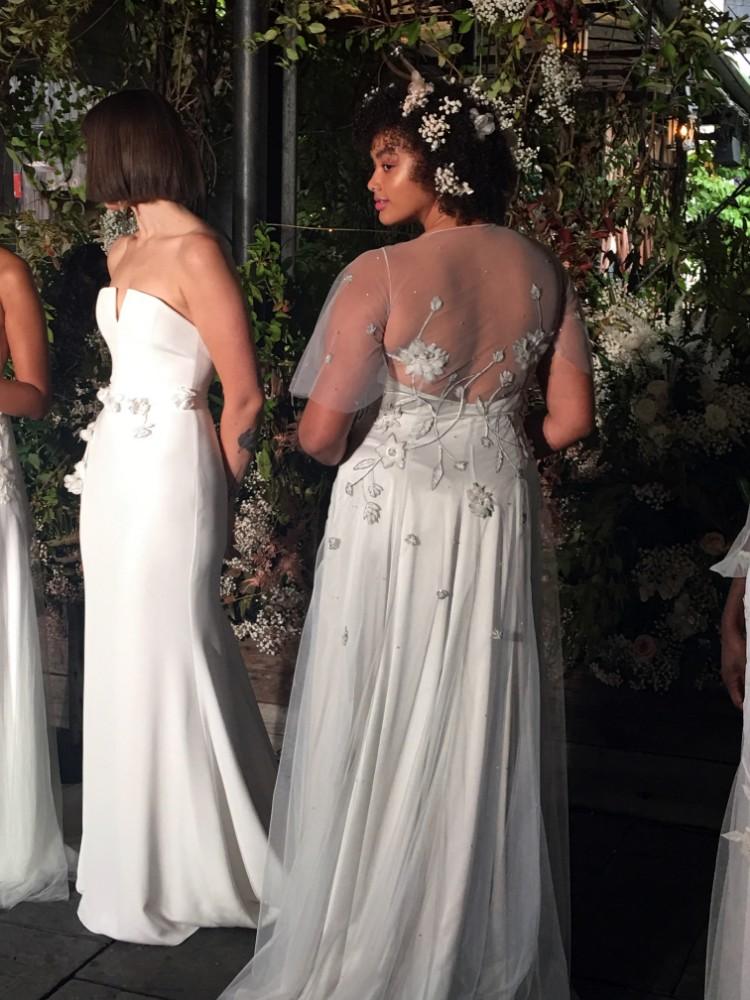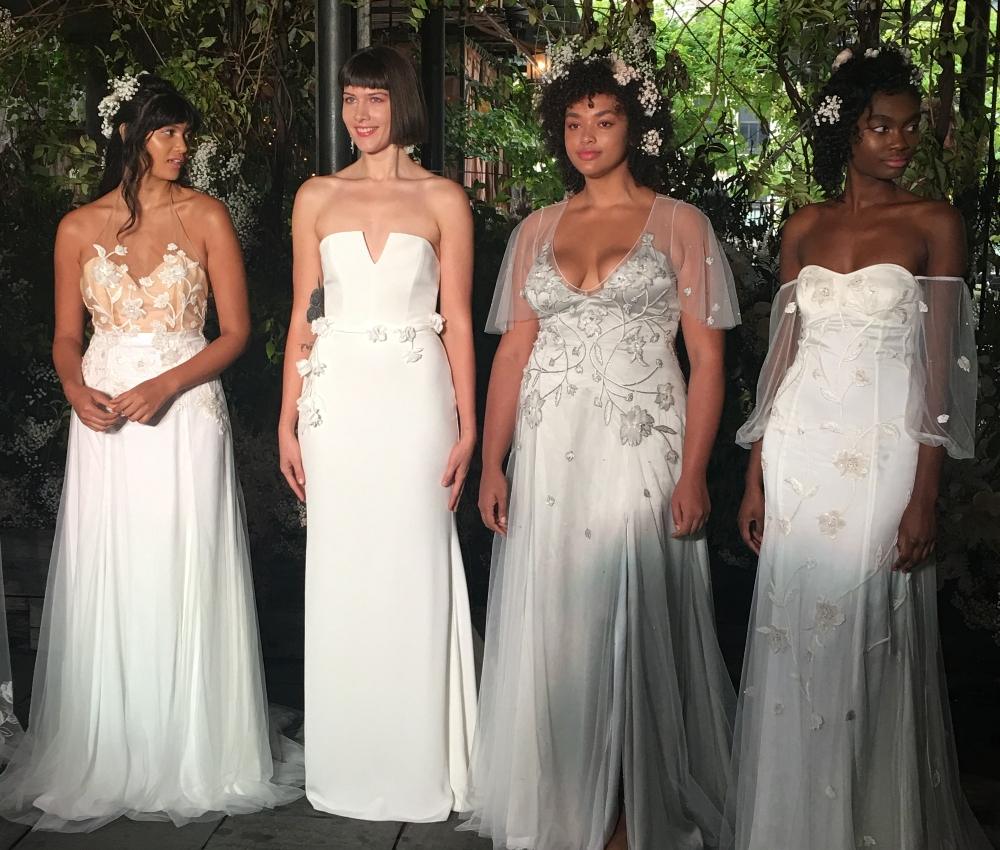 With an emphasis on comfort, Galia Lahav gowns are romantic, sensual, and figure-flattering.
This stunning collection was inspired by Portugal, even down to the details from the tile patterns. The show had a sultry, tropical vibe that matched well with the dramatic and sexy collection. We were impressed by the versatile pieces we saw that could be changed in a flash with detachable trains and other accessories.
With an emphasis on comfort, Galia Lahav gowns are romantic, sensual, and figure-flattering.
This romantic collection took serious inspiration from Shakespeare. The designs featured romantic fabrics and silhouettes to achieve a light and airy vibe. The floral detailing in the gowns was exquisite, lending an air of fairytale romance.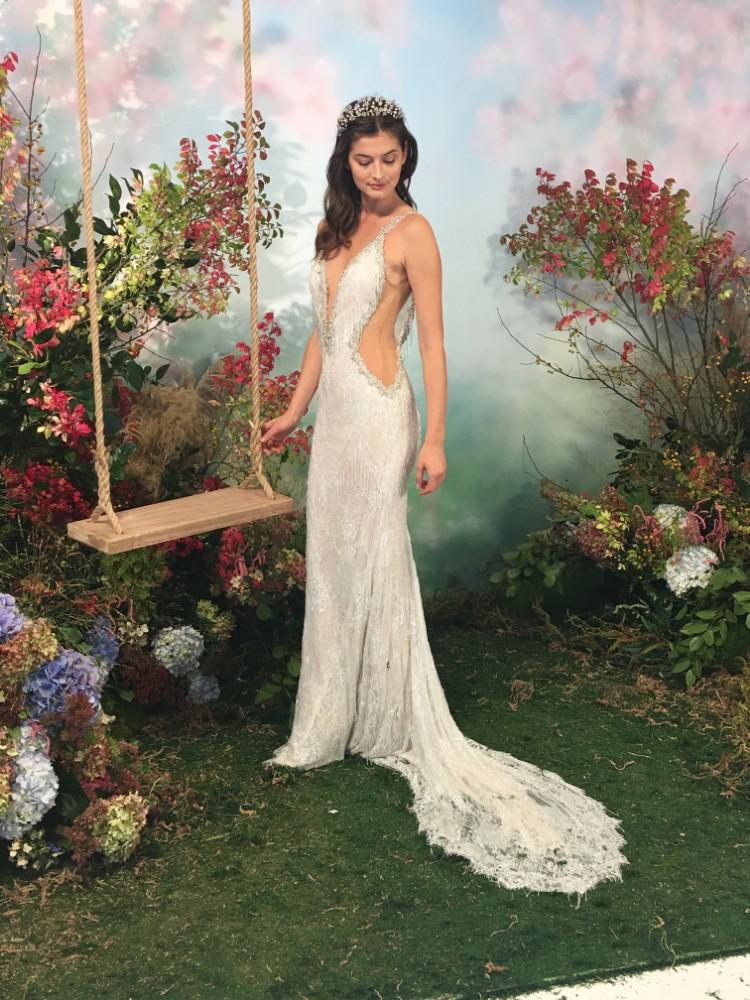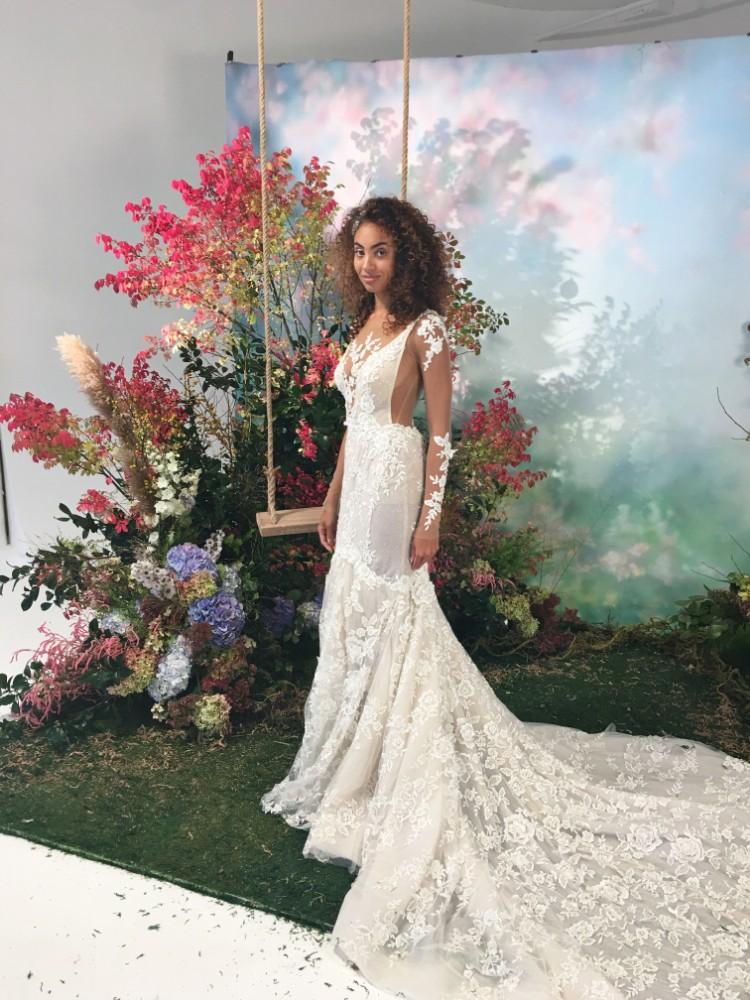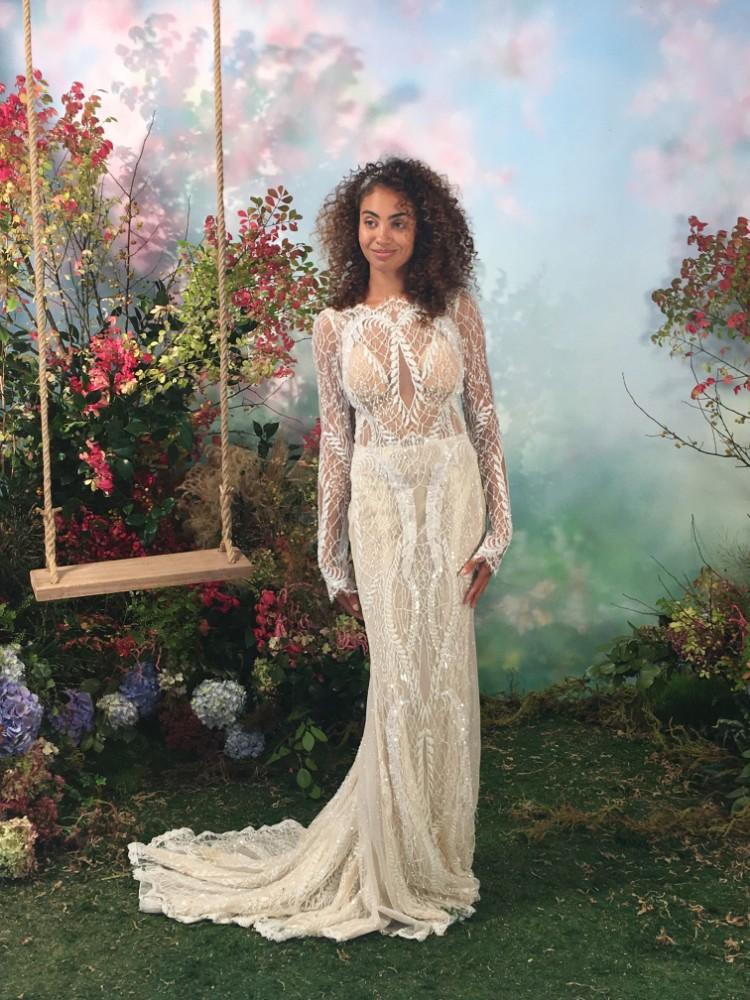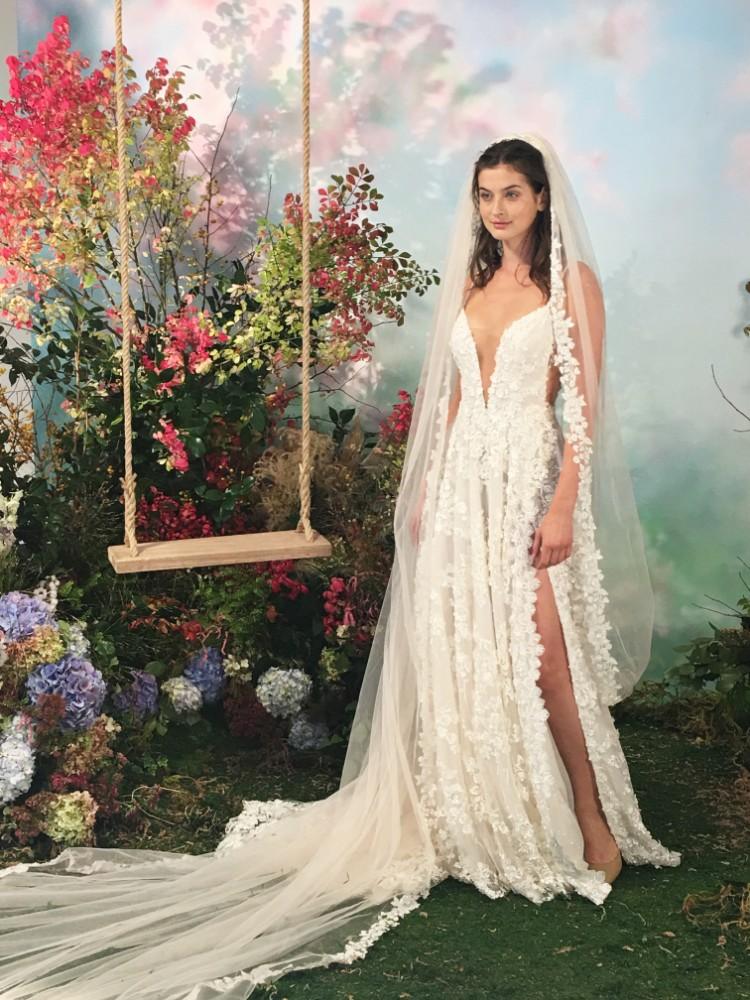 Julie Vino's collection features sexy, fitted gowns for the modern Bride.
The dramatic runway set the stage for this powerful collection. Models were styled with inspiration from Mexico with red lips and Frida Kahlo-esque roses in their hair. We saw quite a few dresses with sleeves decorated in intricate detail, with the gowns becoming increasingly more sultry as the show progressed. Mixed metals impressed throughout the looks, showing up in hairpieces, belts, and dresses with silver tones.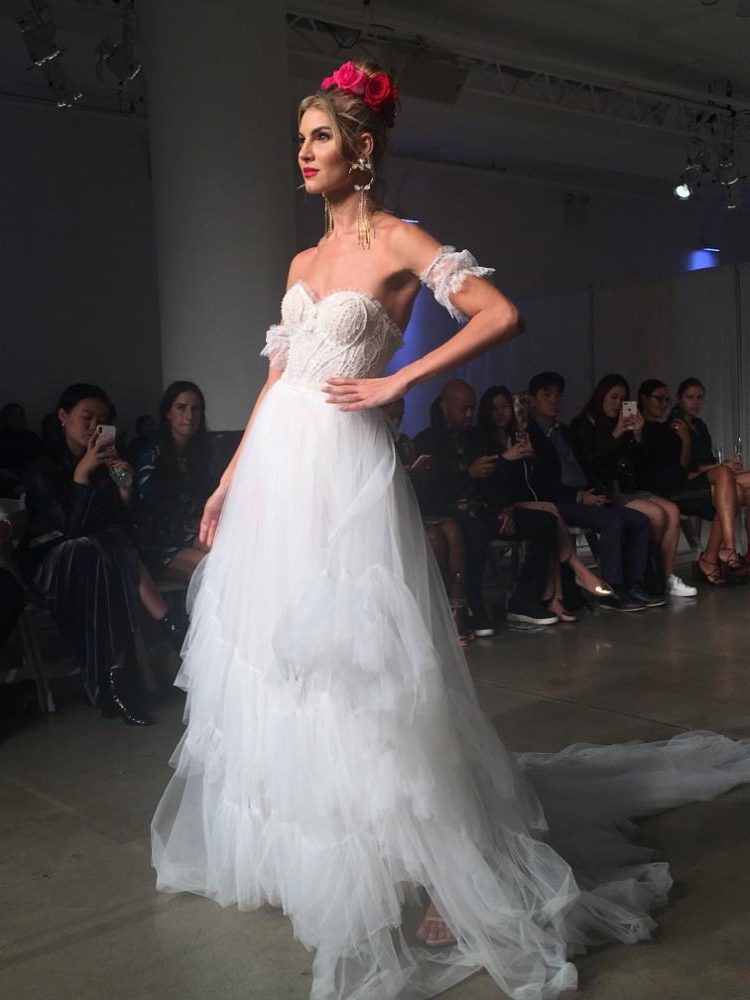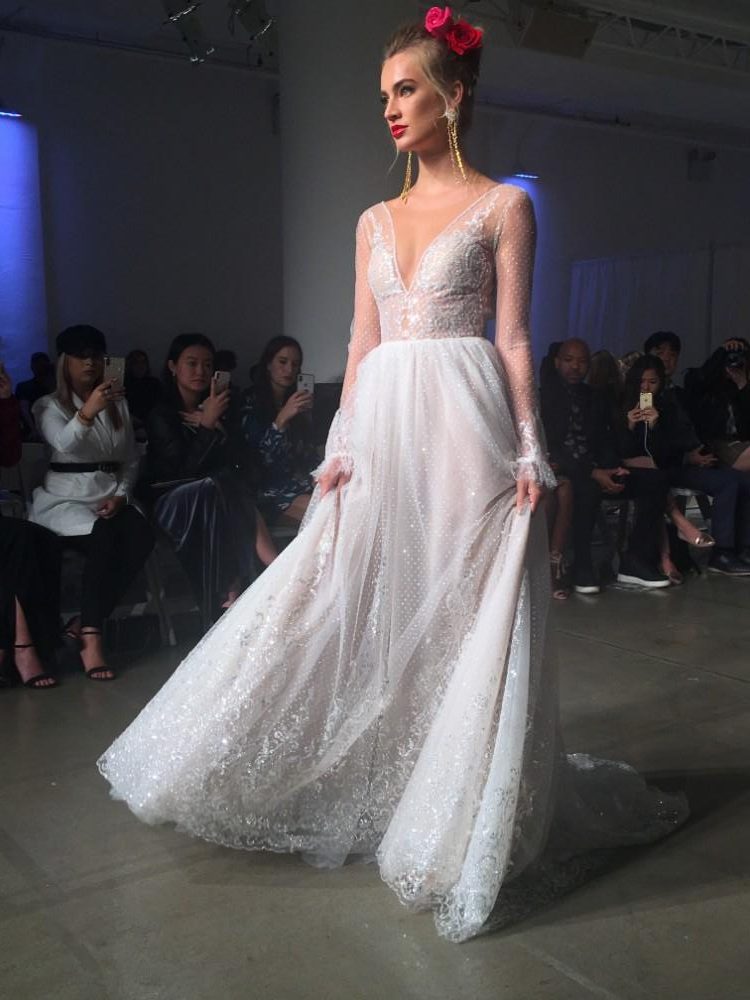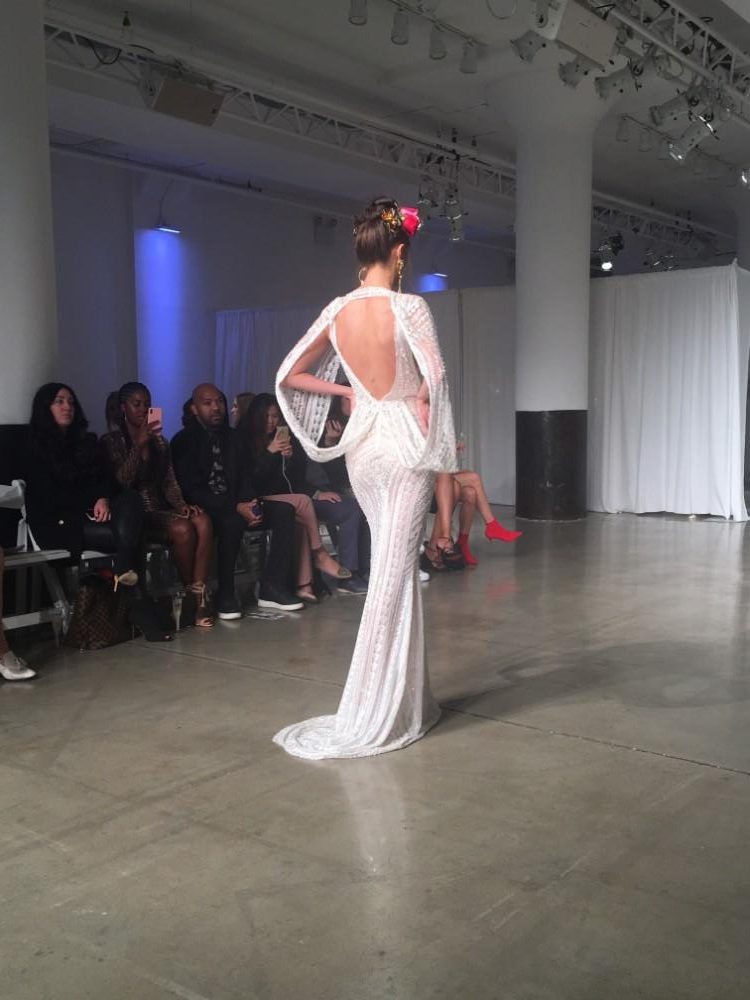 Pronovias
Pronovias focuses on designing a diverse range of dresses so every Bride, in every shape, can find her perfectly-fitted dream gown.
This refreshing collection featured models representing every size and shape, styled with natural hair and clean makeup. The gowns were pure class with touches of glam for a timeless look. The show itself was presented as an art gallery, with each gown featured as a work of art. We were lucky enough to get an impressive behind the scenes sneak peek at their atelier setup and process!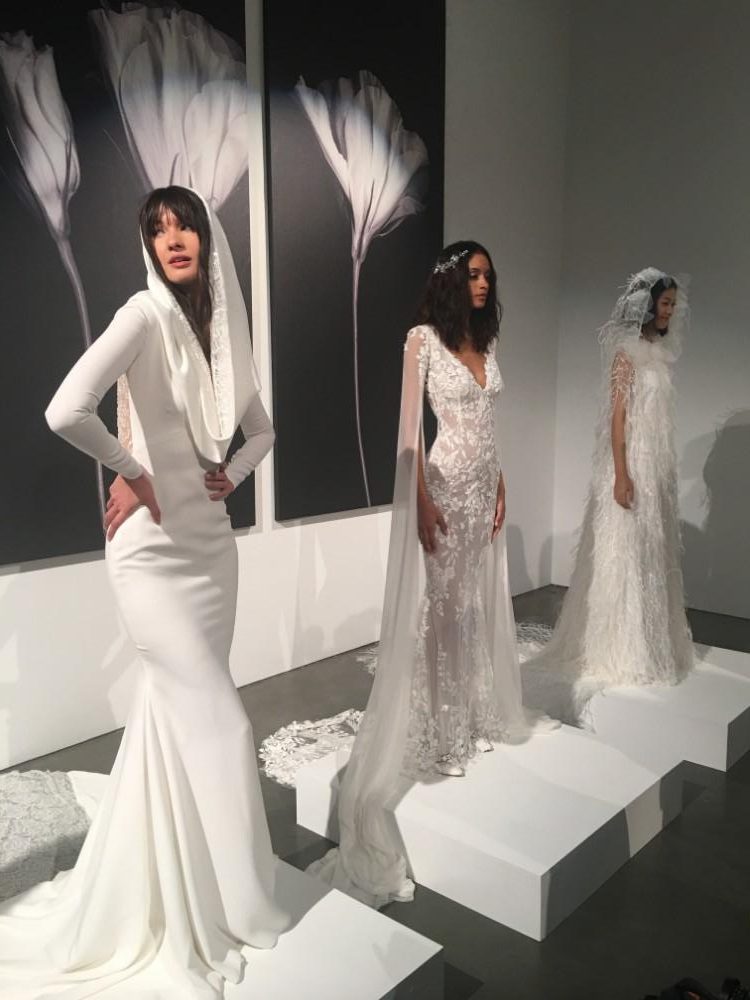 Viktor & Rolf create their cutting-edge bridal line centered on their three design pillars: unexpected elegance, conceptual glamour, and provocative couture. 
This collection is all about the details, though you won't find lace used in their gowns. Instead, they use patchwork lace as their own innovative interpretation. Their clean lines and sleek designs, with distinctly feminine details, offer a welcome twist on the classic bridal gown. This collection speaks strongly to the classic Bride who wants to feel, and look, unique.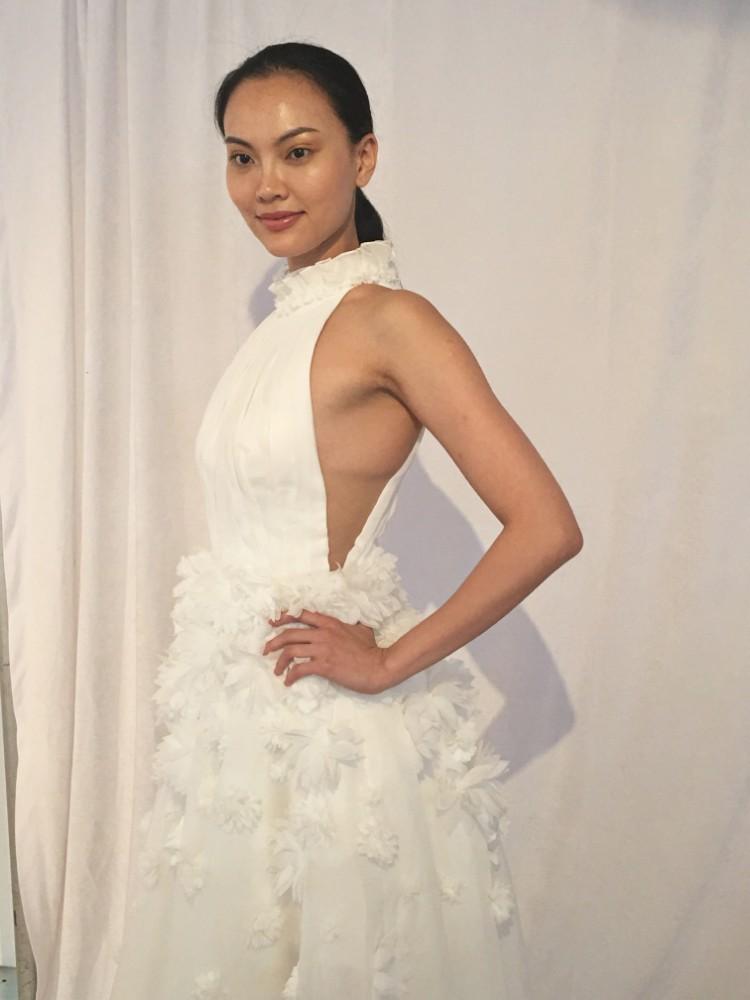 A Savannah Miller gown offers a chic blend of sexy and bohemian for the free-spirited Bride.
The song "Wild Horses" by The Rolling Stones served as the inspiration for this collection. The ethereal gowns included delightful small, floral details. The lightweight and clean styles, paired with the designer's British roots, gave the collection a distinctly British bohemian feel.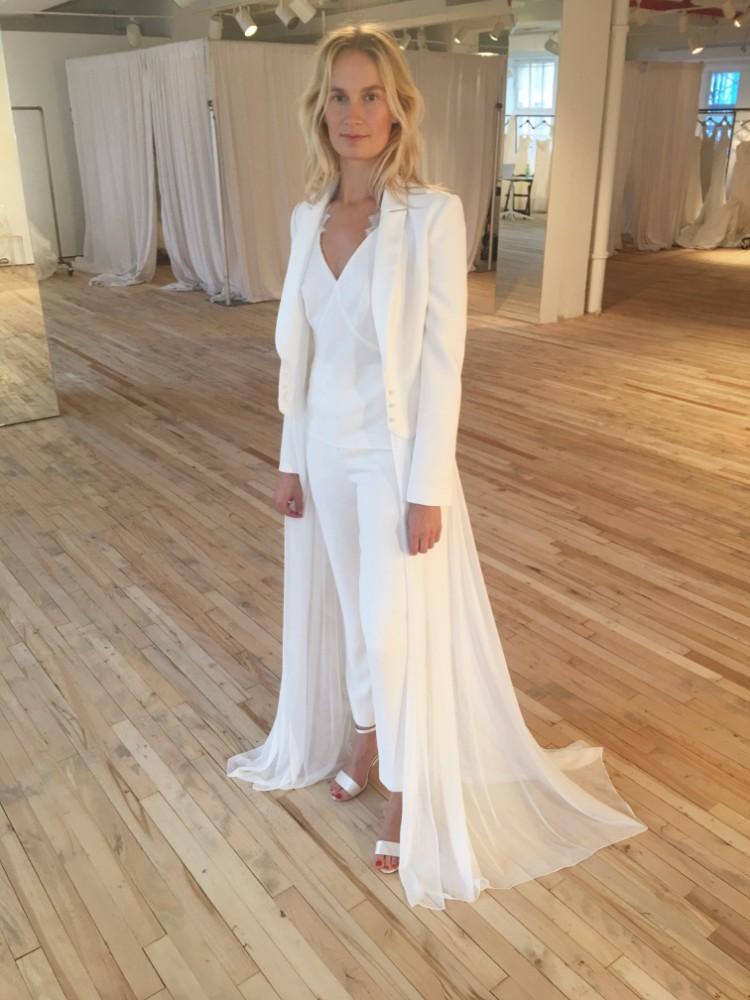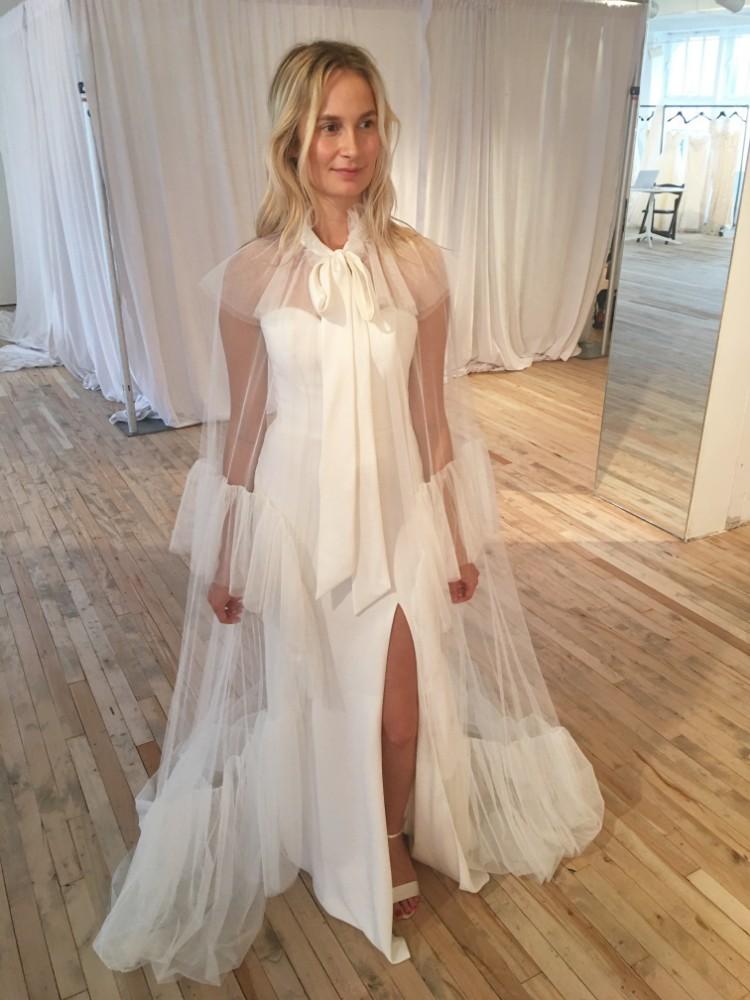 Jenny Yoo
The elegantly refined gowns from Jenny Yoo are for the Bride who appreciates attention to detail and values a flattering fit.
Models with low buns, mauve lips, and pearl stud earrings walked the runway for this collection. The gowns were romantic, with beautiful lace and delicate details abounding. The fabrics were soft and flowy, complimenting a woman's natural body and encouraging her to embrace herself just as she is. Overall, this collection felt delicate and dreamy and we couldn't get enough.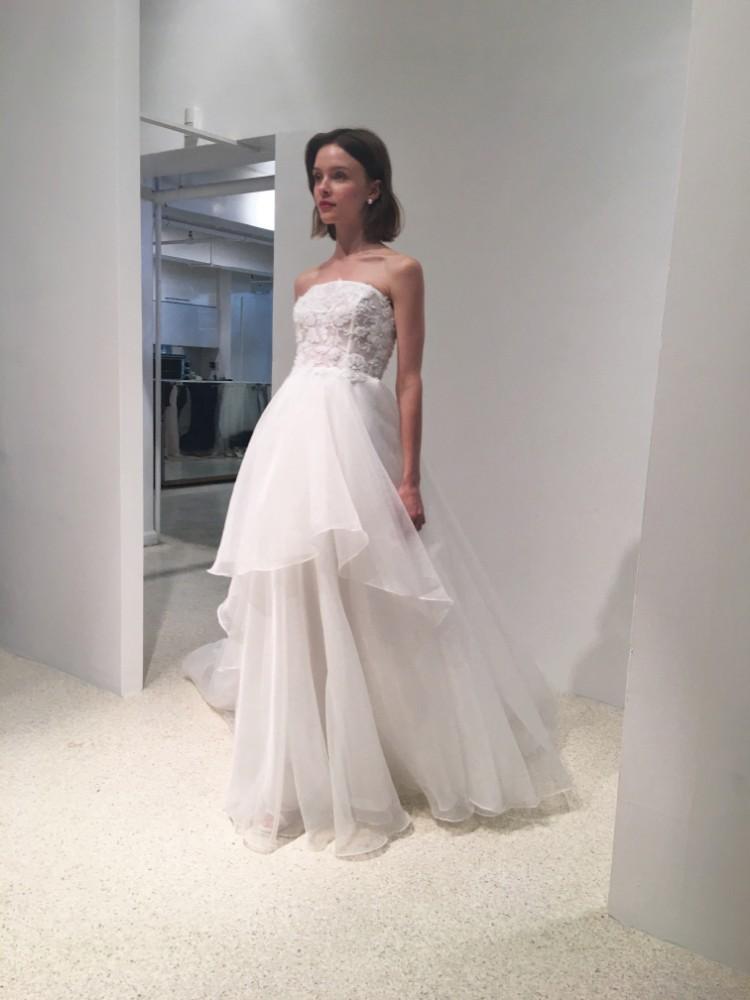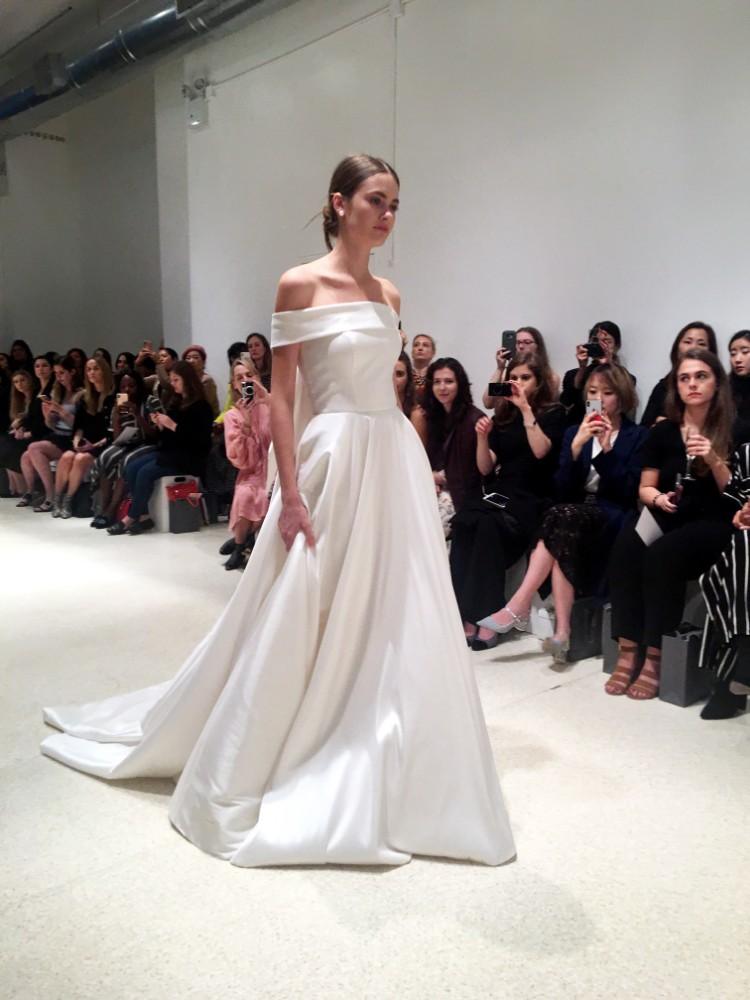 As women who have worn hideously unflattering bridesmaids' dresses before, we loved the focus on making a Bride's closest friends feel confident in what they're wearing on her Big Day, too. These dresses featured a variety of fabrics including velvet, crepe, and tulle and came in a lovely, rich color palette with shades of dusty pinks and dusty blues. The silhouettes were classy, with a flowy feel and a few small sultry details, like a leg slit or a deep-V neckline. The gowns were shown with beautiful gold accessories, giving Brides a hint of how to style their own bridesmaids.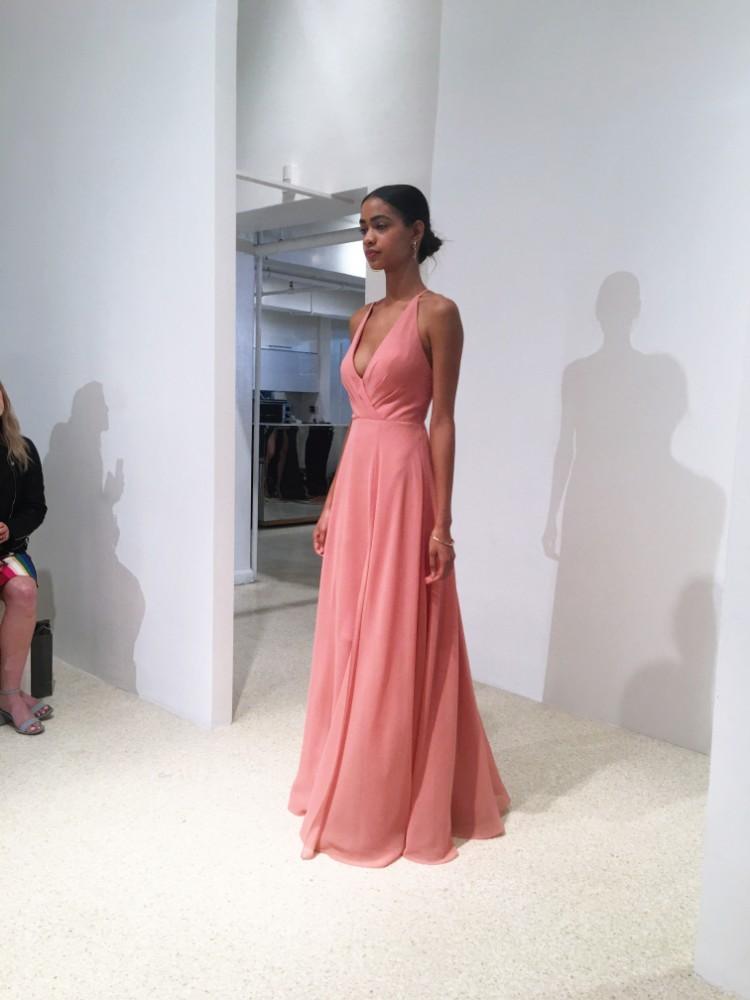 This bridal collection is the definition of refined sophistication. Any Bride in a Jenny Yoo gown will float down the aisle flawlessly.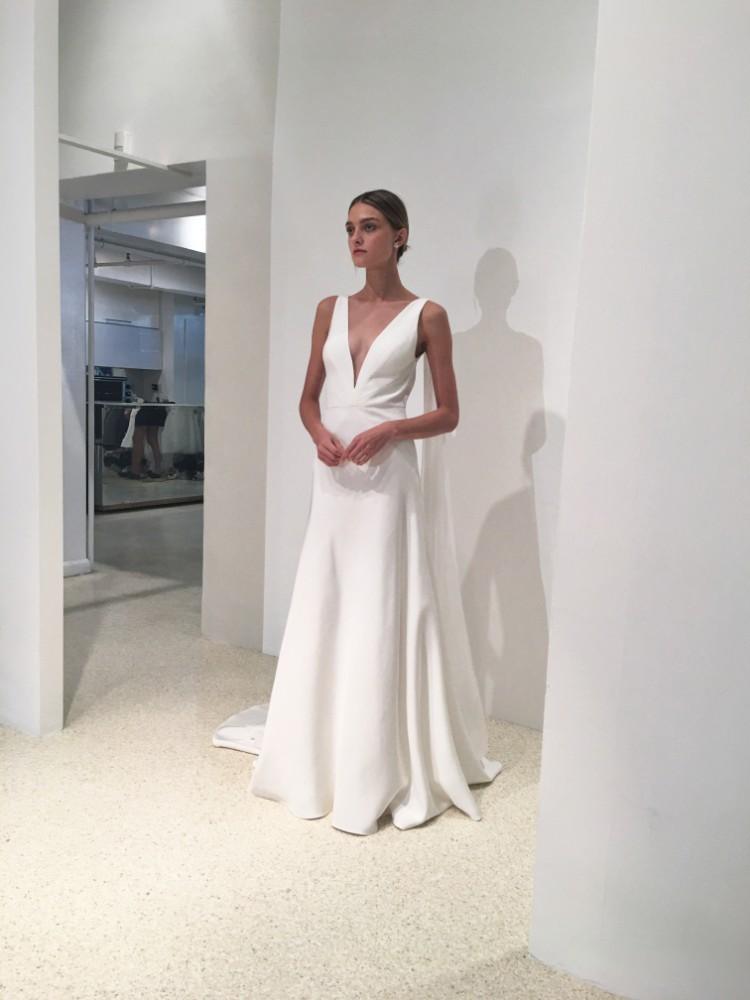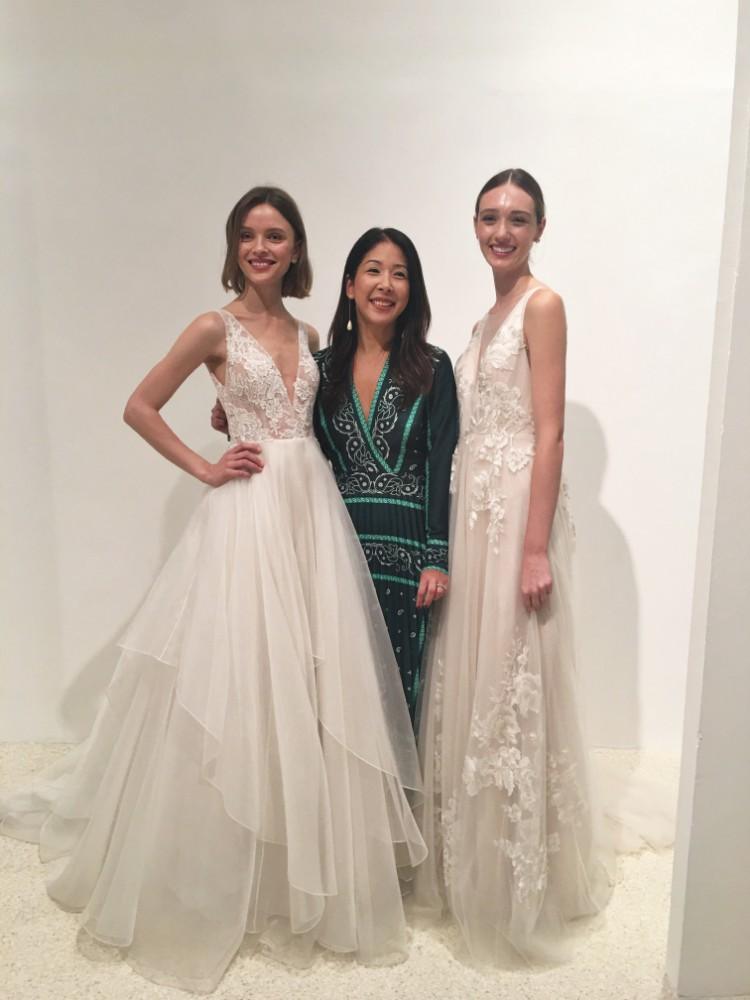 Sarah Seven
Sarah Seven features chic bridal wear for the modern Bride. 
This presentation featured a fun 90's prom theme. We snacked on pizza and sipped champagne from champagne coupes while viewing the collection. Using the designer's own gabardine, crepe-like fabric, the gowns were crafted with clean lines and small, unique details for an overall modern, trendy vibe. This show was the perfect way to end our incredible week at NYBFW!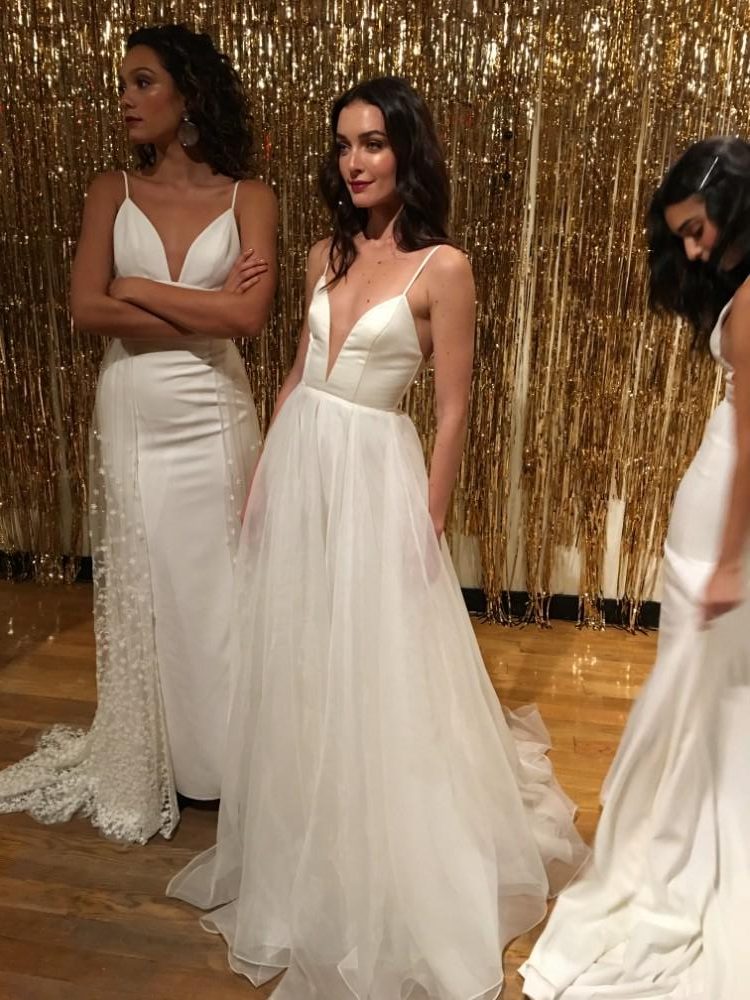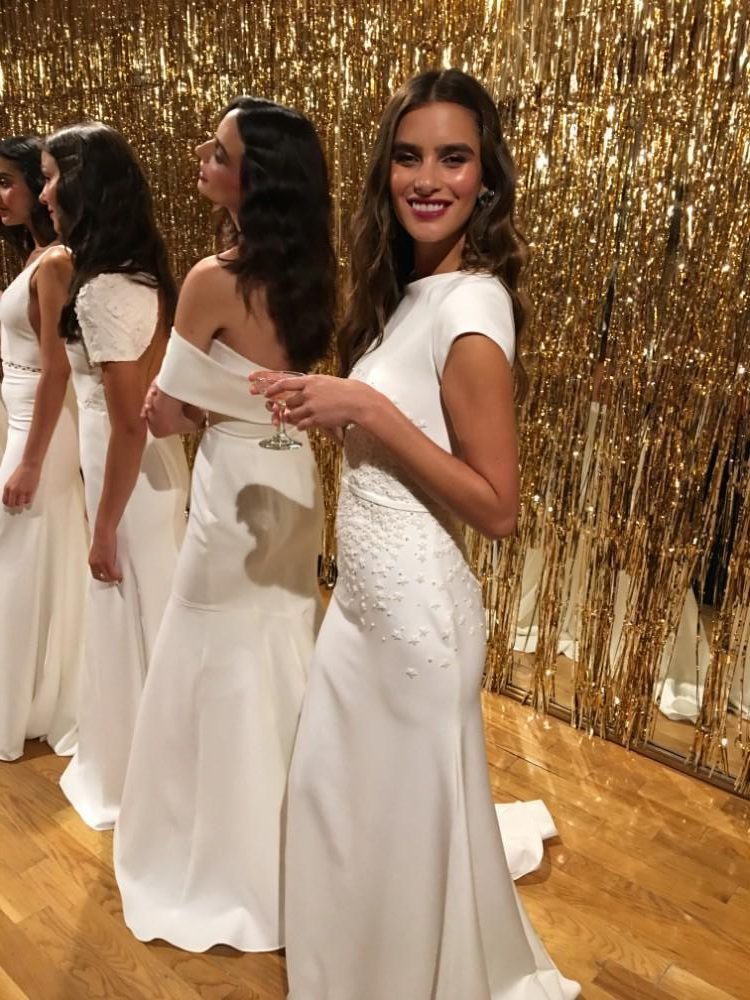 It's hard to believe another New York Bridal Fashion Week has come to an end! Brides shopping in 2019 will have some incredible gowns to choose from. We can't wait to see these designs move from the runway to the aisle! If you missed any of our runway coverage, be sure to read through the other days of our New York Bridal Fashion Diaries here.