The ChicagoStyle Weddings team is ready for another day of all things lovely and bridal at New York Bridal Fashion Week. Check out all the fabulous 2019 looks and trends from the day!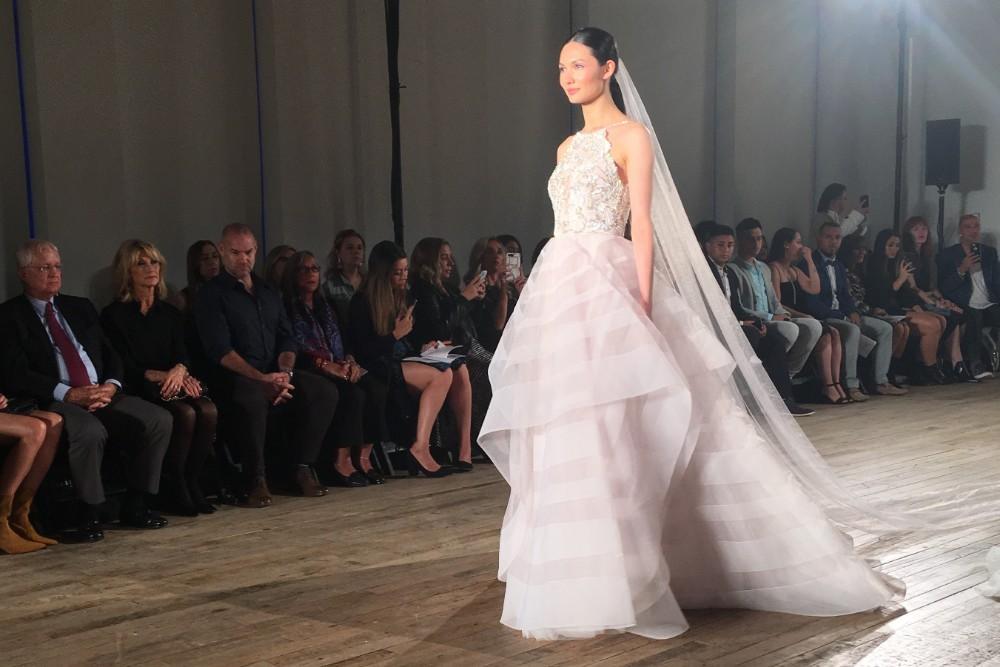 Known for master craftsmanship, exceptional fabrics, and unparalleled fit, Romona Keveza delivers exceptional gowns crafted with intricate details.
Everything about this collection is classic. With a distinct Audrey Hepburn vibe, models wore soft, clean makeup and French twists and carried bouquets of hydrangeas. We saw the occasional asymmetrical neckline, quite a few beautiful ballgowns, and Romona's signature bodice that launched her career in Women's Wear Daily. The lace gowns were constructed in multiple layers, giving them a surprising amount of movement. This collection is everything the traditional, country club Bride could ever want.
Romona Keveza on the Legends Bride:
"There are so many Brides who just want to have a classic wedding. Imagine a country club, the Plaza Hotel, someone's home and Frank Sinatra is in the background."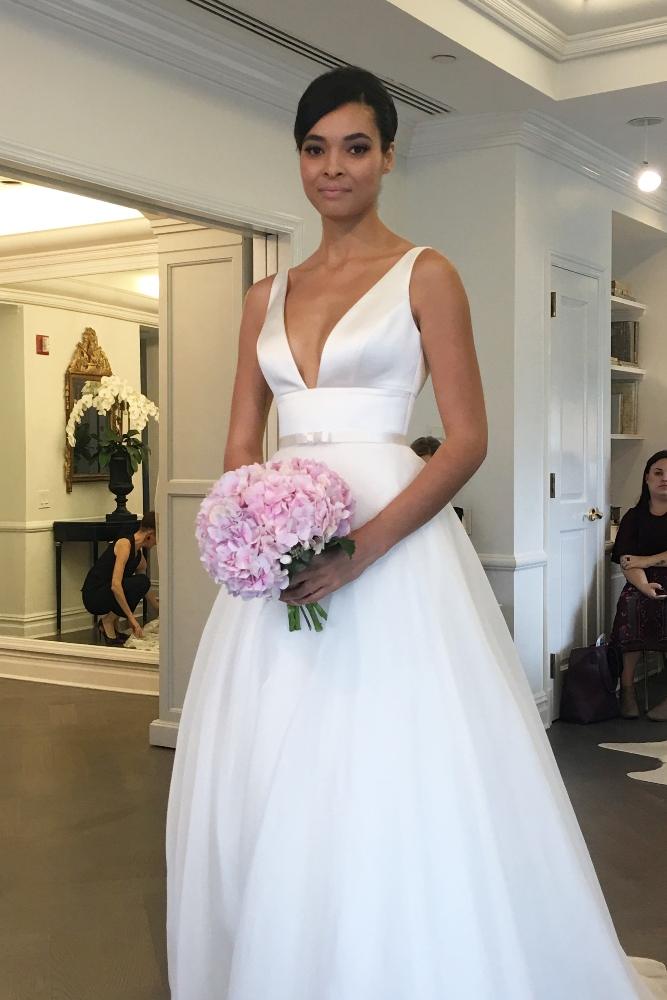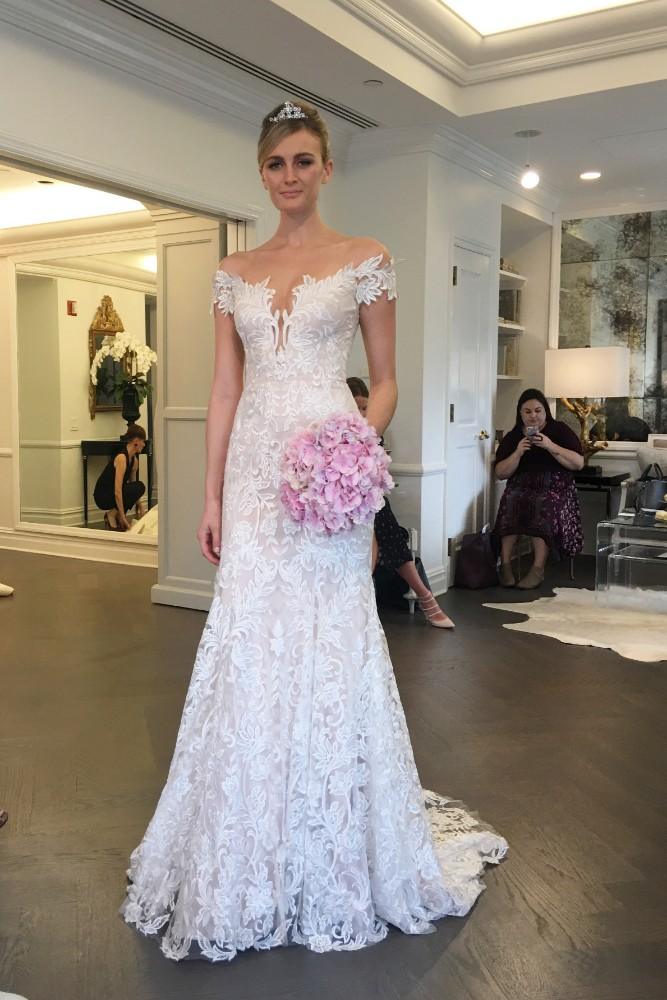 BERTA
The iconic avant-gard style of BERTA is evidenced in the bold gowns and sexy silhouettes.
This BERTA collection is all about glitz and sparkle. The models were vibrant in Maria Elena headpieces and earrings that shone without feeling overpowering. They wore sleek, straight hair, gold bronzed eyes and cheeks, and mauve lips. The fun, energetic vibe of the show was perfectly paired with the young, sexy looks coming down the runway. The BERTA Bride is a confident, glam princess who can't wait to flaunt her style and figure on her Big Day.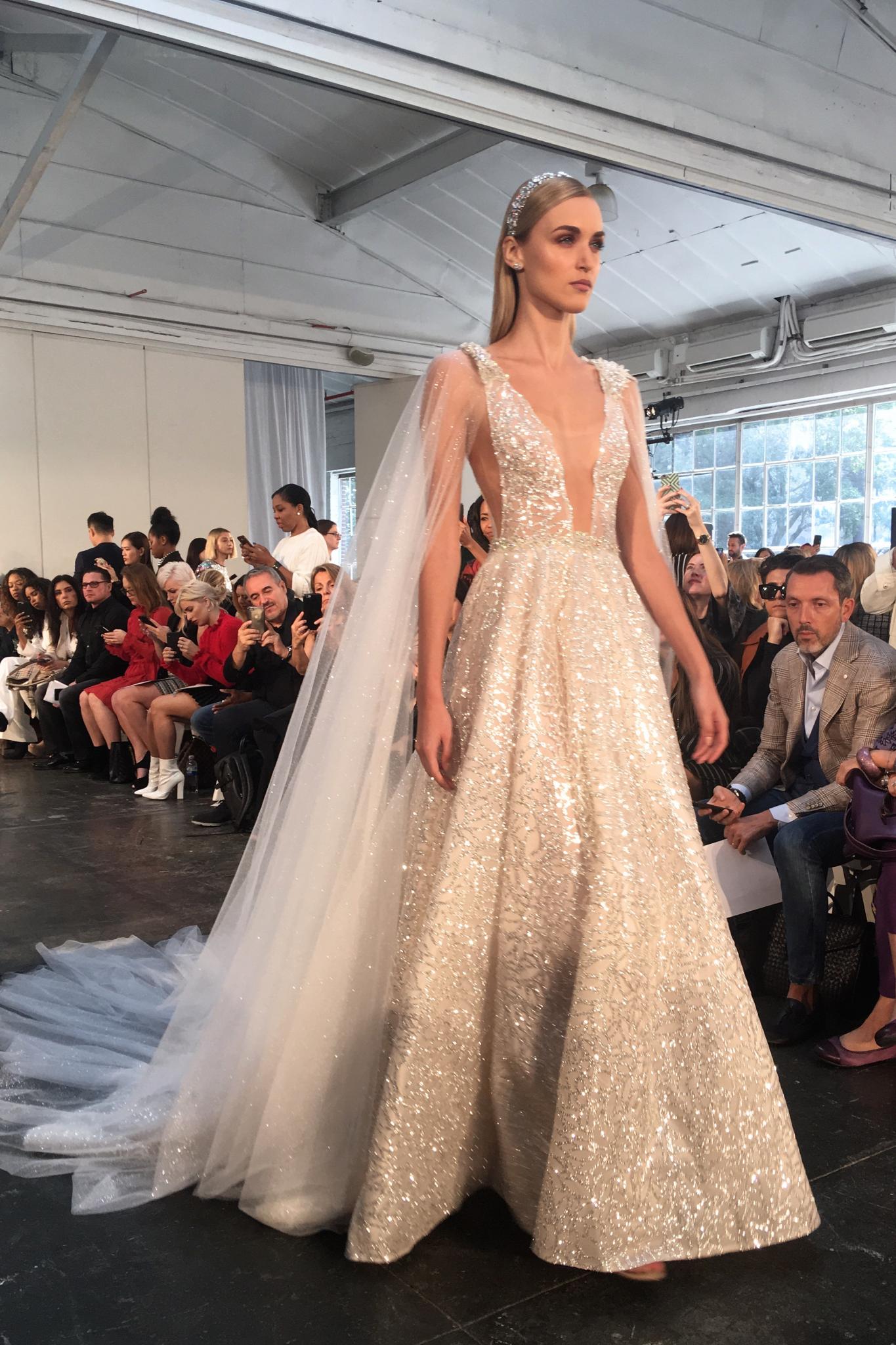 The JUSTIN ALEXANDER SIGNATURE style is defined by elegance and sophistication.
This collection featured classic silhouettes with a distinctly modern twist. Various textures, including soft accents and floral embroidery, kept the look fresh. Models evoked a slight Meghan Markle vibe with mid-ponytails and face-framing wisps of hair. Brides can dress for every moment of wedding season with looks in this collection designed for everything from an engagement party to a rehearsal dinner and the Big Day. These gowns are perfect for the chic, sophisticated Bride with discerning taste.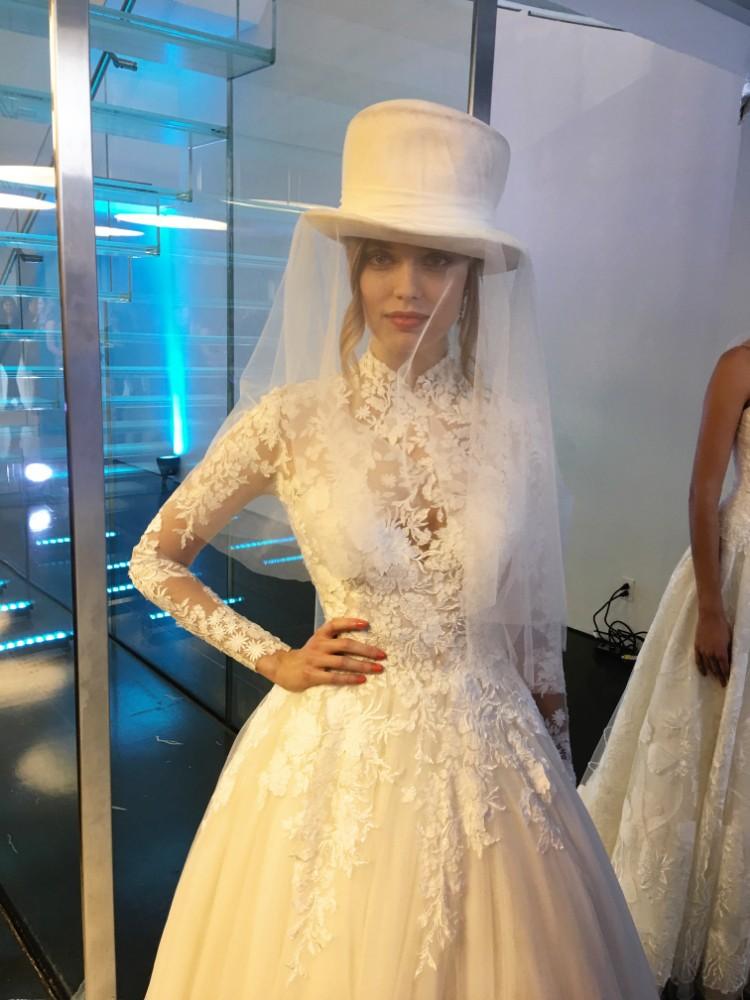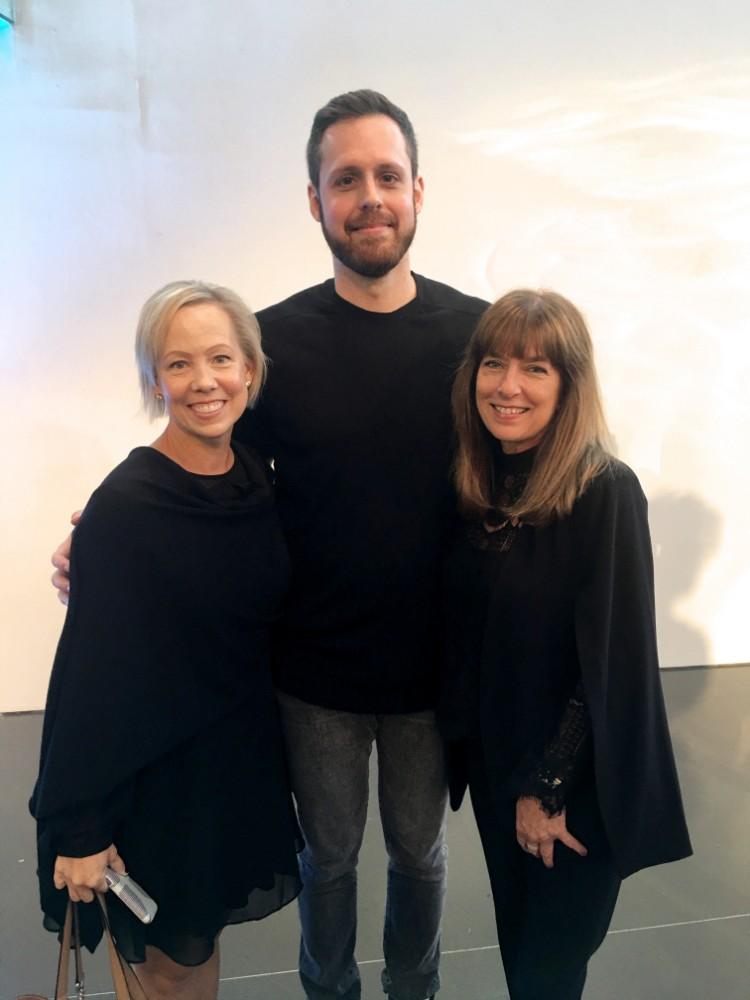 Rivini by Rita Vinieris gowns are simply luxurious, featuring understated elegance, rich fabrics, and fluid silhouettes.
We found these lines, and this show, truly inspirational. Held at the Chambord House, we sipped Chambord and champagne cocktails while viewing the collections that are full of heart and purpose. Rita Vinieris, inspired by the loss of Kate Spade and Anthony Bourdain, partnered with Project Semicolon and created a capsule collection, alongside her Rivini and Alyne lines, to capture the essence of her passion for the project. With immaculate attention to detail, the bridal collection features luxurious fabrics that "sculpt the body to bring out the natural beauty of the fabric and the woman." The modern, edgy Bride will feel right at home in a wedding dress from these lines.
Rita Vinieris, on her creative process:
"I worked with an array of satins, organdies, and dimensional laces, and allowed it to drape and fall and sculpt and do what it wanted to do to in order to bring out the beauty in each fabric. I feel if you can bring out the beauty in fabric, that dress will bring out the beauty in the woman."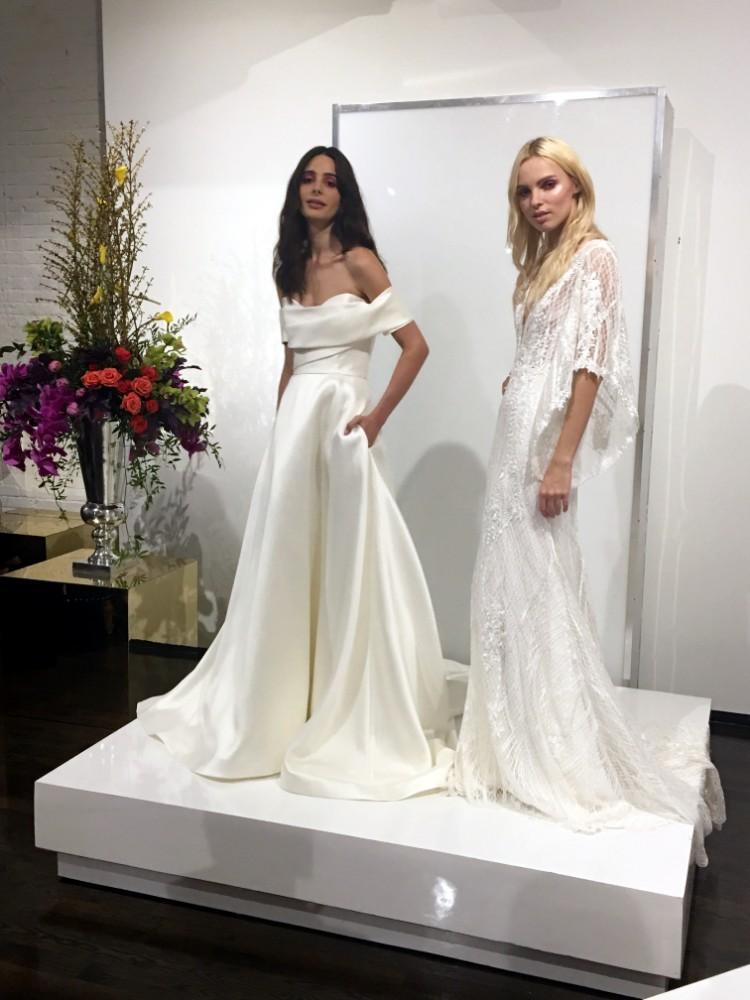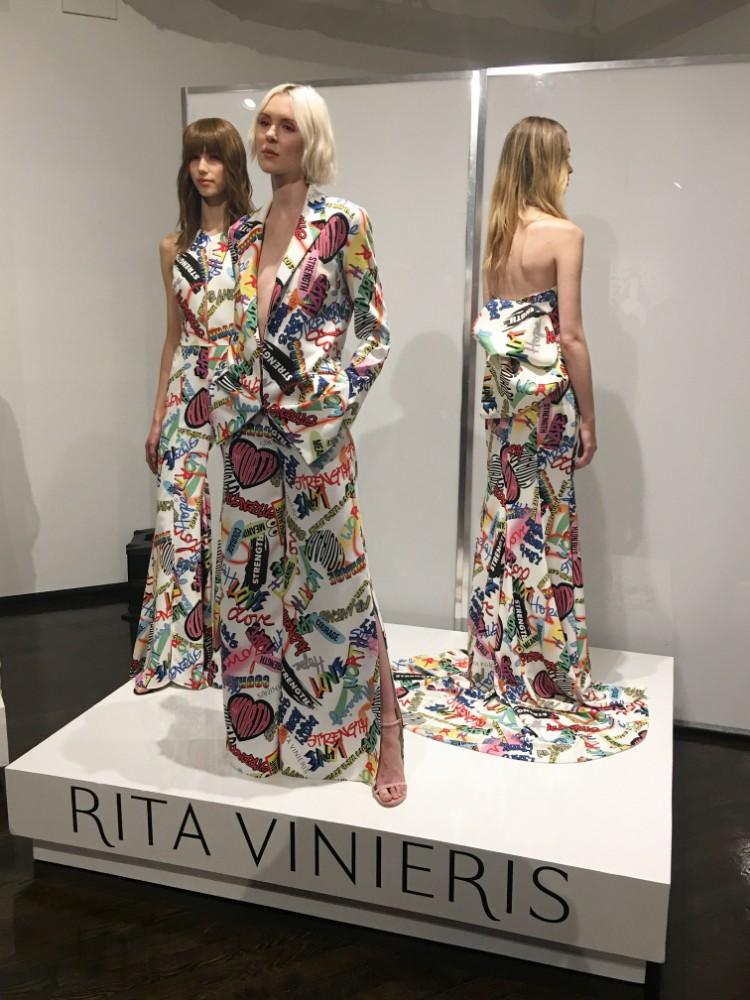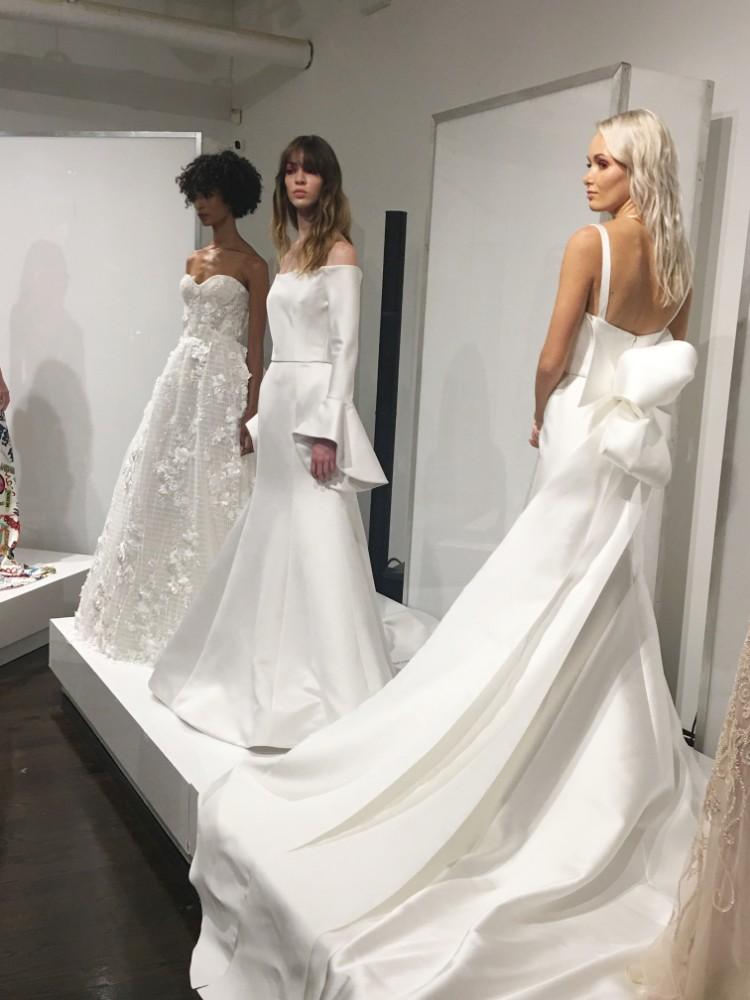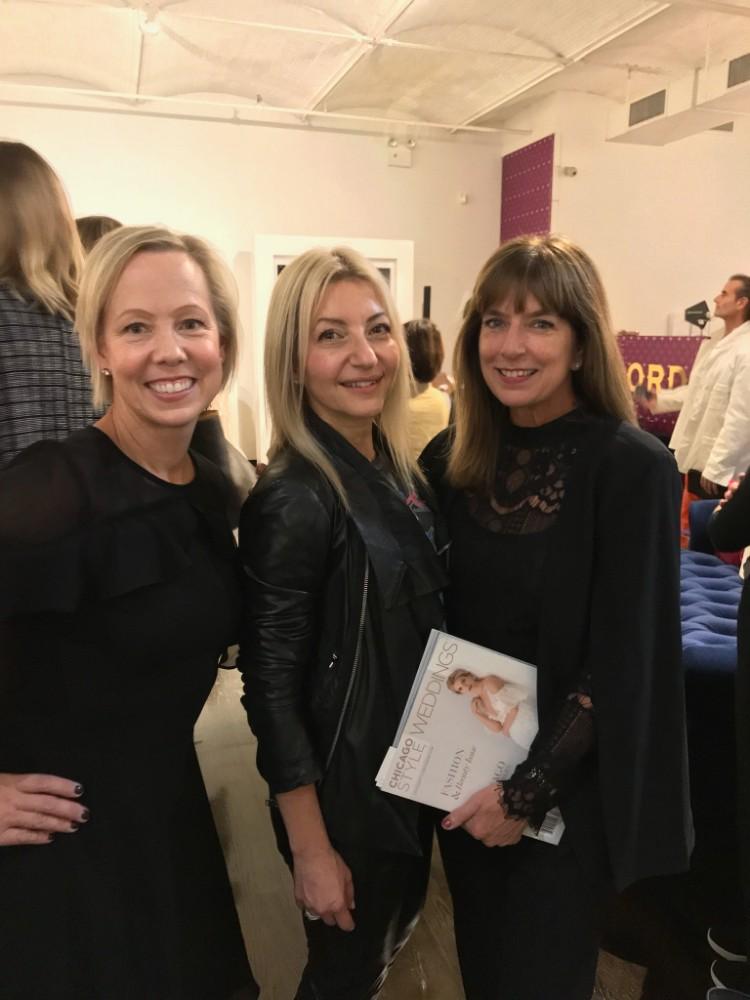 The bridal gowns of Ines di Santo reflect the designer's Spanish and Italian heritage with a sophisticated glamor that highlights each woman's feminine beauty. 
This collection speaks to the sophisticated Bride. We saw nods of inspiration from fairytales like Snow White and Little Red Riding Hood. The birds and florals featured in the design lent an enchanting air to the gowns. We saw a wide variety of style, with something for a Bride of virtually every decade. The delicate details of the gowns were set off beautifully with elbow-length gloves and amazing accessories. A highlight of the show was the premier of Ines's first jewelry collection (in partnership with Ciner) featuring stunning conversation pieces.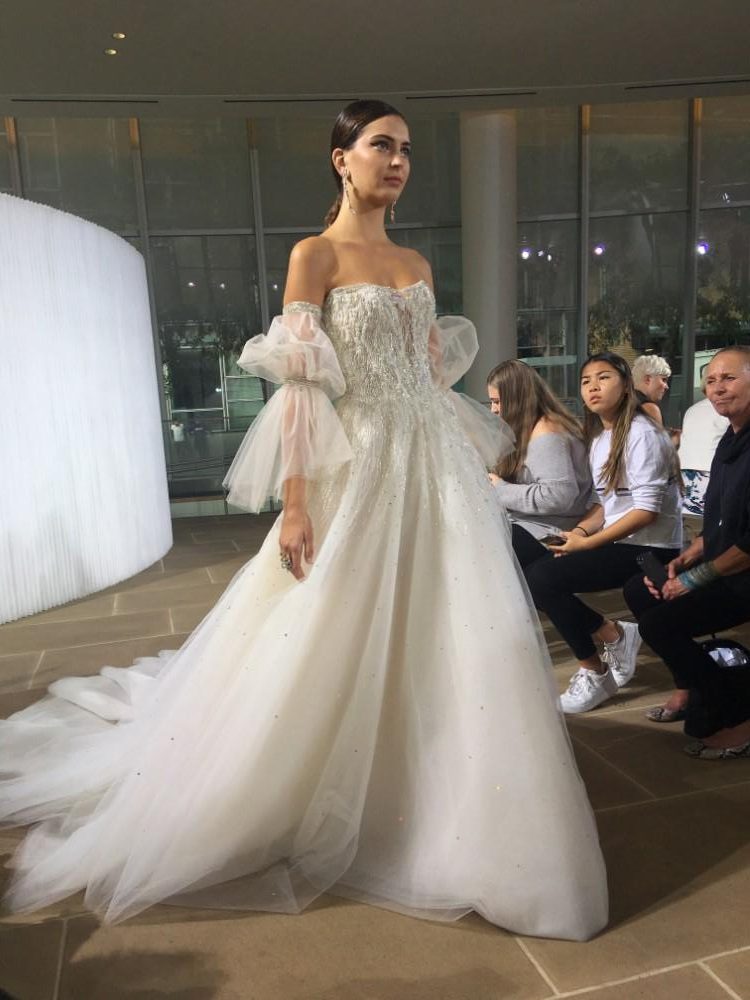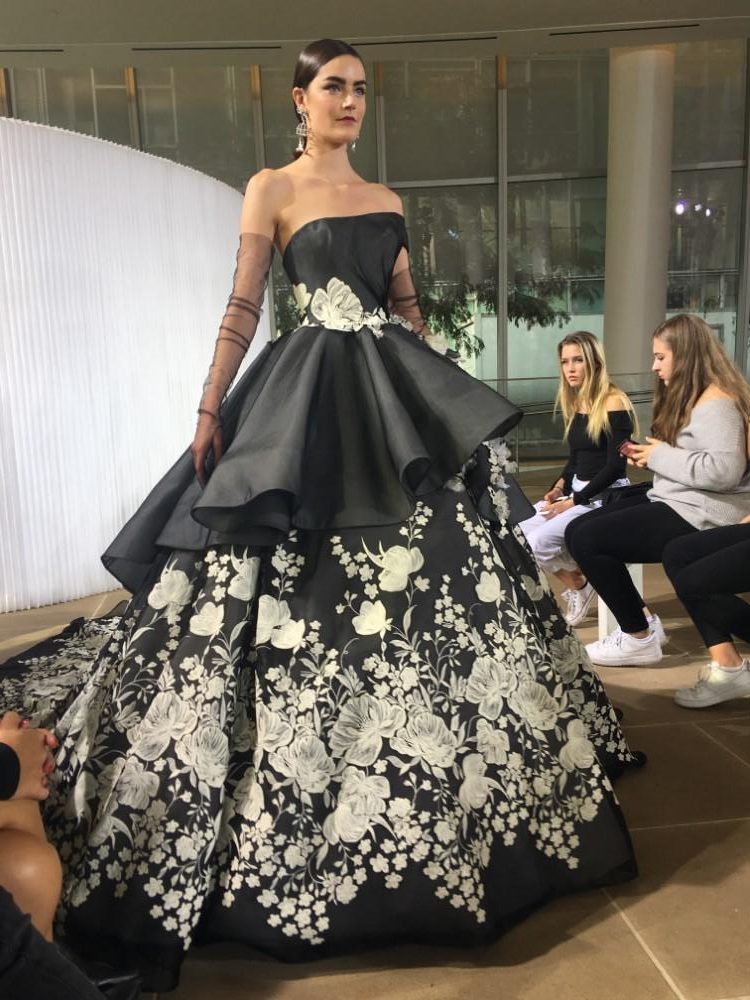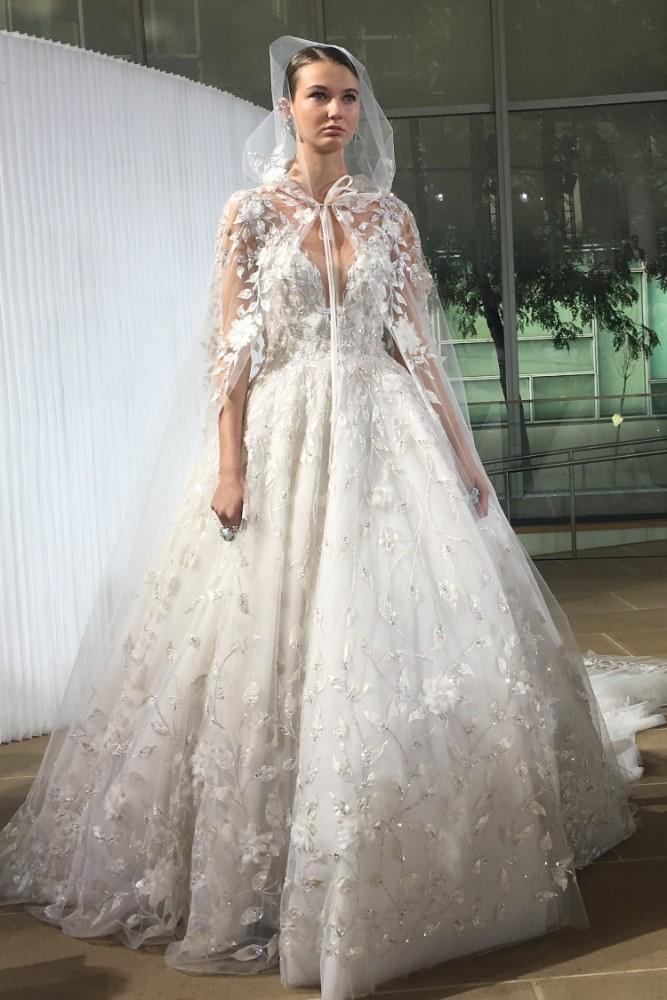 JLM
An innovative, multi-label bridal house. Labels showing under JLM today include: Lazaro, Allison Webb, Blush by Hayley Paige, and Hayley Paige.
This lively show was fun, sparkly, and celebratory of the female spirit. We listened to the soulful sounds of Aretha Franklin as models with sleekly wrapped ponytails exhibited Lazaro's latest collection. The fabrics and patterns were deliberately chosen to create maximum movement and we were blown away by the black gown with feathers– truly a show-stopper.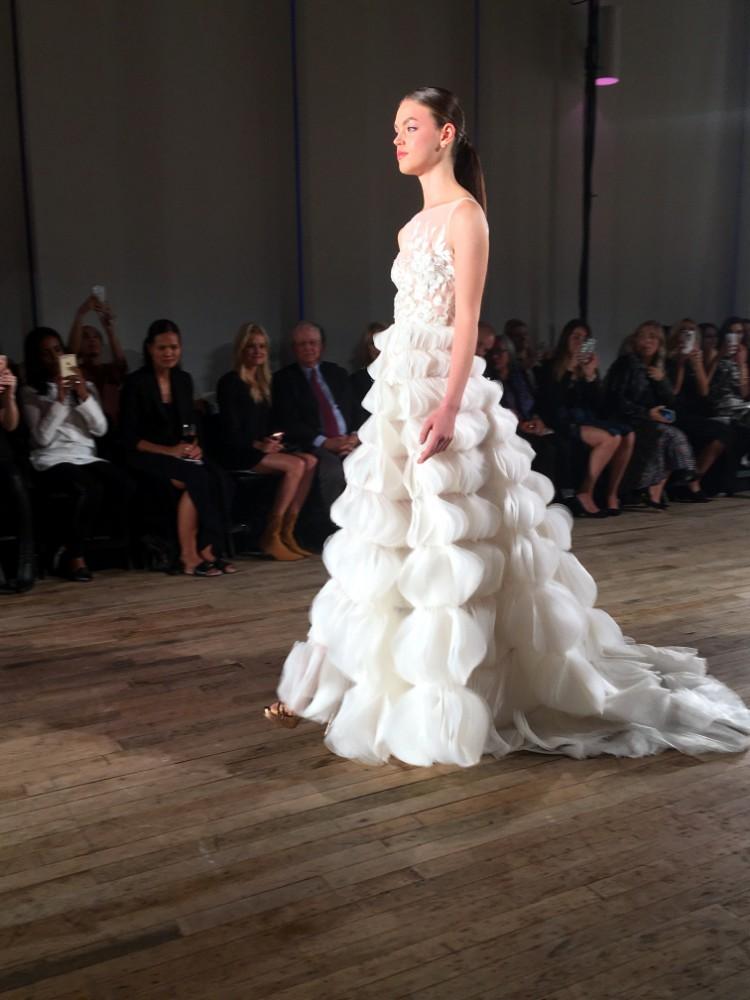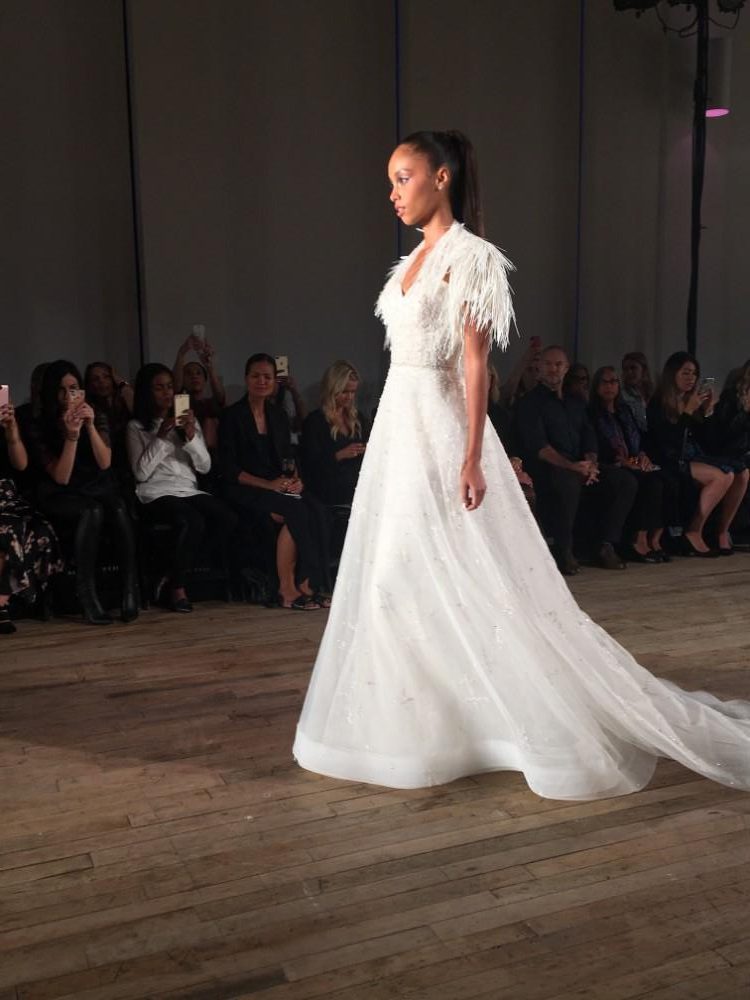 The sleek and sophisticated Bride will be immediately drawn to this collection. We saw mainly structured and elegant pieces, with a few romantic pieces sprinkled throughout. These classic gowns felt traditional in the best sense of the word.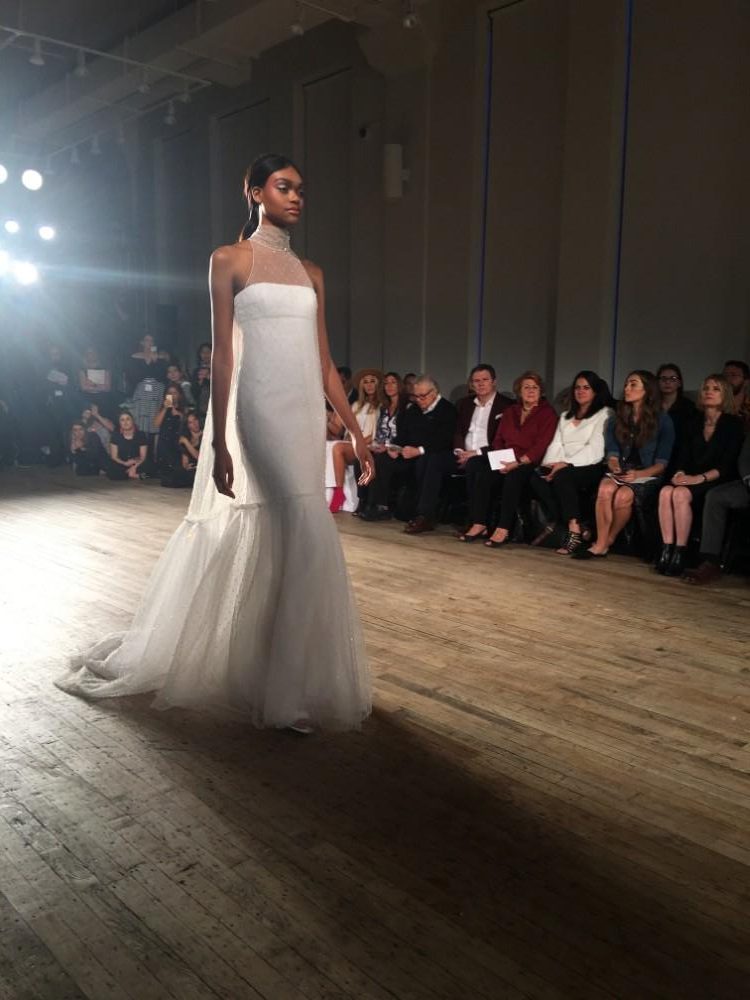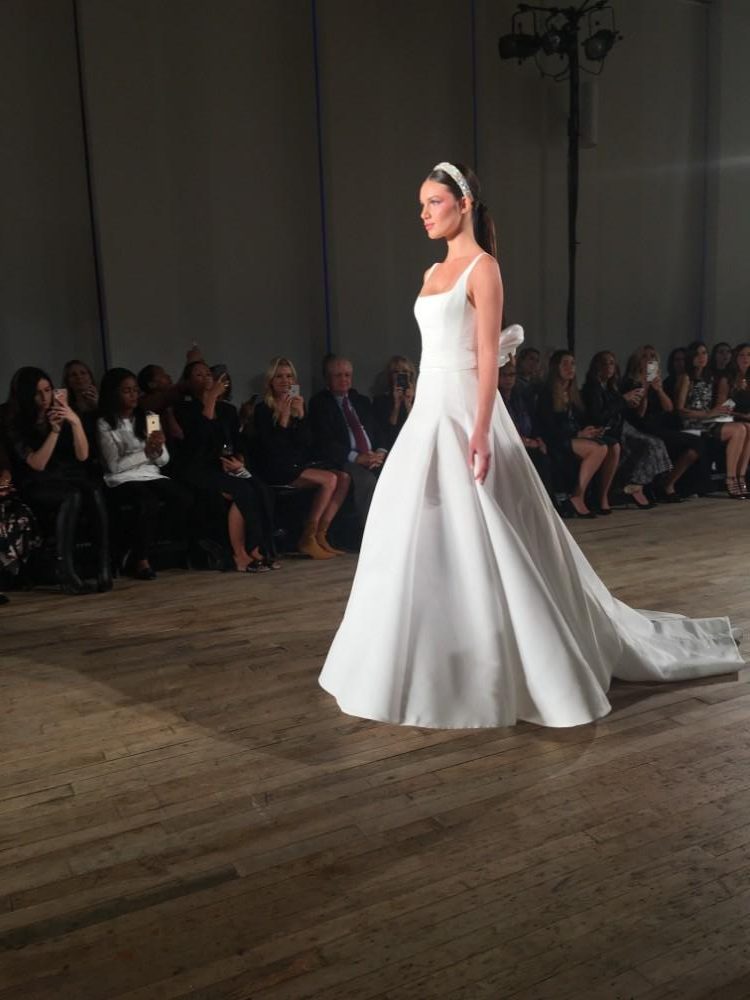 The little girls walking the runway really stole the show! We couldn't get enough of their adorable, oversized fishnet bows. The entire collection felt soft and romantic with a classic touch. The models floated down the runway in perfect sync with the ethereal way the fabric of the gowns moved. This refined collection left us swooning.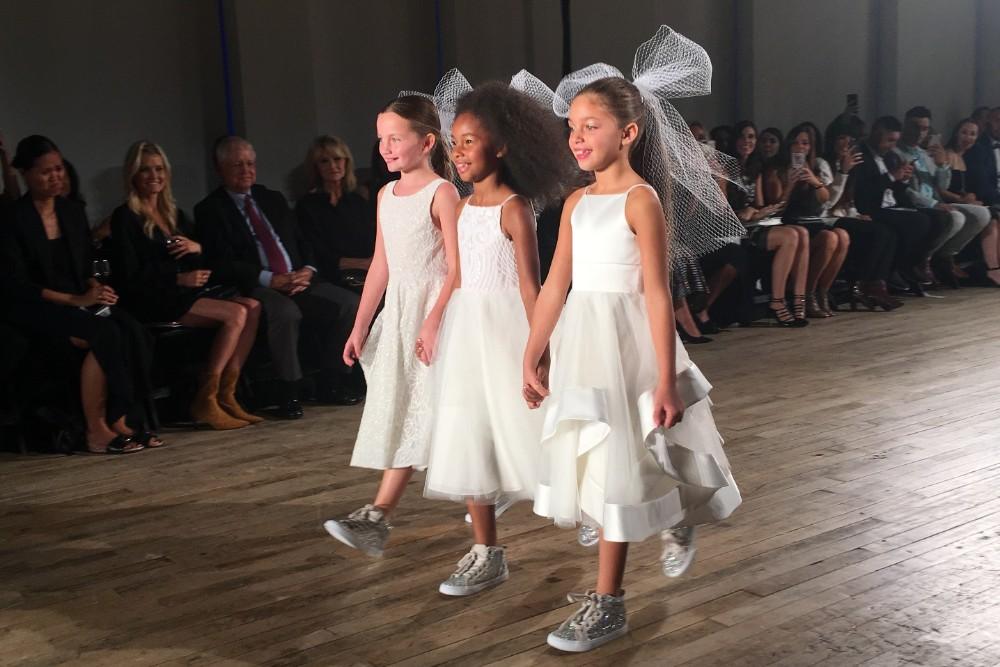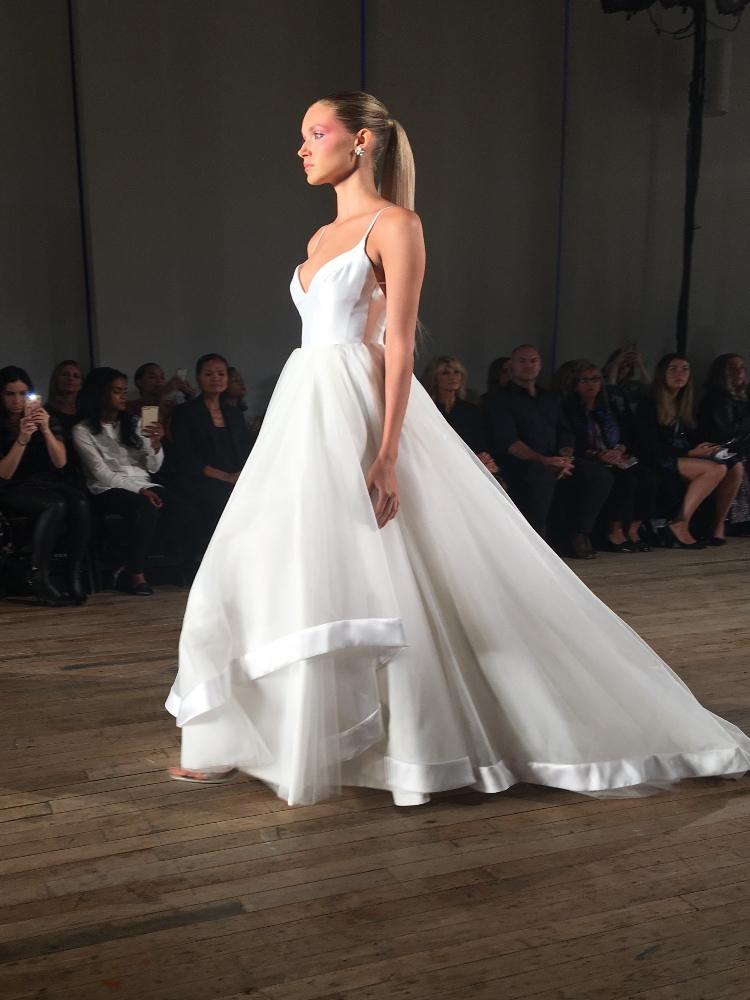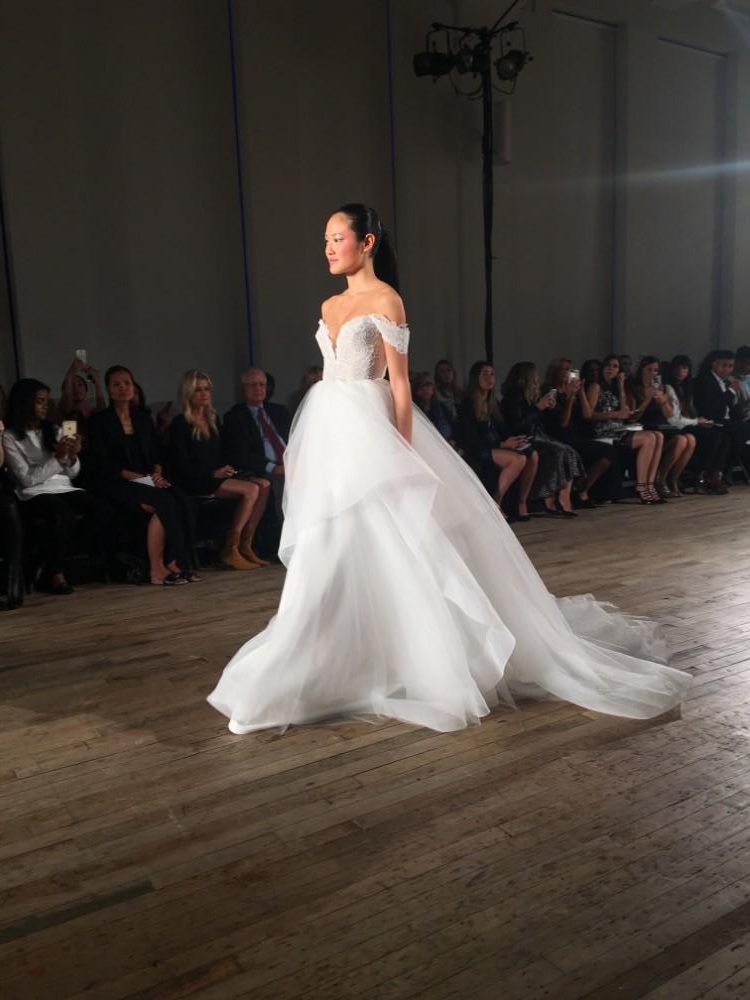 This collection truly sparkled. The two-piece dresses were refreshing and kept with the fun and youthful vibe of the entire collection. Every young, independent Bride who wants to preserve her individuality on her Big Day should run straight to these Hayley Paige gowns.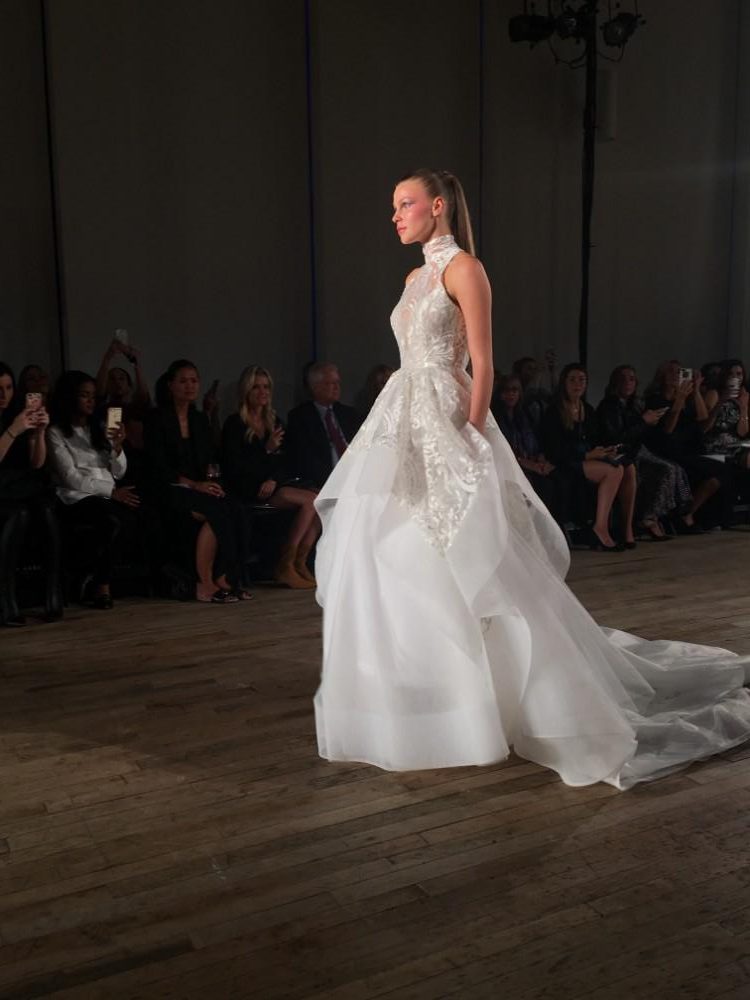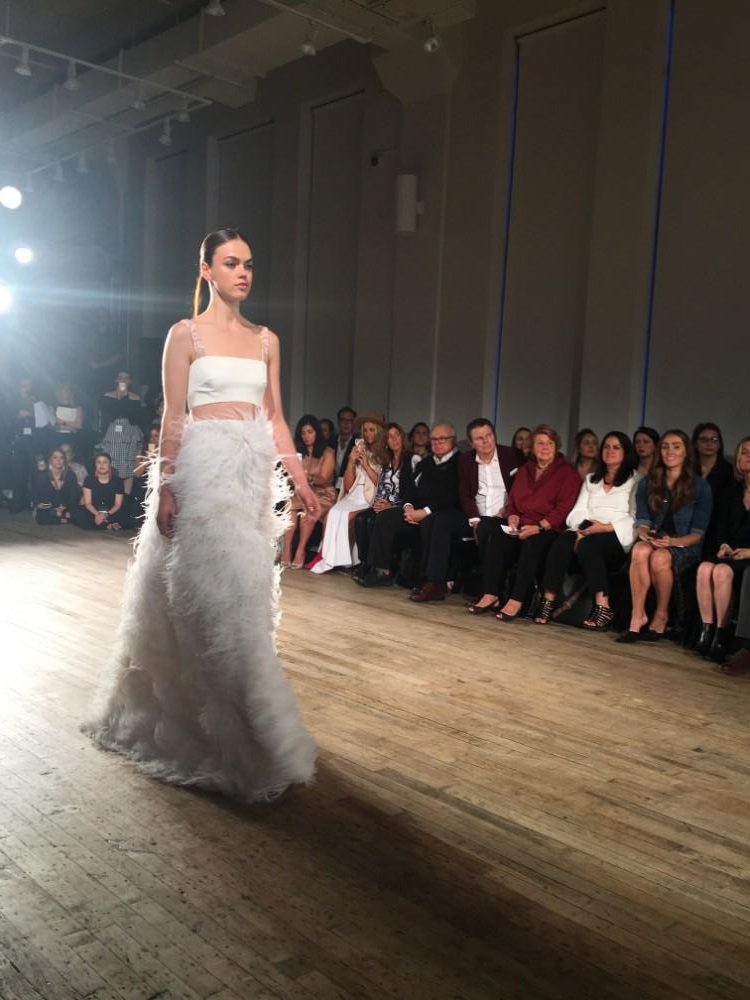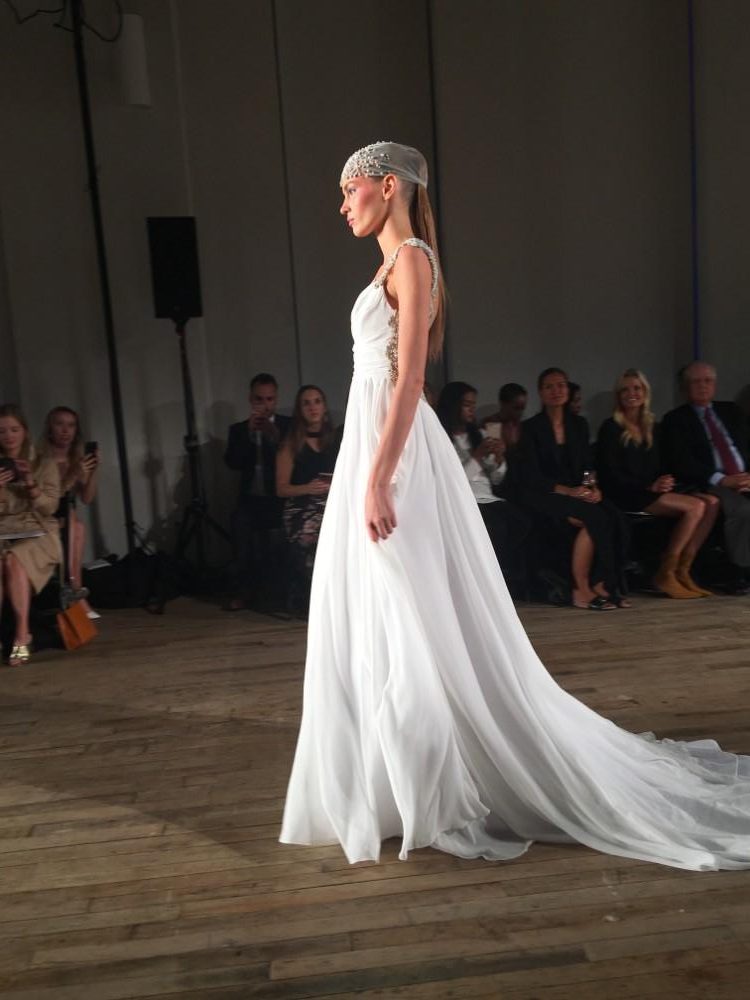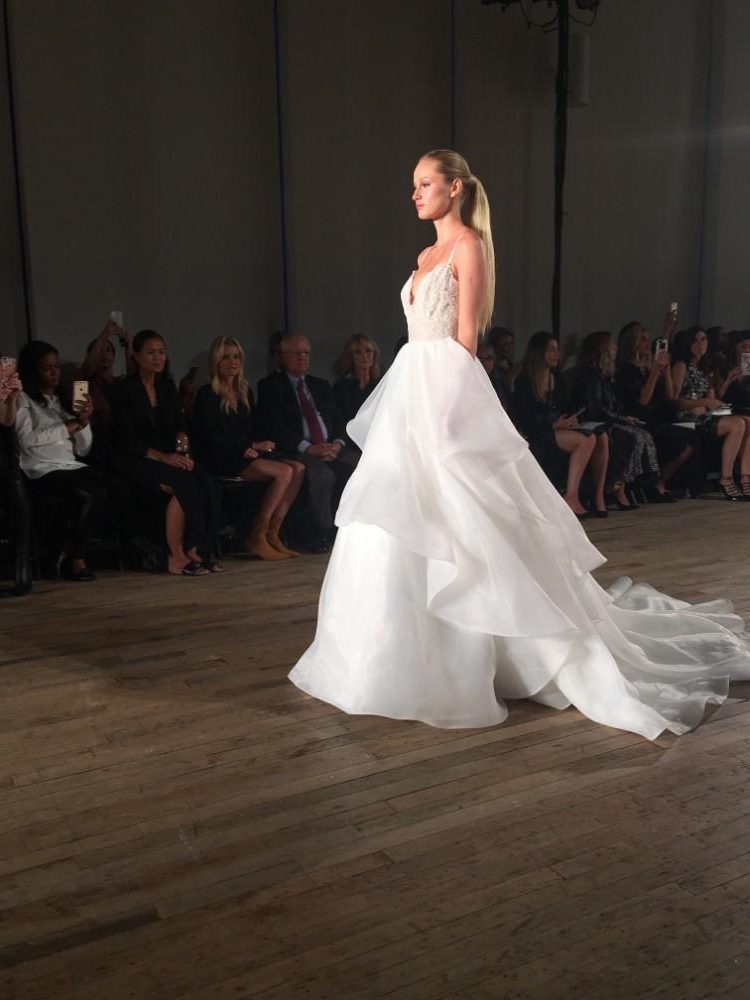 We are so impressed with the innovative, fresh designs and styling from today. We hope you are enjoying New York Bridal Fashion Week as much as we are! Stay up-to-date on all the exciting designs, trends, and designers by following along with our NYBFW Diaries series on the blog.