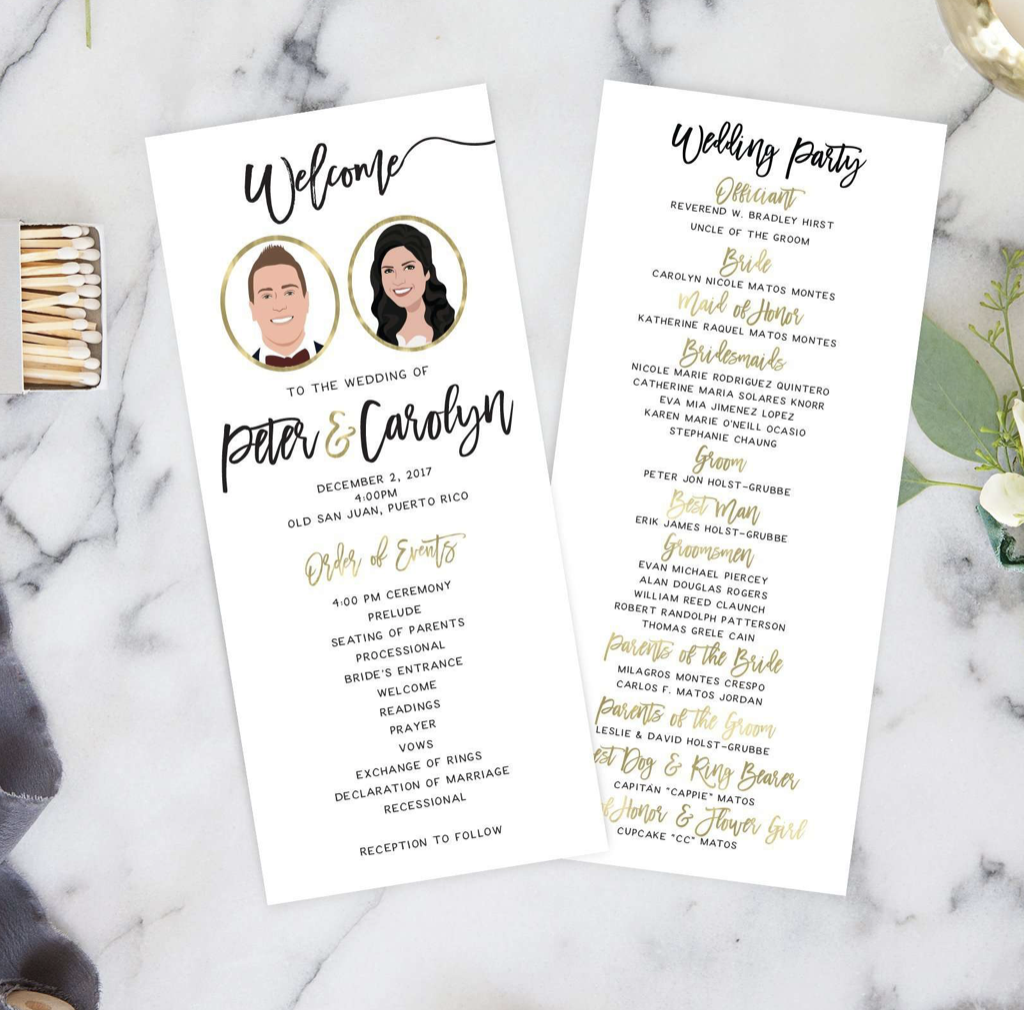 Make Your Wedding Program Worth Reading
Anyone who has danced their way through at least one wedding season is probably familiar with the purpose of a wedding program: it lets your guests know what to expect throughout the ceremony and reception, it introduces your wedding party to guests who may not know everyone, it's an opportunity to give thanks to those who made your wedding special, and, most importantly, it lets folks know what time cocktail hour starts. (Just kidding.)
But other than taking note of the essentials (like when that cake is scheduled to be sliced) how can you make your wedding program worth reading? After all, it's the thing guests will have in hand between taking their seats and waiting for the ceremony to start – you might as well make it entertaining, right? Here are some tips and tricks to keep in mind.
Tell a story
Did you and your fiancé meet in some crazy way? Was your first date totally out there (swimming with sharks, indoor skydiving, eating squid for the first time?) Or maybe it was a totally LOL-worthy evening (did he show up in an outfit you thought was totally crazy, or spill your entire glass of wine into your lap in the first five minutes?) How soon did you know that the two of you were destined to end up together? From the super romantic stories to the ones that will leave your guests laughing out loud, include an anecdote or two that will remind your guests they're celebrating one of the coolest couples around.
Feature fun facts
The wedding program is a perfect opportunity to share some fun, insider-only facts about the happy couple. Do you have any hilarious habits or goofy nicknames for one another? What's the deal with that pet goldfish making its way down the aisle with the flower girl? Did one of you totally mess up the proposal? Featuring facts alongside all the practical info will definitely keep your guests reading. Also use this opportunity to include facts about the wedding party as well, whom all the guests might not know. Did you and your maid of honor meet while studying abroad in Hong Kong? Have the groomsmen been besties since before kindergarten? Not only will this help introduce your wedding party to your guests, it'll give everyone some great conversation starters to refer back to during the cocktail hour and reception.
"Liven things up by adding fun facts about who you are, a thank you note, art, a schedule of events, your hashtag plus a list of fun photos you'd like to challenge your guests to take for social media, your engagement story… our ideas are endless!" – Molly Axe, Maxe Designs
Explain elements of your ceremony or other important traditions
If you're having a ceremony that is specific to your faith and traditions, guests of other practices might need a little guidance in order to follow along with the rituals. Include brief details about any unique elements of your ceremony, or a personal story about why you chose to include the traditions that you did.
Do the same for special aspects of your reception. Is there a great story about why you chose that particular song for your first dance, or why mini cherry pies are the featured dessert instead of a three-tiered cake? How about those crazy dance shoes the groom is wearing or that sorority sister tradition that has the bride laughing out loud? Let your guests know what's up so they can be in on the fun too.
Add some images
There is nothing like a few well-placed baby pictures to keep your guests flipping pages. Images are a great addition to any wedding program, whether you're including those totally embarrassing 6th grade class photos or FOMO-inspiring pics of the happy couple traveling through Europe.
Don't forget to include the wedding party too! Not only will some cute photos keep your guests from confusing your cousin with your college roommate, they'll help everyone understand your relationship and why this particular group of folks is standing alongside you on your big day.
Make it funny
Are you the couple that is always making everyone laugh on game night? Are you two known for playing the best pranks and practical jokes? Maybe you just have a great sense of humor about life, or some hilarious near-fail wedding planning stories to share. Your wedding is a big deal, sure – but that doesn't mean it has to be a super serious affair. The wedding program is a great opportunity to leave your guests wiping tears from their eyes – tears of laughter, that is.
Include a fun activity or two
It might sound a little cheesy, but including a word search or a crossword puzzle with fun facts about the newlyweds goes a long way if (when) the wedding is running just a few minutes behind. (Plus, it'll entertain those guests who arrive a tad earlier than expected.) Be sure to include cute, personalized mini-pens or pencils – a great wedding favor!
Say thank you
Was someone an outstanding helper to you throughout the wedding planning process? Or maybe you really want to thank the friend who introduced you to your soon-to-be spouse. Were your parents essential to your wedding going off without a hitch? Maybe there is someone special in your life who couldn't be present for your wedding day? Consider using the wedding program to say a meaningful thanks to anyone who has really made a difference in your lives and your relationship.
You could also use this opportunity to thank your guests. Did they make the effort to fly across the country (or the world!) for your destination wedding? Did they all chip in to make sure you got everything you really wanted on your wedding registry? Whatever it might be, a little thanks will ensure that every enjoys reading your program.
Select a unique  design or style
From those old-school cootie catchers to fancy folios or festive checklists, there are tons of unique and creative wedding program styles to choose from. Consider a Broadway playbill-style program for the theatre loving couple. For the couple that loves to garden together, print your program on seed packets or sachets of dried herbs from your very own crop. Try a program that doubles as a cute wedding favor bag, if you want to give out bubbles or confetti before the ceremony. Or feature all the important details on a fold-out fan, if your outdoor wedding just happens to take place in, say, July.
Whatever unique touches you decide to feature, a wedding program that celebrates what stands out about you and your ceremony will be a definite crowd pleaser.
Did you know?
"Some people just can't get enough of saying "I do", like the Tennessee couple who have renewed their vows 100 times. The irony? The bride initially said no when her husband proposed!"
"We're really seeing brides simplify their wedding programs. Couples are making their guides short, sweet, and much more fun. Our summer brides have been creating programs that double as fans so that their guests don't have to feel guilty about using them to cool off!" – Tara Vanderheyden, Invitations by Design
Written by E. Ce. Miller