Stefanie and Matthew's Chez Chicago wedding was picture perfect. All photos by Tim Tab Studios.
"Matt and I matched on Hinge in early 2015 and we went on our first date on May 10th at Lincoln Station in Lincoln Park.  We were there for hours chatting and getting to know one another. He was so easy to talk to! Matt is truly my better half.  He is the most optimistic person I've ever met.  He helps me find the positive in every situation and encourages me to be the best version of myself.  He also is one of the hardest working people I know; his motivation is inspiring.
I've lived in Chicago since 2009 and it's where I met Matt, so I couldn't imagine our wedding anywhere else.  Matt grew up in Connecticut, and we were excited about having his family and friends explore the city for a weekend.  We loved the contemporary look and feel of Chez and knew we could transform the space to make it our own. The night before our wedding day, I spent the night at the Ambassador Hotel with my mom and grandmother.  We shared so many laughs!  The next day, Matt and I decided to include a first look and then take photos at Museum Campus, Matt's favorite view of the city, with our bridal party.  Our ceremony included traditional Greek crowns, joined by a ribbon.  We used the same crowns that were used at Matthew's parents and paternal grandparents' weddings.  Throughout our engagement, we took dance lessons at Arthur Murray Dance Center in Chicago.  We were so excited to share our Cha Cha, Hustle and Rumba dance moves with our guests!
Our wedding colors were midnight blue, blush and gold, and we wanted to have romantic feel throughout the evening.  We had so much fun choosing our signature cocktails and food for our special day.  Matt's cocktail was a Fall-inspired Old Fashioned, and my specialty cocktail was a Bambollini (Bellini combined with our dog's name, Bambolina).  Guests enjoyed an assortment of Italian meats, cheese and olives, family style pasta, Cannoli cake, late night Chicago style hot dogs and New Haven, Connecticut style pizza from Piece – food is a large part of our family traditions and played a special role for us during this celebration."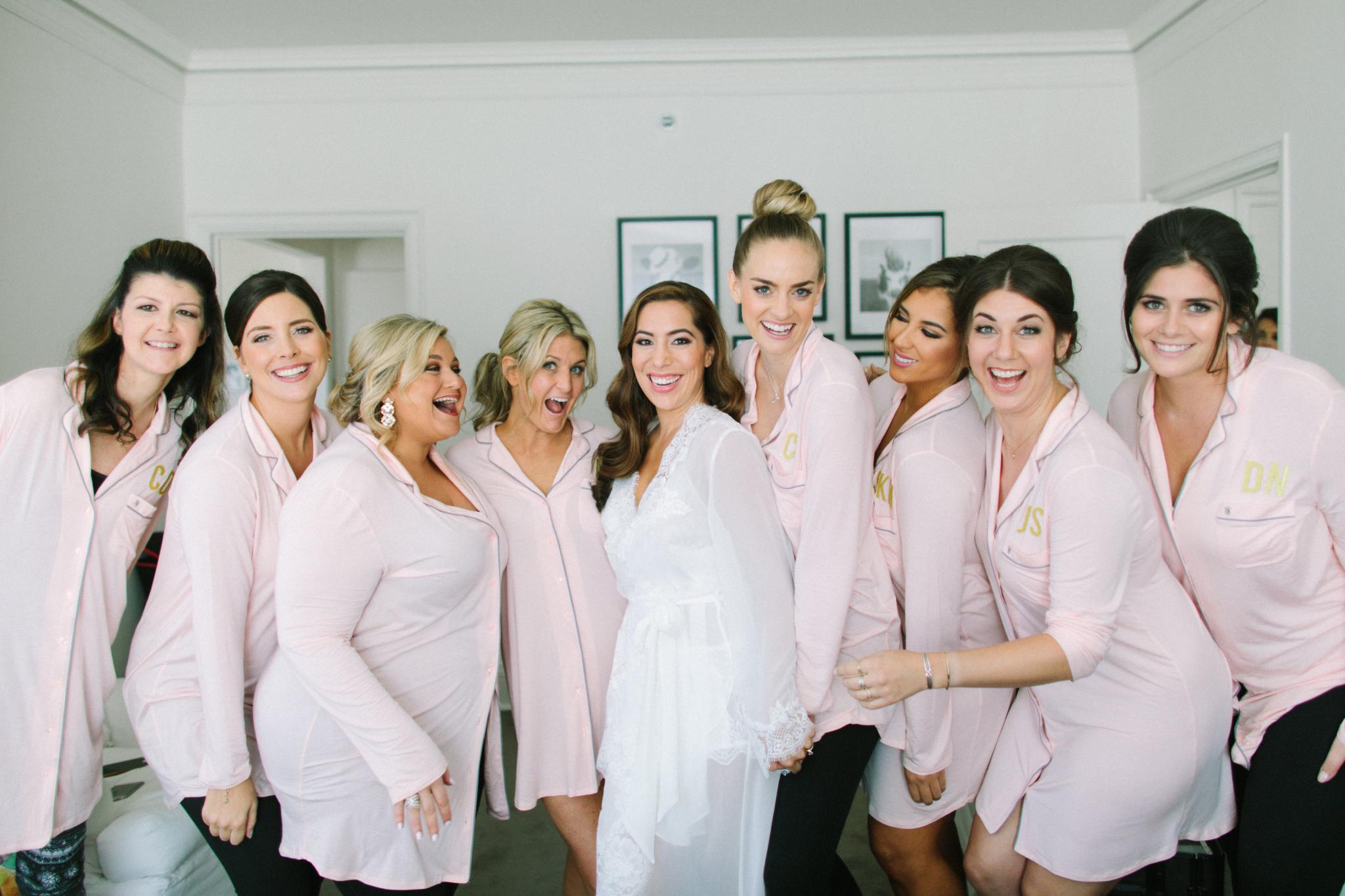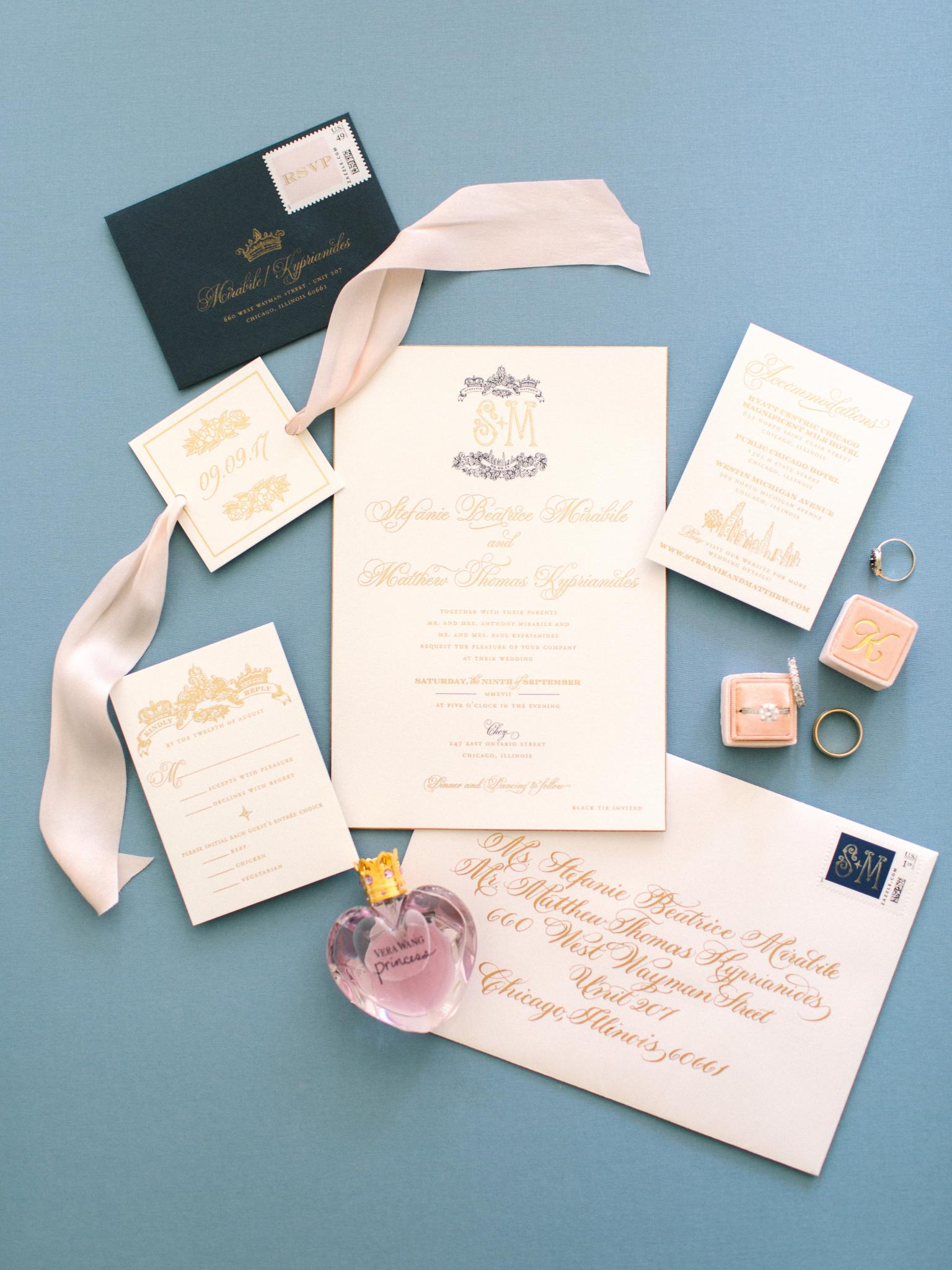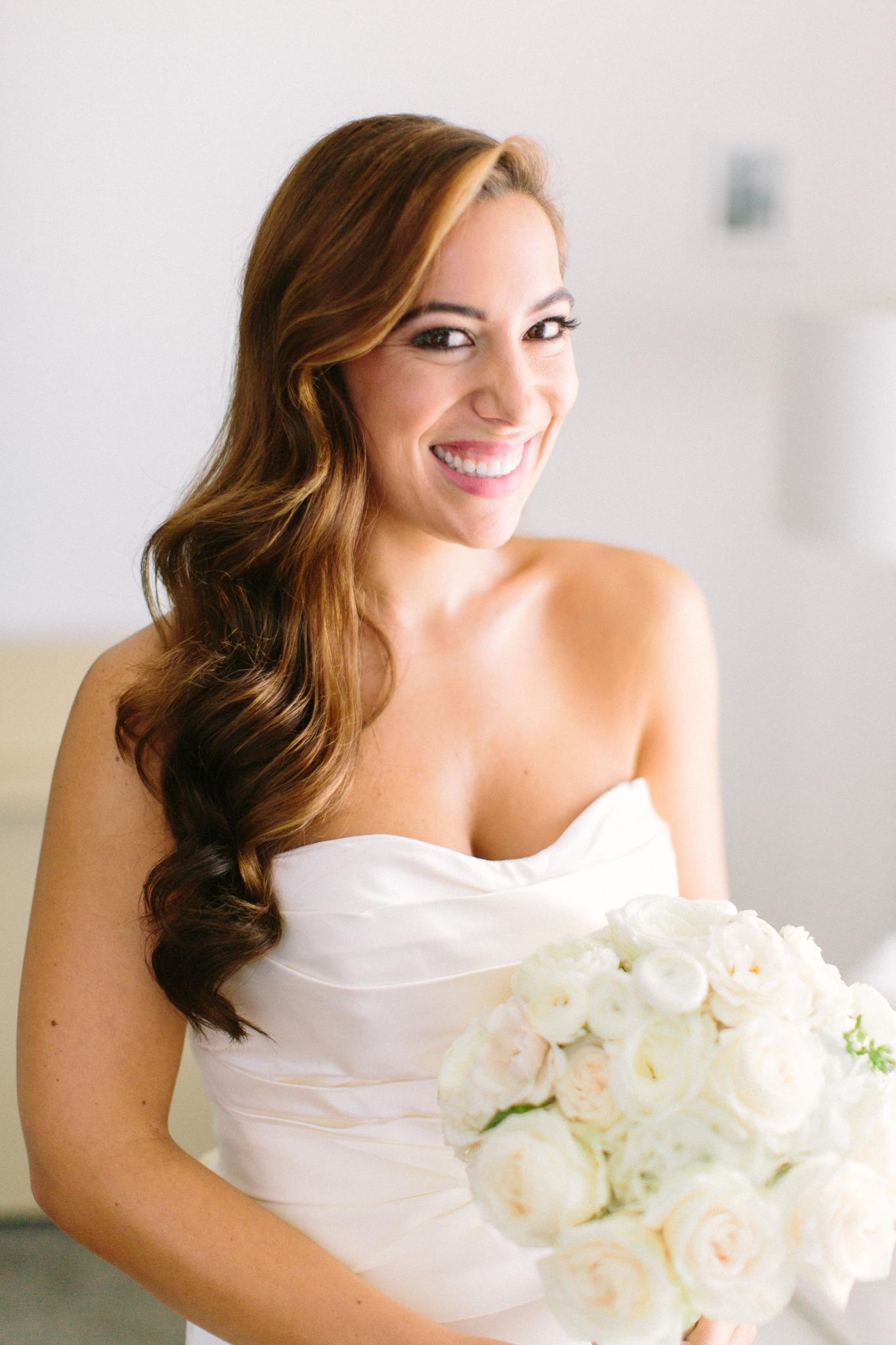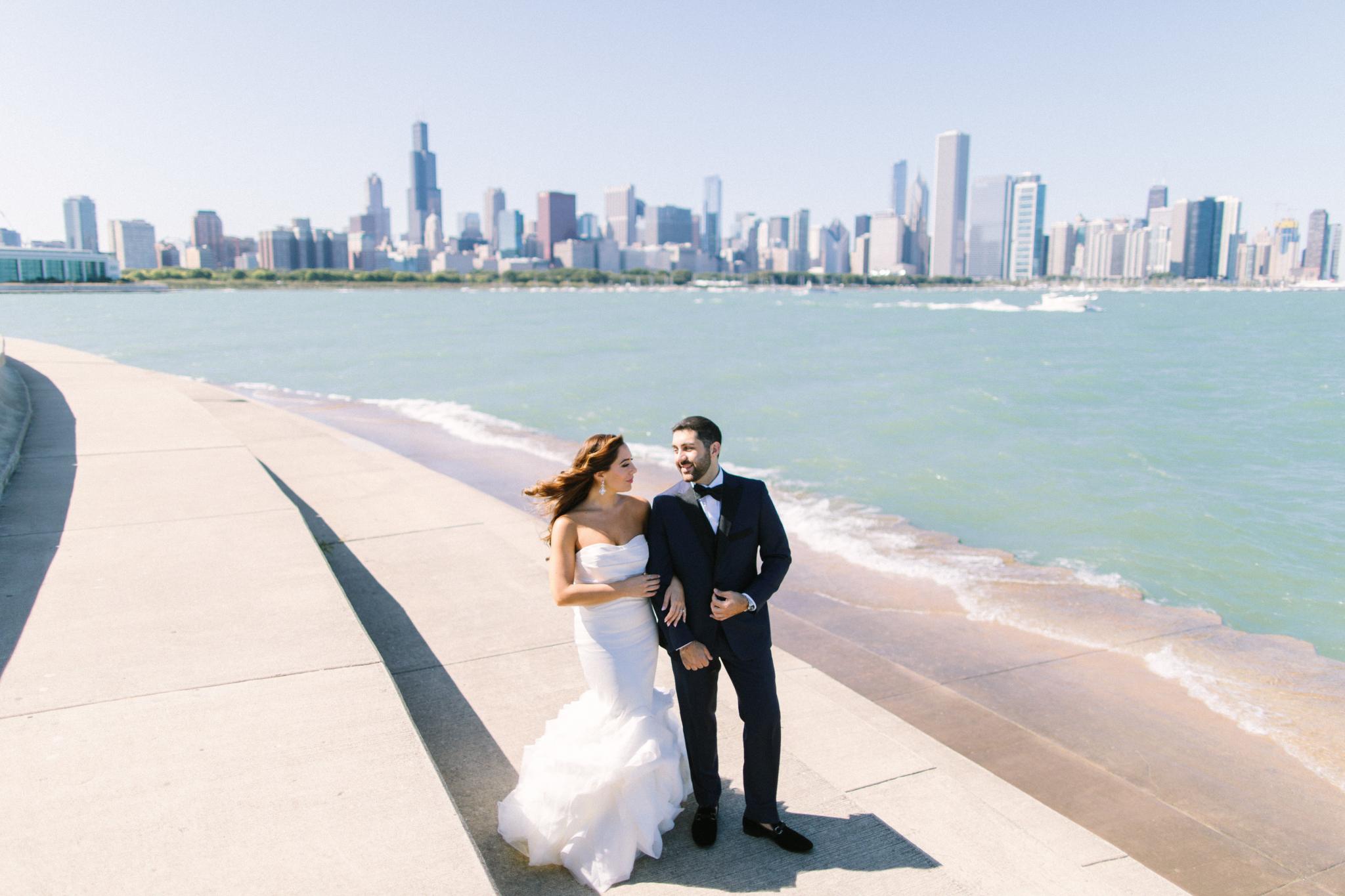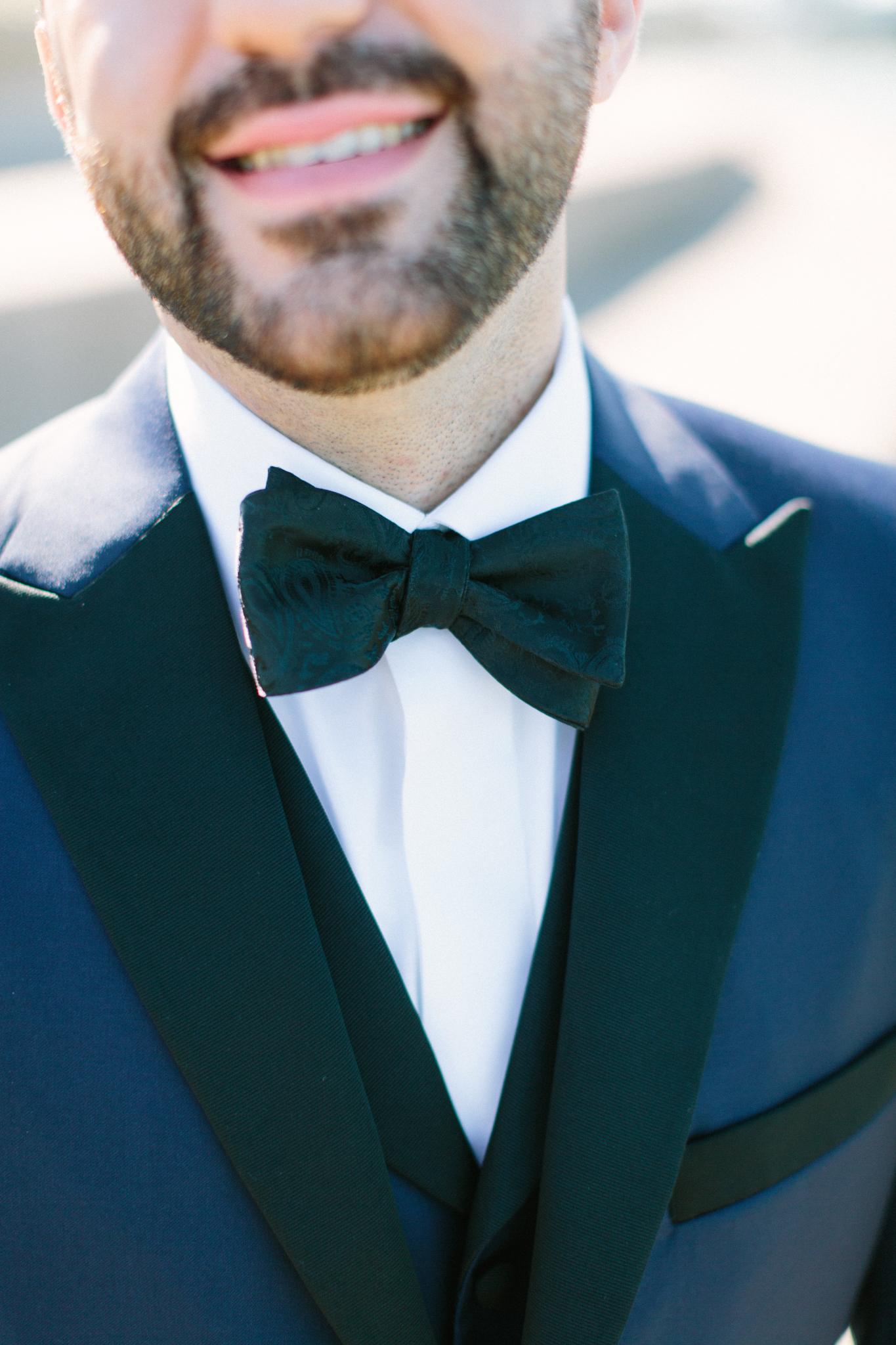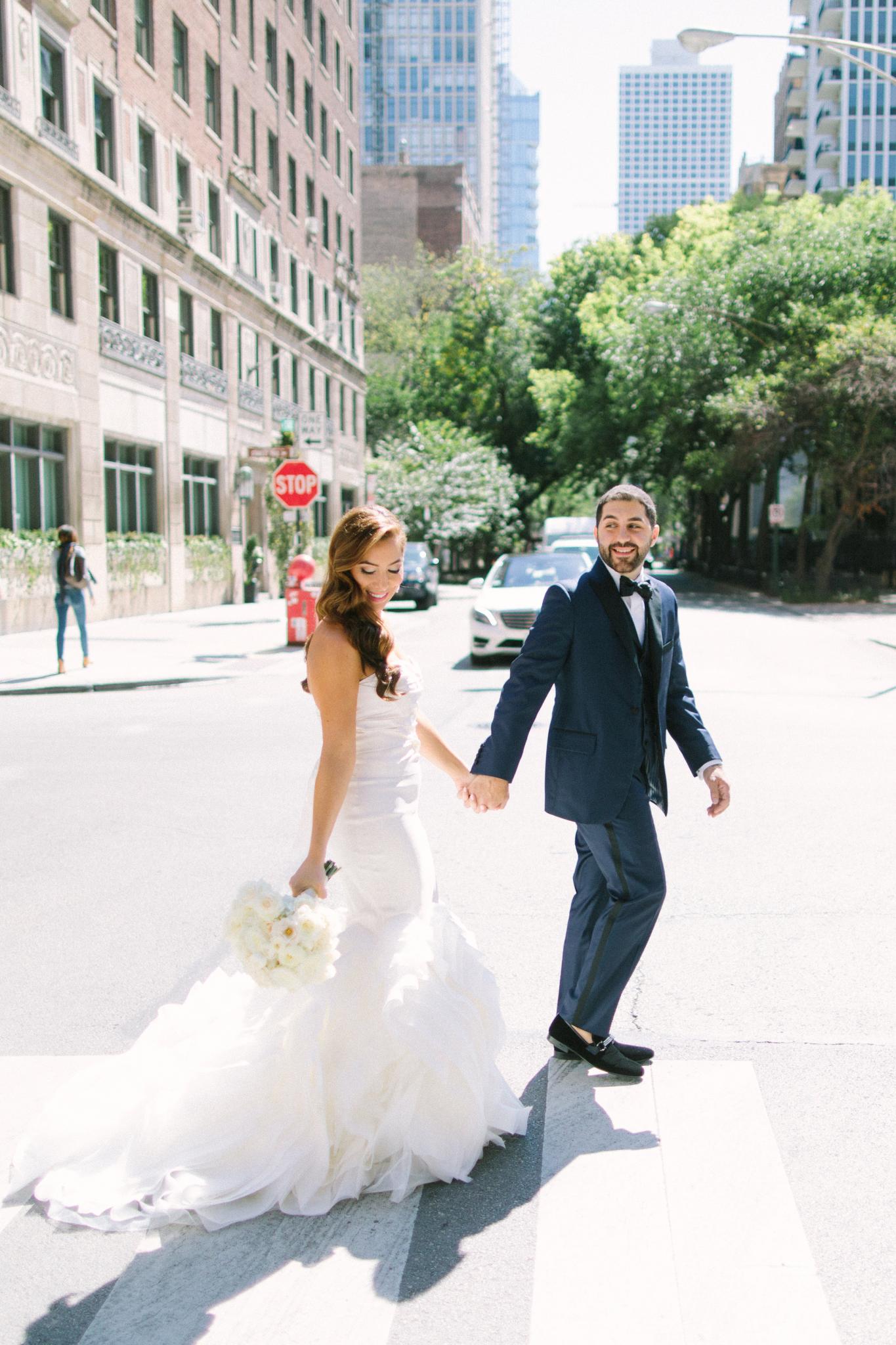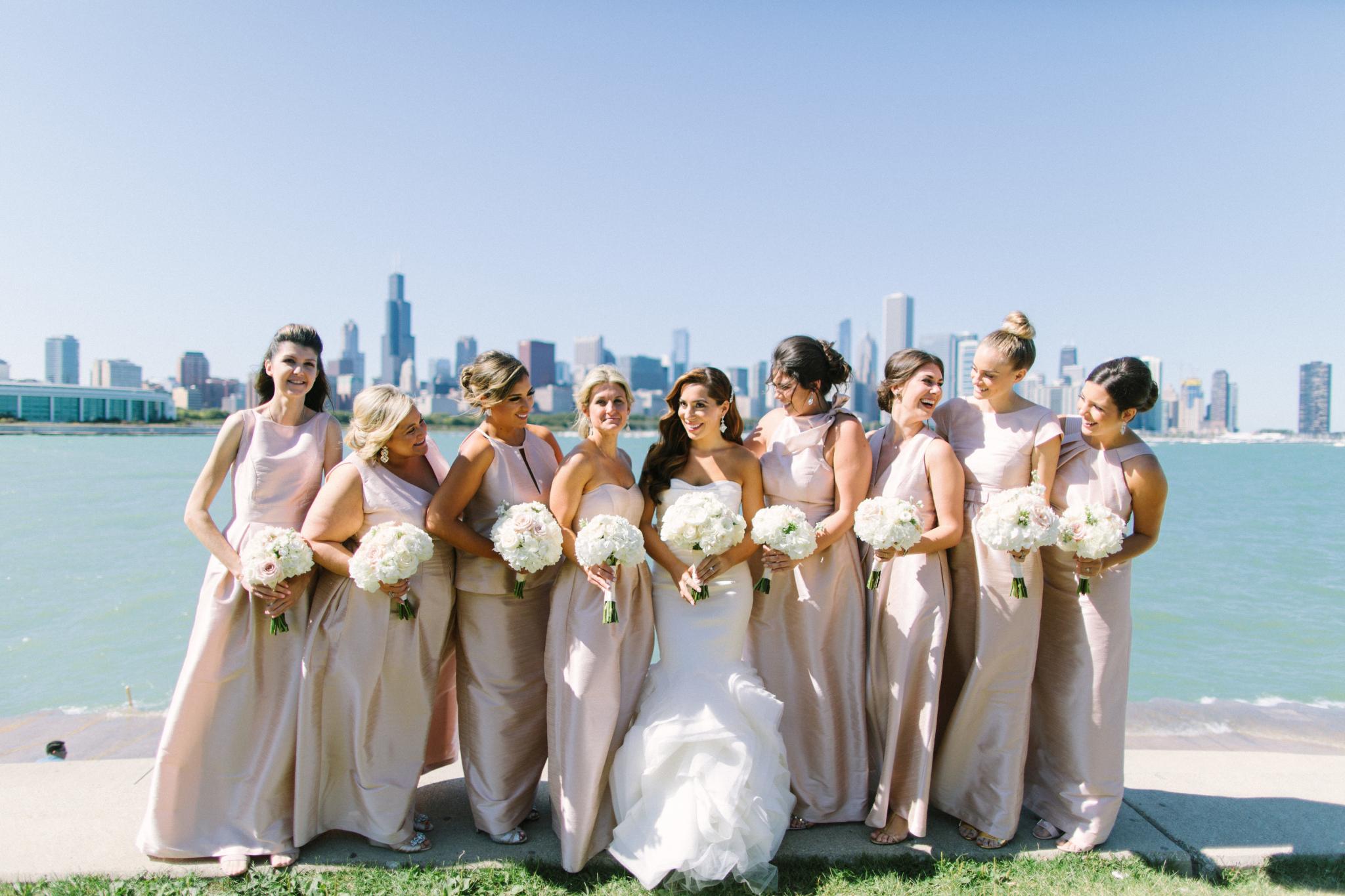 Matthew:
"My favorite memory from the day was our first look; including the moments leading up to it where I was pacing the hallway prior to our first look and the butterflies/anticipation/excitement/overwhelming feeling of joy that washed over me as I waited to see Stefanie for the first time and then standing in the bridal suite, having Stef tap me on the shoulder, turning around, seeing how stunning she looked and the beaming, infectious smile that was on her face as she saw me for the first time as well."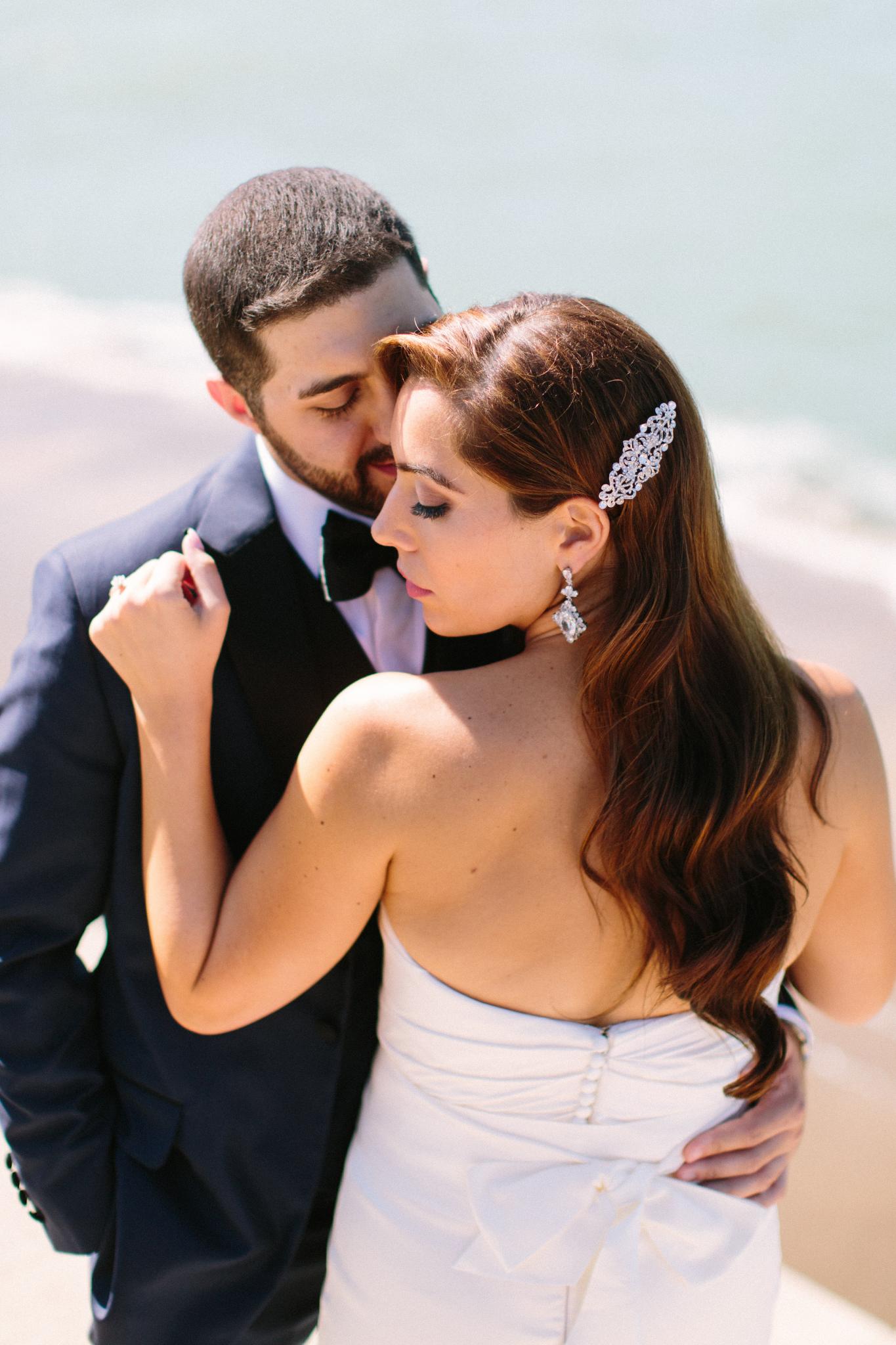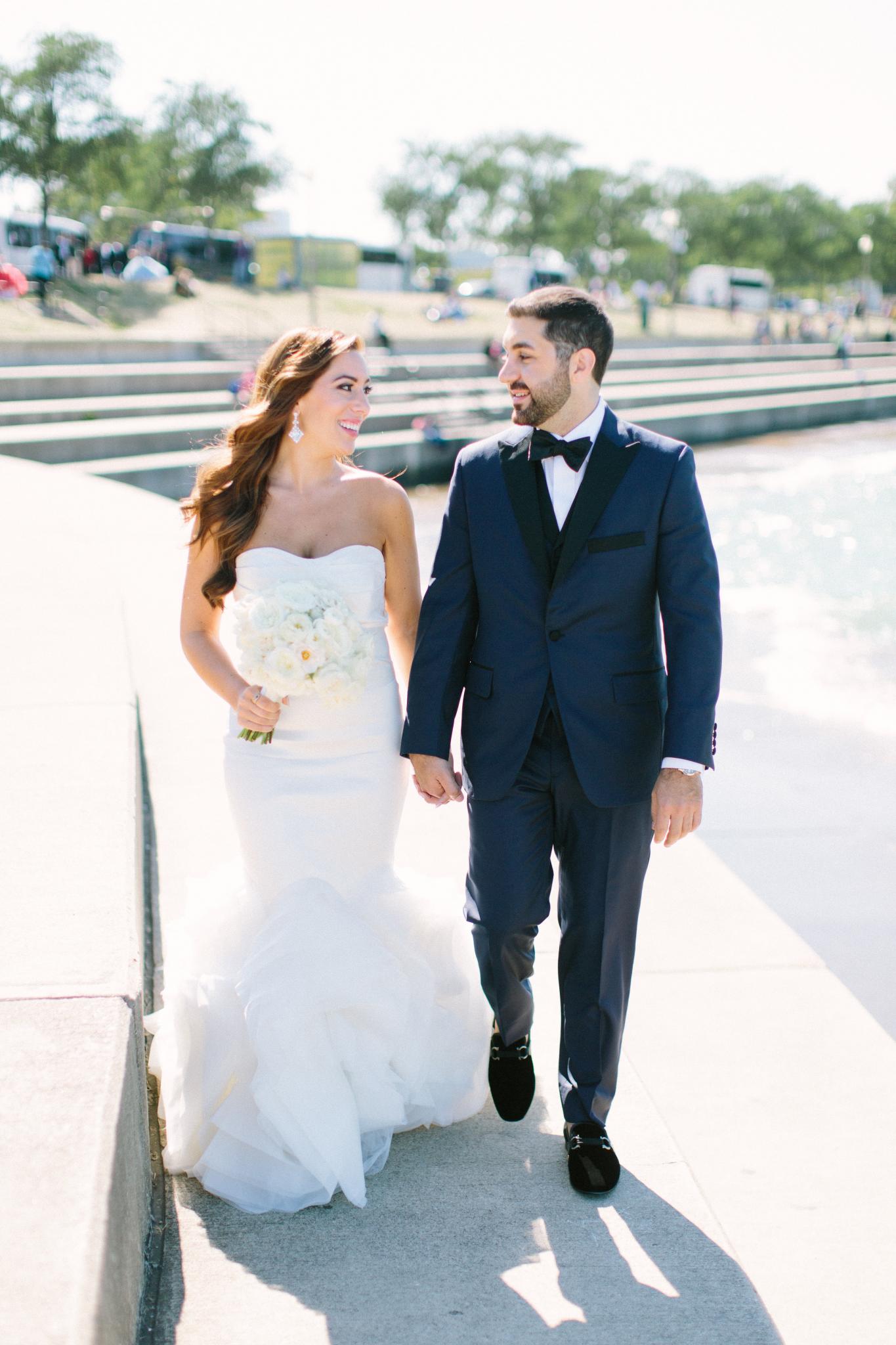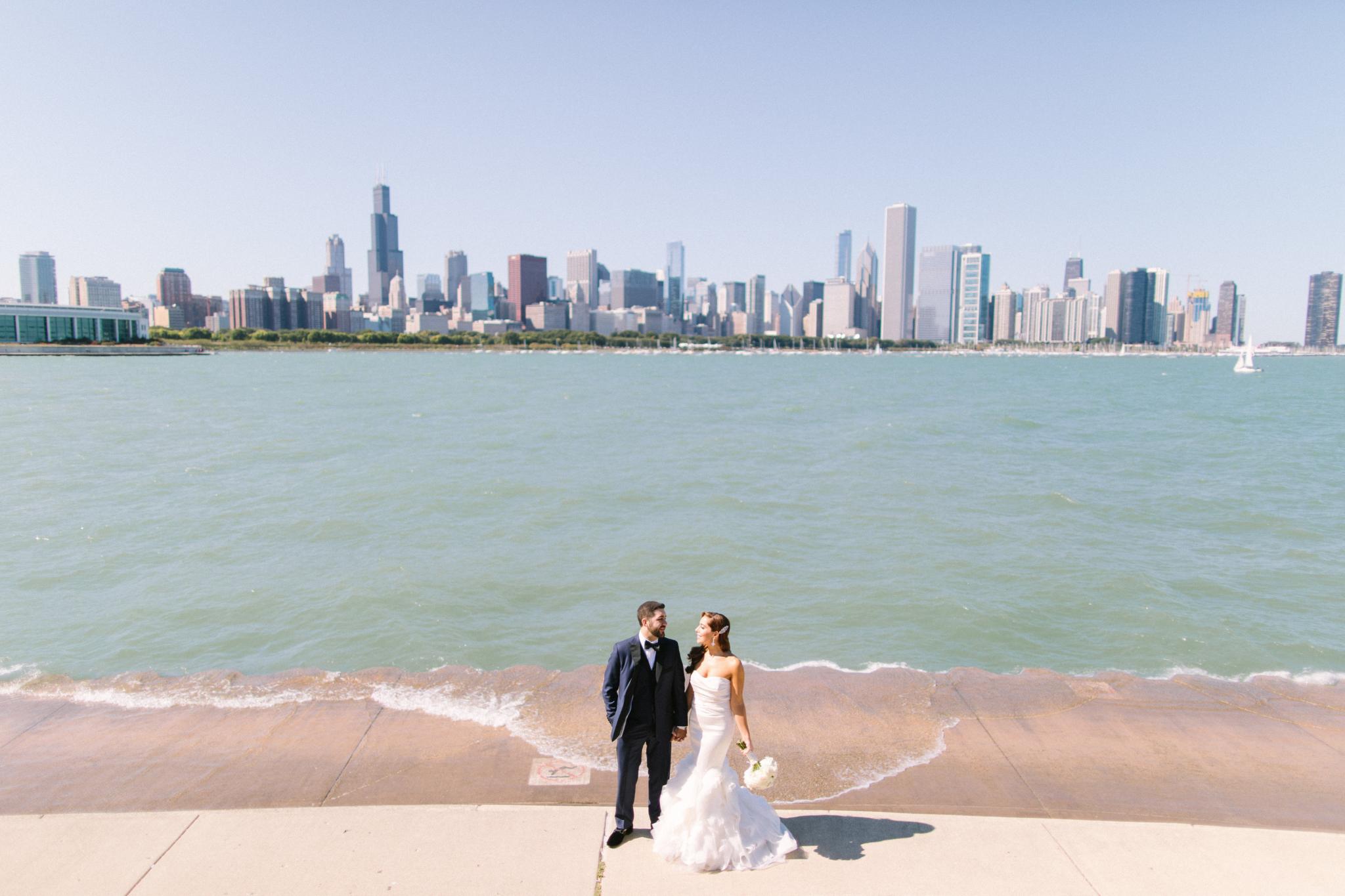 Stefanie:
"I have three favorite moments that really stand out: When Matt and I were taking photos at Museum Campus, I took a moment to look around and take it all in. I will never forget the happiness I felt looking at him, holding his hand, talking about our mornings getting ready and listening to the waves of Lake Michigan crash behind us.  I just kept saying this is so much fun. I also loved walking down the glass staircase at Chez to meet my dad before we walked down the aisle together. He looked so happy and proud. And then overall, I loved having all of our closest friends and family together to celebrate our love. It was the best to see everyone come together from different walks of our lives forming new memories and dancing the night away with us!"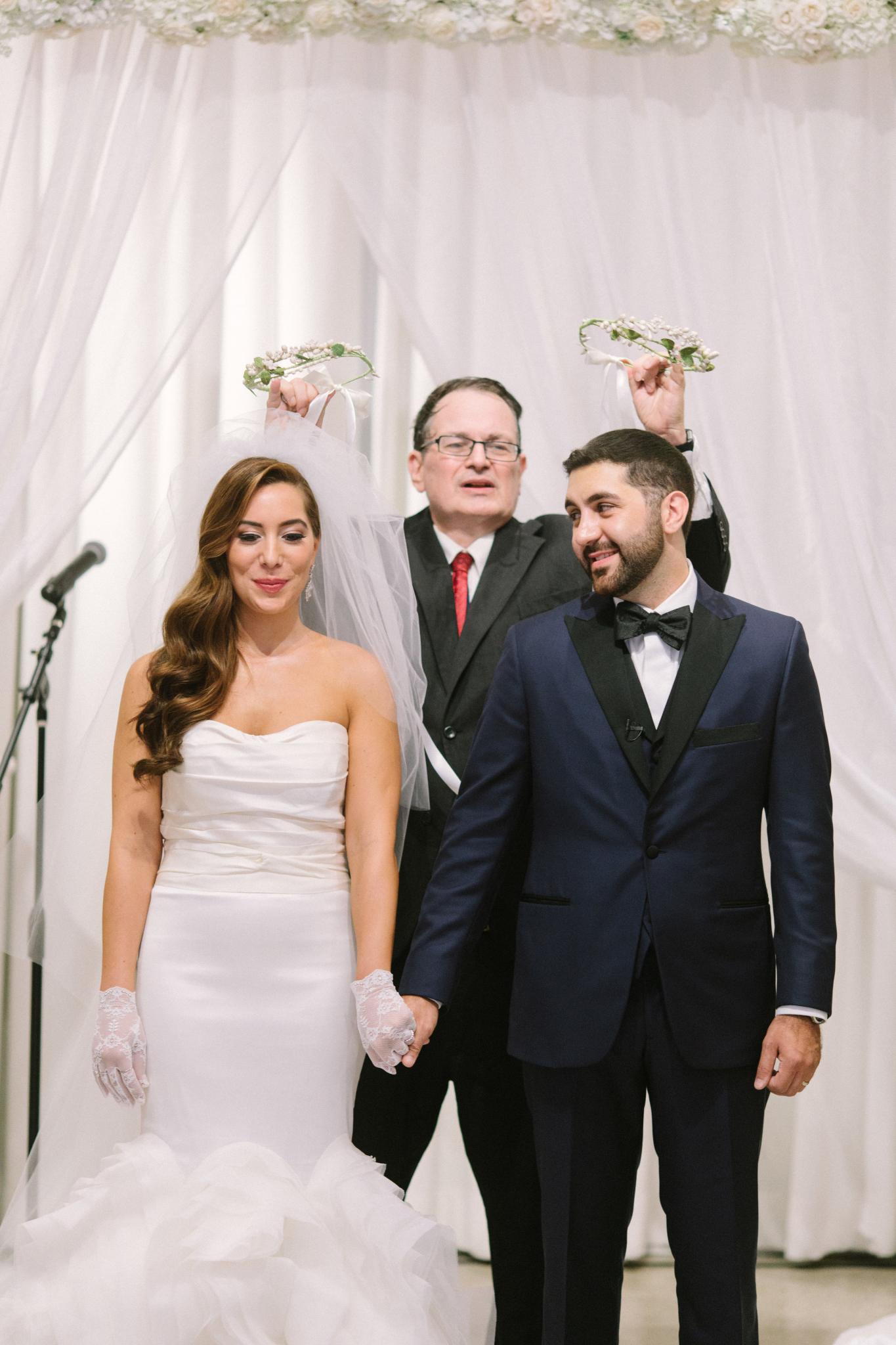 Vendors:
Tim Tab Studios (photography), Robert Cawthorne Wedding Films (videography), Chez Chicago (ceremony/reception), LK Events (wedding consultant), Christine Janda Design and Events (floral/decor), Vera Wang (bride's gown), Christian Louboutin (bride's shoes), Ashley Young Styling Inc. (bride's hair), Laura Black Makeup (bride's makeup), David's Bridal (bride's headpiece), Bella Tiara (bride's earrings), The Wedding Dresser (styling), Alfred Sung via Bella Bridesmaids (bridesmaids' dresses), Tom James Company (groom's suit), Salvatore Ferragamo (groom's shoes), Formally Modern Tuxedo (groomsmen formalwear), Gerald Wolf (wedding rings), Blue Plate Catering (catering), Nico & Lala (stationery), Bluewater Kings Band (entertainment), Piece Brewery and Pizzeria (late night food), Il Giardino Del Dolce (cannoli cake/Italian cookies), Vanille Patisserie (macarons), Sweet Connections Bakery (Greek cookies), Rosemary Fanti Illustrator (live illustrator), Tom Maluga (officiant), Signature Transportation Group (transportation)