Wintry weather didn't stop this couple's amazing celebration. Instead, they embraced the snow and had the best day of their lives. All photos by Katie Scarlett Photography.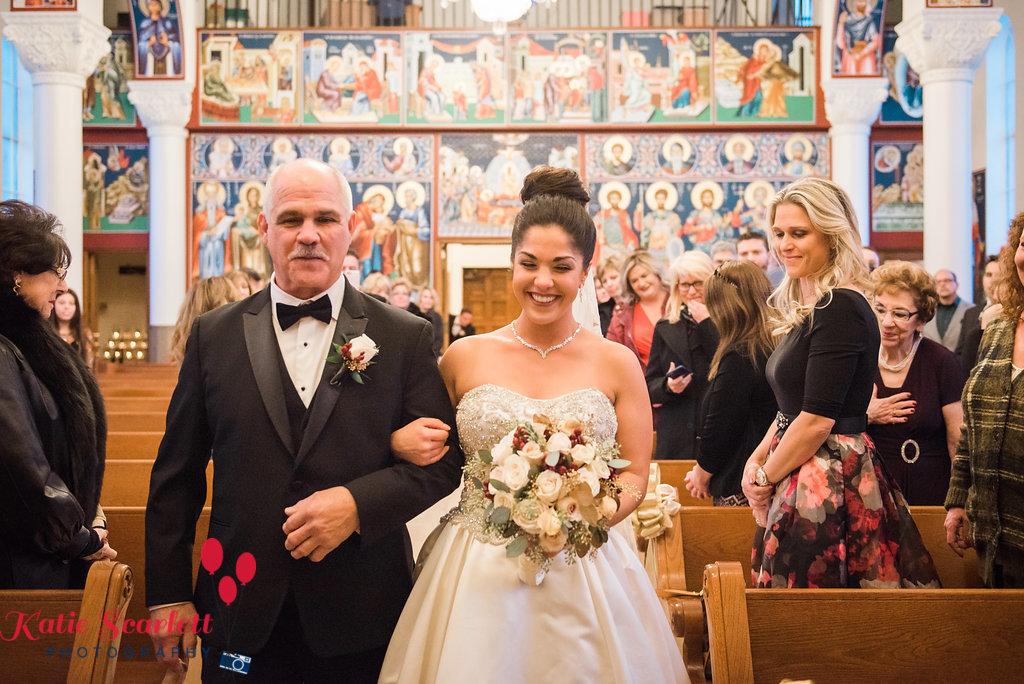 "Monica was at a Greek church picnic, All Saints Greek Orthodox Church, in Joliet, IL with her mom, where they both bumped into Stavros' dad. Little did Monica know, her mom and Stavros' dad were good friends when they were kids, so them running into each other turned into a lot of reminiscing and sharing photos of their children. Monica saw a photo of Stavros and wondered, Why haven't our parents set us up yet?! Apparently, this isn't the first time Stavros' dad tried setting his son up with a Greek girl, so Monica had to reach out herself. Figuring she had nothing to lose, she messaged and "friended" him on Facebook. In Monica's words, "I was going to Europe with friends two weeks later, so I figured if I never heard from him it'd be no big deal. I'd leave and come back like nothing weird ever happened."
But, Stavros ended up messaging her back pretty quickly. After an initial dinner date, and getting together again for a BBQ, it was a match made in heaven from there. "Our parents love taking credit for our marriage, and will never let us forget that 'they set us up'," the couples laughed.  Stavros comes from a background of music, marching band, and a state school – Western Illinois University. Monica comes from a background of sports, cheerleading, traveling and private school – DePaul University. Needless to say, they had a lot to talk about on their first dates. "We challenge each other every day with our different interests," the couple shared. "You know what they say opposites attract!" Monica loves to run and has completed three marathons and five half marathons. Stavros didn't run as much as a 5K prior to meeting Monica. Monica got Stavros into running and he actually proposed while they ran their second half marathon together.
"Leading up to the wedding, a lot of people told us it was risky to pick December 29 as a wedding day. Living in Chicago, it might be blizzarding, raining, or freezing. However, we wanted to take a chance on the weather because in the back of our heads we knew it'd be amazing if it ended up snowing on our wedding day, or before the wedding day that left snow on the ground for photos. (Monica works in advertising, so she was always hoping for that picture-perfect wedding day!) It ended up snowing from about 10:00am-on the entire wedding day, which was amazing for our photos, but terrible for the guests–Unfortunately, many didn't make the ceremony and we started 20 minutes later than expected to accommodate for the terrible traffic. Nonetheless, the snow truly made this day a fairytale. It was the winter wedding we dreamed of!"
Monica's favorite memory of the day was doing first-looks with her bridesmaids, dad and Stavros. It felt really great to see Stavros before the ceremony and get all the jitters out of us. It was such a magical moment. Additionally, she was "obsessed with the music all night." The band played medleys of music from all the decades and it was so exciting and fun to dance to. Lastly, her maid of honor wrote a rap to The Prince of Bel Air theme song and it had everyone laughing.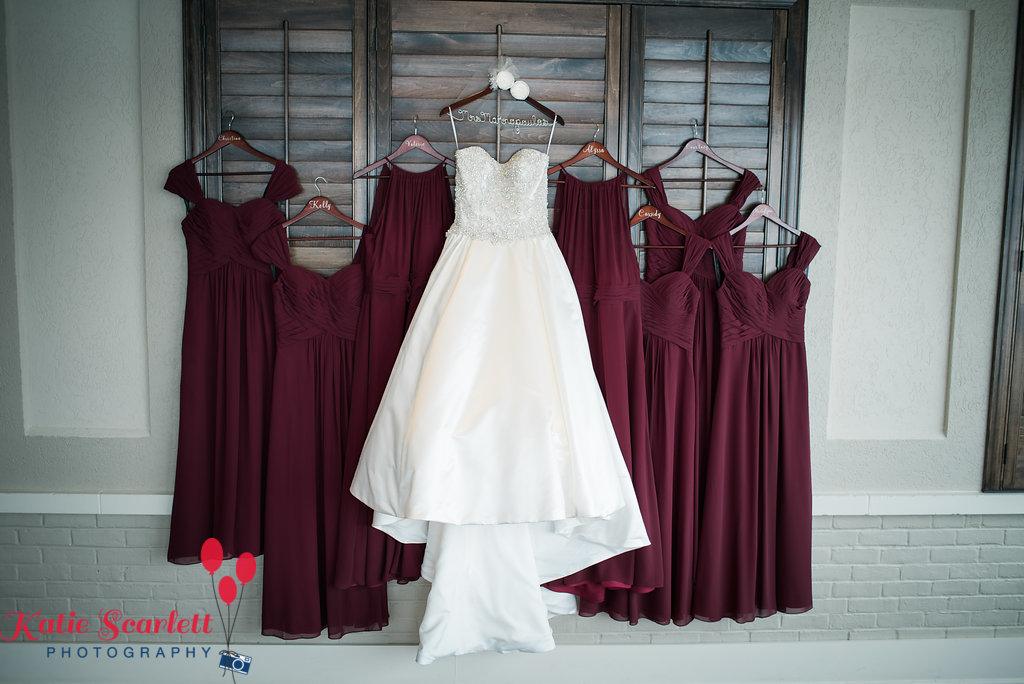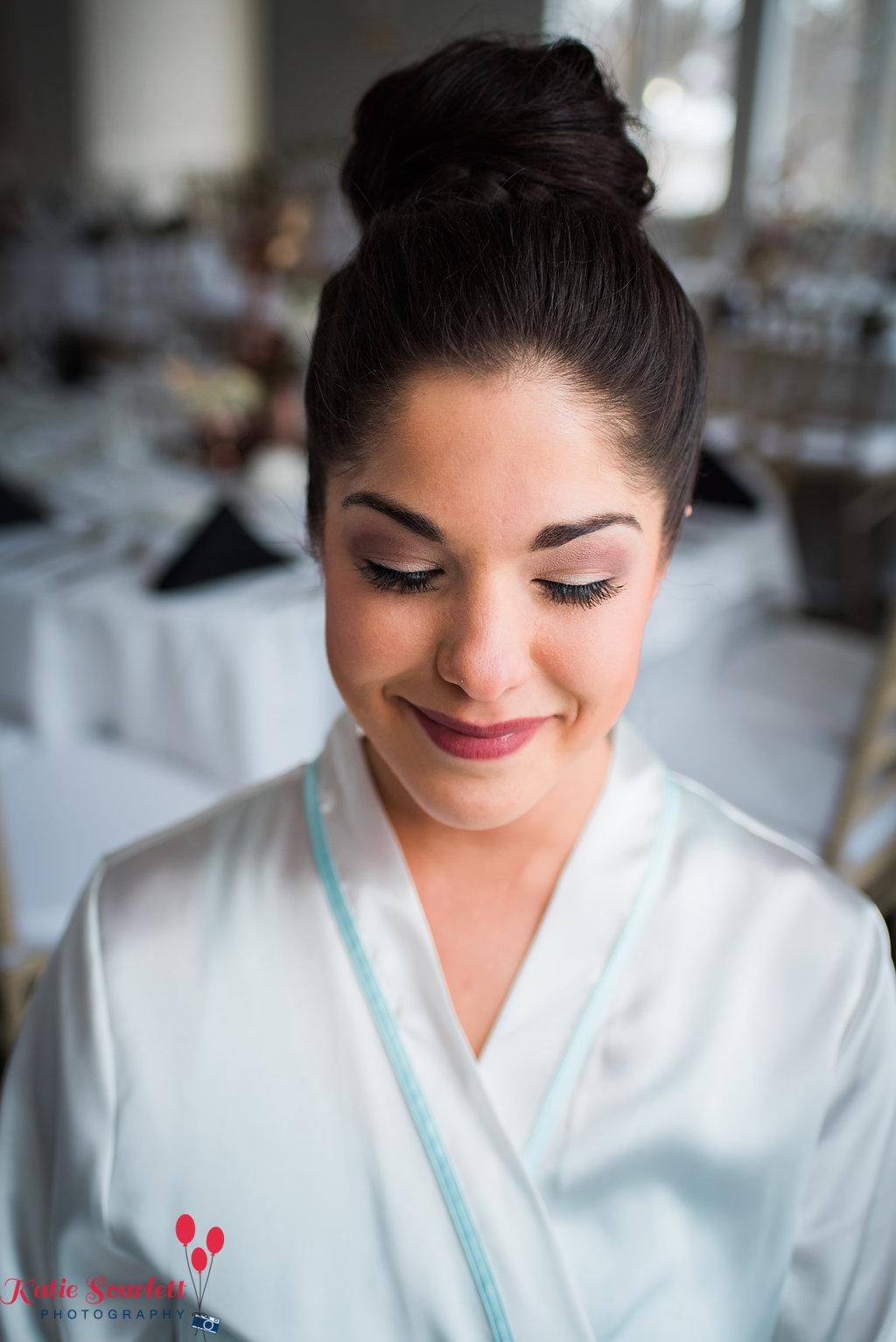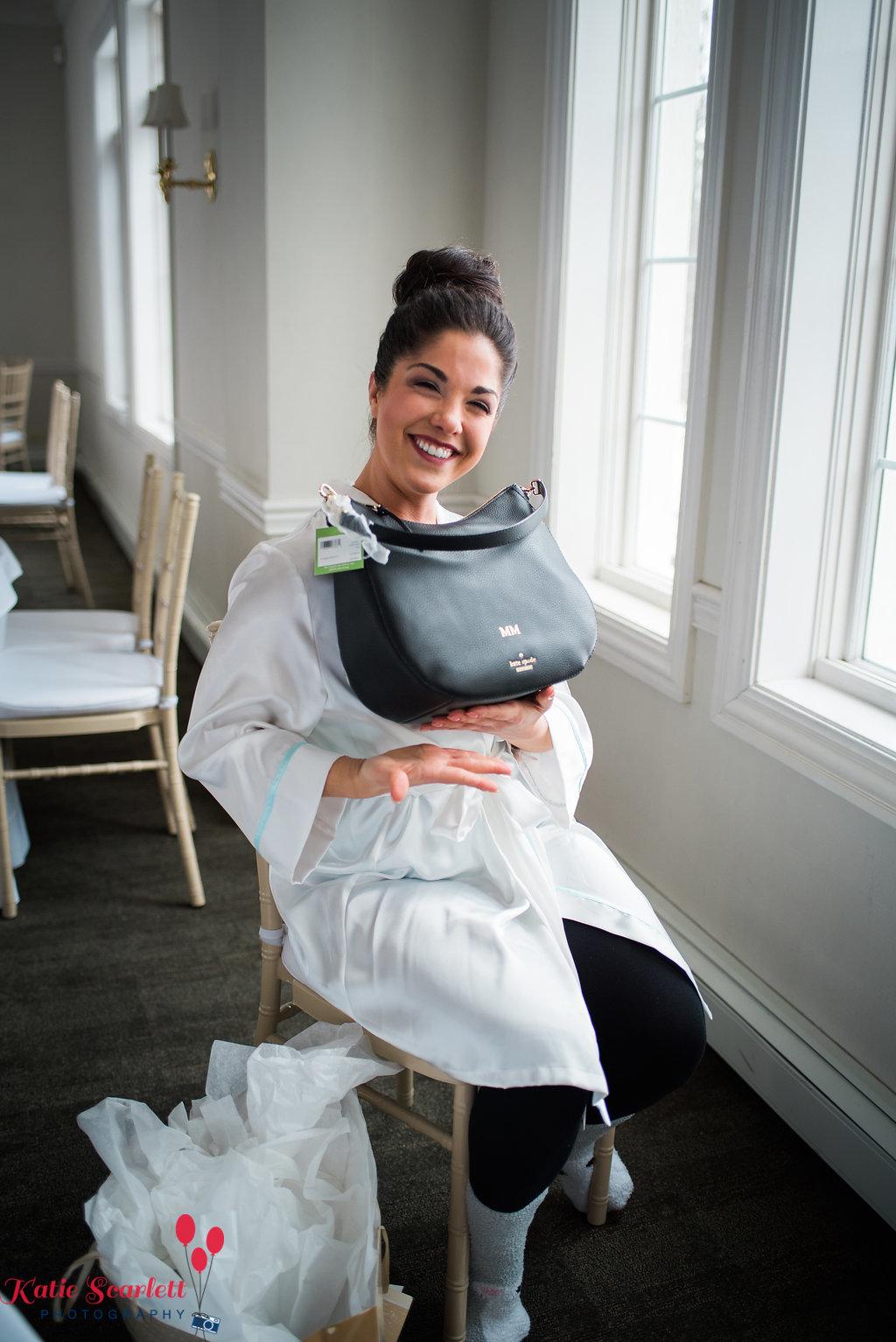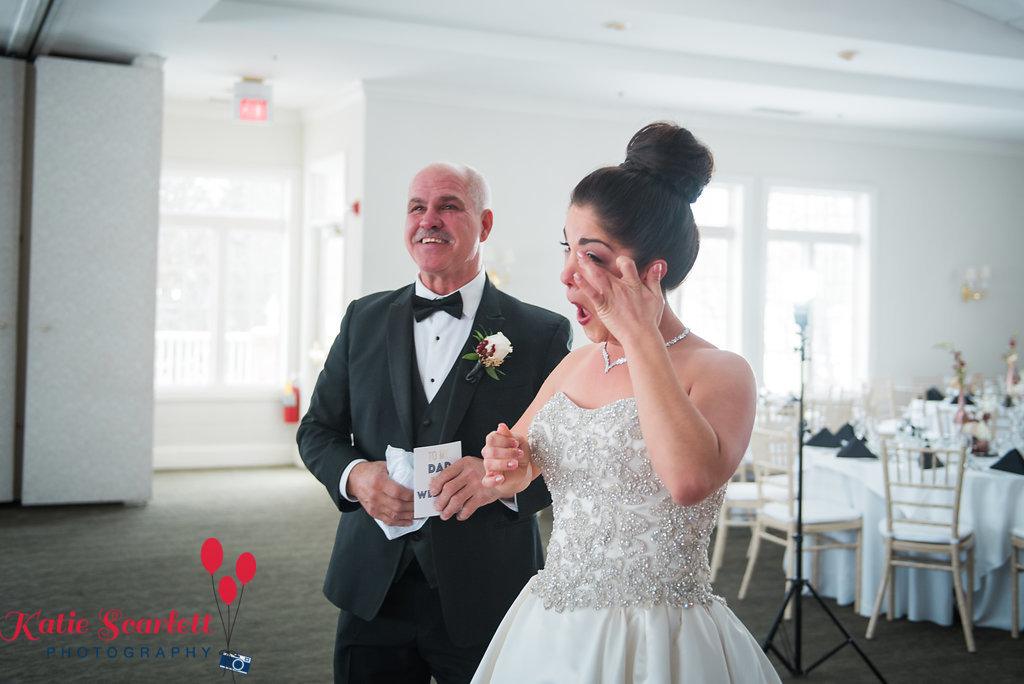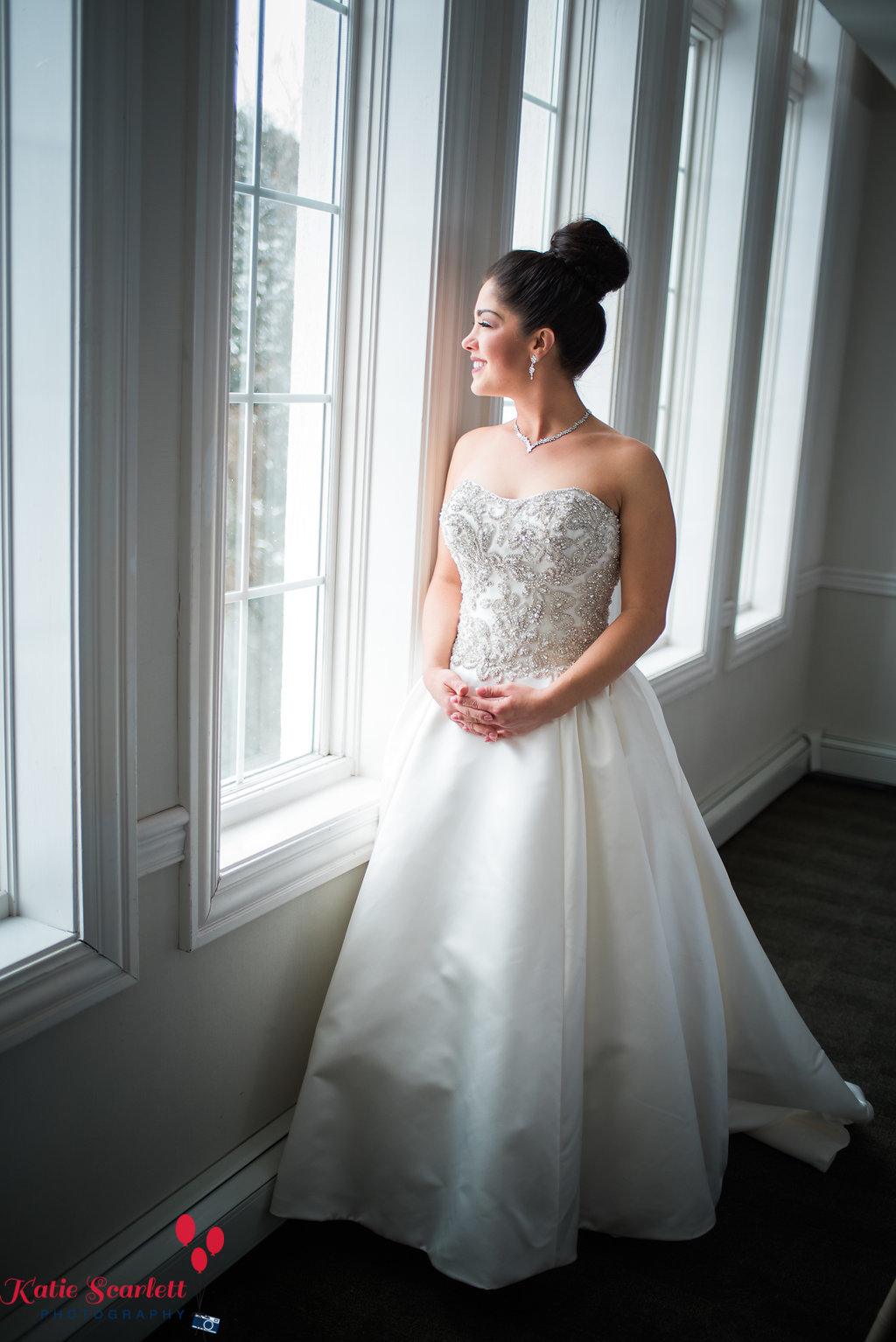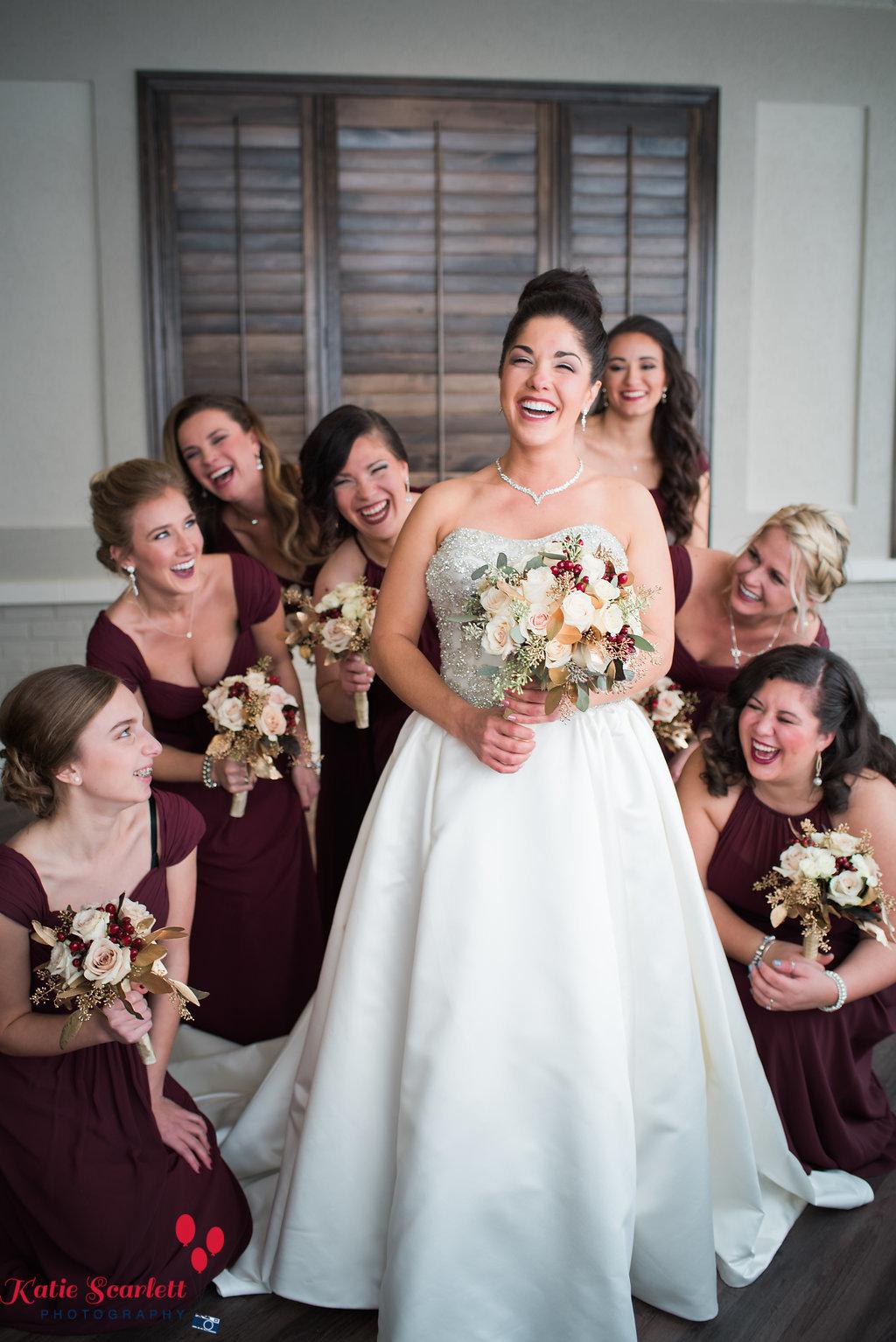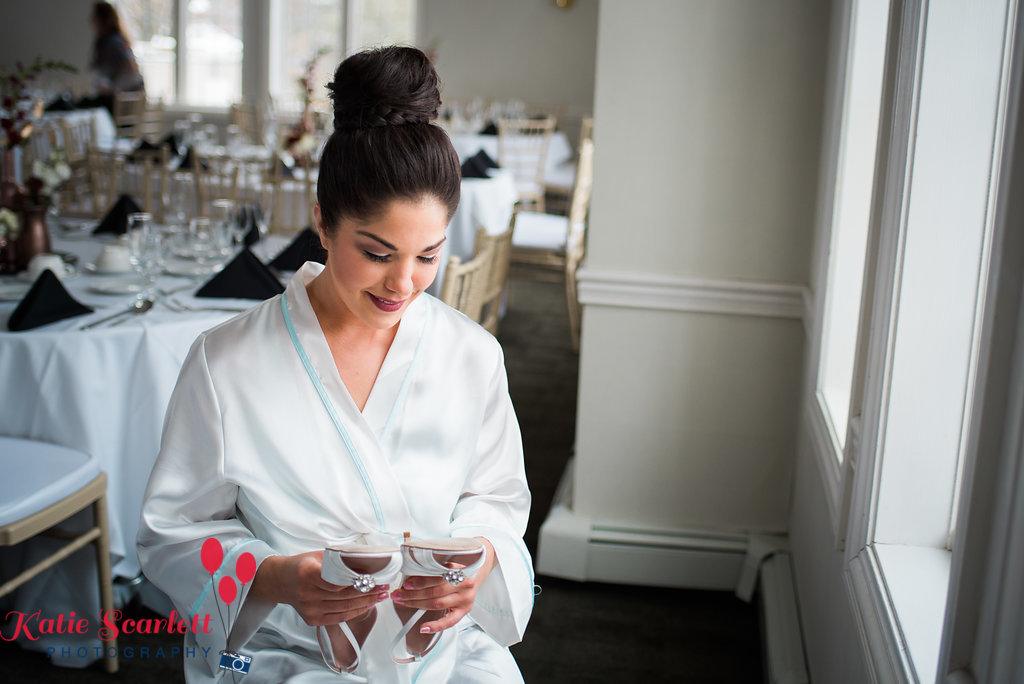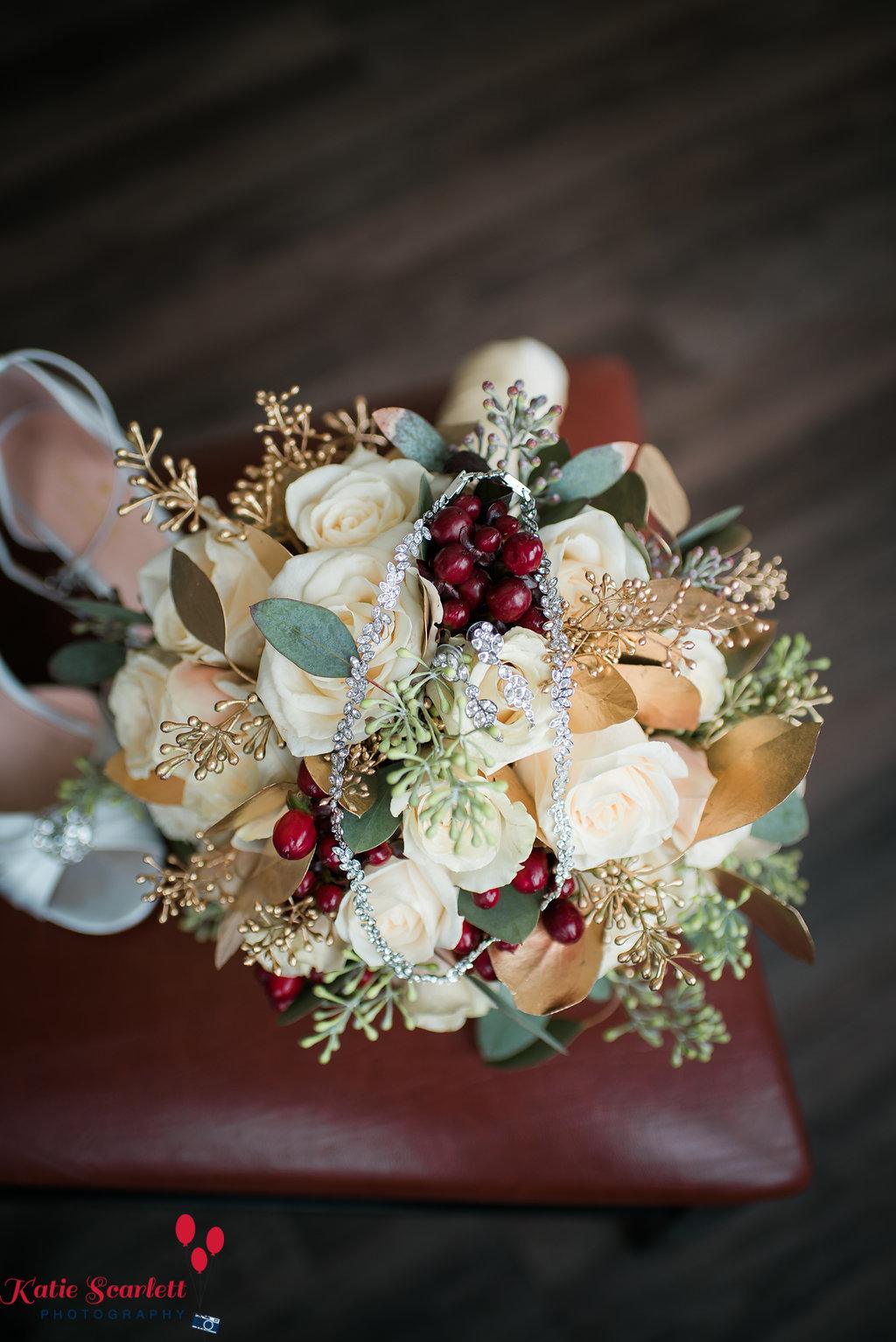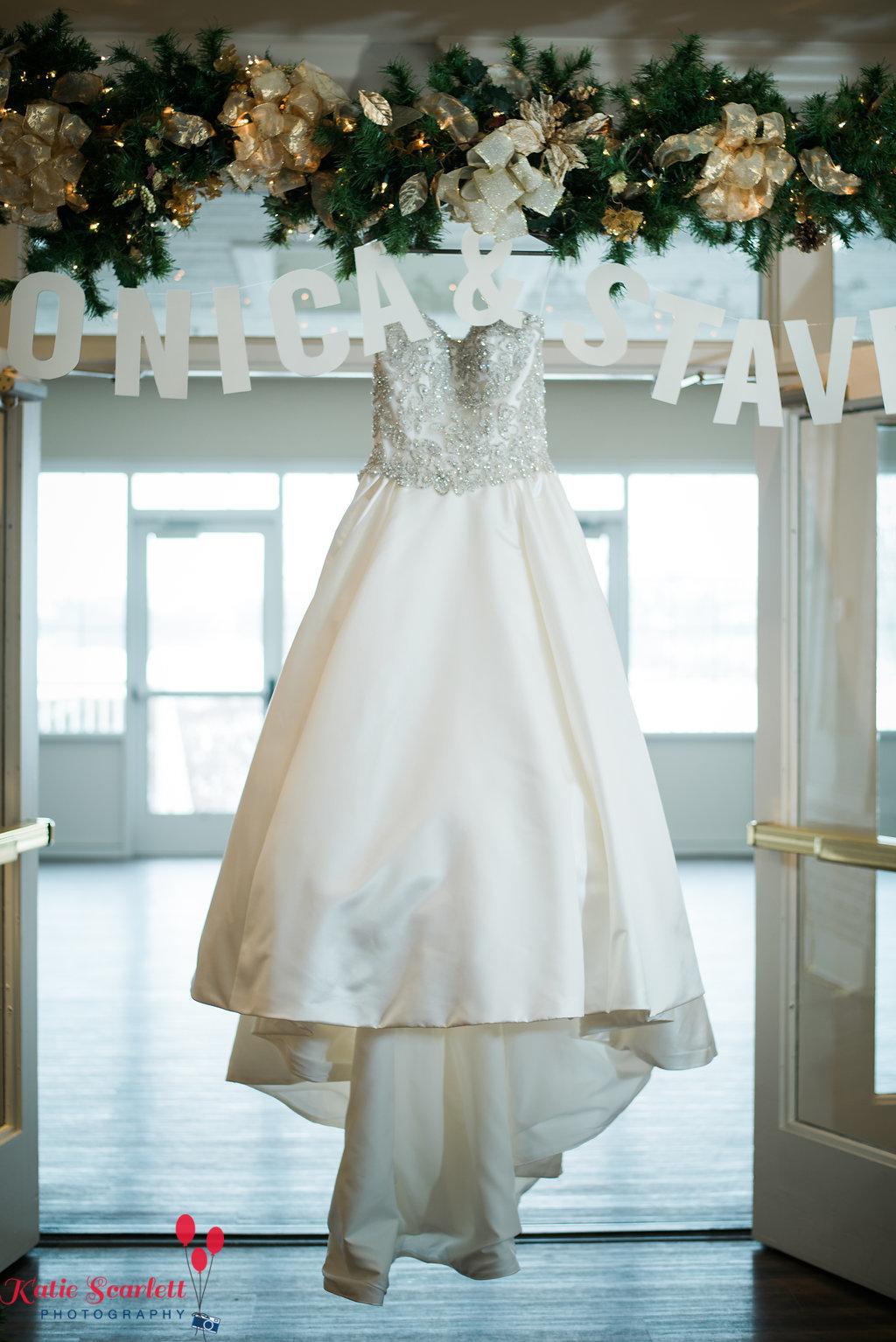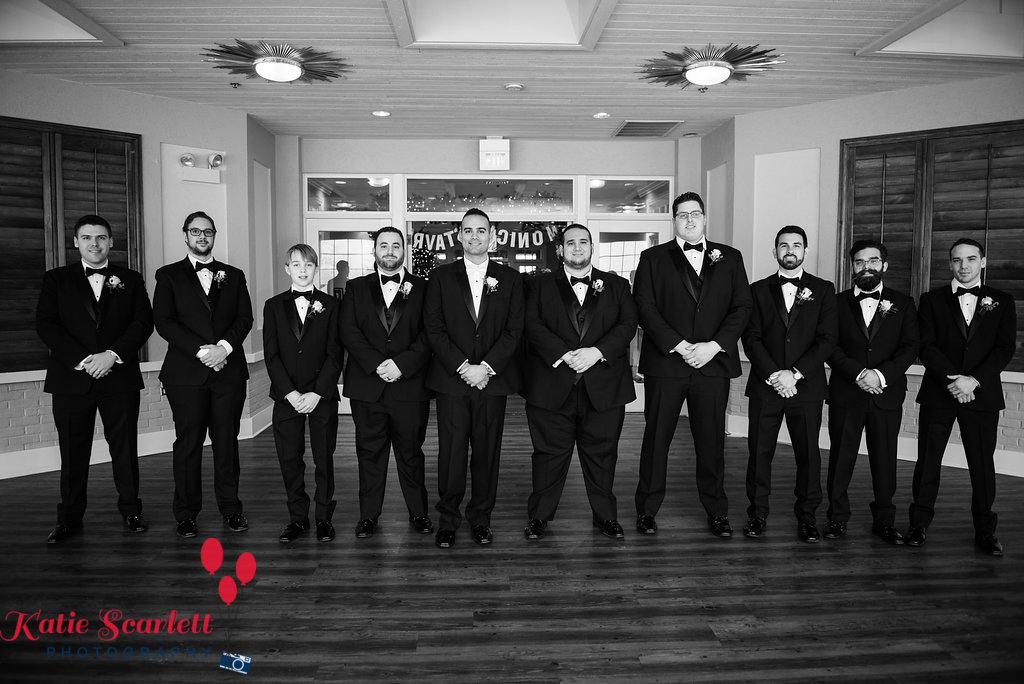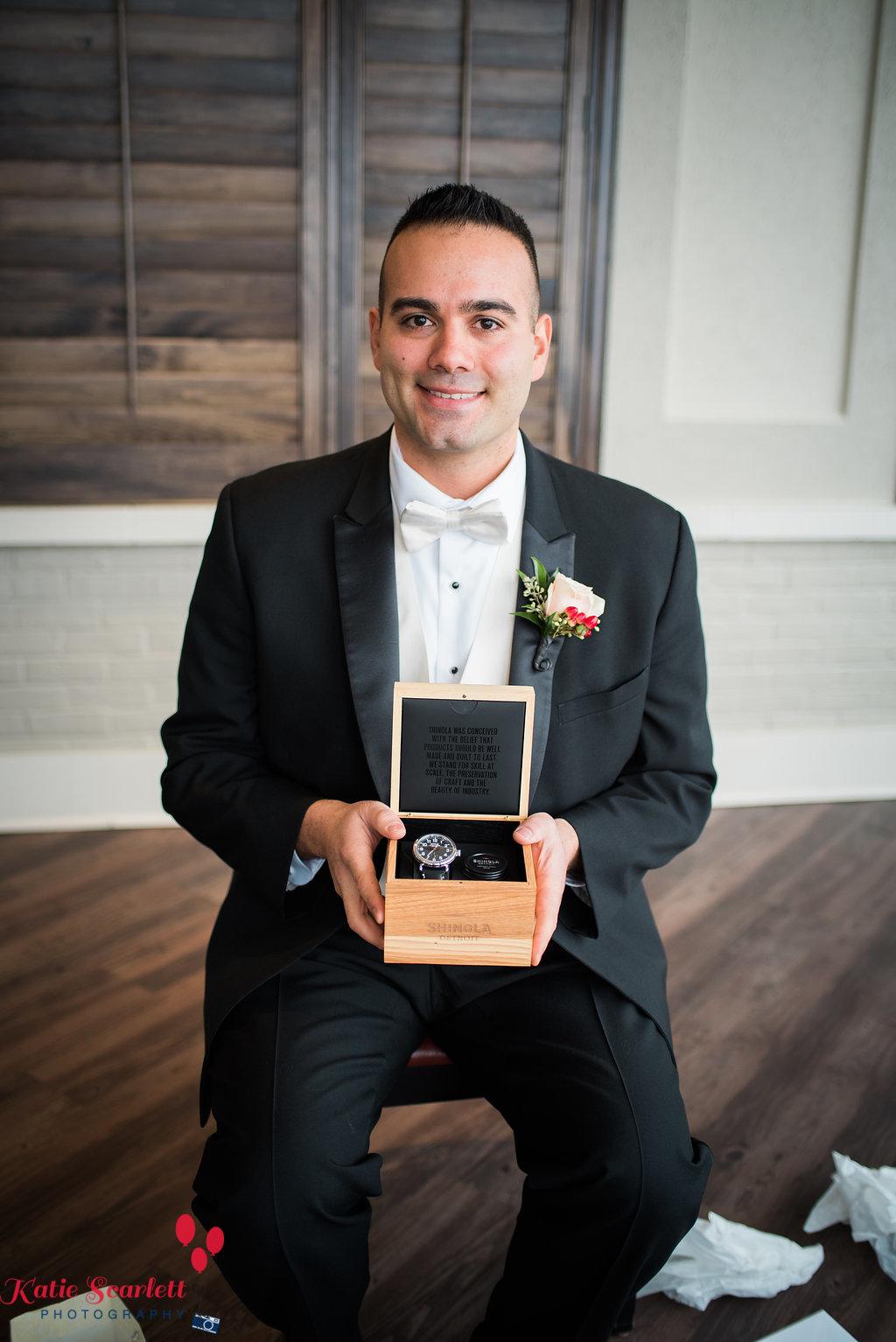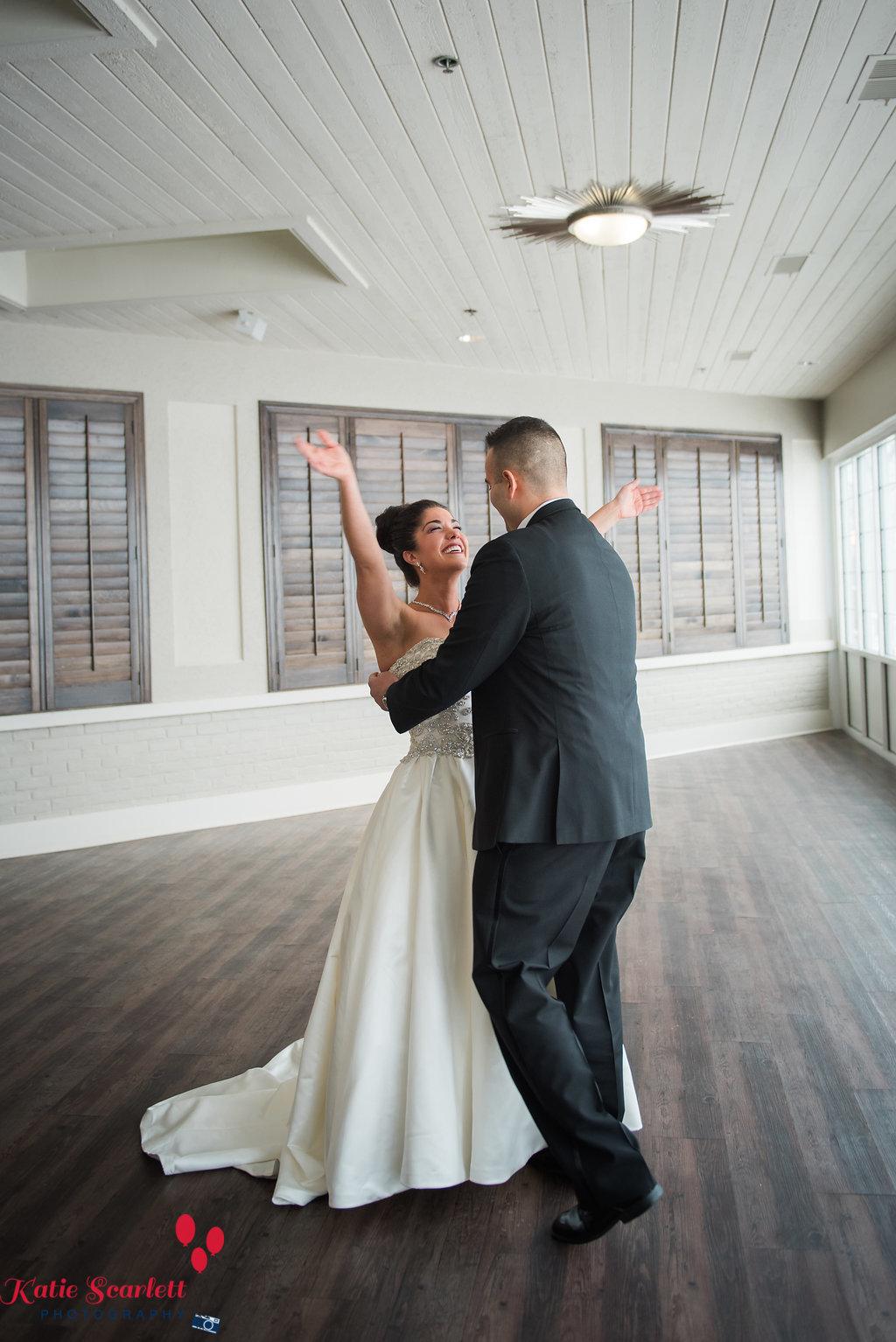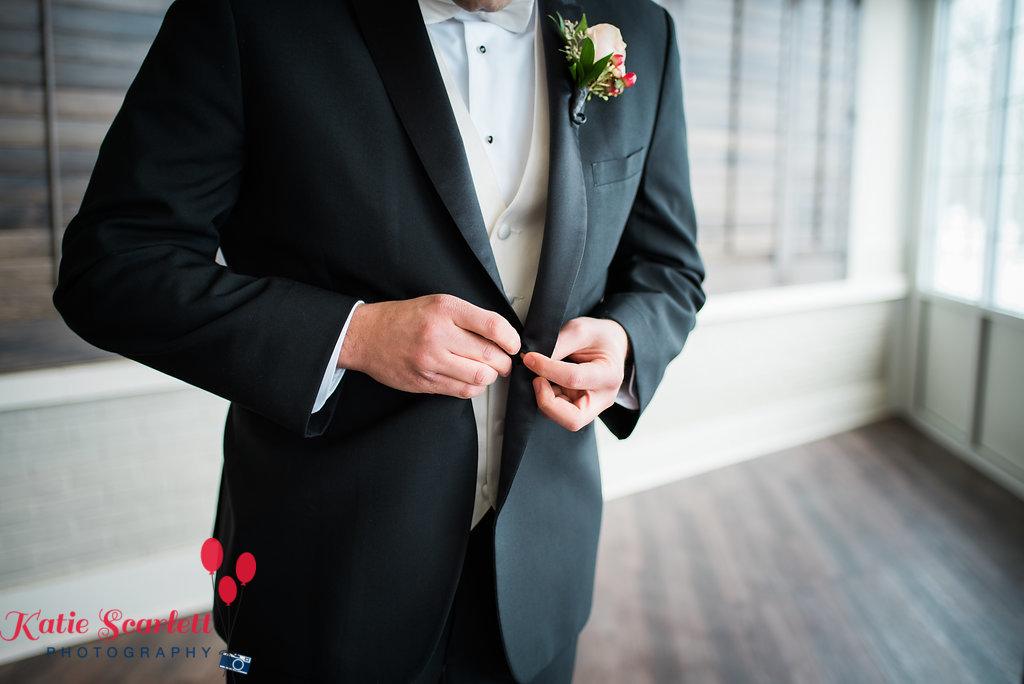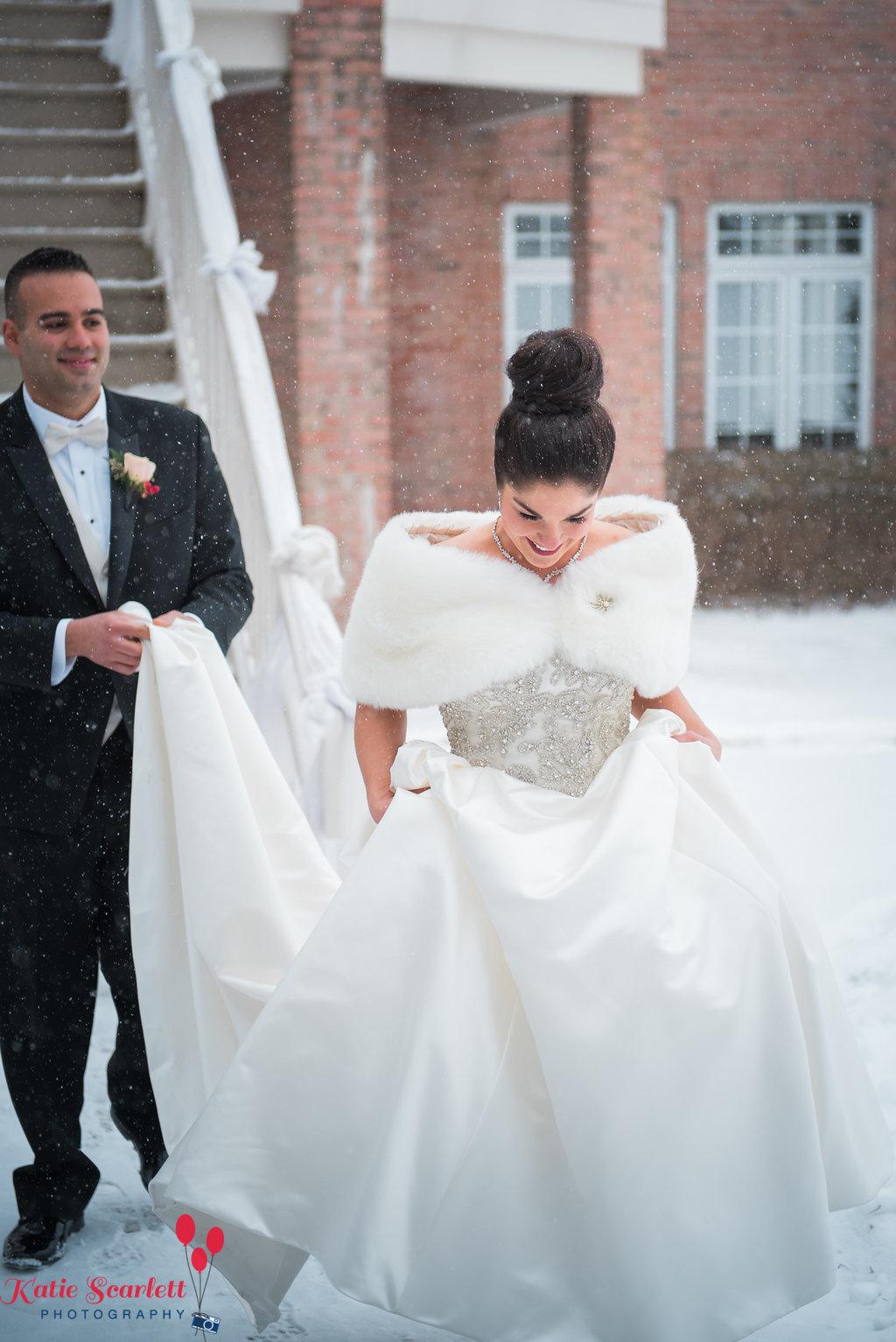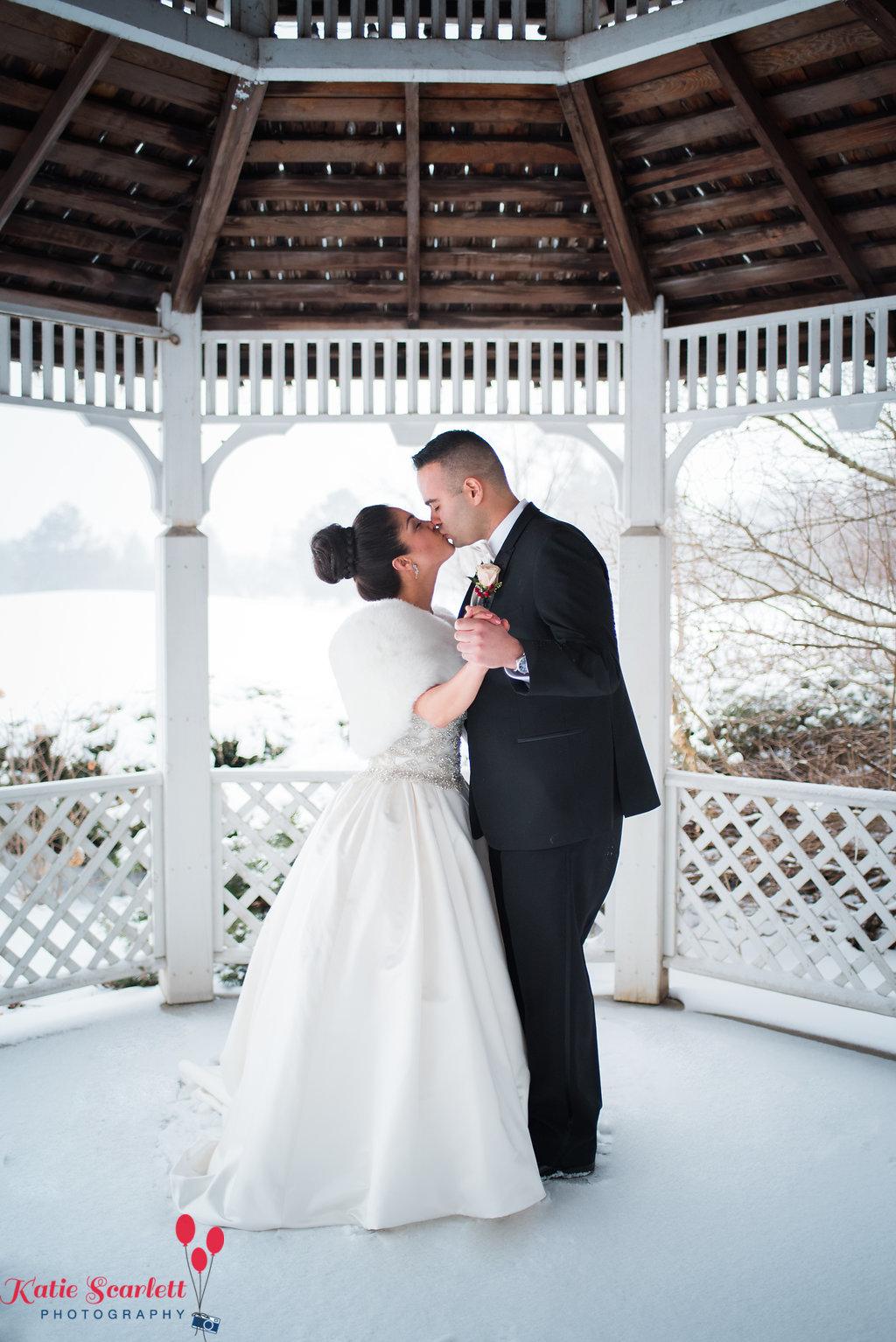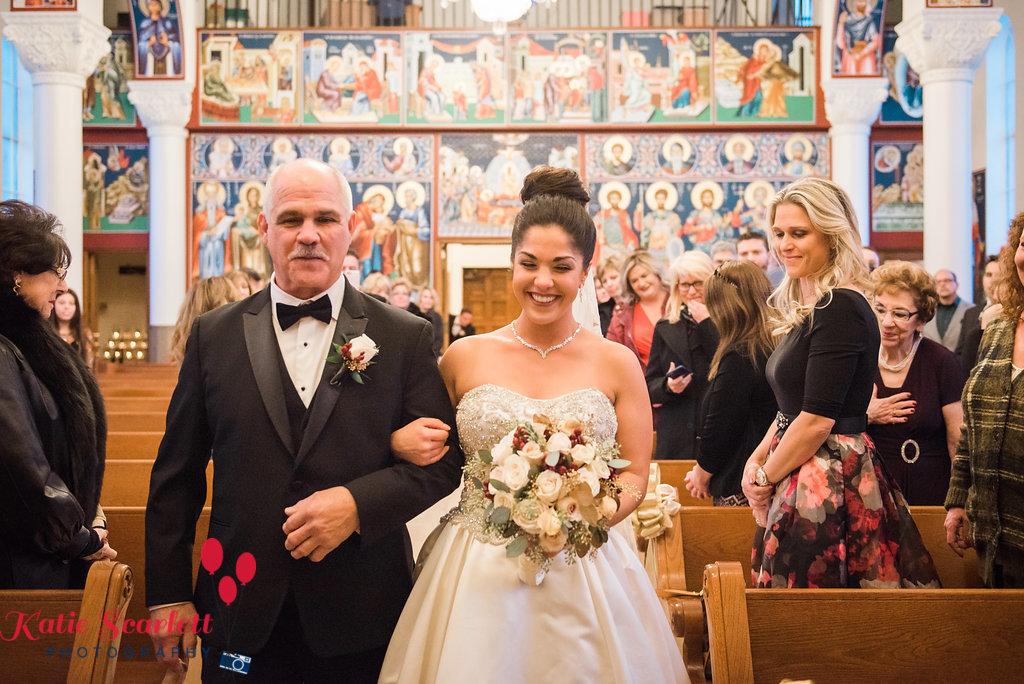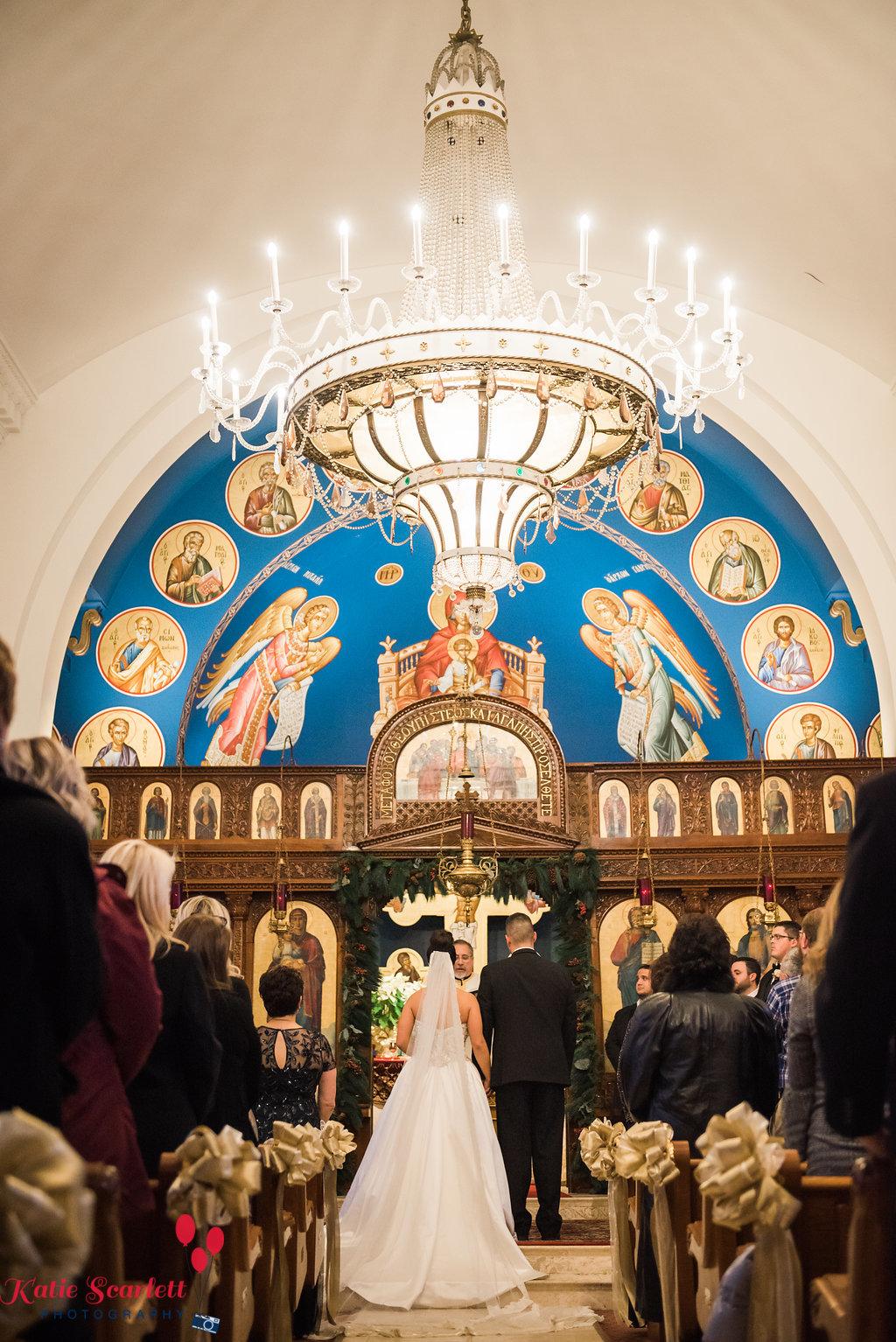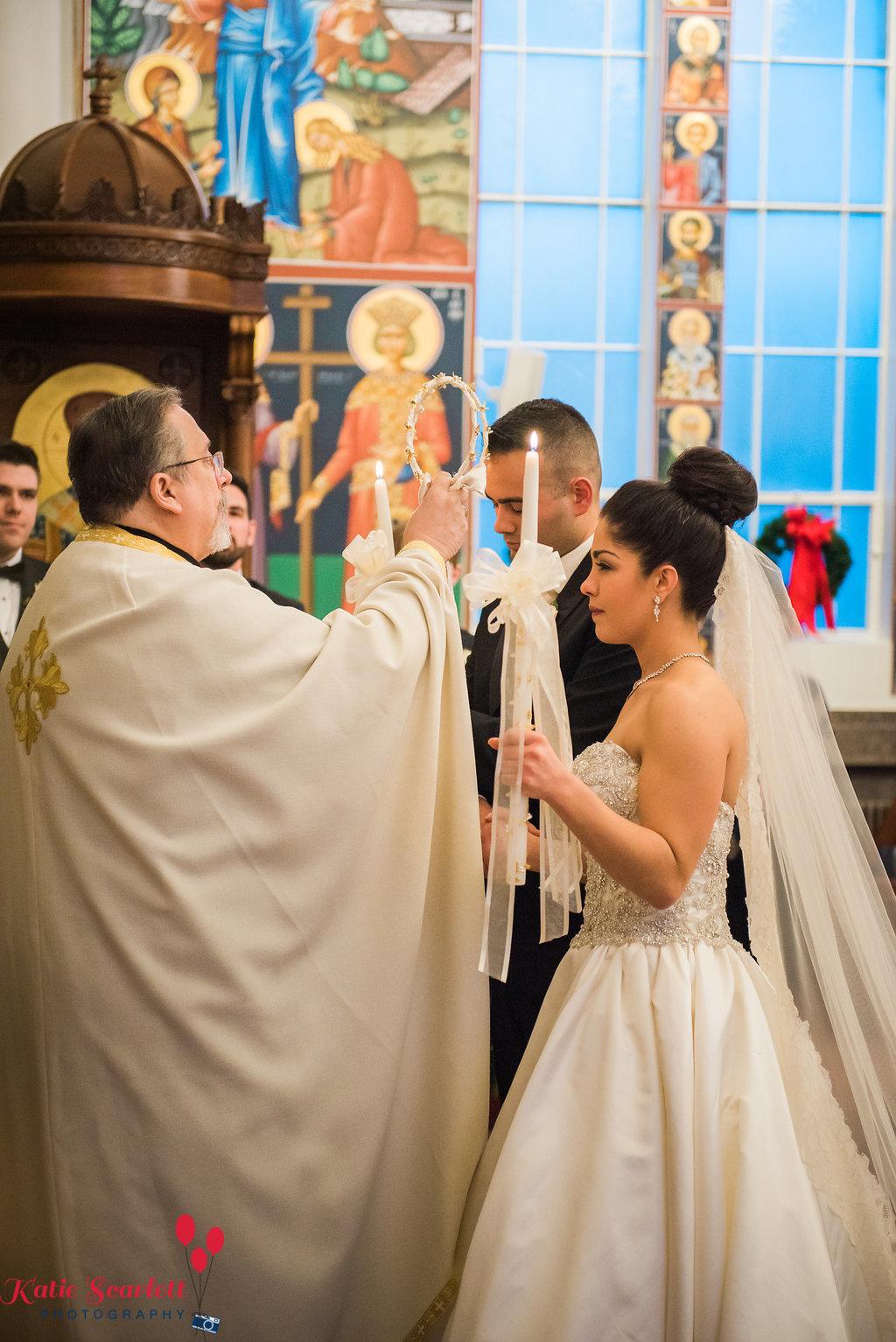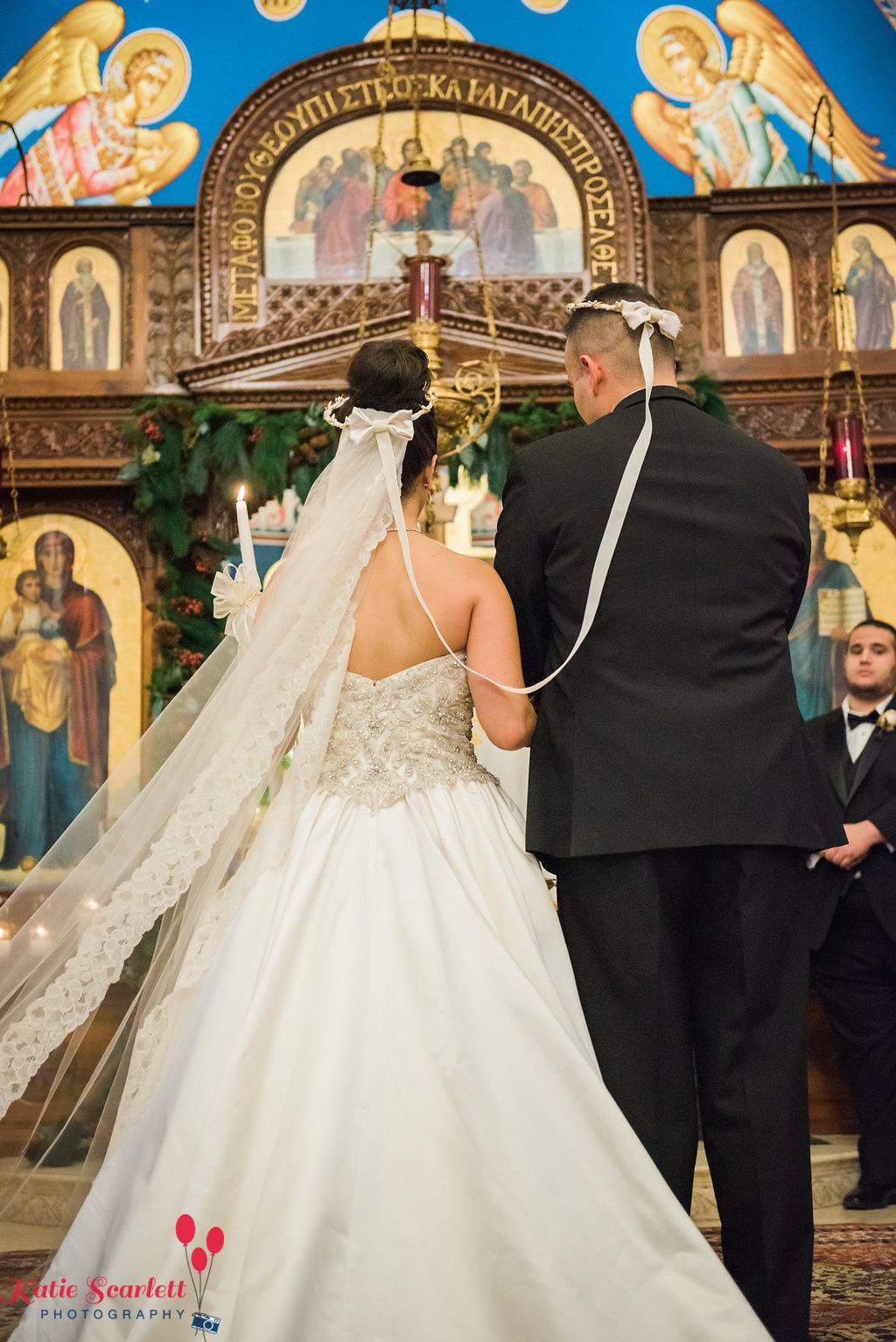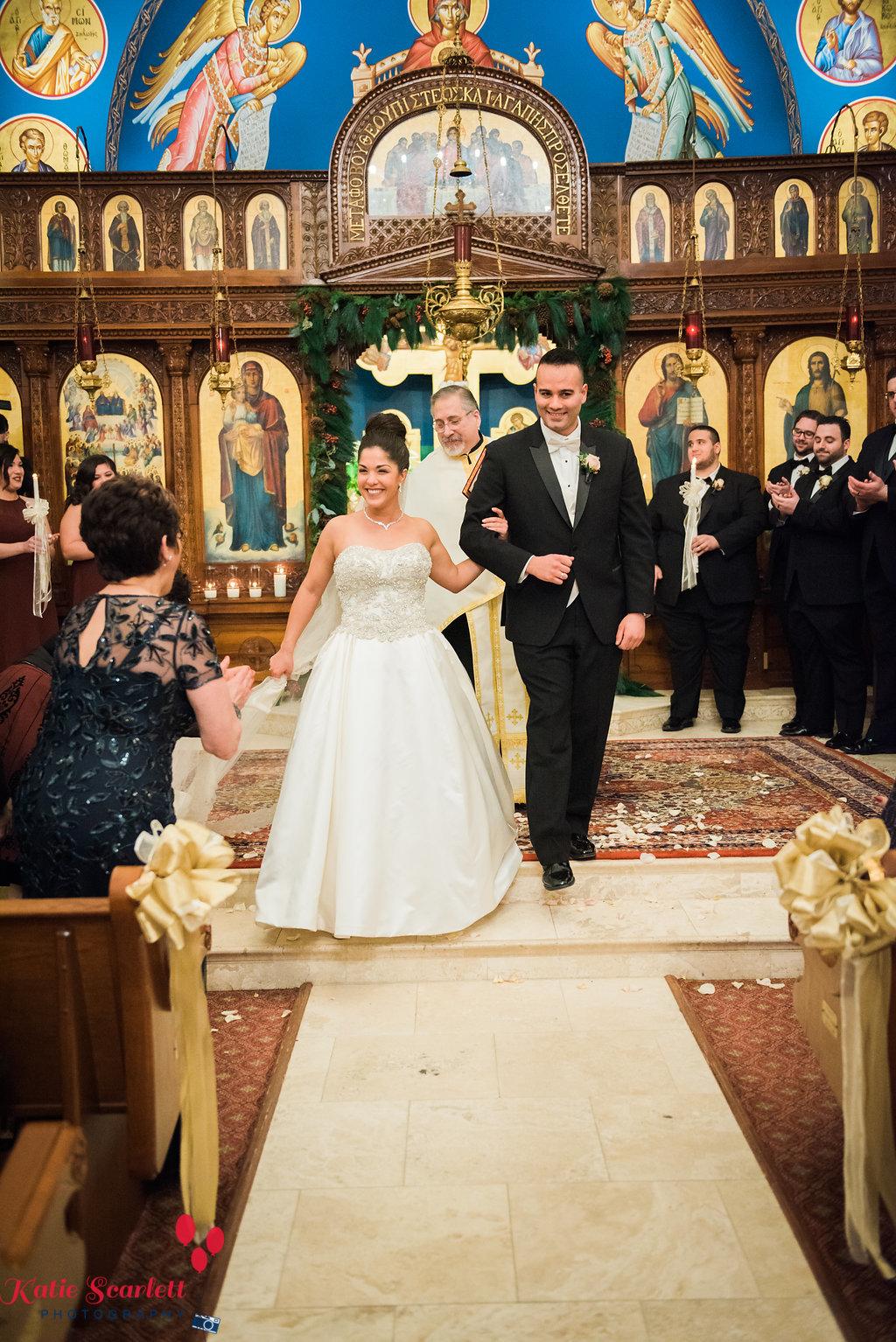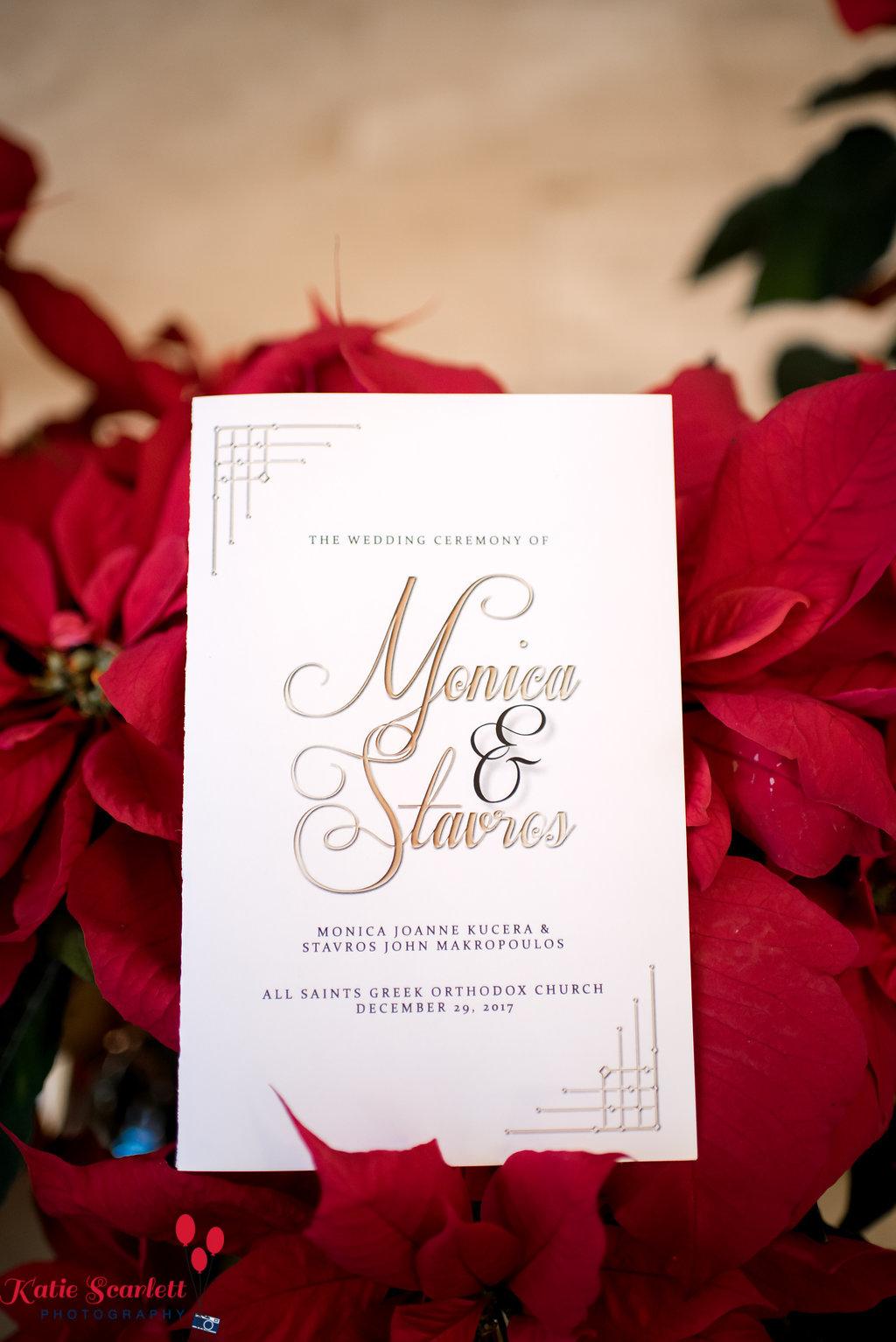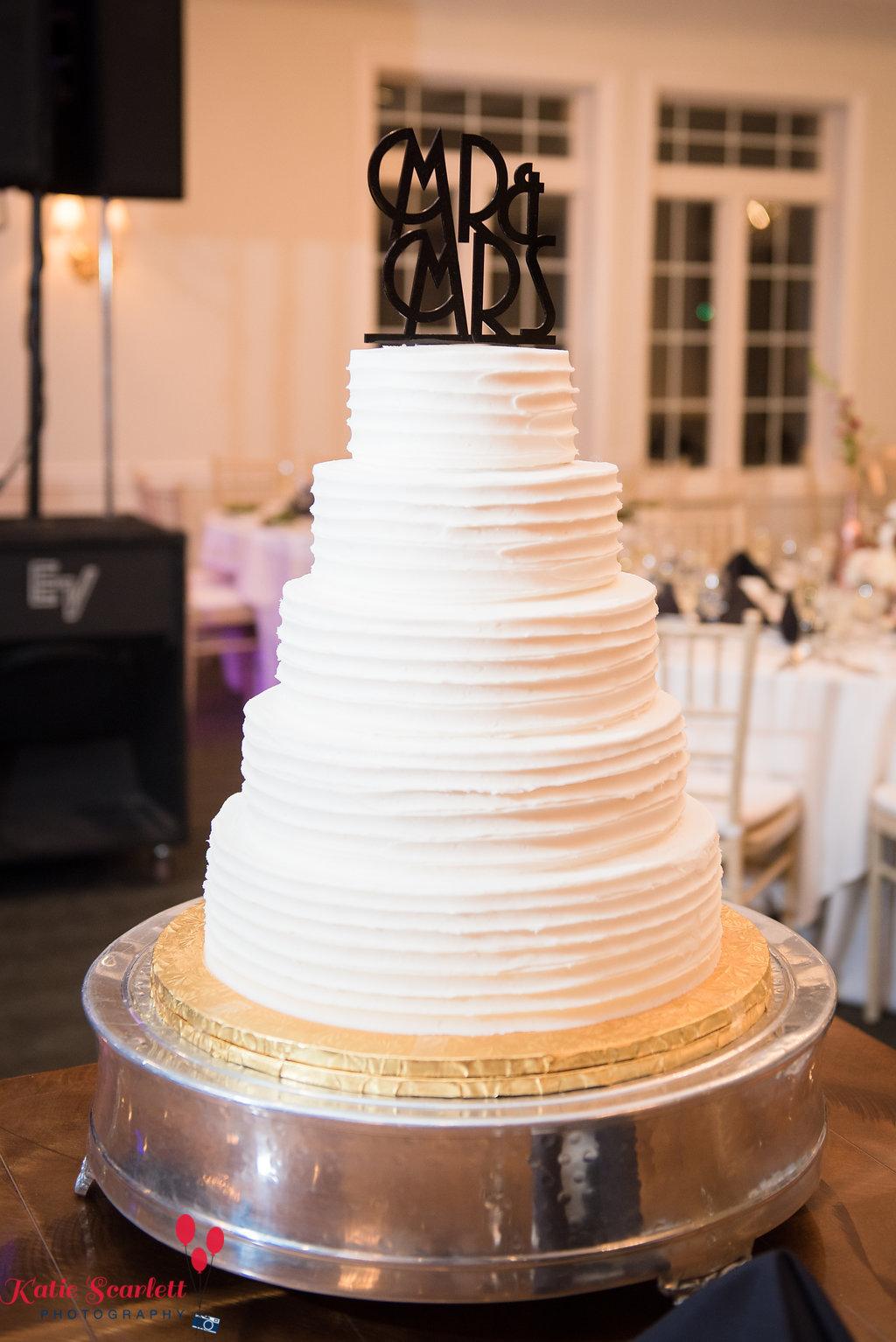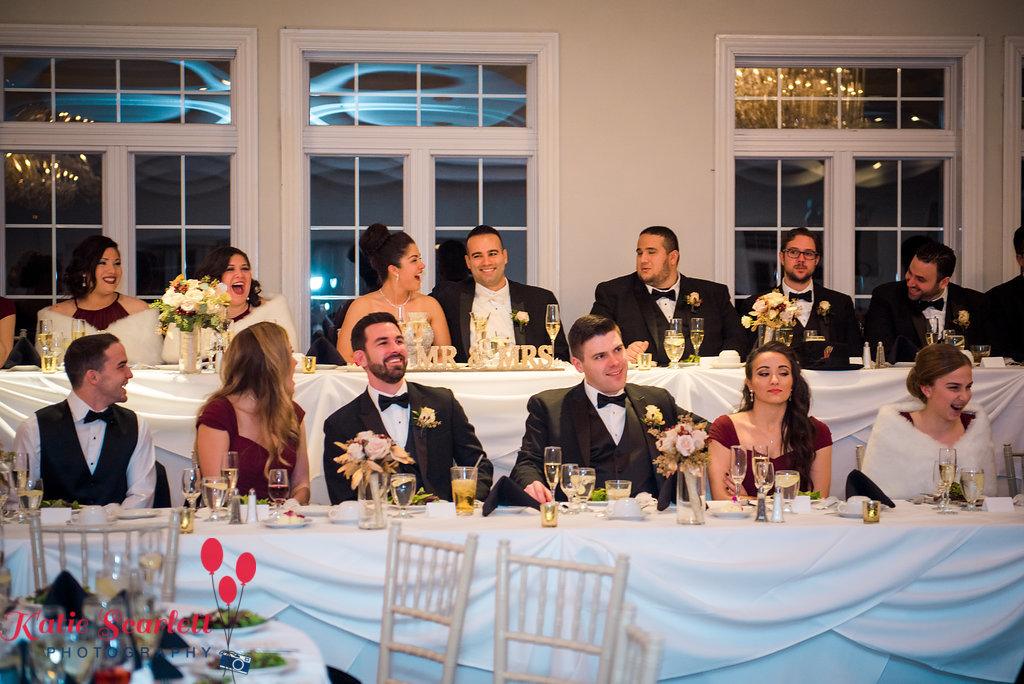 Vendors:
Katie Scarlett Photography (photography), Eivan's Photography & Video (videography), All Saints Greek Orthodox Church (ceremony), Ruffled Feathers Golf Club (reception/catering), Bethany Moore Event Planning & Design (event planner), Stefan Jolie via Bijou Bridal (bride's gown), Lisa Thomas Salon (bride's hair/makeup), Bill Levkoff (bridesmaids' dresses), Formally Modern Tuxedo (formalwear), Flowers by Steen Productions (floral/decor), Paper Source (stationery), Dan Hayes Orchestra (entertainment), Louie Georgiacopoulos (traditional Greek music), ButterCrumb Bakery (cake), Creative Design Jewelers (wedding rings)