Lainey and Conner's wedding brought a dash of elegance to the north woods of Wisconsin. All photos by James Netz Photography.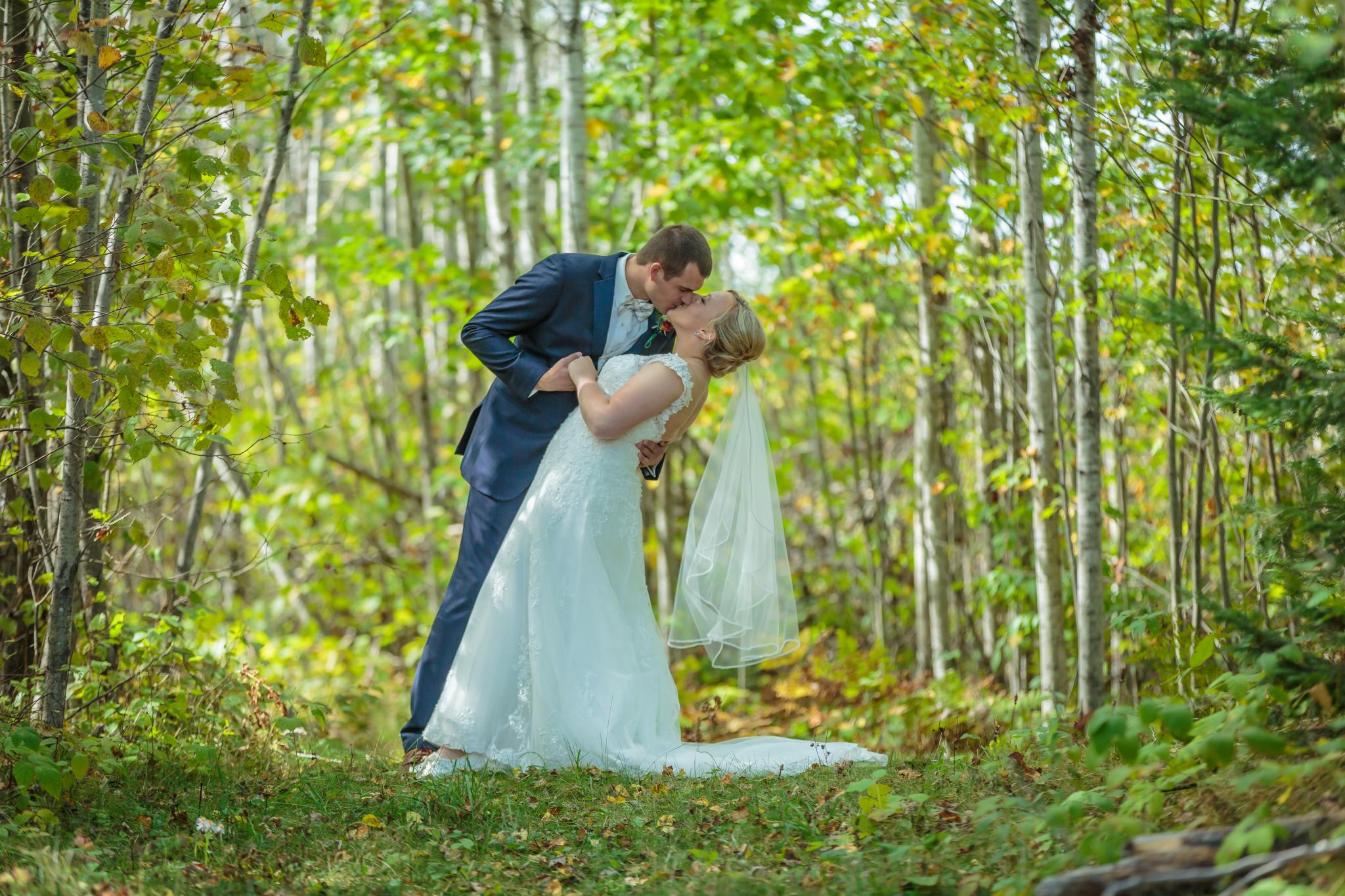 "Conner and I met our first week of college at Iowa State University at Season's Dining Center. Conner accidentally put tofu on his salad instead of chicken and after taking his first bite, he asked me what he put on his salad and I giggled and informed him of his mistake.  We spent the rest of the afternoon and evening together bowling in the Memorial Union and watching FRIENDS, our favorite show. Whenever people ask me how I know Conner and I are perfect for each other, I say the same thing: When I'm with Conner, I'm the person I was when I was 5 years old.  I'm 100% myself, not who anyone else wants me to be.  And the fact that he can love me when I am 100% true to myself means a lot to me.  Conner agrees that I am the person he can tell ANYTHING to, and there are no boundaries to our love.
Overall, our wedding day went by in a flash.  We started getting ready at 8AM and after my first look with my dad, we loaded up in his truck and he took me to a "fire lane" where Conner was waiting.  Fire lanes are designated roads in the National Forest Preserve that are used in case of wild fire for crews to battle fires, and it was there that Conner and I had a sweet and emotional first look.  We then took photos together before heading back to take photos with the bridal party.  We snapped some photos before heading back into the cabins to freshen up for our big walk.
My favorite memory of the day was waiting up in my room in the cabin before the ceremony started.  Everyone was standing downstairs ready to walk down the aisle and my dad was using the restroom.  The music began to play and it felt as though a giant weight had been lifted off my shoulders. I looked in the mirror and it hit me: I'm. Getting. Married.  It was a feeling I'll never forget.  I get butterflies just thinking about it!. The ceremony itself was beautiful.  However, in the last 10 minutes big fat rain drops began to fall and so we began to rush through our service. In our hurry, we skipped over lighting our unity candle, which ended up being Conner's favorite memory of the day. After the recession, our pastor came up to us and told us to go light it.  Our DJ played "Woman Like You" by Lee Brice we all had a good laugh as we lit our candle.
After the ceremony, we had dinner and an upbeat first dance to "Wrapped Up in You" by Garth Brooks.  My father daughter dance was "Just Fishin" by Trace Adkins, a song that means a lot to the two of us, and Conner and his mom danced to "Compass" by Lady Antebellum.  After the reception we took night photos until about 12:30AM. It was exhausting but totally worth it!"