Charlie and Heather's gorgeous outdoor wedding featured the natural elegance of Lake Michigan and stunning Wisconsin sunsets. All photos by Chris Miller Photography.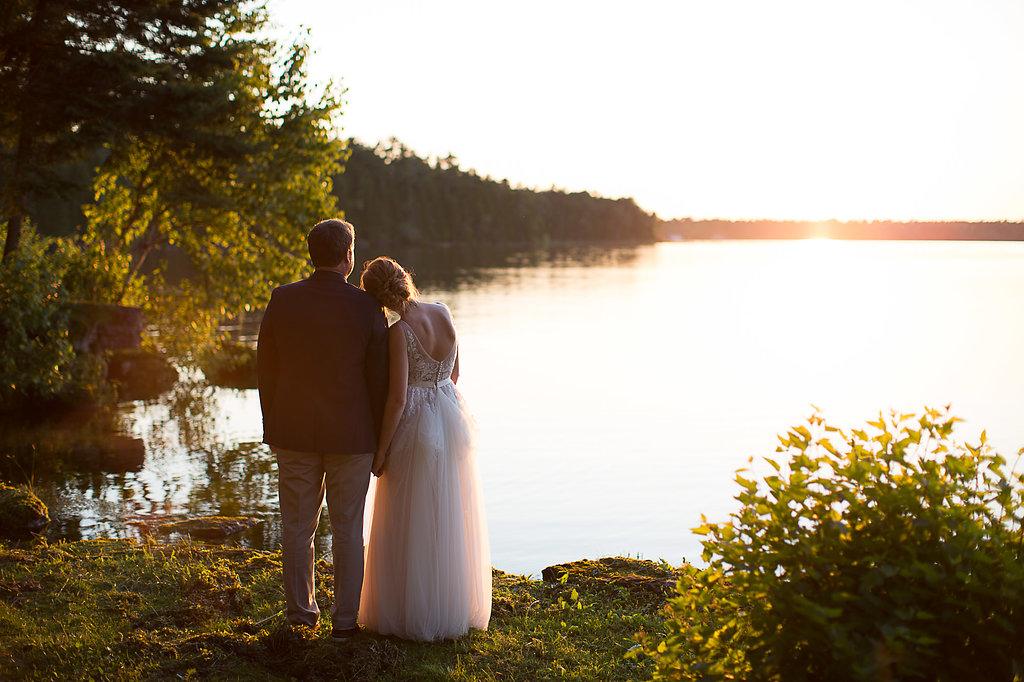 "Charlie and I met in 2008 while attending Northern Illinois University. Charlie became friends with my roommate, Jess, after being classmates in the School of Business, so naturally my and Charlie's paths crossed many times. We spent the beginning years as friends, playing cat and mouse (we were always dating other people) and sending each other lyrics to our favorite band, Dave Matthews Band. We were often too shy to say 'hi' in person, so we asked Jess to relay the message. She'd tell me "Charlie says hi," sometimes when he really did and other times just to watch me giggle like a little girl. He'd blush when she'd return my favor. This went on for 2 years! It wasn't until 2010 that we decided to stop denying what we'd been feeling for what felt like forever and make it official. We haven't turned back since.
Charlie and I chose to get married in Door County, Wis. mainly because it's always been a special place to us. Charlie's grandparents have been Door County homeowners since 1976. Some of Charlie's fondest memories are from his time spent in Door County with his family growing up. There was something about its quaintness and sense of home that won me over almost instantly the first time I visited. We also got engaged in Door County in February 2015 after hiking to one of Charlie's favorite spots.
I spent my day getting ready on site at Gordon Lodge, sipping mimosas with my bridesmaids, sisters, mom and mother-in-law. We had hair and makeup professionals come to us, which made the morning feel so much more relaxed. Charlie spent his morning golfing at Peninsula State Park with his groomsmen and He loves to golf, so it only made sense that he started his wedding day doing something he loves. Charlie and I opted out of a First Look and waited to see each other until my walk down the aisle. We're so happy we did it this way because we both had butterflies throughout the day romanticizing about what the other was doing and thinking. The suspense was intense!
Charlie's favorite memory was when our videographer, Phil, took us to a little inlet on the property to capture the iconic Door County sunset in the background. He says he remembers me whispering in his ear, "I have never been more in love with you than I am today." That phrase, along with the beaming sunset on the bay, is something he says he'll never forget about our wedding day.
My favorite memory of the day is more of a feeling than a specific memory. I still remember how happy I felt from the moment I woke up a Ms. and went to bed a Mrs. So much of wedding planning is going through the motions: picking vendors, picking attire, picking food, picking dances. Your focus is primarily spent checking boxes and creating new ones. No matter how organized and forward-thinking I was (and I think I had it pretty dialed in!), no detail could have prepared me, nor have been as important, as how happy my heart felt on our wedding day. Months later, and I can still remember how much my face hurt from smiling. For us, our bliss was so eminent and innate. Here we were, almost 8 years later, celebrating the thing we'd been talking about for years. Being surrounded by our closest family and friends was the cherry on top of the cake, well, in our case, pie."