Cantina Laredo provided the perfect backdrop to Atalie and Ben's summery soiree. All photos by Jennography.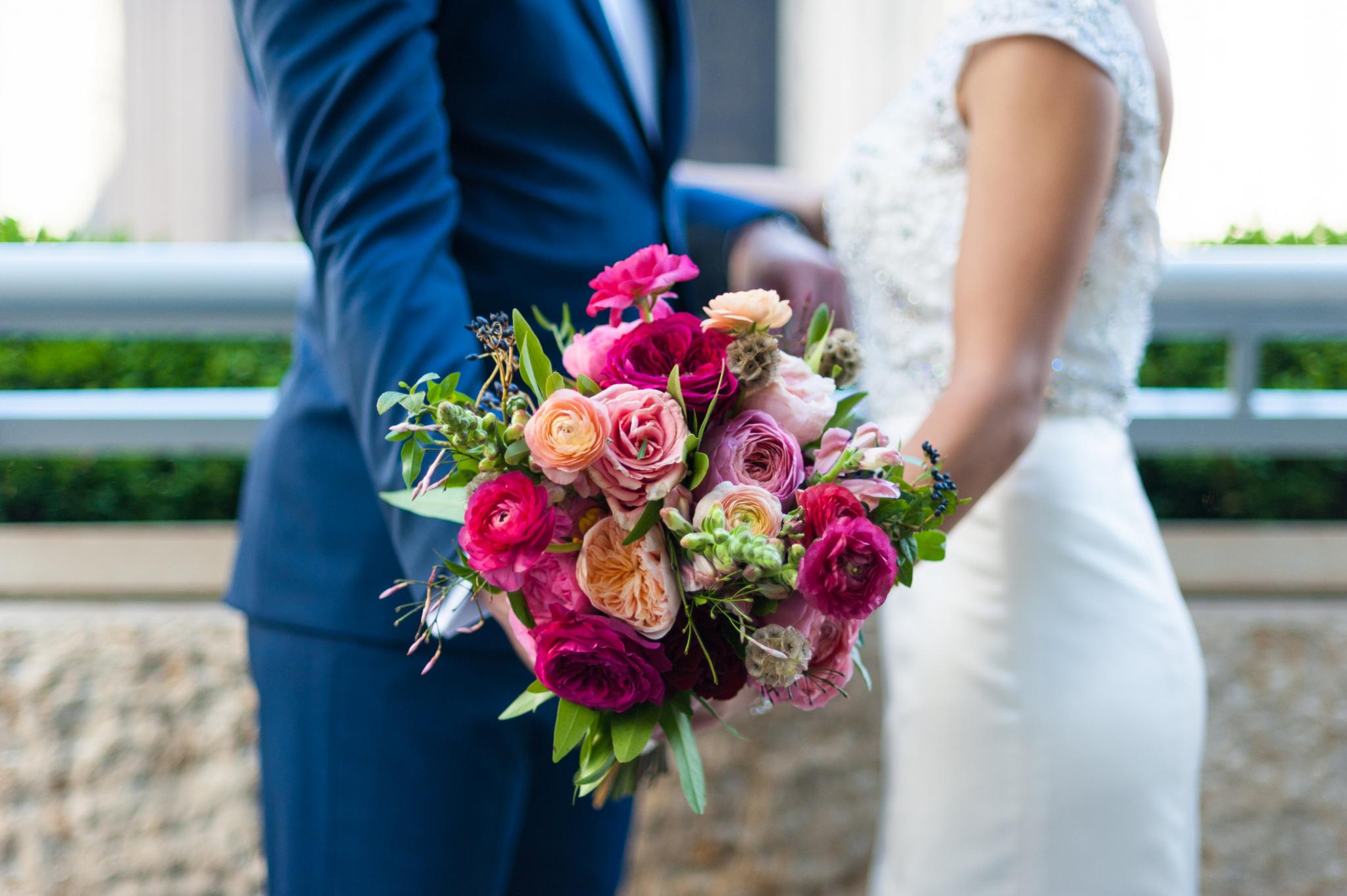 "Ben and I met in the 5th grade but it wasn't until our junior year of high school that we started dating.  We dated throughout college, and then spent some time apart after college.  We always stayed in touch, and then a few years later, got back together for good. Ben and I had that sort of love and connection that you can only make when you're young and innocent.  A time in your life before you've grown old, or cynical, and can just truly be yourself with the other person.  That feeling never left us even when were many miles apart from each other.  There was always some sort of sub-conscious knowledge that we were each other's person, and it would simply always be like that.
One of the best moments was having our 2 ½ year old son Louie in the ceremony.  Louie was supposed to walk down the aisle with his cousin after his dad.  But when Louie saw Ben walking "away" from him, he started crying and ran after him.  Louie then wanted to be held by Ben for the remainder of the ceremony.  Luckily Ben is strong!  He was perfectly happy and content once he was being held.  We weren't sure how he would respond to the situation, but it made it feel very special and personal to have Louie so intimately connected to the ceremony as we read our vows to each other. Ben's father Gary officiated our ceremony, and he mentioned how some weddings have a unity sand pouring, or unity wine or candle.  We did not, but as Ben was holding our son Louie throughout the ceremony, Gary pointed out how Louie was our Unity Boy.
Food, drinks and music were the most important factors during the planning of our wedding.  We both love Mexican food, so we chose Cantina Laredo which had amazing modern Mexican food and drinks.  We created a special menu that each guest got to choose from at their table, as opposed to making them choose chicken or fish 3 months in advance J.  The bar was completely stocked so guests could drink whatever they wished, along with some fun specialty cocktails.
One of our favorite moments was the last song of the night.  It's become somewhat of a tradition among Ben's friends, where they play the song "Come Sail Away" by Styx as their last song at each of their weddings.  Our band was phenomenal, and all our friends formed a big circle with everyone's arms around each other swaying and singing along, and the band played several additional choruses since everyone was loving the song so much."