Following their cruise ship ceremony, Anthony and Patrick celebrated at Pinstripes Chicago with their loved ones. All photos by Timothy Whaley & Associates.
"We lived in the same apartment building in Lakeview and actually met hanging out at the hot tub one night. We're both born and raised Chicago boys, and despite both of us being fairly well traveled, it's still our favorite city in the world. We knew we wanted Chicago to be the backdrop of our wedding in some way and luckily, we were able to pull it off!
The entire week leading up to our wedding, the forecast called for thunderstorms and down-pours all day long. Instead, we got a picture-perfect summer day with barely a cloud in the sky. We got married on an architectural tour boat as it went down the Chicago River. We had an ever-changing backdrop of the city as we cruised along and we heard endless cheering and clapping from people on the river walk and on the bridges overhead as we passed by.
After our ceremony, the boat docked right outside Pinstripes, where we had our reception. The food was great and the space worked perfectly for our number of guests. Having indoor and outdoor options gave everyone the experience they wanted to have: half of our guests took their drinks out to the river walk and socialized there, and the other half stayed inside on the dance floor. Our reception ended with the entire wedding party heading outside where we had a perfect view of Navy Pier and a fireworks show, which really made the whole thing feel like a movie. From there, we had a shuttle take everyone that wasn't ready to stop partying over to Charlie's in Boystown, where we were serenaded by drag queens and danced the night away!"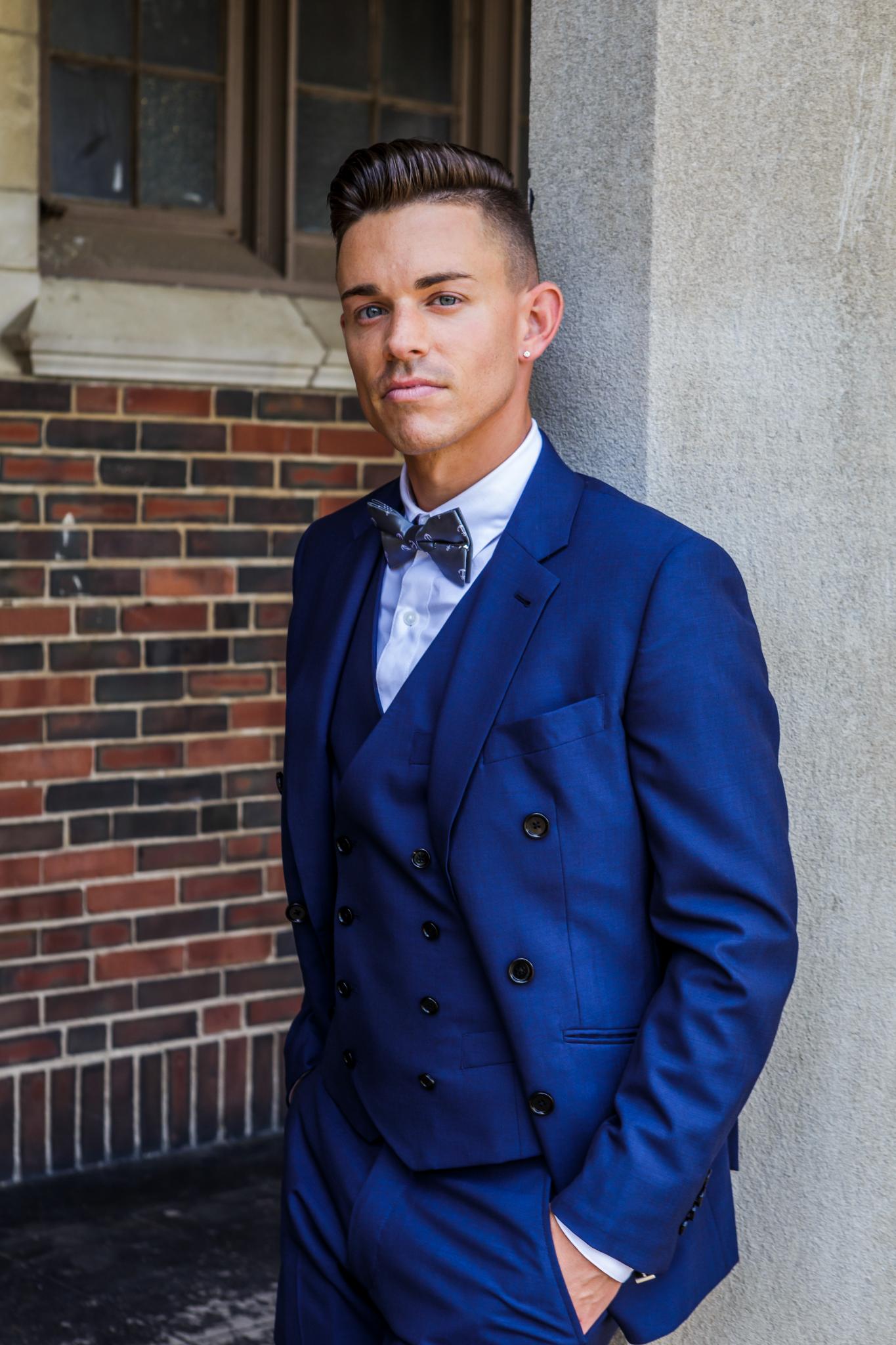 Anthony:
"From the moment I met Patrick, I was drawn to him. I knew I had to know more about him. When we were finally able to have our first date it was like I had known him for years. I've never felt as comfortable around anyone as I do around Patrick and it's been that way since our first date. My absolute favorite memory was getting to read my vows to Patrick. You don't really have many opportunities in every day life to give grand proclamations of your feelings so I savored the opportunity to tell Patrick all of the things that had been running through my mind since we started dating. I wanted to try and put into words exactly how he has changed my life and why I'm a better person because of him. Getting to do that in front of our family and friends was just icing on the cake."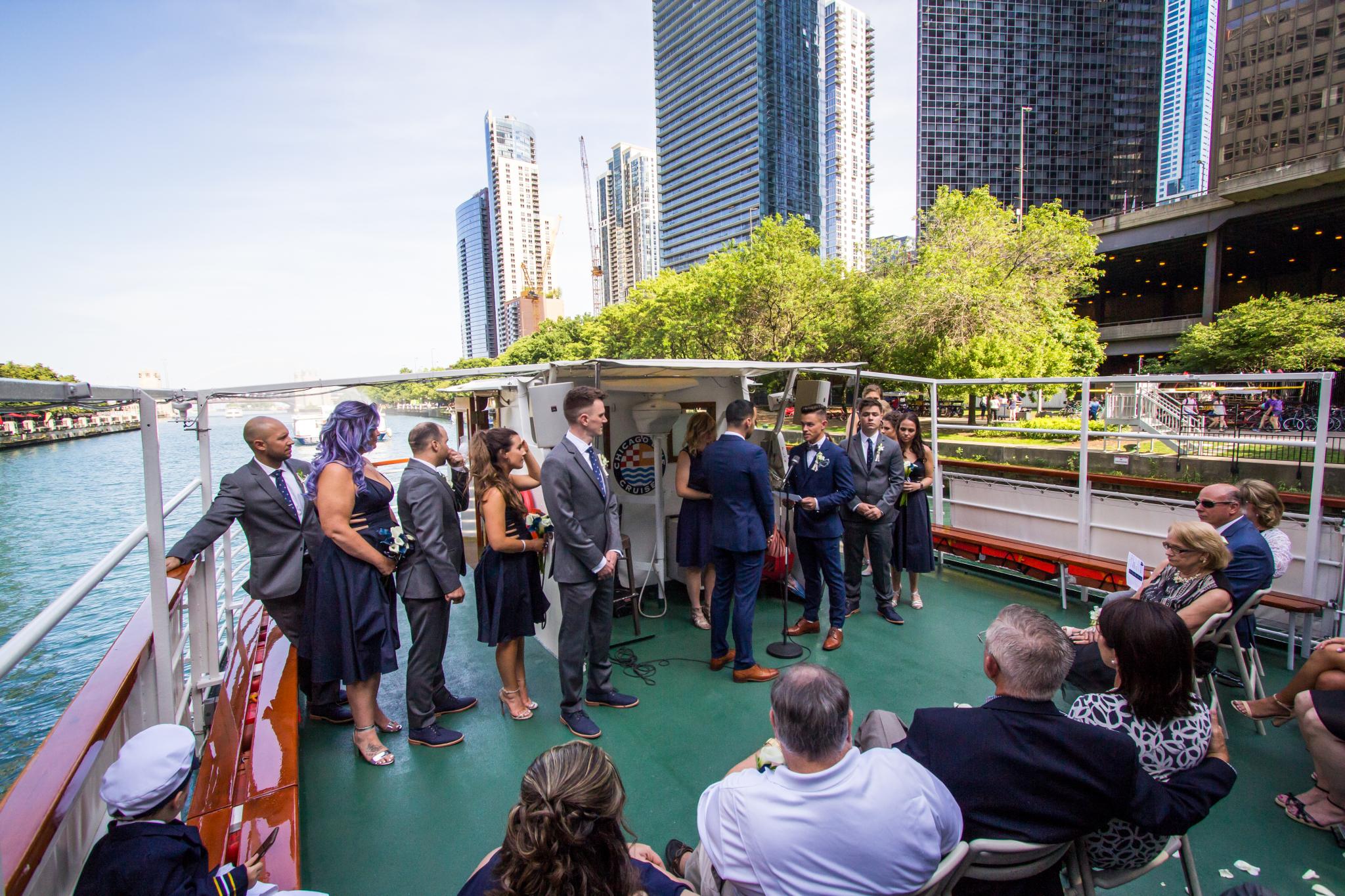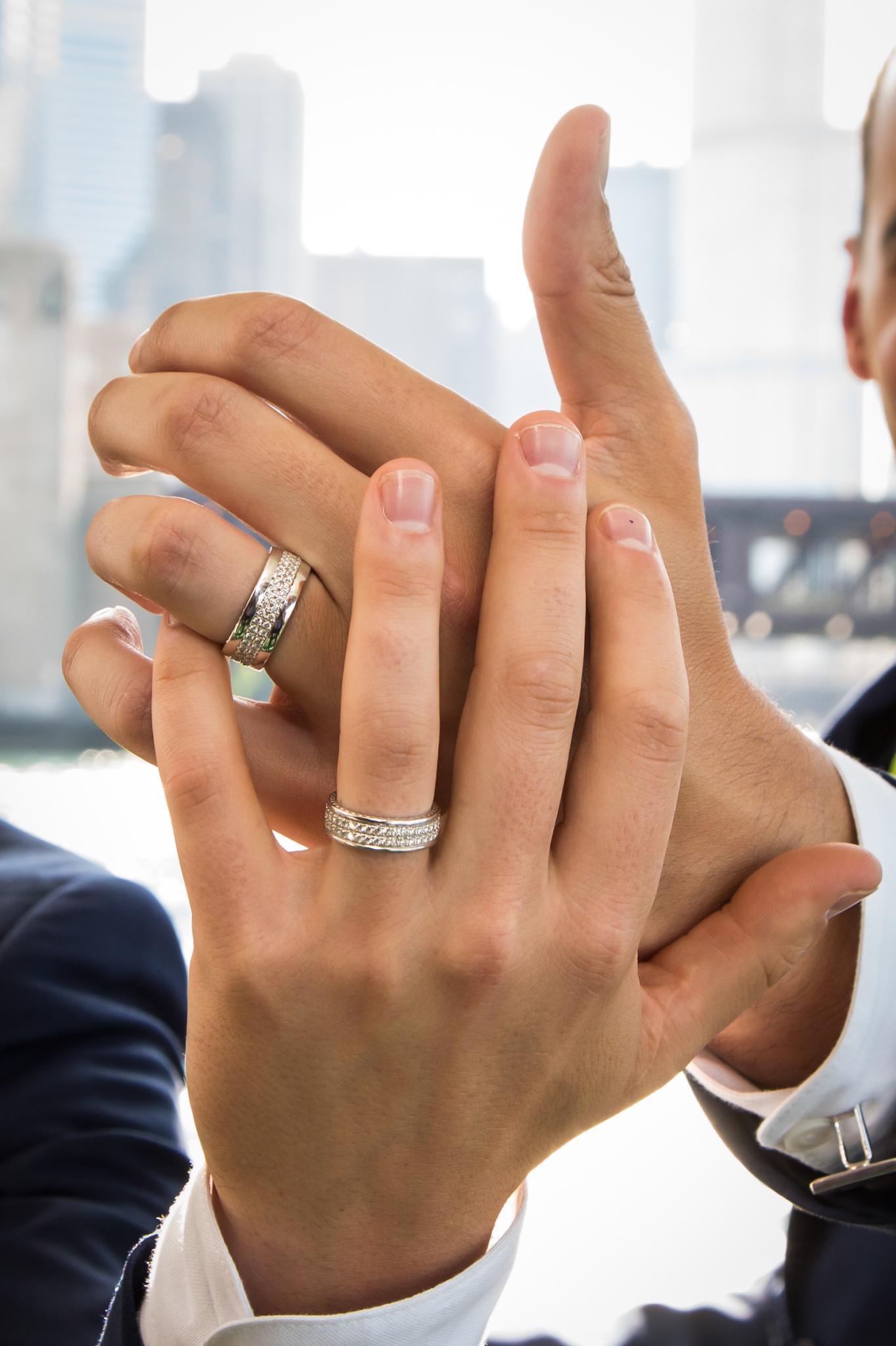 Patrick:
"The first time I saw Anthony, it was an instant attraction. He made me nervous and giddy.  I knew right away this was worth pursuing, as I had never felt that way with anyone.  From the first date, everything seemed effortless and since we didn't spend a single day apart after we met, we were quickly smitten.  It was true love! My favorite moment was our entire ceremony. The perfection of every element of that moment was unforgettable.  From the gorgeous summer Chicago skies, to Anthony's tears as we read our vows, to my family being in the same presence for the first time in fifteen years..  it was a ceremony we will always remember and relive repeatedly."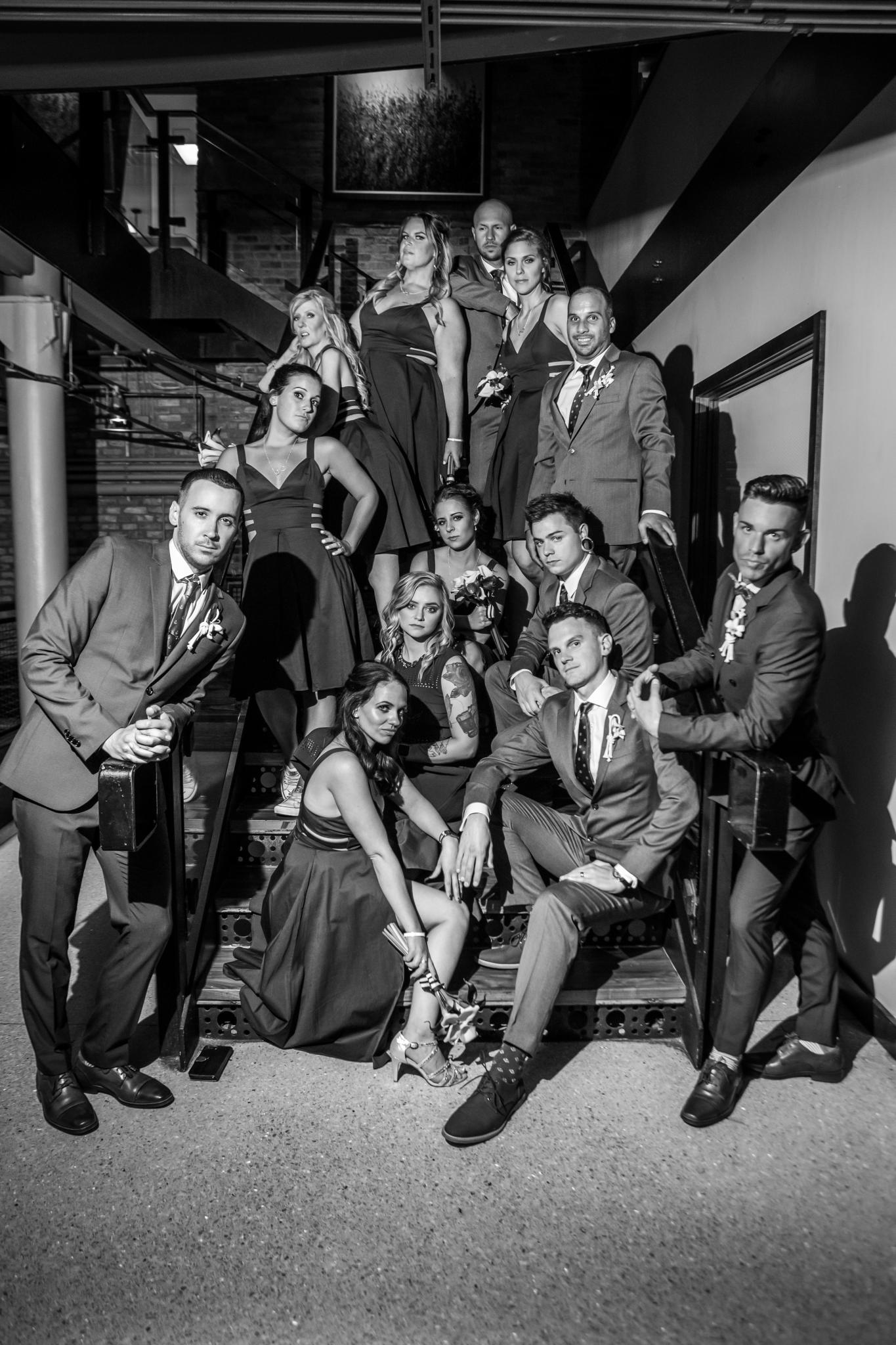 Vendors:
Timothy Whaley & Associates (photography),  Chicago Line Cruises (ceremony), Pinstripes Chicago (reception/catering), Oliverio Jewelers (wedding rings), James Rosko Hair (hair), Lena Brogato of Brogato Beauty (makeup), Indochino (formalwear), Cole Haan (shoes), Topman (shirts), OTAA (ties), Fame and Partners (bridesmaids' dresses), Purple & Platinum (stationery), Jill Dauphinee Flowers (floral/decor), Swirlz Cupcakes (sweets), DJ Gavin Quinn (entertainment)