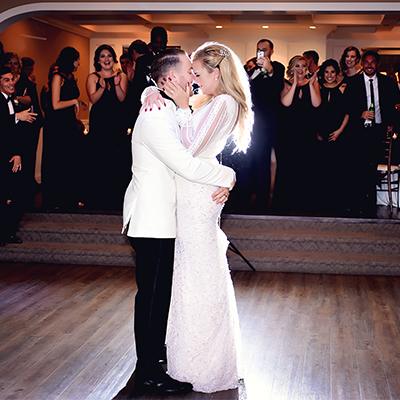 How live music can take your party from good to great.
There's a certain kind of sizzle to the atmosphere when a live band takes the stage. Whether it's an 80s cover band, a bluegrass group, or an epic wedding band that covers all the hits, the crowd knows something big is happening the minute the mic turns on.
The ceremony
Imagine the ebb and flow of sweet notes as guests find their seats. The swell of sound as the ceremony begins, and perfect harmonies resolving the musical tension the moment you enter, your gown flowing behind you as the doors swing open. Live music brings something special to the ceremony. A soft acoustic guitar, a solo piano, a beautiful string quartet – music can bring a sense of elegance and timelessness. It can help to make a memorable moment unforgettable.
Musicians are well versed in reading the crowd to ensure they are playing at the proper volume. They can follow the timing of the ceremony to ensure they are playing the right thing at the right time. No need to worry that the officiant's speech about marriage is going a little long. The musician will be ready when he or she finishes. For those quiet moments, where you're lighting unity candles or passing out roses to your moms, a musician fills in the silence to keep out any awkwardness. Plus, if you're not feeling "Canon in D," the musicians likely have some wonderful alternatives that are equally elegant. Or if you have a unique song in mind, many musicians will learn it for your event if they have the name and artist in advance.
The cocktail hour
The cocktail hour is a great time to add some live music. Mix it up with a larger or smaller version of the musicians you hired for the ceremony. This is the perfect moment to jazz it up and lift the energy to get guests ready for the reception. Light, upbeat music in the background will create a buzzing atmosphere. And the addition of a few cocktails will definitely have guests ready to dance. Consider spreading the musicians out based on the available space. If there are multiple rooms, maybe have a cellist on one room and a guitar player in another. Or, perhaps a small group is playing outside, and a pianist is covering the indoor area. Variety is the spice of life!
The reception
Nothing says luxury like soft piano music playing in the background during dinner. It sets a formal atmosphere of sophistication that stands out far above music piped in through the venue's speakers. Hello, elegance. You know the old clinking of the glasses? How do you know if that's supposed to signify kissy-face time or speeches? A live band can indicate that speeches are coming through music and moments of silence. How charming is it to have music act as your master of ceremonies?
After dinner ends, the musicians can pick up their pace. Reading the room they can choose the best songs to start with, ways to get people up and out of their chairs, and the right atmosphere to keep them on their feet all night long.
With so many types of musicians and groups, you can select the one that best suits your venue, theme and personal tastes. Consider dueling pianos for a lounge feeling. If you have a very elegant venue, a string orchestra will keep that black-tie vibe. Maybe you and your soon-to-be spouse love 80s bands. Find a group that can cover all your faves. Epic wigs optional. It's your night – go crazy! And the best thing about live music is that it's never the same. Even if you hire a band to play your typical tunes straight off of a "Wedding Mix 2017" playlist, every song is going to be unique to your wedding. No one will ever hear the version of "Brown Eyed Girl" that you and your family sang along with on your big day. It's a level of personalization that you're not going to get elsewhere. Think of how memorable that will make your first dance.
Live musicians know it all. After doing the wedding circuit for a few years, it's rare to find a popular song that these amazing performers don't know. That way, if guests have a fun request, the musicians can react on the fly and add it to the setlist pronto. Great musicians will interact not only with the crowd, but with each other. A band with chemistry will charge the atmosphere like a live wire. There's no way to not feel the electricity between a group playing in perfect harmony.
The end of the night
You could play "Closing Time," because– let's be honest – Semisonic knows how to end a party. Or, you could have live performers play an extra-long sing-along cut of "Hey Jude," and let their rendition of the Beatles start off your marriage the right way. Your guests will be chanting, "One more song!" through two solid encores.
Things to consider
It's important to make sure the logistics of live music are feasible at your event. Remember that bands and orchestras take up space. Speak with your venue about how many performers it can comfortably accommodate. And make sure to speak to your preferred group to see if they will be comfortable with the space allotted. It's a great idea to do a walk-through of your venue with the musicians, just to ensure everything looks good. This also enables the musicians to check out the electricity and logistics of loading their equipment in and out.
If you are considering having musicians play outside, make sure to come up with a plan B. Playing through bad weather is both awkward and probably pretty bad for instruments and equipment. Make sure the band's area is covered, possibly with a tent that includes sides to protect everything. Also, when it comes to outdoor music, make sure to check with your venue about noise limitations. The performers may need to stop at a certain point in the evening to comply with city or county rules.
Ask your musicians if they will be taking any breaks. If so, ask them how they'll keep the party going. Will they provide a phone that connects to their speakers so guests still have something to groove to? Or is that something you'll need to provide? Make sure you know ahead of time so you have no surprises on the big day. It's also a great idea to see your band live before hiring them. You'll get a sense of their style, skill, and set time. And, in the end, you can select the musicians that will really make your wedding a night to remember.
Written by Kelsey O'Shaughnessy-Podgorski