Written by Kelsey O'Shaughnessy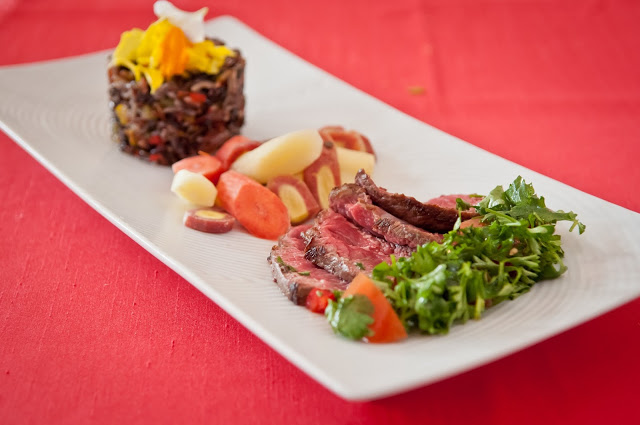 Katie O'Reilly was at the ripe old age of four when her parents bought a farm in Wisconsin. She would spend time with her family in their garden, harvesting fresh herbs, tomatoes, and squash, and then using those ingredients to make truly farm-to-table creations. Katie says, "From an early age, I just got it. Food spoke to me." Katie is a true artist — and her medium is food.
Adding to that early appreciation for food, Katie was brought along as her parents explored Chicago's blossoming culinary scene. They would enjoy a particularly delectable meal, then return home to try to emulate the recipe. In high school, Katie entertained friends with her cooking. "It relaxed me," she explains.
Fast-forward to modern day, where Katie's professional career as a caterer and culinary artist has garnered much attention — and appreciation — from locals, as well as some well-known Food Network big-wigs. Katie spends her days experimenting in the kitchen, writing recipes, and working with her team of top-notch chefs to master beautiful new creations.
"I love to work with fresh herbs," Katie explains. "Any time you can use fresh herbs, you can make a dish really sing." She plays off any environment she's in, looking for local, seasonal products to inspire her creations. One of her most inspirational locales to explore is her home in Kenmare, Ireland. With little-to-no technology, it's a great place to ground herself, spend time with family, and really dig for new inspiration.
With her catering company, Katie sits down with her clients during their tasting to ensure she's optimizing their menu to really meet their needs. On a radio interview with WGN radio's Steve Bertand, she explained, "I'll design a tasting menu that maybe has four times the amount of food they'll actually select…Then they'll get to custom design, because I listen to what their palettes are actually saying. It doesn't matter to me if I change the ingredients." To Katie, it's more important to "create it your way."
When both her friends and fans started asking for more, Katie decided to launch a blog called Katie O's Food Carnival, in which she delves into how people experience and interact with food. "There are no rights or wrongs," she says. "There is only how you relate to and experience food."
Katie's blog follows her observations as she experiments in the kitchen, attends tastings with her clients and friends, talks to other food aficionados, and so much more. "People teach me. I like to learn, and I love the feedback." Her goal is to explore food together with her audience and show how it relates to the spirit.
Katie O's Food Carnival was recently picked up by an online all-women's network. Her universal, half-hour show has something for everyone. With a consistent format, she entertains with her food exploration, tasting segments, and guest interviews to "learn how people taste differently." Stay tuned for episodes airing in August!
For those new to her blog and show, Katie suggests imagining yourself at the top of a ferris wheel. "Everything below looks fun — each ride is different and exciting. It's the same with food. It's an experience. At a carnival, everything is a little bit crazy, but fun. There's lots of laughter, it's colorful and bright — and you get to be yourself. When it comes to food, take your hands off the safety bar and let yourself have the exciting experience of trying something new."
Join Katie O's Food Carnival as she explores new food experiences every Wednesday on her blog and online TV show (coming soon). Also, check out her radio interview with Chicago's own Steve Bertrand, of WGN radio for more about her passion!
A special thanks to Katie O'Reilly, President of Katie O's Food Carnival, and Culinary Artist and Co-President of Kenmare Catering.