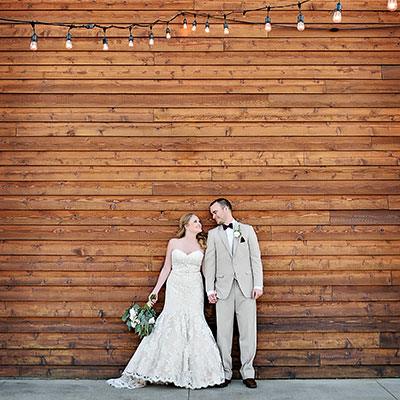 Valuable Lessons from Our Favorite Cinematic Weddings
As you start planning your wedding, you're going to get inundated with advice. Friends, family, and people you barely even know will start saying vague things like "Don't stress" and "Focus on what really counts" and "I wished I'd known ______when I was in your shoes". With so many sources of tips and tricks, it can be hard to separate the good advice from the bad. The best course of action?
Only pay heed to the people who've "been there, done that" when it comes to getting hitched. Some of the best wedding ideas come from couples you know who've already swapped rings and made it official, but you can also pick up some topnotch tips from fictional newlyweds. Movies and TV shows are practically fountains of wedding wisdom, so take notes from our list of favorites then rewatch a few of your own.
The Office
The Wedding: Shocking pregnancy reveals. Odd dancing injuries. Unprepared guests. The time leading up to Jim and Pam's Niagara Falls wedding is full of distracting disasters and as the actual ceremony draws closer, the couple gets more and more stressed about the bumps in the road. Just when things can't get any worse, Pam tears her veil and has a break down. The couple realizes that they've lost focus of what their wedding is really meant to be about, and they happily run off to get married in private.
Moral of the Story: Jim and Pam's wedding is a hilarious yet poignant reminder to stay focused on why you decided to get married in the first place. No matter how much madness occurs in the days before your wedding, never forget what's at the heart of your celebration: you, your spouse, and your love. You're making a commitment to spend the rest of your lives together, and it's easy to forget how beautiful that decision is when guests start acting up and fashion disasters occur. Take your cues from Jim and Pam, and do your best to not sweat the unimportant stuff.
My Big Fat Greek Wedding
The Wedding: Toula's family has been pushy about her relationship with Ian ever since it started, but once the couple gets engaged, her loved ones take their crazy to the next level. From crashing an intimate dinner with Ian's parents to deciding on Toula's hair, makeup, and gown, the well-meaning but overbearing Portokalos family completely dominates Toula's wedding planning. When Toula finally stands her ground, she ends up stepping on more than a few toes.The family comes together in the end though, and the wedding is eccentric but successful.
Moral of the Story: The Portokalos family's antics are definitely exaggerated, but most families tend to get a little nuts when a wedding is on the horizon. Your dad might not insist on baptizing your soon-to-be spouse and your aunt's taste in beauty and fashion might be far better than Toula's, but that doesn't mean you won't experience pushiness from people who, quite frankly, have no business giving you their two cents. It's easy to get frustrated with overly assertive relatives, but don't let them spoil your celebration. Listen to what they have to say and then stand your ground because it's your wedding, not theirs.
BRIDESMAIDS
The Wedding: Lillian's wedding day is rapidly approaching, but she's too busy refereeing her bridal party to enjoy her engagement. Her entire ensemble of bridesmaids is a disaster, but Annie and Helen in particular are the source of Lillian's problems. As the two women duke it out for Lillian's attention and engage in a gigantic battle to upstage each other, Lillian is forgotten almost entirely and her wedding starts heading off the rails. The bridal party comes together at the end and helps Lillian through her Big Day, but the entire ordeal is fraught with close calls that almost result in Lillian skipping her own wedding.
Moral of the Story: While you and your spouse are the stars of the show, the supporting cast can be just as important as the main characters when it comes to weddings. Picking out bridesmaids and groomsmen should be a somewhat strategic decision. Choose friends and family members who will not only bend over backwards to support you but will play well with each other, and don't get pushed into choosing people simply to keep the peace. If you have an inkling that certain friends will compete with each other and cause drama, do yourself a favor and don't give them a key role in the most important day of your life.
Modern Family
The Wedding: An impending forest fire, a domineering friend-turned-planner, and a M.I.A. officiant would be enough to stress any couple out, but for Mitch and Cam, these mishaps don't matter because they have a bigger problem: Mitch's dad, Jay. While he's grudgingly begun to support his son's relationship, the fact that Mitch is marrying another man makes Jay take several steps backwards. After multiple venues fall through, the couple is ready to cancel their celebration entirely, but Jay does a 180 and tells the couple that they can get married at his country club, and the wedding turns out perfectly.
Moral of the Story: Jay eventually came around and supported Mitch and Cam but unfortunately, this isn't always the case with wedding detractors. You can't make everyone happy, and there's a good chance that not all of your family and friends will be over the moon about your wedding and your soon-to-be spouse. As long as you're happy and the handful of people that you trust the most are in approval, don't stress about a few sour grapes. Forget the haters, and make your wedding day the best day it can possibly be.
Wedding Crashers
The Wedding: Despite getting off on the wrong foot when they first meet, Jeremy finally falls head over heels for Gloria towards the end of the movie and the couple decide to get married. On the couple's wedding day, Jeremy's best friend, John, comes sprinting into the church in the middle of the vows and confesses his love for Gloria's sister and maid of honor, Claire. The entire ceremony comes to a standstill as John and Claire shout at each other, but the situation eventually resolves itself and the wedding rolls on to a happy ending.
Moral of the Story: Most Wedding Crashers fans find themselves rooting for John and Claire from the get-go and are thrilled when they talk through all their tension and get together in the middle of Gloria and Jeremy's wedding. Everyone loves a happy ending, but we think the real heroes are Gloria and Jeremy. Rather than causing a scene and trying to force the attention back to themselves, they quietly stand by and wait for the chaos to settle down. While it's not very likely that something like this will happen on your wedding day, Jeremy and Gloria's behavior is still a valuable lesson. If your guests start acting up, stay calm. Getting upset and wading into the drama will only make you look bad, so just roll with the punches and hope that your guests save their dramatic announcements for another day.
Bride Wars
The Wedding: After a mix-up results in best friends Emma and Liv being scheduled to get married on the same date, the duo engage in a battle for the altar that spans the entire length of both their engagements and culminates on their joint Big Day. Liv winds up tackling Emma down the aisle and the two former friends brawl as their loved ones look on in horror. The fight ends with the pair reconciling, but not before they humiliate themselves in front of their guests and Emma ends up losing her fiancé.
Moral of the Story: Aside from the obvious lesson of hiring a wedding planner who truly knows what they're doing, Bride Wars provides a valuable look into sharing the wedding spotlight. The drama is wildly exaggerated for comedic effect, but this movie still offers a grain of truth. Unless you're absolutely positive that there won't be any jealousy, keep your wedding day as just that – your wedding day. No matter how much you love your best friend or your identical twin sister, you deserve a day where all the eyes are on you, your spouse, and no one else. You have the rest of your life to share with your friends and family, so when it comes to your wedding, insist on being the star of the show.
The Royal Tennenbaums
The Wedding: After all of their familial ups and downs, the Tennenbaums finally come together at the very end of the movie to watch their matriarch, Etheline, marry her good friend Henry. The celebration is thwarted by Etheline's ex-husband and the officiant gets trampled, but the glowing bride manages to tie the knot anyways a few days later in a ceremony that's simple and perfect. Etheline's ex-husband eventually admits that he's happy for her, and her children echo the same sentiments.
Moral the Story: Etheline is proof that even though second-time brides might come with a little extra baggage (in this case, terribly adjusted adult children), there's no reason that wedding number two shouldn't be equally as poignant, exciting, and romantic. Not everyone finds Prince Charming their first time around, and that's no reason to not try again. Keep your chin up and ignore the pettiness. As long as you rise above any drama and don't compare your second wedding to your first, we promise that "I do" round two will be just as spectacular, if not more so.
Friends
The Wedding: With the exception of Rachel, who stays behind because she can't bear the sight of Ross marrying someone else, the gang flies to London to watch Ross and Emily get hitched. While multiple bumps arise en route to the wedding – the building is getting demolished, Emily's parents are running up astronomical fees with the vendors, guests are overindulging and spending the night together – Ross and Emily manage to successfully navigate all the hurdles and make it to the altar. Rachel decides last minute to attend the wedding after all, and as she sits in the crowd and watches Ross and Emily say their vows, Ross makes a massive error and says "I, Ross, take thee, Rachel" instead of Emily.
Moral of the Story: In addition to making sure you're marrying the right person, practicing your vows is key. Even if your promises are short and sweet, take the opportunity to run through your lines several times prior to the Big Day. If you notice any phrases or words that routinely trip you up, nix them and use different wording. It's also not a bad idea to write your vows down on paper. Even if you think you have them committed to memory, reciting your vows alone in front of a mirror is totally different from saying them in front of hundreds of people and the love of your life. Nerves and emotions run rampant at weddings, so having a little cheat sheet isn't really cheating at all – it's being smart
Written By: Christina Oddo