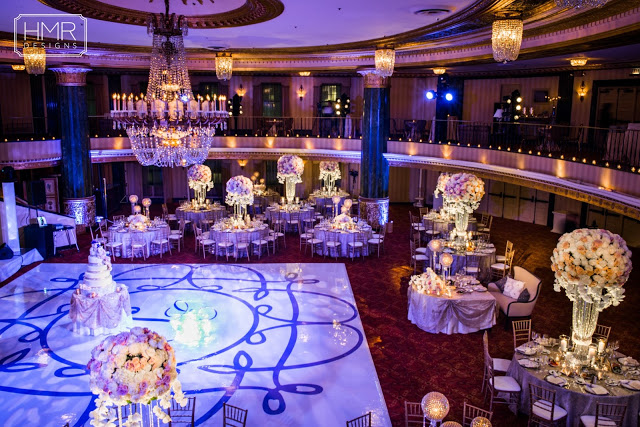 Engagement season is officially over and sparkly rings are popping up everywhere! Once that initial excitement dies down, many couples are left with a daunting to-do list for getting down to business planning their dream day. Chris Schmidt, the Director of Catering at 
InterContinental Chicago Magnificent Mile
, offers his advice on the best things to tackle as you dive into planning:
Smile – Relax, smile and enjoy the moment. In today's crazy non-stop world, everyone will be asking you where it will be, what is the date, have you picked out colors yet? All very important questions, but most important is this moment. For a few lucky people, it's a moment that comes just once in a lifetime, so enjoy it.
Brainstorm the Size – It's time to start looking at spaces. Sit down first to get a good idea on a guest list. This will help you in weeding out locations that simply do not fit right from the start.
Include Personality – Ask each other what is really important, such as what reflects your tastes and make this an opportunity to give your guests a glimpse into what you love.
Ask for Help – Now that you have a rough idea of your vision, contact a planner. These professionals work with numerous hotels and venues around the city and are well versed in the positive and not as positive aspects of each. Trust in their experience and knowledge to let them take the lead. You have your own 50+ hour work week; let them do the legwork so that you can enjoy as much time as possible with your new fiancé!
Where to say "I do" – If you are planning your ceremony at a church, realize that this will probably be one of the more difficult parts in confirming, especially if you are not members and want to be at a prime downtown location. If a church location isn't required, make use of your beautiful historic hotel ballroom and eliminate the need and expense of transportation to/from the church by having the ceremony on-site.
Music Decisions – Deciding between a band or a DJ? Remember, Chicago has some of the greatest musicians and "Wedding Bands" because we don't have as strong of a recording scene as LA or NYC, thus freeing up this incredible pool of talent to perform every Saturday night at some of the most fabulous downtown Chicago hotels and venues. No matter how much you love that song on the radio, no one sings it better or could exude as much energy as a great live band on your wedding night.
Be Firm – Don't let wedding dress companies scare you away from getting what you truly want. You can find a dress in less than 6 months. You may have to make some sacrifices, but at the end of the day, you will still have a beautiful wedding dress and can save yourself quite the headache on drawing out the engagement and the endless questions, over-thinking and over-analyzing.
Cherish It All – There, you said it. "We're Engaged!" Now your wedding is all about everyone else. Having that sinking feeling of what did you get into? Don't worry, you're not the first. Take a deep breath, remember back to that moment when it was just the two of you and the question was  popped. "Will you marry me?" Now smile. Look at that incredible person you are about to spend the rest of your life with and circle back to the most important piece of advice in here: Enjoy the moment and treasure it, because the end of the wedding night will be here before you know it. And then it's on to the next chapter: married life.