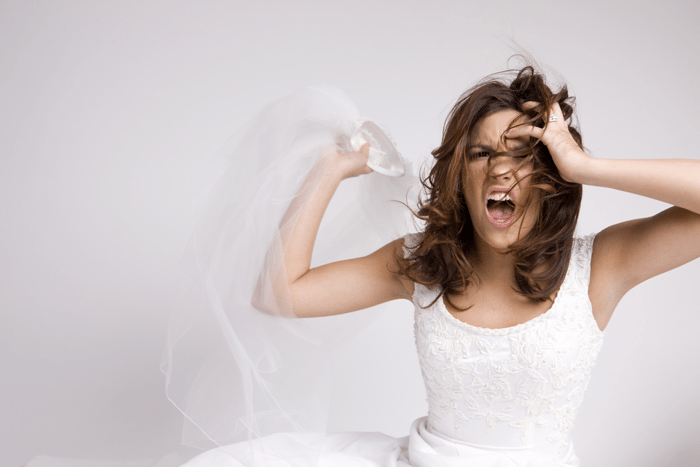 How to Not Be a Stressed Out Bride
Even for the most organized person, wedding planning can leave you stressed. Brides (and sometimes grooms) often forget this is the happiest time in their lives and get wrapped up in wanting to do anything and everything. It's important to know what you want, take a deep (and we mean deep) breath and remember why you are truly getting married in the first place.
1. Limit DIY projects.
Many brides love to create everything on their own, even if it means having sticky, glued fingers and glitter all over the floor. DIYs can either go two ways…really good or really bad. Most often, DIYs look nothing like they are pictured, which adds even more frustration to the time and money you spent creating and designing those one-of-a-kind favors you had to have. If you must DIY, do one project at a time and start early to prevent further anxiety if the project doesn't come out the way it was pictured on Pinterest.
2. Hire a wedding planner.
Take some of the workload off your hands. Wedding planners have connections and resources for some of the best wedding vendors in the industry. They know the questions to ask a potential vendor and can help navigate costs. They can help you focus on your vision, and make your wedding planning experience enjoyable and not stressful. Wedding planning can be a part, and sometimes, full time job. (That's 40+ hours a week wedding planning!)
3. Learn and realize what you really want.
Back to that vision you are working on with your wedding planner. Think about what's truly important to you and your future spouse. Do you want a big party? A small intimate affair? Some brides start out small and their dream wedding turns out to be something completely different than they wanted. (Think Maya Rudolph in the movie, Bridesmaids.)
4. Don't have your hand in every cookie jar.
This one is super important! Your bridesmaids are there for a reason. They are not your personal wedding planners, but they are there to help you celebrate during your bridal shower and bachelorette party. Let your bridesmaids do just that — be the hosts. Giving the girls demands about where to have your bridal shower, what to serve, and what you want the decor to look like is just bridezilla status.
5. Don't wait till the last minute to search for your dress.
Start looking for your dress about six to eight months before your wedding. This leaves you with plenty of time for ordering and alterations.  Also, have an idea in mind of your bridal style so you don't feel overwelmed when you walk in the salon and are given many options.
6. Stay organized.
Know what is happening when. You don't have to remember everything, but by writing your ideas down on paper in a planning notebook, you have your own personal resource. You can also follow Wedding Guide Chicago's printable wedding planning checklists and tools, that give you all the resources you need in one place.
8. Take time off and live in the moment.
No, no, we aren't saying take time off from work. Take time off from your wedding planning. Go out to eat, hang out with friends, or go on a special date night just you and your beau. It's good to de-stress, take a break, and get away once in a while. Planning a wedding shouldn't be a chore. Make sure you are still enjoying your life.
9. Treat your body right.
Lack of food and sleep can give you more stress and make you feel on edge. Going for a walk or workout can help relieve tension and keep your mind at ease. You'll also feel better when trying on your wedding gown or going to your final fitting. Eating a bag of Oreos will not make you feel any better.
10. Stop pinning and focus on what's important.
Remember when we talked about knowing what you really want? A lot of ideas on Pinterest are great…better yet, they are awesome, but a lot of it is just material things. At the end of the day, you need to focus on what's important — enjoying this special day and dedicating  your heart and soul to your significant other.
11. Start your wedding on time.
Yes, the wedding can't start without the bride, but, if you are running late, chances are the rest of your evening will also run late.  You may completely miss cocktail hour, your post-wedding photos may be cut short… your ceremony may even be shorter. Does the officiant need to be somewhere? Is there a wedding after you?  Starting late can ruin everything. It's also just plain rude.  Your guests are there waiting at the time listed on your invitation. Don't leave them speculating, gossiping and wondering… 'what happened to the bride?"