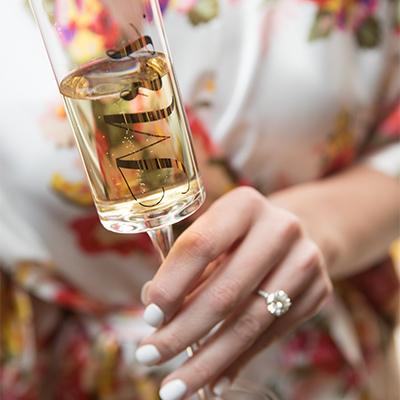 How Not to Spend the Night Before Your Wedding
Harassing Your Vendors. It's okay to send your pros a quick text to make sure they're ready for tomorrow's festivities, but don't make the mistake of trying to micromanage them. As long as you made sure to confirm your timeline and details the week before, your vendors will be more than prepared to ace your special day. Try to remember that while you're a wedding newbie, the people pulling off your wedding are seasoned pros who have the situation under control.
Pretending You Don't Have Jitters. After the rehearsal dinner has wrapped up and everyone's headed home for the night, it's not uncommon to be hit by the magnanimity of what you're about to do. In less than 24 hours, you'll be promising to spend the rest of your lives together. It's normal to be nervous, and the best way to handle your jitters is to get talking. Whether it's your mom, your maid-of-honor, or your soon-to-be spouse, getting your worries off of your chest the night before will help you feel much more comfortable on the day of your wedding.
Packing For Your Honeymoon. As the Big Day draws closer and closer, you're going to be tugged in a million different directions, some of them super important (giving your vows one last read through) and others, not so much (figuring out how Great Aunt Sarah is getting from the airport to the hotel). The last thing you'll want to do is find the time to pack for your honeymoon. Even if you do find an hour to spare, the odds of you remembering everything you need to bring with you are slim to none, so stuff your suitcases way ahead of time.
Testing Out New Beauty Products. No matter how convincing the reviews are online, do not- we repeat DO NOT– use any skin or hair care product that you haven't already used in the past. The night before you get hitched isn't the time to finally use that fancy Brazilian exfoliating cream you got in your stocking last Christmas, and the same goes for any new lotions, shampoos, conditioners, makeup… you get the idea. Even if you've never had sensitive skin in the past or haven't ever had a disastrous run-in with a new beauty product, just trust us on this one and save the skin and haircare experiments for a different night.
Getting Your Wine On. Having a glass or two of your favorite vino to relax is all well and good, but once the tally starts hitting three, four, five, you're venturing into dangerous hangover territory. Normally, feeling a little tired and out of sorts the morning after overindulging is no biggie but it's an unnegotiable no-no when you're trying to look and feel your best. Save the drinking for your reception!