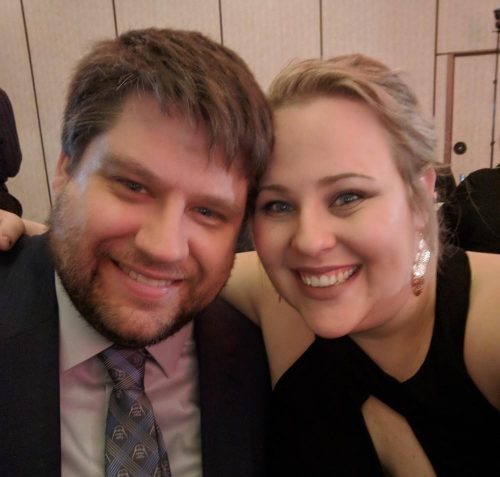 Honeymoon Winners – Brianne & Brian
Congratulations to Brianne and Brian, our latest honeymoon winners! Following their wedding, the newlyweds will be jetting off on their honeymoon, courtesy of Secrets Cap Cana Resort & Spas provided by Apple Vacations. 
Their Love Story:
"Brian and I met online in the summer of 2014. After a few weeks of talking online, we decided to meet. On our first date, he wooed me over a cold beer and hot wings. I remember loving his smile the most. As we began getting to know each other, we discovered a shared love of Star Wars, true crime documentaries, sushi, and Queen. Naturally, Brian and I fell in love.
After a year of dating, we moved in together along with Brian's cat, Harold. A few months later we adopted a kitten together named Kylo Ren. Brian and I love seeing movies together, hanging out at the local bar on karaoke or trivia night, and exploring new places. While at home, we can usually be found on the couch giving our own commentary on movies and TV shows or battling each other in Mortal Kombat. Brian and I also love to travel together. We've been to Las Vegas and Mexico with our friends and even took a road trip down to his home state of Georgia to visit his mom over Thanksgiving!
In January 2018, Brian planned a sweet proposal. With help from our friend Carley, he chose the perfect ring and asked my parents for their blessing. Brian got down on one knee and asked me to marry him on February 10, 2018, in our hotel room at the 501st Legion Formal. At first, I said, "Thank you!" but eventually said, "Yes!" It was a dream come true!
Brian and I are getting married on March 16, 2019, at Georgios Banquets in Orland Park, Illinois. We are so excited to start our new adventure as husband and wife. Thank you ChicagoStyle Weddings and Apple Vacations for this amazing trip!"
To win honeymoons, diamonds earrings, date nights and more, head over to thecelebrationsociety.com/contests and enter your name in our drawing!