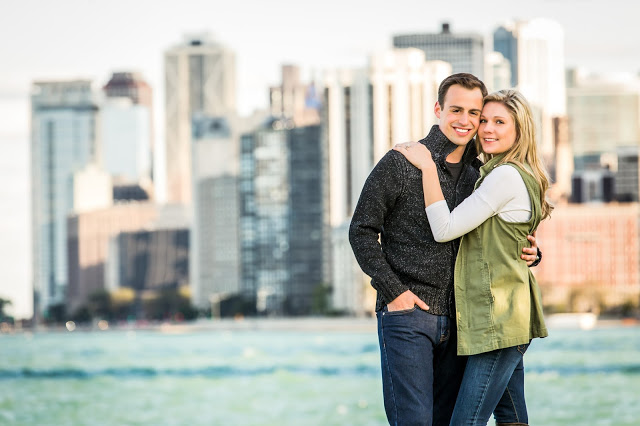 Michael and I met in 2009 during our freshman year at Michigan State and instantly became inseparable, bonding over our love of Harry Potter among other things. For awhile we were just friends who hung out in the same group of people but Michael ended up asking me to be his girlfriend that following May. After three years of going strong, we graduated and loved to Chicago, Michael for his new career as a restaurant manager and me for a chance to get my Master's at the University of Illinois at Chicago. The next few years were full of school and work but we never lost sight of what truly mattered- our life together.
Fastforward to January 2016. I was headed home from a grueling two weeks of business travel and Michael had just received a hard-earned promotion at work. I was hustling back to celebrate his promotion with a few of his coworkers but little did I know that the celebration was actually a cover for something much more romantic. I opened the door to the apartment, so excited to congratulate my boyfriend on his new job, but to my shock I was greeted by the sight of dozens of roses. In the middle of it all was Michael, dressed in a black suit and tie and about to deliver a proposal that would become one of the most cherished moments of our entire lives.
In his hands was a hard-cover copy of Harry Potter and the Half-Blood Prince. He opened the book to Chapter 15: The Unbreakable Vow, where a section of the first few pages had been removed. Nestled within the cutout was the most beautiful engagement ring I ever could have imagined, hanging from a red ribbon and glinting in the light.
On May 20, 2017, we plan to make our own Unbreakable Vow at Holy Name Cathedral. The reception will be held at the beautiful Millennium Knickerbocker Hotel Chicago, and will include vendors such as Timothy Whaley Photography (photos/video), RED Wedding (DJ), Chicago Trolley (transportation), Volle's (my gorgeous gown) and House of Brides (bridesmaids dresses). Michael and I can't wait to celebrate with our family and friends, and are so grateful to ChicagoStyle Weddings for giving us such an amazing honeymoon trip to cap it all off.