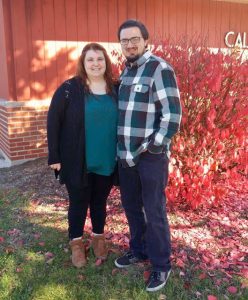 "Josh and I met in our high school Chemistry class. We were just friends and on the last day of school before the summer break started, he asked me for a hug. It seemed silly and innocent at the time, but I am glad he worked up the courage to ask me because after that we exchanged numbers and became Facebook friends. He wanted to pick me up and hang out, but had to meet my mom first. I was only sixteen so my mom wanted to make sure he was safe to be around. He came to the local laundry mat to meet my mom and after realizing he was as sweet as can be, she let me go to his house. That day, he asked me to be his girlfriend. I said yes, and that day changed my life forever.
He and I graduated high school, attended college and moved out together. On my 20th birthday, I said that nothing exciting happened for your 20th birthday. I guess that sparked something in him to make it special. He planned a scavenger hunt, sending me all around town, to my favorite places and with my favorite people. Each new place I went there was a clue with a cute poem and a gift. At the end of the day, I got to finally have dinner with him and then I had one more stop before I got to go home. When I got home, I was thinking "Great, no more surprises. I can go home now and rest." I walked through the door to our apartment and my entire family was there. Yes, 25-30 people crammed into our small apartment. Turns out he was throwing a surprise party for me as well. I was happy to be around all my closest family and to be done with surprises for the day. Well, the last present I opened was an empty ring box and then all of a sudden Josh is in front of me, proposing.
We have been engaged for two years now and cannot wait to get married. We have been together for going on 6 years and have watched each other grow from young high school kids into adults. I never thought I would meet the love of my life in high school, but we got lucky. In the future, we plan to buy a house close to home and start a family together. There is nothing I want more than to be a mother, and I know Josh will make an amazing father.
Our wedding in June is quickly approaching and we are so excited to finally call each other 'husband and wife'!"
Want to see what else ChicagoStyle Weddings is giving away? Head over to chicagostyleweddings.com and check out our latest contest!