Beauty experts Jeannie Denault and Brandi Paap from Bridal Brigade swung by the blog to discuss why trial runs are something that brides simply can't skimp on.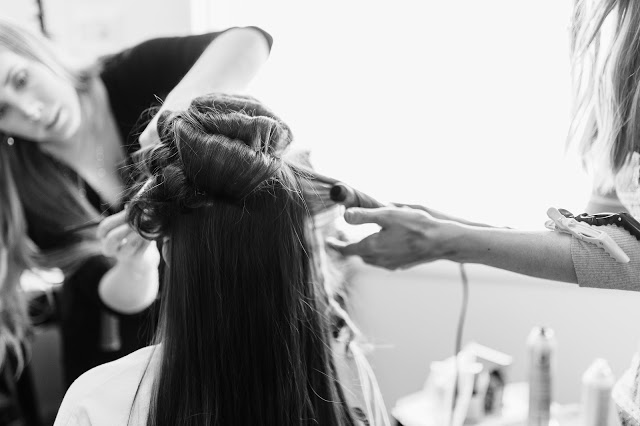 Whether you've just hired a team of talented artists or have chosen your beloved hairstylist to make you shine on your big day, a trial run is the perfect way to ensure that you feel confident and beautiful enough to have all eyes on you when you head down the aisle. Trials are a special time set aside specifically to focus on exactly the look you're trying to achieve. If you aren't sure of what you want, your trial is the time to test a few things out and see what suits you best! No matter who you've chosen to style you on your wedding day, taking this time to make sure you and the artists are on the same page is super important.
You've Hired Your Beloved Hairstylist
While your hairstylist may be your confidant and most trusted person for years, your wedding day is special and not just a a blow out plus quick eye makeup to go out with the girls. Your wedding day is so much more than your everyday appointment! They are professionals and in being so, need to have a plan for such a special occasion. Allowing the opportunity for a trial run ensures that you and your hairstylist both are able to work out every single detail so that on your big day it all comes together perfectly.
The trial is the time where you and your artist will get to know each other. On the surface, yes its important for them to know whether or not your hair holds a curl or your t-zone is an oil slick by 2PM but its as equally important for them to get to know your style, preferences and to develop a relationship where you can be honest about what your goals are and how they can achieve them.
Side note – because your artist is getting to know you, they may or may not nail your desired look the first time out. Guess what? Thats ok! This is what trials are for! Here you will have time to make adjustments and communicate openly without the clock running in the background and the photographer checking their watch.
Other Trial Run Tips:
Be prepared for your trial run to possibly take up to twice as long (or longer) than your day of application. Whether its hair or makeup artistry, the time you spend today tweaking what will be the final look will actually help your artist be most efficient on the day of your wedding where every minute before saying "I do" is precious time.
Hypothetically lets say you choose to not do a trial run. Is your wedding day the day you want to meet a new artist and have them get to know you? Is that the kind of stress or position you want to put yourself in on what should be the happiest day of your life? If you aren't happy with your hair or your makeup are you going to have time to address the situation and if so, what happens if the situation cant be remedied to your full satisfaction?
Getting ready on your wedding day is a time to sit back, get pampered, and enjoy a blissful moment before the fun begins with a mimosa in your hand and all your friends and family gathered around to watch your magical transformation. You'll know you're going to look fabulous because you're 100% confident that your hair and makeup artists are going to make you the most beautiful you've ever looked and felt…all because you started with a trial run.
Want to learn more about Brandi, Jeannie, and their amazing work? Head over to the Bridal Brigade website to discover all the incredible services they provide. 
Want more insider tips? Go to chicagostyleweddings.com to browse our gallery of talented experts!