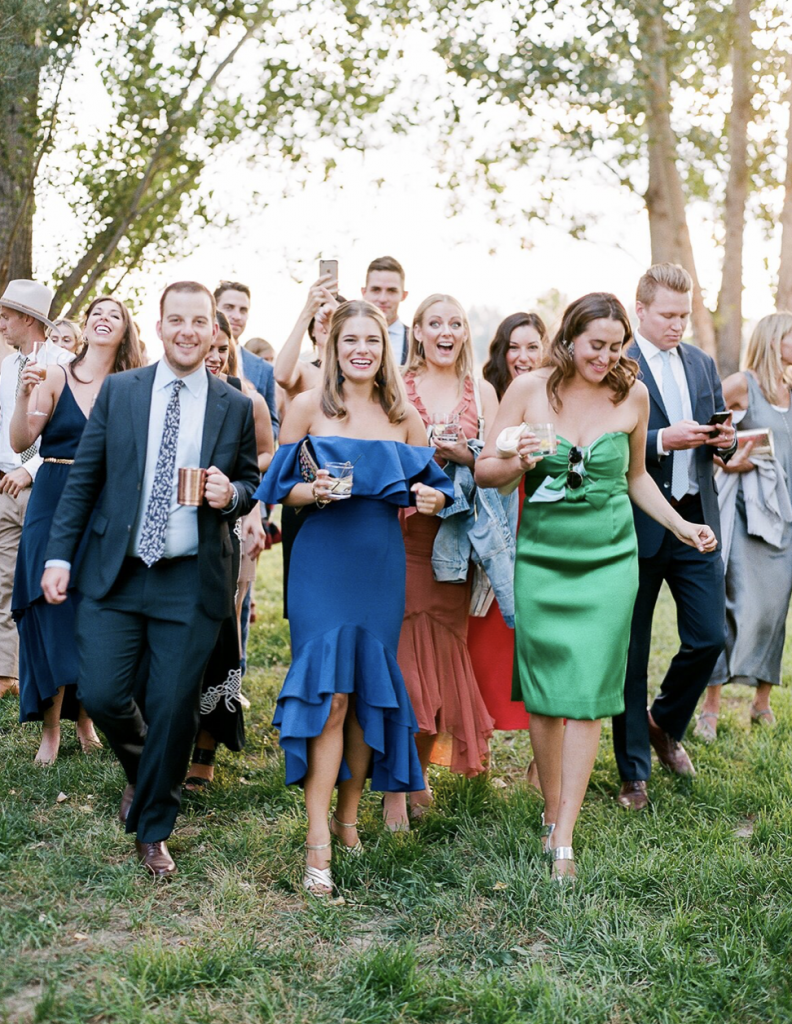 Wedding hits (and yeah, a few misses) as told by the folks who definitely know their stuff: your wedding guests.
Let me start by congratulating you on completing one of the most difficult tasks of wedding planning: finalizing that guest list. (I know giving those last few names the axe was tough but believe me, we've all been there). And while you might be tempted to send that list off to the calligraphers without giving your guests another thought – don't. Believe it or not, you're going to want to keep them in mind as you continue to plan your big day.
Don't get me wrong: you and your fiancé should definitely be the focus of your wedding. But you still want to make sure your guests have a smashing time too, am I right? To do that, you might need a little advice – and who better to give it than the folks who know weddings best? That's right, I'm talking about your guests themselves! These tips from some frequent wedding guests are guaranteed to make your celebration as special and unique as you are.
Do: Make It Personal
Wedding guests definitely love those personal touches that make your wedding day uniquely you. From creative table numbers to writing your own vows, something that gives guests deeper insight into you and your love story is a definite must.
"Incorporating favorite hobbies or talents into your wedding day is always a crowd pleaser," says Kelsey Westwood, who's been a recent guest at 9 weddings. "I attended a wedding where the groom, who was in a band, had his musicians play while he sang for the bride. At another wedding the bride arrived in a 1950's car driven by her grandpa – it was the same car her grandpa used to drive her mom and sister to their weddings. They each had pictures of themselves with their father/grandpa in the same car, and after the reception all the newlyweds drove off in it as well. It was a very sweet and fun tradition!"
Becca Knight has recently attended a total of 14 recent weddings – twice as a member of the bridal party – so she's a guest who knows her stuff. "I attended a wedding at a park where they had boxed wine and a keg, and then went out to a bar afterwards," Knight says. "It was very simple, which was a nice change from larger, fancier weddings. It was what the couple wanted, and we were there to celebrate the couple. Just being able to witness their happiness in the moment is what weddings are all about!"
"I really liked when a history-buff friend used historical couples as table makers," says Marty O'Donnell, a frequent wedding guest and former-wedding bartender. "Sure, it would have been easier to remember I was sitting at 'Table 5' rather than the 'Pharaoh Akhenaten and Queen Nefertiti' table, but darned if it wasn't charmingly esoteric."
Don't: Overdo It
There is one caveat here: while guests love those elements that tell a story about who you are as a couple, don't overdo it. If your references or design elements are so personal they'd have to flip through the innermost pages of your diary to understand what's going on, they'll probably be more distracted than impressed. Maybe save some of those obscure pop culture and literary references– that only you and your love will recall the significance of – for another time.
Another way to keep the personal from petering out is to put a cap on the number of toasts given. Sure, we love that second cousin Sal wants to wish you well, but try giving him a few extra minutes in the receiving line, instead of handing over a mic. "I've seen far too many receptions grind to a halt with a never-ending parade of speeches," says O'Donnell. "After the fifth toast starts to drag past seven minutes my eyes start glossing over. Keep things simple and heartfelt."
Do: Ask Your Guests for Advice…Especially  if They  Know Their Stuff
Speaking of keeping things personal, definitely get to know your vendors (you know, those behind-the-scenes folks making sure your wedding runs smoothly) and be thoughtful about who you trust to help you arrange your big day – both you and your guests will definitely notice. A great way to do that is by asking your guests themselves for some advice.
As a wedding photographer, Rebecca Ickes, owner of the Gold Grid Studios, has an amazing eye for those unique elements that work (or don't) whether she's attending a wedding as a guest or as the photographer. "I am immensely relieved when loved ones are getting married and ask my opinion on who to hire. I want them to be taken care of just as much as if I were actually working the wedding. If you have a close friend or family member who works in the event industry, don't be shy about talking to them about your plans! I guarantee they want to do what they can to help you have the perfect day you've envisioned – and they might have a few handy little insider secrets to ensure just that!"
But remember: asking your wedding industry BFF for advice and actually hiring her to work your big day are two different things. "I learned that you need to choose to either be a guest or work your job," notes Ickes. "When you try to be both an attendee and (in my case, the photographer) something gets missed. Too often I see other photographers standing up as a bridesmaid for a friend and also photographing the event. I think this does a great disservice to the couple getting married because you are never fully present for them."
Don't: Sacrifice Your Guests' Comfort for Your Bridal Dreamscape
When setting the scene for your I-dos be warned: what might seem like a dream landscape might not play out quite the same in real life. "I was recently at a family wedding where the couple was married in front of a river. It was beautiful, however some guys floated by on inner tubes during the ceremony – it was distracting," says Knight.
Also, don't go overboard trying to orchestrate a photo op. For example: sparklers might be a bridal fave, but when you're playing with fire things don't always turn
out the way you planned. Knight experienced this firsthand: "We were given long sparklers to make a pretty tunnel for the couple to run under on their way out of the ceremony. The sparklers were beautiful, but a tad dangerous. A guest nearby was on her phone and dropped her sparkler a little low, landing some flames onto my date's head. Awesome idea, but distracting to guests."
Do: Remember You're Feeding Everybody –Not Just Yourselves
Be the queen of kale on your own time honey, because wedding guests like to eat; and no matter how gorgeous your ceremony might be, food can make or break a wedding reception. "I attended a vegan wedding and the food was interesting, to say the least. It included purple potatoes and green beans… I remember feeling hungry," says Knight.
A word to the wise: offer enough dining options for all your guests to be comfortable, even if it means being flexible with the style of your reception. If your carnivore cousins from Texas are going to be mingling with your gluten-free pals from Seattle, consider thinking outside the plated dinner. "At one wedding, we had appetizers and desserts instead of a formal meal – and boy, those were delicious appetizers! There was such a large variety, I definitely had enough to eat despite the lack of dinner," says L.P. Anderson, who attended four weddings last summer.
Do: Go The Extra Mile, When You Can
It doesn't take much, but if you can show your guests you were thinking about them as you planned your big day, they'll leave the party loving you even more than when they arrived. "At one of my all-time favorite weddings, the couple supplied flip flops for those guests who arrived wearing painful shoes," remembers Knight. "At another, our program was printed on a paper fan, which was perfect for the hot, outdoor wedding."
DON'T: FORGET TO HAVE FUN!
"Don't get caught up in formalities or perfection. The best weddings I've attended included unique touches related to the bride and groom's personalities, and made all us guests feel included," says Knight. "Make your wedding authentic, and real to who you both are – as individuals and as a couple. Celebrate, celebrate, celebrate, and enjoy the night! Also, please don't play Single Ladies for the bouquet toss. Throw us a bone."
Written By E. Ce. Miller