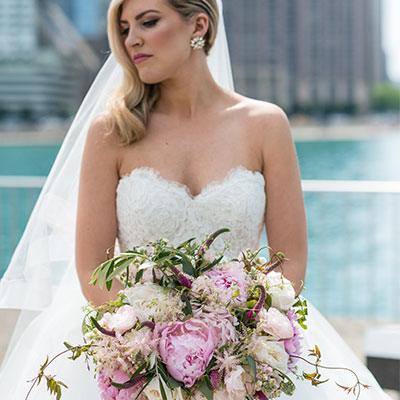 When are your favorite flowers available?
Flowers can transform a space unlike any other décor. They're a fun and easy way to showcase your personality and bring your wedding theme to life, but choosing which blooms are right for you can be tricky. Are you looking for vibrant flowers like gerbera daisies, or would you rather keep things white, green, and simple with ferns and hydrangeas? Maybe both of those options pale in comparison to the subtle tones and muted pinks of roses and peonies. One thing to keep in mind while you're making wedding floral plans is that flowers grow seasonally. Some flowers can be sourced year-round like roses, alostromeria, and gardenias, but others –like sunflowers – can be much more difficult to attain depending on when you're getting married. Here's a breakdown of which flowers are available for each season to help you better plan your wedding flowers.
Spring.
A time of new beginnings and flowering bulbs, making it a beautiful season to say "I do."
If you're getting married in March, April, or May, tulips are a great, classic choice. Not only are they available in a wide range of colors, but they're also very affordable. You can bring a bold color palette to your table settings with tulips in yellows, reds, and oranges or keep things soft with pink and white. Peonies are also available from late spring to early summer. They're a super popular choice among brides and are typically available in pink, white, and red. Other popular spring flowers include the fragrant hyacinth (purple, pink, or white), the elegant calla lily (white, yellow, pink, or purple), the beautiful, large-bodied hydrangea (white, blue, purple, or pink) and the complex ranunculus. The ranunculus also makes for a perfect boutonniere and comes in a variety of fun colors including yellow, orange, white, and pink.
Summer.
A season filled with lush greens and enticing florals.
For a wedding in June, July, or August, you may be heading to a beach or outdoor venue for your nuptials. If so, you might be interested in adding areca palm fronds, papyrus reeds, or fern leaves to your bouquet to create a lush, tropical feel. For something beautifully unique, succulents can be added in with your favorite summer flowers. These hardy plants are easy to source and cost effective during the summer months. Popular species of succulents include graptopetalum, which has rosettes of plump leaves; echeveria, which can be found in a bold purple color; and sedum (Stonecrop), which has smaller compressed rosettes. Both tropical leaves and succulents can add a unique twist to table settings, boutonnieres, and bouquets when mixed with available summer flowers. Dahlias are bold and beautiful geometric flowers that pair well with peonies (which will still be available in the early summer months) as well as garden roses, which are available year-round. Brightly-colored zinnias (deep red, bright orange, yellow, bright pink, and white), hydrangeas, sunflowers, and pompom or spider chrysanthemums (white, yellow, maroon, violet, and deep red) are other popular choices. Craspedia flowers are also available in the summer months and have little yellow balls for heads, which make them a common favorite for boutonnieres.
Fall.
Bursting with rustic tones and autumn foliage.
For a wedding in September, October, or November, you may want to use the beauty of the natural colors present during that time of year. Think deep reds, rich yellows, and rustic oranges to complement the turning of the leaves and the changing of the seasons. One of the most iconic fall flowers, the marigold, will be in full bloom during this time. Marigolds can be stunning when mixed with roses of the same color and luxurious greenery. Marigolds are most typically available in golden yellow, orange, red, and white. The bright, joyful yellow of aster flowers and goldenrod make for a great wildflower look for a rustic outdoor ceremony. Dahlias, sunflowers, zinnias, and chrysanthemums are also still available through the fall. If you'd like to really celebrate the rustic wonder of fall, you can also add wheat, seasonal berries, maple leaves, or greenery to accent your arrangements.
Winter.
A time for the quiet beauty of gentle whites and rich reds.
If you're getting married in a winter wonderland during the months of December, many excellent options available during the winter months. If you want to celebrate the beauty of snow-filled fields by bringing in bouquets of white, you will have plenty January, and February, you might be concerned your wedding flower options will be limited. Luckily, that couldn't be farther from the truth. In fact, there are many excellent options available during the winter months. If you want to celebrate the beauty of snow-filled fields by bringing in bouquets of white, you will have plenty of options to choose from. Mix and match tones of antique white, ivory, and creams for a rich, inviting look. Add paper-white narcissus flowers to your bouquet of cream roses along with clippings of fir and naked twigs, or play up the colors of the season by pairing bold red amaryllis with hypericum berries and cedar sprigs. If you're looking for more options in white, casa blanca lilies, star of Bethlehem, and wax-flower are popular choices. Other great winter bouquet fillers include pinecones, mistletoe, juniper boughs with berries, holly, and the fuzzy-leaved lamb's ear.
Year-round.
Every season is the perfect season for love.
Many great flowers are available year-round, making your floral dreams a possibility during all seasons of the year. Roses, one of the most popular choices for weddings are among these options. Spray roses, which are smaller in size and come in a variety of colors including yellow, white, light pink, and lavender, add a delicate touch to bouquets. On the other hand, garden roses with their wider heads and strong stems can be a bold and romantic statement. Snapdragons can add a cascading look to a whimsical bouquet and can be found in pastels and bright shades, making them a very universal option. Gardenias have a soft and full look with great leaves that pair well with peonies and roses. Other flowers available year-round include: daisies (yellow, white, pink), irises (purple, blue), alostromeria (yellow, purple, pink, cream) and baby's breath, a popular floral filler.
In the end, whether you choose the gentle colors of spring, the vibrant colors of summer, the rustic tones of autumn, or the quiet colors of winter, flowers are sure to be a beautiful addition to your wedding. Don't forget to have fun with the process, and keep in mind that buying in season will help you stay within your budget.
Written by Ariane Scholl