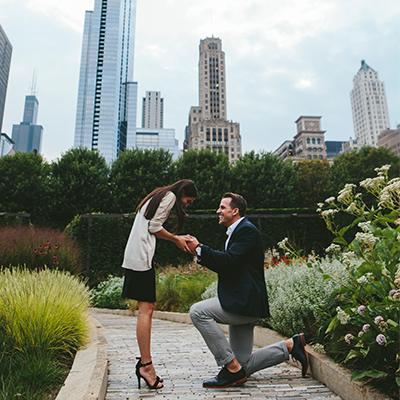 Demystifying the Pre-wedding Picture Phenomenon
I'll admit, I wasn't sure I wanted engagement photos. When our photographer offered them as part of the wedding package, at first it felt like just one more thing to schedule during those busy months before the big day. What was I possibly going to do with several dozen photographs of my fiancé and I wandering through a park (or, as it turned out, our old college library,) I wondered? As it turned out, a lot.
Our engagement photos ended up being our absolute favorite pics – and not just from our wedding season. Out of all the photographs, my now-husband and I have of ourselves, these are the ones we love most. After a great engagement photo shoot, you might find yourself feeling the exact same way. Here's why:
It helps your wedding photographer get to know you
This is key because unless you're a Kardashian, you and your fiancé are probably not used to having a photographer follow you around, capturing your every move. And yes, in the beginning, it's a little awkward. (It's amazing how unnatural looking natural can suddenly feel the minute a shutter starts clicking.) An engagement photo shoot will help the two of you get used to being in the spotlight before the big day – and once your photographer starts asking you to tell the story of how you met, or what your first date was like, you'll be amazed at how quickly the two of you warm up to being the center of attention.
Equally important is giving your photographer a chance to get to know you. And I'm not talking just flattering lighting, your best angles, and individual quirks to look out for (although all those things are important). It also helps your photographer notice how the two of you interact: who you are together when you start to let your guard down, how he likes to rest his head on your shoulder, how you raise your eyebrows at his jokes – the kind of things that'll make your wedding photos look like the two of you.
Those amazing proposal pics
There is nothing like a good proposal session – especially if it's a surprise. In that moment of complete shock and excitement, it's easy to forget to pay attention to the small details, like how he was looking at you or what you did when you first saw the ring. But if you've got a photographer hiding out nearby, the two of you will be able to relive those amazing proposal moments in slow motion, as many times as you want.
Engagement photographs are more versatile
Raise your hand if your grandmother still has your high school graduation photograph in the center of her mantle. I thought so. As adults, there aren't many excuses to have beautiful, professional photographs taken of ourselves, (which means grandma might have that pic of you in a red mortarboard hanging in her house forever). An engagement photo session gives both you and your soon-to-be-wedded an opportunity to get all dolled up and take some great photographs of you as you are now. And don't think you're just going to end up with countless couples' shots (even though that's basically the point.) My engagement photographer took photos of my fiancé and I together, and several of us on our own as well. In addition to a collection of couple's photographs that we love, we also have some solo shots that are perfect for use on business cards or professional websites, social media profiles, and more.
They're more authentic
On a typical day in your life, you're probably not going to be wearing a wedding dress or tuxedo, am I right? Don't get me wrong: wedding photographs are once-in-a-lifetime beautiful, and I love pulling out our own wedding album from time to time, remembering that amazing day. But I'll also confess: my husband and I do not have one single wedding photo of ourselves displayed in our home. The photographs that we appreciate the most – and absolutely love looking at every day – are the ones from our engagement photo shoot. They're the ones when I'm in that perfect little wrap dress I wear at least once a week, and he's in that polo that brings out his eyes, and we're walking through that park we used to love by our old apartment. The pictures that look like us, just being us.
It'll give you a trial-run for hair and makeup
It's an unfortunate fact of life that while the cats-eye eyeliner and messy bun you typically rock look amazing in your day-to-day, the camera might not necessarily pick up the greatness that is everyday-you. And you might realize your favorite office-red lip is not the look you want on your wedding day. An engagement photo session gives you the opportunity to tweak little things here and there, making sure you look exactly as you want to on your big day – and it gives your photographer an opportunity to make suggestions as well.
If you're hiring wedding hair and makeup professionals, most will be game for prepping you for your engagement photo session too. Just like your photographer needs to get to know you in your best light, your stylists need to get to know your skin tone, hair pet peeves, and favorite looks. Engagement pics are the perfect opportunity for a no-stress test run.
It's fun
I'll confess something else: my engagement session got a little… well… steamy, if you know what I mean. Sure, we kept it G-rated (maybe a little PG) but things definitely got super romantic, super quickly. And while we weren't expecting that, we kinda loved it.
The most important thing to remember about engagement photos is that they're meant to document one specific, unforgettable moment in your relationship – who you are in those exciting, nerve-wracking, love-struck days before you say "I do." And while your wedding is obviously about the two of you as well, it's also about your family and friends: your parents, and the wedding party, those old college pals who you haven't seen in forever, and that co-worker who introduced you. All the folks who watched your journey from the first date to the first dance will feature prominently in your wedding photographs too, as they should. But an engagement session? That's all you guys.
"An engagement session is an opportunity for us to get to
know you before the wedding. We'll get to know your quirks,
your angles, and what makes you laugh and smile.
You'll get to see what you look like through a professional
lens, and we will all find our groove! A session is a great way
to set us up for wedding day success!"
– Rebecca Ickes, Gold Grid Studios
"We love the history behind our couples' relationships and we want the engagement photos to tell their unique stories.  It's important for us to create a relaxed and fun atmosphere so the couple can enjoy this special moment.  The time that we share with a couple during their engagement session goes a long way on their wedding day."
–Native Weddings
Written by E. Ce. Miller