It's back to school season, and we've decided to get in on the action! Welcome to Engagement 101: a course designed to help you ace the year before you say "I do." Read on to discover the best ways to hunt for wedding inspiration and get insider tips on how to organize all of your ideas!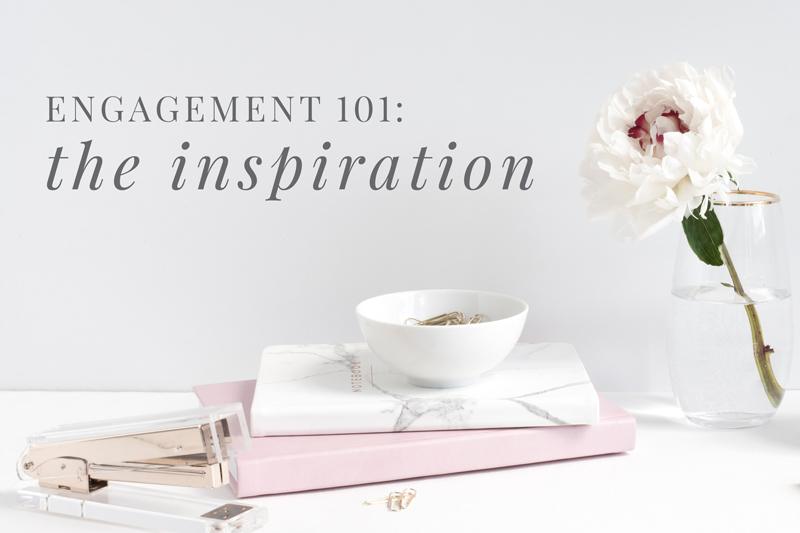 After you've gotten used to seeing that ring sparkling on your finger and you've shared the exciting news with all of your friends and family, it's time to get planning. Odds are you've been thinking about your Big Day for along time before your partner proposed, but now the engagement is official! You've got the green light to turn your wedding daydreams into reality. Whether you're already hard at work on twenty different Pinterest boards or you hadn't thought about  wedding planning until your partner was down on one knee, we're here to guide you through the process of crafting your wedding vision.
Start Pinning
While Pinterest is home to everything from step-by-step crafts to every recipe under the sun, there's no denying that its forte is wedding planning. Digging through the site to find your perfect linens and boutonnieres can result in inspiration overload, so we suggest you take it one step at a time. Rather than trying to do everything all at once, take your inspiration-searching one category at a time. Start with the vendors you have to book well in advance- like your venue, for example- and gradually work your way down the list to smaller items, like your placecards. If you have a faint idea of the direction you'd like to head in, start simple and gradually hone your search. If you've always been in love with art deco vibes, begin with the basics and try searching for "art deco wedding". As pins catch your eye, get a little more specific: "Gatsby themed wedding", "feather centerpieces", and "geometric vases" will all help you find the perfect details for your perfect day. If you've got no idea where to begin, search  "wedding inspiration" and be wowed by all of the gorgeous ideas that Pinterest pulls for you.
Get on the Gram
Believe it or not, Instagram has become an amazing place to find wedding inspiration as well. Whether it's following beautiful wedding-themed accounts or searching "Chicago wedding photography" on your explore page, using this ever versatile app to get creative about your wedding planning is a must.  Insta has made things even easier by allowing you to save posts and organize them into folders, so you don't even have to deal with hassle of rifling through your camera roll to find those ever-elusive screenshots you took. Think of it as Pinterest, but on a smaller scale!
Pick Up a Mag
Wedding magazines are a tried and true way not only to get ideas for your wedding, but to start thinking ahead to the next step: finding vendors that not only can pull off your inspiration, but are available in your area. It's all well and good to fall in love with rare glass-bottle centerpieces that are hand cut and crafted by a hermit who lives alone in the Andes, but unless you and your fiance are willing to shell out a good chunk of money to make your wildly unique dreams come true, it's much better to set your sights locally. By picking up regional wedding magazines, you're guaranteed to find inspiration that's not only affordable but available right where you're holding your wedding!
So what are you waiting for? Find us on Pinterest and Instagram or flip through our Digital Magazine and get planning!