It's back to school season, and we've decided to get in on the action! Welcome to Engagement 101: a course designed to help you ace the year before you say "I do." From tips and tricks to a list of faux pas to avoid, today's blog is all about announcing your engagement.
If we're being completely honest, half the fun of getting engaged is sharing the news. With so many different social media options, it's easier than ever to announce your engagement.  However, it's important to think before you post. Read on to discover three dos and three don'ts that all newly engaged couples should keep in mind before they announce their engagement.
Tell Your VIPS First
In all the excitement of the proposal, it's easy to pull the trigger too soon and go from saying "YES, I'LL MARRY YOU!" to immediately posting a ring selfie on Instagram. We're all for showing off your new bling, but social media isn't always the best way to make your initial announcement. It might not seem like a huge deal to you, but put yourself in your loved ones' shoes. Imagine if your mom found out you were engaged through your brother, who simply happened to be scrolling through his feed. Take the time to call your parents, grandparents, siblings, and best friends before you blow up social media. We promise that hearing the news in a personal way will make all the difference to your VIPs.
Less is More
It's natural to want to spam your friends, family, and followers with pictures and "OMG can you believe I'm engaged?!" texts, but keep in mind that while your loved ones are definitely excited for you, there's a natural limit to their enthusiasm. Instead of exhausting your friends by inundating them with self-congratulations, turn that enthusiasm on your partner. Spend some alone time basking in the beautiful commitment that you've just made and use that overwhelming happiness to grow closer. This way, when you do post that adorable picture of you happy-crying and showing off your "I do" jewelry, it will feel genuine instead of braggy.
Stay a Little Traditional
Back in the good old days before iPhones and Facebook, engagements were announced in the local newspaper. Recently betrothed couples got to share their change in status with a small ad that would run right alongside a series of other engaged couples. While this practice is slowly being phased out, publicly announcing your wedding is not. A great example of online mediums that will happily promote your engagement are wedding magazines, like yours truly! Getting a quick little engagement announcement published on a wedding website will give your parents and grandparents something to enthusiastically email around to all their friends, and little extra time in the spotlight never hurt anyone.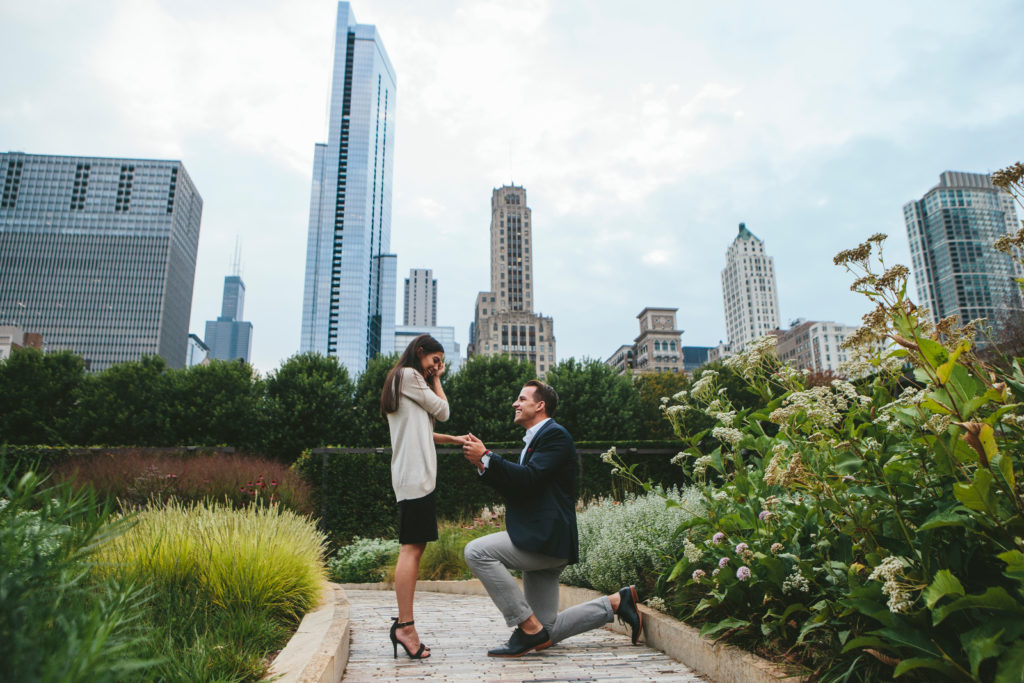 Common Engagement Mistakes:
Only posting a photo of yourself and the ring. In the age of Instagram gallery posts and shareable Facebook albums, there's no reason to only post one photo from the happiest night of your life to date! Wanting show off that brand new ring is a given in, but don't forget who gave you the ring in the first place. Sharing only photos of yourself and jewelry will make it seem like you've lost sight of the most important part of your engagement: your partner.
Posting on every single one of your social media accounts at the same time. More often than not, the same people follow you on Insta, Twitter, Facebook, Snap, and so on. If you decide to change your relationship status to "engaged" on Facebook, wait a day or two to post on Insta or Snap, or at the very least post a totally different picture. This way, your posts will feel fresh and new and your friends and followers won't start rolling their eyes every time they see you waving that brand new ring around.
Promising people they'll get an invite to the wedding. The second you share your news, your friends, family, and coworkers are going to think ahead to the wedding. It's easy to get swept up in all the happy chaos, so make sure you don't start making promises that down the road, you'll realize you can't keep. Aside from immediate family members and your very best friends, avoid telling people that they're a shoe-in for an invite or that you're sooooo excited to celebrate with them. In a few months from now when you're making cuts to the guest list and Great Aunt Sally gets the ax, it's going to be much harder making that cut if she was anticipating an invite thanks to something you said in the heat of the moment.
Announce your engagement with ChicagoStyle Weddings! 
One of the best parts of getting engaged is sharing the news with your family and friends. Announcing your engagement with ChicagoStyle Weddings is simple- just upload a picture of you and your fiancé!
Engagement 101 is in session every Wednesday for the next five weeks! Keep your eyes out for our next installation: how to find your perfect wedding vendor team. Missed last week's post? Catch up here, and and get your hands on our 12 Month Planning Guide.