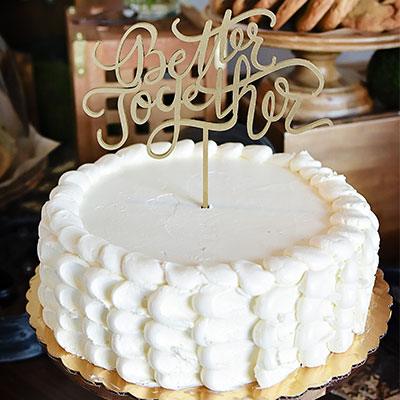 Tips for making your dessert not only a sweet treat, but a total showstopper.
Anyone deep in the stages of planning a wedding knows that cake is one of the most important centerpieces to your big day. And since all eyes are going to be on the cake you select, the pressure to present not only a delicious dessert but a beautiful one is high. But these days, cake doesn't have to be just cake. Lots of couples are foregoing tradition in favor of tasty and totally personalized treats – and with a little creativity, anything from blueberry pie to chocolate doughnuts can be elevated from a sugary snack to a wedding-worthy photo op. Here are some things to keep in mind as you start to plan your own dessert décor.
Think outside the cake box.
Hey, it's your wedding! And you'll serve pie if you want to. Or ice cream sundaes. Or a cinnamon roll tower. Or mini cupcakes, buttercream-filled chocolate chip cookies, and tiny spools of cotton candy. The first step to putting together a knockout, photo-worthy dessert display is selecting the dessert you and your guests will totally ooh and ahh over. Feel free to think beyond the traditional wedding cake and serve fun, creative desserts that will have all of your guests racing to Snapchat. If you still want that classic "cutting the cake" wedding photo, the good news is practically any dessert can be shaped, stacked, or tiered into a cake-style creation. So, go ahead, cut into that doughnut tower! It'll make your reception even more uniquely you.
Go for that classic cake
If you're planning a totally traditional affair, maybe that many-tiered cake has been on your mind since you slipped the engagement ring onto your finger. But wedding cakes don't just stop with those round, white-frosted towers anymore (although if that's your vibe, it is definitely a classic for a reason.) When considering a traditional, tiered cake, style it your way. Maybe you want square tiers, or a gravity-defying display. Consider incorporating your wedding colors with fun striped or polka dotted fondant. Adding some sugared flowers that correspond with the theme of your wedding or the style of your venue is always a big crowd pleaser. And don't forget that cake topper. Whether you're keeping things traditional or topping your cake with, say, a mini Princess Leia and Han Solo, make sure it's something your guests will notice.
Go mini
I am a huge fan of the mini desserts. Practically anything can be made into a mini: mini fruit pies, mini cake pops, bite-sized tiramisus, one-spoon crème brulees. By going mini, you and your fiancé don't have to decide between that decadent chocolate caramel crunch cake and the more refreshing cherry pie – you (and your guests) can have both! And, if you just can't resist the glamour of a traditional wedding cake, but you still want the fun of a mini, consider a tower of fondant-frosted petit fours or gorgeous cupcakes.
Breakfast, anyone?
Let's be honest – by the time you reach the end of a long wedding season, the thought of eating even one more slice of cake might seem totally unappealing, am I right? But do you know what nobody ever gets tired of eating? Breakfast. I'm talking fancy (and wedding-dress- friendly) French toast, Belgian waffles, chocolate croissants, or glazed doughnuts. Anything drizzled in maple syrup and topped with candied bacon crumbles is bound to be a huge crowd pleaser. And the mouth-watering photos will give those folks who were unable to attend your wedding some serious FOMO.
Tell a story everyone will want to take a bite out of.
A great way to elevate your desserts from party snack to showstopper is by using them to tell a story about your relationship. Did you and your fiancé travel through South America before getting hitched? Then use your wedding desserts to take your guests on those once-in-a-lifetime journeys too! Feature a selection of mini desserts from your favorite countries – a thoughtful touch that will not only make your desserts stand out, but will also take you and your new spouse on a trip down memory lane.
Or maybe you'll want to feature the chocolate brownie that was served on your first date, the homemade Rice Krispy treats you took turns mailing to one another while you were living long distance, or recreations of the cakes that were served at your own parents' weddings. Whatever it is, consider including personal photographs or chalk boards throughout the dessert display, sharing the stories of why these desserts are meaningful to you.
Make it interactive.
For the couple that loves to DIY, an old fashioned, serve-yourself ice cream bar or soda fountain – complete with your favorite ice cream flavors and plenty of toppings to choose from – might be just what you're looking for. Plus, pictures of you two topping each other's sundaes with chocolate kisses or sharing an ice cream cone is cuter than a cake-in-your-face pic any day.
Feature a dessert display that all your guests will want to 'gram.'
How you present your dessert is almost as important as what you're serving – so once you settle on exactly which sweet treats will be featured at your wedding reception, it's time to think about exactly how you want to display them in a way that will have your guests going hashtag crazy. Flowers, draped fabrics, glitter, and colored confetti are classic go-tos – but the fun definitely doesn't stop there.
Consider incorporating the theme or setting of your wedding. For an outdoor wedding, serve cake pops standing in a display of clipped grass or moss. If your wedding is filled with rustic vibes, feature a dessert stand with tiers made from tree stumps or a picket fence. If the six different flavors of cookie you're serving are a nod to Grandma, then make the dessert display feel just like walking into her kitchen. If you both share southern roots, practically every dessert looks adorable in a mason jar.
For a destination wedding include traditional local decorations, foliage, or flowers from the area, or a centerpiece that reminds everyone of exactly where you are: the Ferris wheel on Santa Monica pier, the Eiffel Tower or Big Ben, the Golden Gate Bridge, and more.
By thinking creatively and adding the kind of personal touches that celebrate you as a couple, you can transform your dessert from a sweet snack to a stunning centerpiece everyone will want a bite (and a picture) of.
Written by E. Ce. Miller