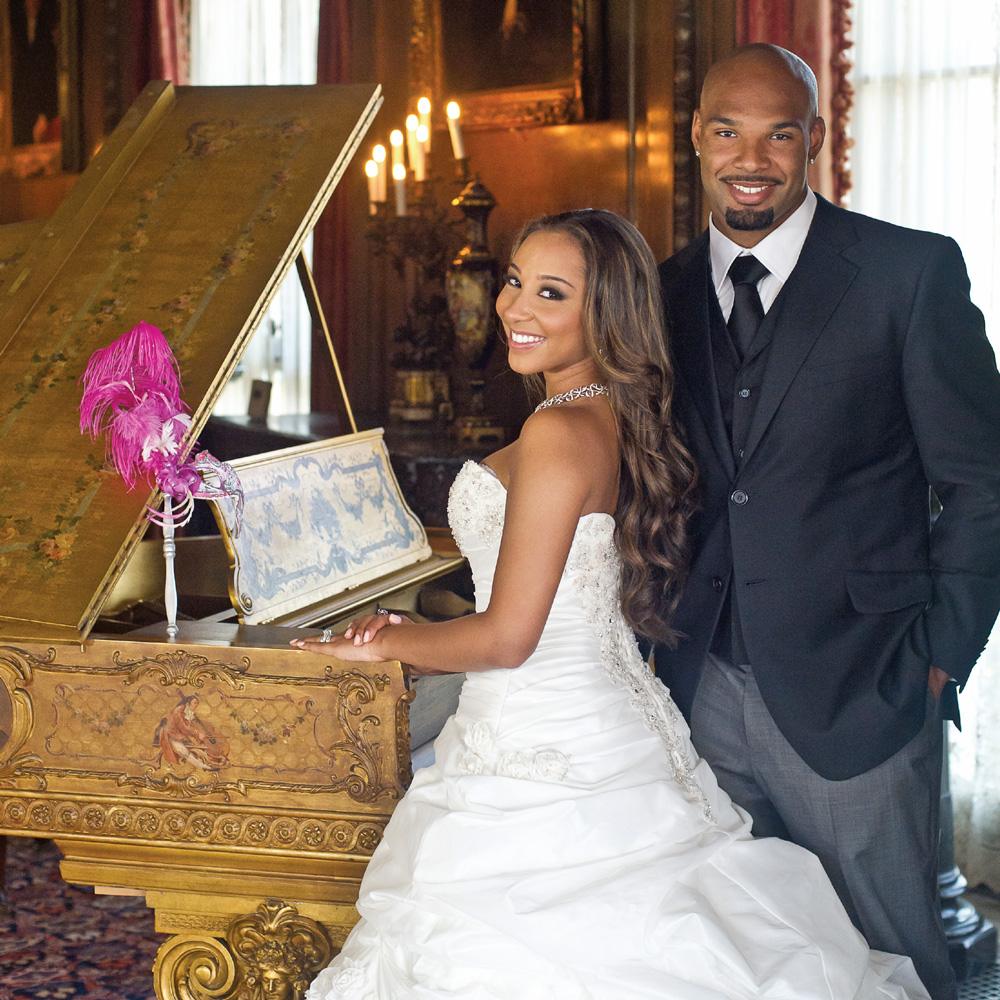 When Chicago Bears running back Matt Forte first got Danielle Daniels's number through Danielle's boss and some teammates, he never called. But the two eventually bumped into each other at an event in Florida after Matt's rookie season, and they hit it off. They exchanged numbers (even though Matt already had hers) and "never separated," the bride said. After getting engaged (Matt had hidden the ring inside a Porsche Cayenne he'd bought for Danielle), the couple had a private legal marriage before their formal celebration in front of family and friends.
Danielle and Matt had been thinking about their wedding since Danielle's last year of college—"the house was stacked with bridal magazines and books for class," the bride said. She knew what she wanted: "grand elegance."
Crystals were a big part of the wedding's theme, including a custom-made crystal aisle runner with the couple's new married monogram, created by DBY events & invitations. Matt and Danielle incorporated a crystal lasso from Mexico into the ceremony, placing the lasso around their necks to symbolize unity. During the reception, the décor included cascading crystal trees and crystal vases, filled with orchids and surrounded by votive candles.
While dancing to Musiq Soulchild's "So Beautiful" for their first dance, Danielle and Matt "talked and laughed, and it was just fun," Danielle said. It was her favorite moment "because, although everyone was watching, it was private and intimate."
Matt's former and current teammates in attendance may have felt just as emotional when seeing the groom's cake. "Matt really wanted a red-velvet cake like he could get in Louisiana," Danielle said, "and it was made to look just like his favorite stadium"— Soldier Field.
By: Ruthie Kott