The team had a delightfully packed schedule on Friday. Along with talented photographer Syed Yaqueen, the ladies attended five incredible runway shows: Francesca Miranda, Berta, Ines di Santo, RIVINI, and Monique Lhuillier.
Ever since the ladies of ChicagoStyle Weddings attended New York International Bridal Week, they simply haven't been able to stop raving about all of the talented designers and gorgeous collections they got to experience firsthand. This week, we'll be delivering a day-by-day look into Bridal Week and all the runway shows we attended.

Francesca Miranda
Photos courtesy of Francesca Miranda, ODA PR, and Dan Lecca Photography.
The team's first runway of the day was Francesca Miranda. The Latin American designer's collection was inspired by a fairytale, and the models radiated charm and whimsy as they floated around the Gramercy Terrace in their gowns.
Each dress exuded a romantic air that was buoyed by hand embroidered butterflies, French lace appliques, and carefully placed pearl accents.
Photos courtesy of Berta, Coded PR, and Syed Yaqueen
Next, the team made their way to the Berta runway show. The collection took inspiration from the untamed and ever-changing world of botany by emphasizing 3D flowers and other rich embellishments.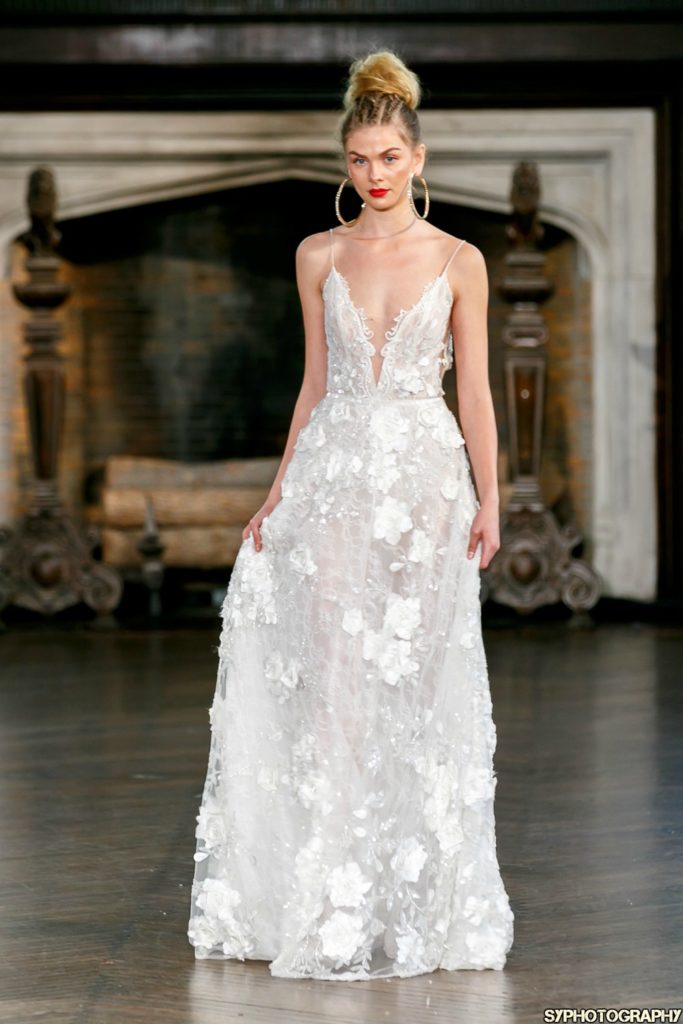 Each dress fit beautifully into the collection, but also could stand alone and tell a unique story. Every design was meant to ensure that the bride who wore it would blossom on the biggest day of her life.
Ines Di Santo
Photos courtesy of Syed Yaqeen
The Ines Di Santo gowns drifted down the runway like a delicate mirage. Embellished with fragile vines, petite flowers, and a touch of lace overlay, the collection was deceptively simple- the more the team looked at the dresses, the more intricacies and nuances they noticed.
Ines Di Santo took her inspiration from "a beautiful patisserie- polished wood floors, delicate cups of coffee, gleaming glass cases… and the wonder that comes over each of us when it's our turn to choose."
Petal softness. Sweeping silhouettes. Crisp and creamy shades of white. Made from lush silks, crepes, chiffons, and organzas, the RIVINI gowns oozed a light-handed charm as the team watched them on the runway.
Subtle touches included soft tucks and pleats, understated beading, and sheer panels of fabric. Also present were the fluid silhouettes and meticulous attention to detail that Rita Vinieris has become famous for.
The RIVINI gowns ushered in a refreshing new era of simple luxury that alluring, chic, and modern.
Tulle, Chantilly lace, and dreamy feathers were the hallmarks of the innocent and sensual Monique Lhuillier collection. Many of the gowns featured daring slits and plunging necklines that added a tasteful flirtatiousness to the sweet blooms and beaded bodices.
Like Franesca Miranda, Monique Lhuillier was inspired by fairytales. However, her take was more ephemeral. The gowns captured the whimsical nature of a fleeting romantic moment that was caught in time.