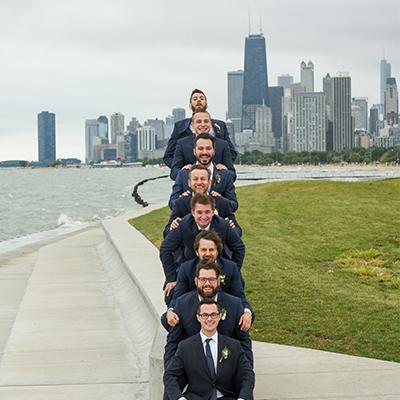 The best spots around Chicago to snag perfect wedding pictures.
Finding beautiful locations in downtown Chicago to take your wedding photography isn't the hard part, it's deciding which handful to visit. From the river to the lake to Chicago's iconic architecture and history, every magnificent mile of the Windy City has something special to offer.
Downtown vibes:
It might be easy to overlook, especially if you have suffered from some serious delays at its expense, but Chicago's L system can be a serious stunner when it comes to wedding photos. Getting a well-timed shot of your wedding party walking underneath the tresses can make for a visual treat, and we recommend checking out Lake Street, Wabash, and Van Buren. The historic beauty of the Quincy/Wells Station is also a great option if you're looking to add some city flair to your photograph, and The Kinzie Street Bridge is another transportation-centered structure that looks amazing in photos. With its unique backdrop and amazing geometry, it's bound to make your photographer's heart flutter.
The view above:
Don't forget to look up when planning your photography locations. The Loop is home to some spectacular rooftop restaurants and bars, which would make for some incredible photographs with a little planning. Cindy's at the Chicago Athletic Association is a crowd pleaser with amazing views of Millennium Park and a gorgeous expanse of Lake Michigan in the distance. Hotels like LondonHouse Chicago, Trump International Hotel and Tower, and the Wyndham Grand Chicago Riverfront all offer memorable views of the Chicago River, the iconic movable bridges, and some stellar architecture. Even if you aren't tying the knot at any of these locations, consider stopping by for your rehearsal dinner or engagement photos.
River walk:
Head down to the newly-renovated river walk between Wells and State Street (adjacent to Wacker Drive) for some spectacular views. Whether it's the middle of the day or late at night, photographs in front of the Chicago River will always turn out picturesque. Take advantage of the fantastic new architectural wonders this work-in-progress has to offer. In the 'River Theater' section there is a large ascending stairway which would make for some powerful photos. The river walk is also host to many new dock-like structures which are perfect for getting intimate photographs, and venues like the Holiday Inn Mart Plaza and River Roast offer great views of the water without the hassle of crowds as well. Don't forget to change up the perspective and snag some photos on one of Chicago's infamous movable bridges.
Keep it classic:
Chicago is a city which recognizes the importance of preserving its heritage. Whether it's the miles of pristine lakefront (thank you, Burnham) or one of the many historical landmarks located downtown, you can't go wrong with taking a more traditional route. Nothing screams a Chicago-style wedding like The Chicago Theater. Built-in 1921 its glorious marquee is the perfect backdrop. Feeling artsy? The Art Institute of Chicago has a plethora of photo opts. The Modern Wing and Nichols Bridgeway are perfect for the contemporary couple, while the gothic architecture of the original wing and the museum's courtyards add a flair of drama. Likewise, The Buckingham Fountain at night is certainly hard to beat with its beautiful cascading waterfalls of light, but make sure you check the schedule so you don't miss the light show. Union Station is another architectural wonder located west of Canal Street. Its Great Hall with a barrel-vaulted skylight ceiling and large pillars are hard to beat, and its natural light is amazing.
A cultural playground:
While the city itself is a cultural playground, it's hard to top the views and architecture at the museum campus. One of the best views of the Chicago skyline can be found along the lake front between The Shedd Aquarium and The Adler Planetarium. With Lake Michigan in the forefront and the towering beauty of Chicago's architecture in the background, it's a great location to snag a great wedding party shot, especially if you have a large wedding party because the perspective provides enough space for everyone. While you're at the museum campus, have your photographer style some group shots on the steps of The Field Museum, built in 1893, its white exterior is reminiscent of the times of the World's Columbian Exposition and 'White City.' Definitely a must for Chicago history lovers or those looking to add a classic touch.
Green space:
You might be in the middle of a bustling cityscape, but that doesn't mean you can't find some nature to add to your photo roll. There are plenty of parks and green spaces to take advantage of downtown. One of the most notable parks is Millennium Park and with good reason. Lurie Gardens offers 3.5 acres of natural beauty featuring fields of wildflowers, prairie plants, and a stunning 15-foot tall hedge. Truly an oasis in the middle of the city, it's a great space to slink away together to get some intimate shots. In fact, technically Millennium Park is the northwestern corner of Grant Park, a sprawling 319 acres of meticulously planted flowerbeds, lush green lawn, and pockets of trees. With so much land, you'll certainly be able to find a corner to make your own. We recommend the Grant Park Rose Garden, located just steps from Buckingham Fountain. Another great space is Lincoln Park, the beautiful lakeside area between Ohio Street Beach and Ardmore Avenue. In addition to the famous zoo, the North Pond Sanctuary, and a lily pool, Lincoln Park is also home to the Chicago History Museum – a gorgeous building that houses thousands of Chicago artifacts.
Make it personal:
If you're getting married in Chicago it can only mean one thing: the city holds a special place in your heart. So ask yourself: what locations speak to you as a couple? Did you have your first date at a romantic restaurant downtown? Do you spend every Sunday running the lakefront path? Are you big fans of concerts in Millennium Park? Do you hit up one of the amazing farmer's markets hosted downtown weekly? Wherever it is, don't forget to add your own personal history to your photos. It's a fun way to capture this moment in time and share that love with others for years to come. Your photos will become your keepsakes for the rest of your life, so whatever route you decide to take – be it classic, edgy, urban or historic – make sure it reflects your personality as a couple and you won't be disappointed.
"When planning for city photos it is always important to plan ahead and have a plan B. A lot of our favorite outdoor and indoor spaces require shooting permits and the list of places that do is getting longer all the time. Definitely work with your photographer and trust their judgment to create a schedule of stops that will allow you to get great photos, but still enjoy your day! I love to suggest city spots that scream Chicago, but don't require having to push through crowds of tourists, and spots that have an abundance of variety so we aren't running around the city getting sweaty."
– Jennifer Jackson, Jennography
"One of the most important things to remember if you want to take photos around the city is that you can't forget your photographer! If you're on a trolley, limo, or bus, make arrangements for him or her to ride with you."
– Peter Furla, Furla Studio
"The places to take the best wedding photos in Chicago are generally the places that are dearest to the couples' hearts! When I get to decide, it's always the lakefront at Fullerton, or out by Northerly Island. And as corny as this sounds, I also love Millennium Park. The path and gardens in that area offer a wonderful mix of city and foliage."
– Chris Ocken, Ocken Photography
Written by Ariane Scholl