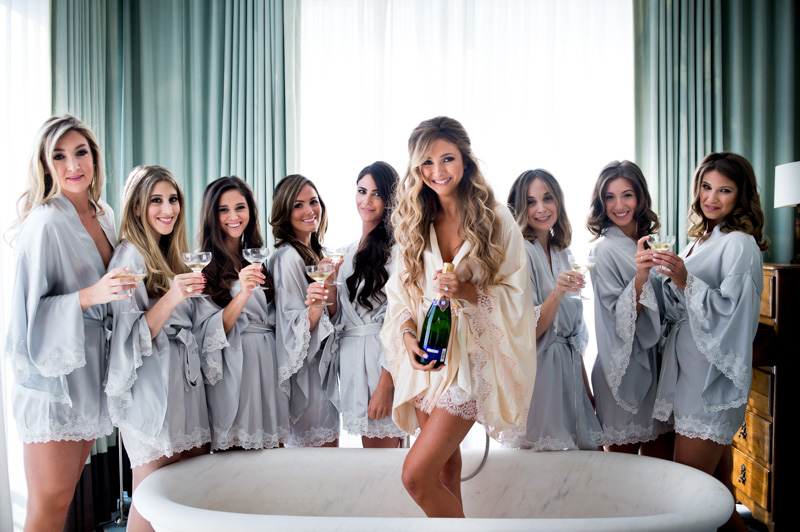 Bridesmaid Budgeting Breakdown: Realistic Expectations of Wedding Expenses
Hooray! Your best friend is walking down the aisle and she's asked you to stand by her side as a chosen bridesmaid. This is an exciting time full of showers and parties and gifts and champagne and everything worth celebrating! Break out your calendar, to-do list and wallet now because you'll be living and breathing weddings. Wait, what? At first glance, the duties of a bridesmaid can be overwhelming. There are a lot of events and moving parts that you will be involved in and it's hard to know exactly what that list will entail. While every party and person is different, there are some key areas bridesmaids' can expect to be a part of and possibly even shell out some pennies for.
Engagement
Following the flurry of excitement surrounding the "yes," there will undoubtably be an engagement shower. Traditionally, the Maid of Honor will be the host for this event, but sometimes a friend or family member may step in. As a bridesmaid, you can expect to not only assist with planning the festivities but help foot the bill for the day.
Costs: $-$$ Engagement Gift, Shower Gift, Decor, Favors, Food, Travel if necessary
Bachelorette
While guaranteed to be a good time, the Bachelorette party and its expenses can sometimes get out of hand. Whether you have a quiet happy hour at your favorite bar or an all out girls weekend in Vegas or on a beach you can expect to help plan and pay for this rite of passage. Bachelorette parties are typically hosted by the bridal party but thankfully, the cost can be split between all attendees. (Keep in mind that the guest list should be limited to individuals who are also invited to the wedding)
Costs: $-$$$ Bachelorette Gift, Lodging, Food and Drinks, Entertainment, Travel if necessary
Pre-Wedding
As the big day approaches your duties will fall into that of a support role. The bridesmaids job is to assist in anything needed from picking out dresses to acting as a sounding board for the bride. One weekend you might be stuffing envelopes with invitations and the next you might be listening to every band in town play a set. Roll with it. Ultimately, your goal is to keep the bride calm and happy and help in anyway you can.
Costs: Your time and maybe your sanity
Wedding Weekend
On to the main event! Wedding weekend will bear the biggest responsibility and naturally, the biggest cost, but the payoff is oh so worth it. Leading up to the big day you can be expected to pay out for your entire look and anything that goes with getting ready including hair and makeup. Hotels and flights will of course factor in as well. As a bridesmaid, you are expected to attend rehearsal, rehearsal dinner and any wedding related events (think brunch, girls outing or afterparty). Not only is your presence required, your job is to help make sure the day is fantastic for all parties involved. Gopher for the bride as you get ready (food, alcohol, extra bobby pins) and dance up a storm on the dance floor to keep the party going.
Costs: $$-$$$$ Dress, Alterations if necessary, Accessories, Hair and Makeup, Wedding Gift, Lodging, Bridal party activities, Travel if necessary.
A lot goes into biggest day of a brides' life and while it may be a temporary burden on you as a bridesmaid the memories will last forever! If you're asked to be part of the bridal party be realistic and upfront about what you can offer and how you can contribute financially throughout the process. Most of all, have fun and enjoy the time with your friends!