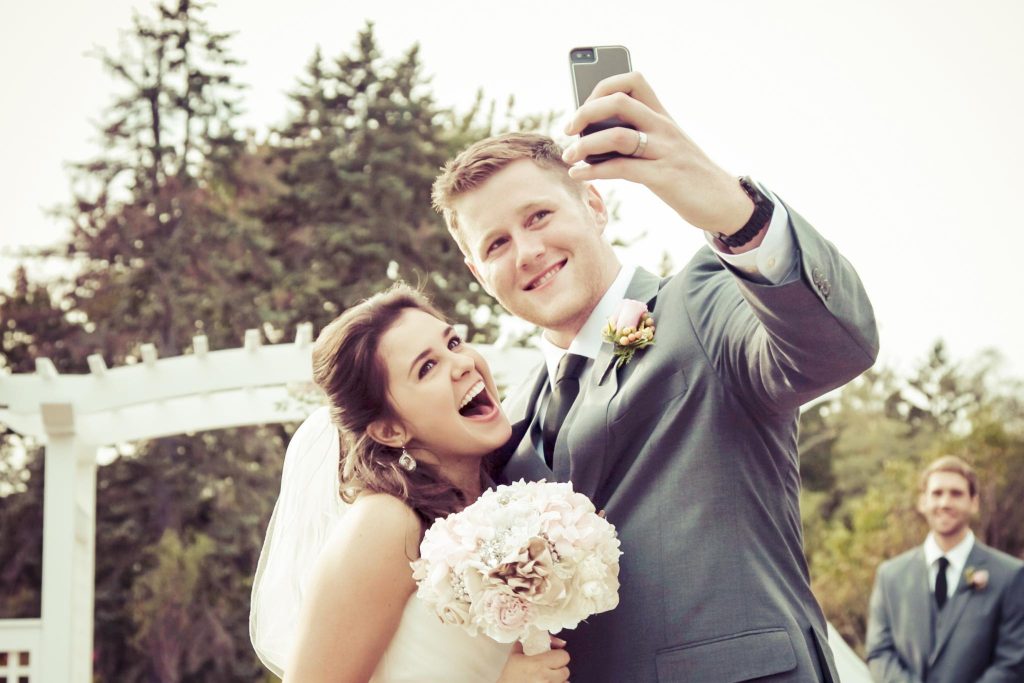 Announcing Your Engagement on Social Media
Newly engaged? We know that you're probably bursting at the seams to spread the news far and wide. But before you start announcing your engagement on social media, you may want to take a moment to think about your strategy. Written by Micaela Fischer. Photos by Ocken Photography and Timothy Whaley & Associates. 
(photo credit: Timothy Whaley & Associates)
Let it all sink it.
From the moment that engagement ring slips on your finger, photos will inevitably be taken. When they are, the impulse to blast them all over Instagram will be downright irresistible. But you may want to suppress the urge to give yourself time to celebrate with your new fiancé. After all, this is a memory you'll cherish for the rest of your lives. You want to make the most of it. Take a moment to be present and really savor this special time—your followers can wait.
Tell your family first!
This really goes without saying, but  your loved ones should be the first to know about your engagement before you make it public.   You don't want to receive that phone call from your mom because she found out about your engagement through your relationship status on Facebook. Now, this doesn't mean you have to make a house call to every single one of your family members. But you should at least try to make an effort that's a little more personalized for the MVPs in your life. Use your best judgement. While telling your parents in person might be a must, a simple phone call to your Aunt and Uncle in Michigan will probably suffice.
Big family? Try a mass email.
Start compiling a list of the people you think would want to be in-the-know before anyone else. This includes your best friends and people outside your immediate family. If that list gets lengthy and calling them all feels a bit daunting, consider a mass email announcing your engagement.  That way, you only have to write one message that informs them all in a way that's more personalized than seeing it in their Newsfeeds.
Once you have all your bases covered on the close friends and family front, you can post that engagement ring photo wherever, whenever 100% guilt-free!
(Photo credit: Ocken Photography)
 Keep it short and sweet.
When you're finally ready to make the announcement public, a couple photos paired with a few lines of heart-felt words usually get the job done.  If you write long walls of text, you run the risk of your followers not reading through all of it. Think of how Ed Sheeran announced his engagement.  Try to condense all the emotions and the meaning you want to convey into a couple sentences. But if that's not your style, follow your heart and write however much you see fit.
 Prepare to answer a lot of questions—sometimes from unexpected people.
Once you've made your engagement public, brace yourself for a deluge of questions about your wedding.  Announcing your engagement might bring a lot of random people out of the woodwork.  So, prepare to answer questions from some surprising people.
That being said, you can tailor your answers depending on the situation. There may be some details you only feel comfortable sharing with certain people. You shouldn't feel pressured to reveal all the information to every single person flooding your inbox with questions. Keep your replies short and sweet, especially with those you don't plan on inviting to the wedding.
 Remember to thank everyone!
While you would never intentionally forget your manners, it's all-too easy to let some messages slip through the cracks. It's almost unavoidable with the sheer number of well-wishers that will undoubtedly barrage you from all sides. With that in mind, you'll want to spend a little extra time reading and responding to all the texts, snaps, emails, and voicemails.  Make sure to be gracious and thank everyone for their love and support!
Keeping these things in mind, hopefully you now feel more prepared announcing your engagement on social media!  There are so many ways to announce your engagement, so this is far from a complete blue-print. This is one of the biggest announcements of your life, so feel free to get creative!
Can't get enough wedding advice? Head over to thecelebrationsociety.com to see more, or check out Is a First Look Right For You?