Guest Post: Becca Kaufman (BeatMix Music) & Nicole Zenner (CSEP, LK Events) discuss the best ways to go about hiring musicians for your wedding and reception.
Whether you're tapping your feet to a ceremony recessional song, swaying to a cocktail hour song, or dancing like no one is watching during the reception, when the music is good, you dance. For us, we certainly understand the unique experience that live music brings to a wedding celebration. But we also understand that a live band does not fall within everyone's budget or musical taste. This doesn't mean you have to cut out live music entirely. In fact, we are seeing a trend of a musical fusion in weddings today with musicians performing part of the celebration and a DJ playing another!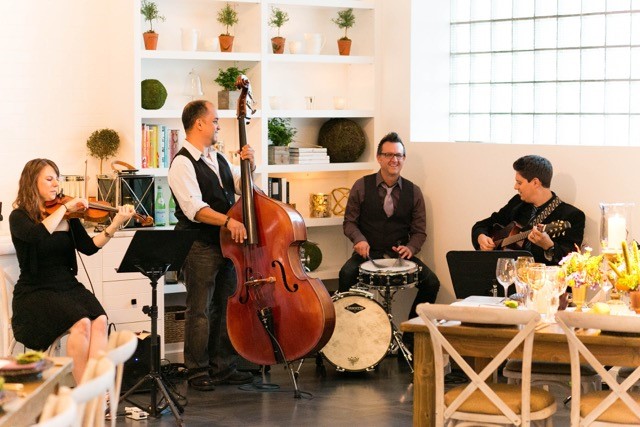 Let's start with your ceremony. If you are getting married in a house of worship, be sure to check with the music director to see if you are allowed to hire outside musicians, as most have a list for you to choose from. But if you are saying "I Do" elsewhere, the world is your oyster! Live music can add personal touches and flourishes that recorded music simply can't. Sit down with your planner and a recommended music professional to discuss song selections you like and then the complimentary instrument combinations can be selected. For example, if you want to walk down the aisle to The Beatles or Dave Matthews songs, then a solo guitarist or guitar/violin combination may be perfect.
Here are some helpful tips on hiring ceremony musicians:
Most musicians have a minimum of 2 hours in their contract, so if you're having a half hour ceremony, think about hiring the musicians for your cocktail hour too.
Build in the time for your musicians to play 15-30 minutes of prelude music as guests are arriving and finding their seats.
Many ceremony musicians will not come with a sound system, so ask if they can also provide microphones for your officiant and readers. Most will be able to add this to your contract for an additional fee.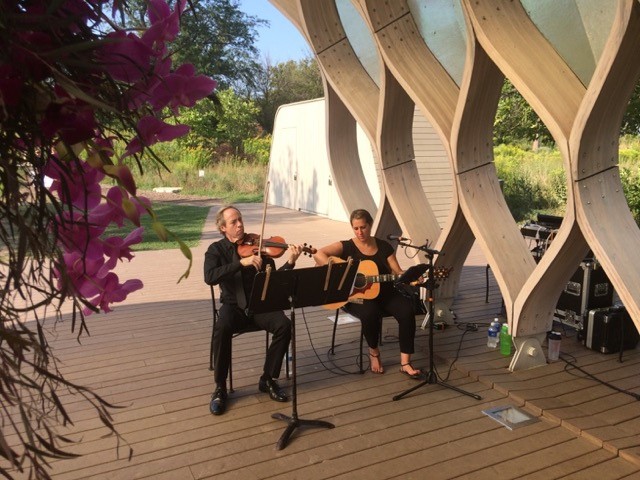 Now let's take a look at your cocktail hour. You've exchanged your vows and rings and you are ready to celebrate! Make sure your song and musician choices reflect your celebration. If you like a slow build, then keep your choice to classical music performed by a string quartet. If you are looking for a middle of the road tempo, then you can have a string quartet perform contemporary instrumental songs. If you want to spice things up, have a jazz trio with piano, bass and drums. Sure, guests will be chatting with each other during this time, but the excitement that live musicians bring to this moment in your celebration will set the stage for the rest of the evening.
We have now arrived at the high point of the celebration – dinner and dancing. If your budget or musical tastes point you in the direction of a DJ, please know you still have some options for live music to enhance the experience. Perhaps you keep your cocktail hour musicians through dinner or add a percussionist or violin to the DJ's mix. Have some fun with providing your guests a unique experience!
Here are some helpful tips when hiring DJs:
· Meet them in person before signing a contract. You want to understand their personality and their emcee capabilities.
We cannot stress this enough, but work with a professional. You should have a say in your playlist, but a professional will be able to read the crowd and adjust the mix to keep the party going.
Many DJ's can also provide lighting packages that can enhance the room and the energy on the dance floor.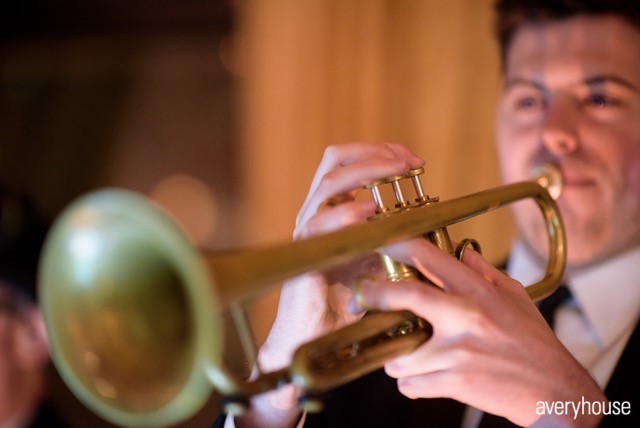 We love the spark that live music brings to a wedding and believe it has a place in at least one moment of your celebration. Have fun planning and let your music tell your love story!
BeatMix Music
is the home for the
Becca Kaufman Orchestra
, Time Chicago, and TC2, along with a wide variety of well-known entertainment acts. Whether it be a solo pianist, a string quartet, DJ, or a 20-piece orchestra, BeatMix Music's professional musicians bring passion, preparation, and musical versatility to every event the play.
LK Events – Savvy Wedding Planners, Making Your Day Beautiful. LK Events is an award-winning full-service wedding and event planning company, here to help you produce your perfect event. We guarantee the planning process will be organized and executed to your complete satisfaction, and most importantly, fun!