GUEST POST BY JENNIFER AT SHEAR SASS SALON
It's 80 degrees out and you're getting ready to attend a friend's wedding. You bought that cute summer dress, but you don't know what to do with your hair. If you curl it and leave it down, by the time you reach your destination it doesn't even look like you did anything!
Every woman has been there! You need a hairstyle that will last all night, but look like you put that effort in. What is in fashion this summer can be simple yet elegant looking, and can be dressed up and down? Braids! Braids are all the rage this summer. Especially with the hot and humid weather we have been having, braids are a must!
Braids are a huge trend among brides as well. The most popular style of braids I have been seeing lately are large pulled apart braids. That means braids that are not perfect. After you put a braid in and secured it at the bottom, feel free to pull it apart a little bit to make the braid appear larger than it really is. This is also great for people that have a finer hair texture. It will create the illusion that you have more hair than you really do.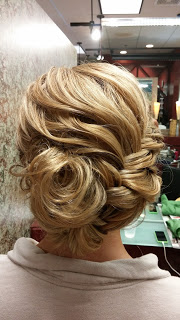 A little advice — when I create a braid, I like to use texture spray or dry wax. This will create the grip you need to braid and help with smoothing those stray hairs that like to stick up. My favorite product for braiding is dry wax by KMS California.
Thank you so much to Jennifer at Shear Sass Salon for the trendy tips on braided bridal hair! Visit the salon at 260 E. Army Trail Rd., Suite B 105 in Bartlett, Illinois. Call Jennifer at 847-902-7976. Plus, Shear Sass Salon is offering 25% off for first time clients! (One coupon per customer, cannot be used on wedding/special occasion hair.)
For more amazing tips on trendy hair, makeup, and bridal beauty, 
check out chicagostyleweddings.com!