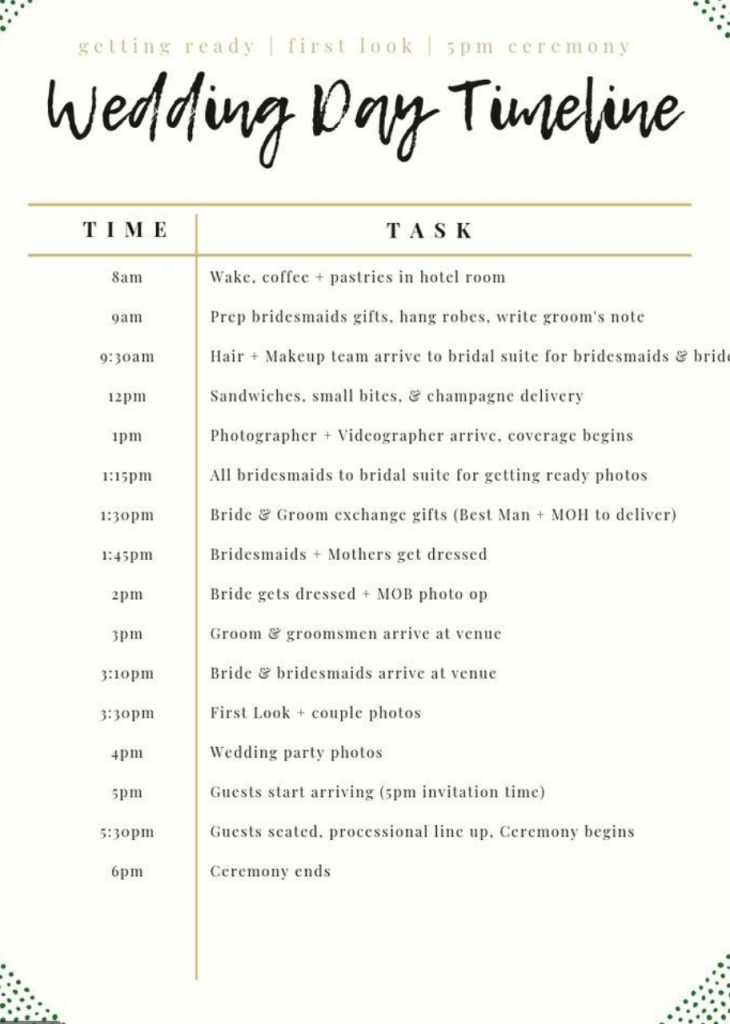 A Step-By-Step Look Into Creating Your Reception Timeline
You and your guests might want to party well into the night, but it's unlikely that your vendors feel the same way. Sticking to a reasonable timeline is simply good etiquette, but a tight schedule can also help you avoid expensive overtime fees and prevent your guests from overindulging and getting rowdy. Setting up a timeline might sound like a daunting task, but it's actually fairly easy. With a few of our tips, you and your planner will be well on your way to crafting the perfect schedule.
The Basics:
A typical wedding reception runs around five hours long. If you've never been on the planning end of a wedding before it's easy to think that the reception meanders from toast to dinner to dancing at its own pace but believe it or not, the majority of weddings are tightly scheduled. Without someone holding a firm leash on the reception it can quickly spiral out of control, so once you've hammered out your schedule, entrust one of your vendors to make sure that your steps are followed. Your DJ or band leader is the perfect person to guide the night on the microphone, but having a planner to control the process behind the scenes will make your night practically fail proof. Once you've run your schedule past all of your vendors and gotten their stamp of approval, hand the reigns off to your planner and prepare to enjoy your night.
Hour One:
Cocktail Hour
You said "I do," you kissed the love of your life, and now it's time for your guests to head to the reception while you sneak off for some alone time or head out to take your portraits. There should be very little down time between the ceremony and the cocktail hour, so keep that in mind if your ceremony and reception are taking place at separate venues. Make sure to factor transportation into your schedule, and play things safe by giving yourself an extra fifteen to twenty minute buffer. We wish it weren't the case, but flat tires and traffic don't care that it's your wedding day.
Hour Two:
The Grand Entrance
As you return from your photo session and wait in the wings, your emcee will ask all the guests to take their seats and the band or DJ will change up the music to indicate that the time has finally arrived. This second hour includes multiple small events, and goes by very quickly. After announcing the wedding party, family,and finally you and your new spouse, your emcee will pass the mic over to you so you can thank everyone for coming out to celebrate you. The thank-you is then followed by toasts from the best man, maid of honor, and parents, and then after this comes the food. Dinner is a great time to share any video reels or slideshows, so if you're stressed about not having enough time to include a quick presentation, consider killing two birds with one stone and showing it while your guests eat. Once the video or slideshow wraps up and you've finished eating, now is the time for you to go from table to table and personally greet your guests.
Hour Three:
Dance the Night Away
Once your guests have cleaned their plates, it's time to gradually hit the dance floor. Rather than having your emcee demand that everyone get on their feet and start grooving, have him or her play increasingly upbeat music until your guests get the idea. Join your new spouse in the center of the room and twirl your way through your first dance, then take a bow. Traditionally, the father-daughter dance follows, and then the mother-son dance. After that, your emcee will invite guests to join the wedding party on the dance floor. Towards the end of this hour, take a quick break to cut your cake if you have one, or have your guests grab dessert from your sweets table. Following dessert, head back to the dancefloor.
Hour Four:
Traditions
It's time to start incorporating the traditional events. This penultimate hour is when all the single ladies you've invited get to tackle each other and try to catch the bouquet, and it's also when your groom gets to go searching for your garter. Your emcee and planner will make sure that any fun cultural extras like the Jewish Hora or Greek money dance get factored in after the garter and bouquet snatching are finished, and then it's time for more dancing. Not all your guests will catch a second wind though, so expect to see a decent amount of your loved ones making their way back to their dinner tables to mingle and catch up away from the music. This is the perfect time to bring out any cigar bars or surprise midnight snacks that will give your guests an extra boost of excitement and energy.
Hour Five:
Take a Bow
While you and your wedding party are still grooving away, your grandparents are probably dozing off in a corner. Guests will start slowly trickling out at this point, and that's your cue to start wrapping up the evening. Have your emcee announce last call at the bar about thirty to forty-five minutes before the reception officially ends, and make sure that he or she notes when the last song is being played. Whether you go out with "Piano Man" by Billy Joel or "Closing Time" by Semisonic, give your remaining guests the chance to join you for your final tour of the dance floor. Many couples run into a problem with slow moving guests after the final song, so consider doing a sparkler send off. In addition to providing you with amazing pictures, this fond yet official farewell is a great way to firmly close the night.
"After we create a preliminary timeline, we email it to the couple and all vendors about six weeks ahead of the wedding day. The couple and vendors have the opportunity to go over every minute and smooth out any issues or possible items not considered. Our timelines tend to be quite extensive with 2-5-minute increments planned out from 6am until vendor clean up the next morning at the venue. Adding in time cushions always helps to ensure a smooth and carefree day that allows the couple and their guests to enjoy themselves while creating fantastic memories!" – Victoria Kensington, Kensington Florals & Events
Other Things to Consider
As you're planning your reception schedule, remember that it's always best to overestimate the amount of time needed. Allow enough time between scheduled activities for the unexpected, and don't forget that you and your spouse need time to relax and enjoy your family and guests! In the event that your reception does go a little over the mark, check to see what your vendors' overtime fees are. Remember that even after you and your guests have headed home for the night, your vendors will still need around an hour to an hour and a half to take down all the décor and equipment, clean up the venue, and clear everything out of the space. Be sure to keep this extra time in mind when you are booking your venue rental period.
While the timeline we just discussed is tried and true, be aware that it's not set in stone. Every couple has different needs and wants, so it's perfectly okay to build a reception schedule that varies from the standard chain of events. The important thing is that you discuss your night with your planner and other vendors well ahead of time. Once everyone is on board and the Big Day finally arrives, have fun, make memories, and enjoy the night of your life.