GUEST POST BY SOCIAL MONSTERS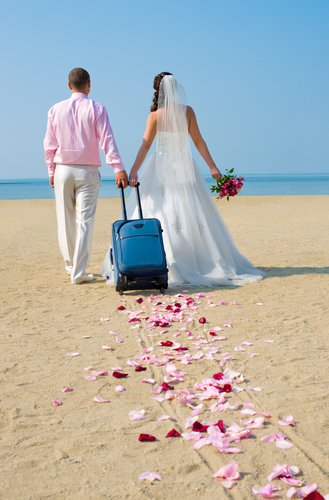 You might not have it all yet, but at least you have your priorities straight. Here are some uncommon ideas for your wedding registry to prepare for (and recover from) the perfect wedding.
1. Honeymoon Fund
Hey, no offense grandma, but the wedding is only one crazy day. The honeymoon is supposed to be paradise. Give your family and friends the opportunity to invest in your once-in-a-lifetime vacation with a registry platform like Traveler's Joy or Honeyfund. Trust us, you'll appreciate the romantic memories more than a 12-speed blender.
2. Your Future Child's College Tuition
As fun as your own student loans are to pay, imagine helping your future children saddle themselves with college costs that rise 6.5 percent every year, according to the U.S. Department of Education. Avoid the staggering debt and use your wedding registry to crowdsource your future child's tuition using Gift of College.
3. First Home Down Payment
Why would you register for a whole set of fine china when your 500 square-foot apartment can barely contain your bed, laptop and coffeemaker? Instead, crowdsource your dream home using registry sites like Hatch My House, Feather the Nest or Down Payment Dreams.
4. Charity
Your wedding is all about celebrating who you are as a couple. Set the stage for a lifetime of generosity with a registry for your favorite charity. Check out SoKind's registry for donation options.
5. Advice
This may be your only opportunity to cull the wisdom of your collective acquaintances. Take full advantage by asking for marital advice on your registry. You may find a nugget or two that will help diffuse that perpetual who-takes-out-the-trash argument.
6. Experiences
Be forever on your honeymoon. Make your registry about fun, memorable experiences that will bond you together instead of the stuff you already have too much of. Add dance lessons, cooking lessons, wine tasting or a round of golf to your account at Blueprint Registry.
7. Photos
Share a Google folder with your guests and invite them to upload their favorite photo with you. Think: first day of school with your childhood friends, awkward bathtub photos or a candid of the first time you hung out with your soon-to-be-spouse. Print the collection to display at your wedding, or make a photobook to keep on your coffee table at home.
8. Wedding Decor
The idea of your dad paying for your entire dream wedding is a little 1950s. Help the guy out by registering for beautiful household items that you can also use at your ceremony or reception. Register with Amazon and add items like linen napkins, table runners, wine glasses and elegant candle holders.
9. Call in Some Favors
Get creative with your something borrowed. Instead of gifts, ask your guests to lend their favorite board games for your reception. Ask the handy people in your group to help you fix up your home for a few hours. Or, ask for volunteers to pet-sit while you're away on your honeymoon.