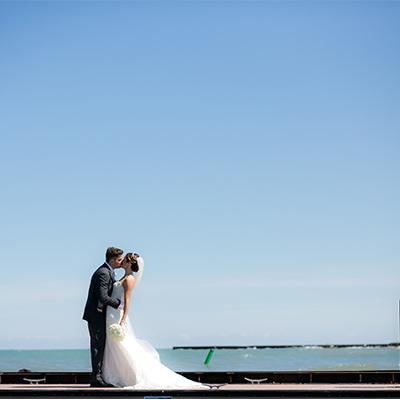 9 Reasons to Hire a Videographer
If pictures are worth a thousand words, videos are worth a million.
Let's be honest for a second – weddings are expensive. Once you've finished booking all your vendors and get brave enough to take a peek at the grand total, you'll see that final number is broken up by a comma or two and it's enough to set your head spinning. The natural thing to do is start making cuts; scale back the flowers, change the string quartet to a solo violinist, maybe scrap the butterfly release because it's probably inhumane anyways. You keep going down your list and trimming things, and then you get to your videographer and you pause. Well, you think to yourself, a video would be amazing but I already have a photographer… is a videographer really necessary? Without further ado, here are nine reasons why no wedding is complete without a videographer:
Wedding videos have come a long way.
Your parents' wedding video might have a security tape vibe, but wedding videos today are practically works of art. Think beautiful shots of you gliding down the aisle and slow motion panoramas of your guests hair-whipping at the reception, all to the tune of your favorite songs. It's like starring in your very own movie trailer, and we promise you won't be able to stop watching it.
Film captures emotional moments in their entirety.
Looking your best friend in the eyes and saying "I do" is one of the most beautiful things you'll ever get to experience, so why wouldn't you want to watch it again and again? Sure, you'll have pictures of the moment– a shot of you both smiling, a shot of you leaning towards each other, a shot of you kissing – but being able to relive your "I do" exactly as it happened instead of in fragments is priceless. Same thing goes for your first look – getting to watch all the excitement and emotion play across your faces when you see each other for the first time is something only a video can deliver.
Videography preserves the sounds of your celebration.
The vows. The music. The toasts. The laughter. When it comes to weddings, the sights and the sounds are equally important, and capturing the day on film makes sure all that amazing auditory content goes down in history. Great videographers are wizards when it comes to the editing process, so expect your video to be chock-full of beautiful sound bites directly from you, your new spouse, and your loved ones.
Wedding videos are a digital guest book.
Which is the better memory: watching a 5-second clip of your younger brother doing the worm in the middle of the dance floor at your reception, or reading "Congrats on your wedding, big sis!" in your guestbook? Unless he splits his pants during the dance, most people would choose option A. Nobody ever really knows what to write in a guestbook, but they do know how to get down on the dance floor. Your videographer can pair shots of your guests letting loose with short, heartfelt quotes from them and voila: you have well-wishes that actually mean something.
Your videographer and photographer work together to catch all the moments you miss.
It's impossible to see everything that happens at your wedding because you're busy, you know, getting married. You might be too wrapped up in sealing your "I do" with a kiss to see your grandma tearing up in the crowd, but it's your videographer's job to grab those beautiful little moments. Having professionals there is like hiring an all-seeing eye, and between your videographer and photographer, you'll be able to experience all the moments you missed while you were floating on cloud nine.
It's great for guests who couldn't make it.
In a perfect world, everyone you invite to your wedding would be able to make it but unfortunately, that's just not the case. Kids get sick, flights get canceled, and some of your loved ones aren't able to show up for your big day. You can have them Skype during the ceremony and you can send out a bunch of pictures after the fact, but there's no way for them to really experience your wedding. Unless, of course, you've captured the day on video. With one quick click, guests who couldn't celebrate in person can relive the highlights of your wedding day and feel a little less left out.
It's perfect for anniversary traditions.
Curling up on your couch with your spouse and flipping through your photo album is cozy and sweet, but pulling up your wedding video and watching yourselves say "I do" is next-level romantic. Whether it's something that you watch whenever you feel like it or it becomes your anniversary tradition, your wedding video is something that will have you falling in love over and over again.
Get your money's worth.
Like we said at the beginning, weddings can be pricey. If you're going to shell out thousands of dollars to make your Big Day picture perfect, why wouldn't you want to document it as much as you possibly can? Imagine getting an expensive mani-pedi and not sending snapchats to your friends. It's practically unthinkable. The same concept applies to hiring a videographer for your wedding, only on a much larger scale. Capturing your wedding on film is making the most of your wedding investment.
You don't want any regrets.
There are definitely wedding elements that you can live without, but a videographer isn't one of them. It might feel like an extra cost, but we promise that paying for a wedding video is worth every penny. We've talked to so many brides who decided to skip hiring a videographer and ended up regretting it a few weeks after the fact. So if you're on the fence about wedding videos, try and think long term. What's going to make you happier: saving a little money, or going the extra mile and making sure your wedding day is something you can relive for the rest of your lives?
Written by Christina Oddo