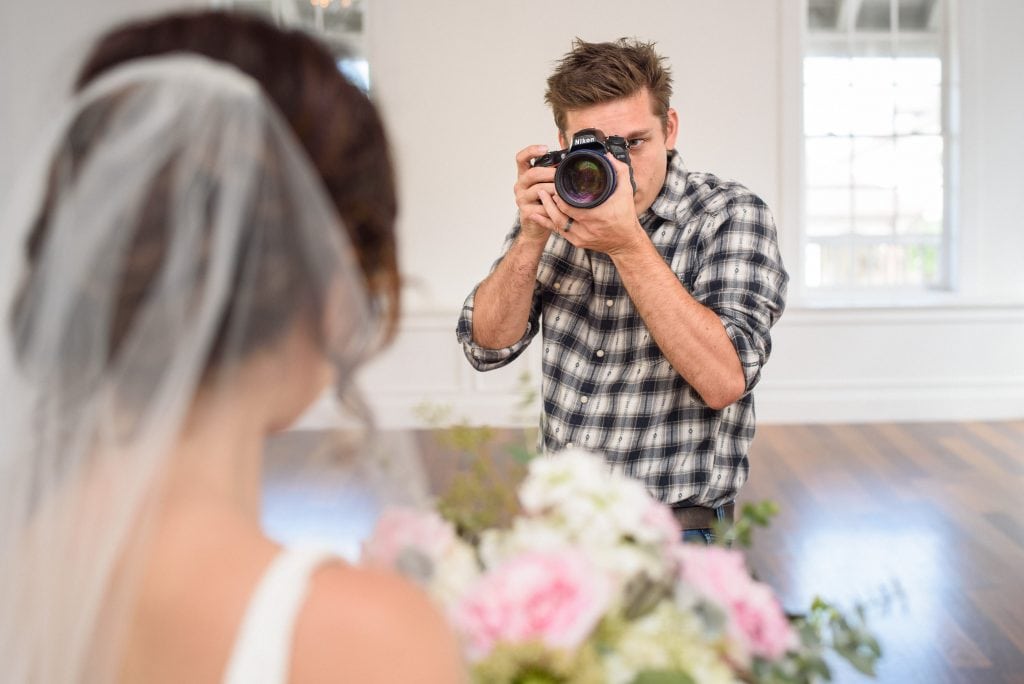 5 Things You Should Know Before Meeting with Photographers
When you're planning your wedding, you're carefully selecting all of the details that will come together to make your day special. From food to flowers, stationery to shoes, you're surrounded by choices and it's hard to imagine that one day the wedding planning will come to an end!
When your wedding day arrives, you'll be putting your trust in your photographer to capture all of your special details perfectly. So, there's a bit of pressure to choose the right one!
Read on for tips on how to prepare for the process of interviewing potential photographers, and you'll be able to choose the right photographer in a snap!
1. Choose Your Wedding Venues
When you're interviewing photographers in person, you'll want to have your wedding venue booked.  
Certain photographers have a lot of experience working in specific venues, and this may make a difference when you're making a final decision between two photographers you really like. You'll also be able to chat with them about any specific images you want to capture… a bridal party photo on a specific staircase, for example.
2. Share Your Priorities
Before meeting with photographers, talk with your fiancée about the images that are important to you and how you want your wedding day to flow.  
If you're nervous about walking down the aisle and seeing your fiancée for the first time all day, you may want to plan on a First Look.
Do you have a large family and feel that posed group photos are super important?  You'll want a photographer who's comfortable shooting quickly in the post-ceremony time slot.
If you have limited time at your venue before your ceremony, you may need to arrange for one photographer to capture Bride and Bridesmaids while the second photographer captures Groom and Groomsmen.
Share as much as you can with photographers about what's important to you. It will allow them to describe their process and let you know if they're a fit for the type of wedding day you're envisioning.
3. Talk About Style
Many wedding photographers have a distinct style that makes their work recognizable. Before putting a photographer on the "potential" list, check out their portfolio and make sure their style is a fit for you.
When you meet photographers in person, you're narrowing down your favorite amongst two or three front runners, typically.
Talk with your fiancée in advance to make sure you're on the same page about the style of images you prefer. Do you like heavily edited styled shoot images, or do you prefer photos captured in natural light?  Do you prefer posed photos, or candid shots? Share your preferences with your photographer and make sure they feel they're a fit for what you envision.
4. Share Your Budget and Expectations
Comparing "apples to apples" when it comes to photography is really a challenge, since each quote is going to be structured differently and include different components.
Talk with your fiancée before meeting with photographers about your photography budget and what you expect to have included in that price range.
You'll want to have an idea of how many hours of coverage you'll need, whether you'll need one or two photographers (almost every wedding should have two), and the importance of albums and prints. By chatting about this in advance, you can share real expectations with your photographer in person.
5. Talk About Personality
Before interviewing potential photographers, talk with your fiancée about your wishes for the personality of your wedding photographer. This person or people will be spending nearly as much time beside you on your wedding day as your fiancée will, so you really need to feel comfortable with him or her!
If you're shy and feel awkward being photographed, you may want a photographer who can make you laugh and relax so that your photos look natural.  If you're schedule obsessed, you may want a photographer with a "take charge" attitude who can make sure all of your photos happen in the time slot you have.
When you discuss this in advance, you'll be more observant to each photographer's personality when you meet with them.
No two wedding photographers are alike. They have different personalities, they schedule the wedding day differently, and they each have a unique style of how they capture and edit your images.  When you follow the tips above to prepare for your photographer meetings, you'll be able to get a deeper sense of their style and picking the right one will be much easier!